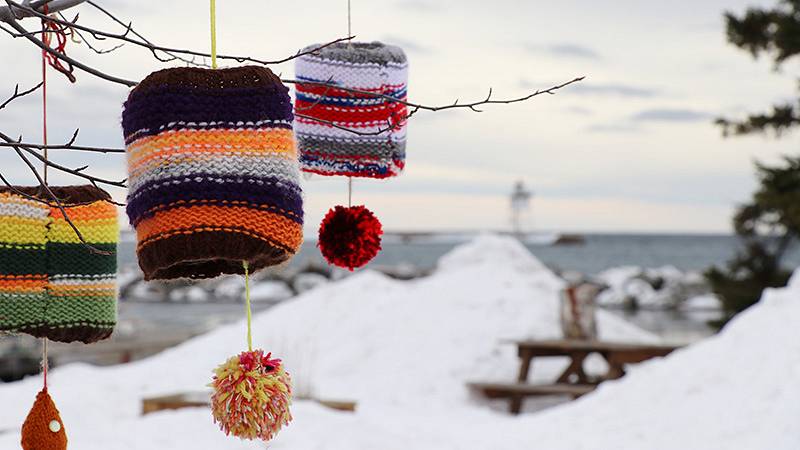 Overview
The 2020 Fiber Week has wrapped up!
Thanks for celebrating ten wonderful years of fibers with us and our partners the Northwoods Fiber Guild: we had a great time hosting nearly 100 students spinning, weaving, stitching, dying, spranging, hooking, felting and more. Mark your calendar for the Fiber Week 2021, February 8-15, with a full-day conference open to all on Friday, Feb 12. Coursework will be announced in mid-August, with registration opening August 31, 2020 for North House members and September 1, 2020. All updates will be on the Fiber Week 2021 page. Sign up for our enews to stay abreast of the latest developments.
Feel free to browse the past event details below to get a taste of what's to come!
---
It's the 10th Anniversary of Fiber Week (formerly Northern Fibers Retreat) and we're celebrating with an entire week of hands-on textile exploration! Choose from a dozen multi-day courses in everything from felting to weaving to spinning, dyeing, knitting and more.
Also plan to attend Fiber Friday, a new feature in 2020. On February 14, we'll host a day of speakers, demonstrations, open studios and community gatherings. Meet your fellow students and instructors, expand your interests and enjoy our cozy campus learning atmosphere. Come early or stay late; you won't want to miss Fiber Friday! Fiber Friday is free for all students enrolled in a class during Fiber Week, $25 for all others. Purchase admission here.
See below for the full week schedule!
Click here for a downloadable/printable version.
Fiber Week courses are available for registration — register now!
Event Details
All Week: Evening Activities
Blue Building, North House Campus
Free, no registration required
Tuesday, February 11
7pm | Felting Film Screening: On Gentle Threads
Join felting instructor Elise Kyllo for a screening and discussion of the film On Gentle Threads. This beautiful Hungarian documentary follows the phases of felt production from shearing to carding, dyeing to felting.
Wednesday, February 12
7pm | Skill Share: Steeking with Annie Albertson
Expand your knitting skills and gain design freedom by incorporating the traditional northern knitting technique of steeking into your projects. A steek is a "bridge" of extra stitches in a knitted piece that allows knitting in the round and later cut to accommodate a front opening, sleeve or neckline. You will learn the history of steeking, when and how to steek and get to try it out on a sample. You will go home with confidence to incorporate this traditional technique into your own work.
Thursday, February 13
7pm | Film Screening: Shepherdess of the Glaciers
Tsering is a shepherdess high in the mountains of Ladakh, India. Trace her footsteps across the snowy, isolated landscape in this beautifully shot and uniquely personal documentary of a woman and her flock on the other side of the world. 2016 Banff Grand Prize winner.
North House is honored to welcome Linda Cortright, a friend of the film producer and Tsering the shepherdess to introduce this film and host a q&a following the screening. Bring your knitting or other handwork; we'll leave (some) lights on.
Saturday, February 15
7pm | Presentation: 3 Years Weaving at Säterglätan Craft School
During the Fiber Week, North House will be hosting an exchange student from our sister school Dalarna, Sweden. Third year student Susanna Ayton will give a short presentation about her weaving study and her thoughts on weaving in modern Sweden.
FIBER FRIDAY, February 14
A day of learning and community, creativity and exploration! We'll start out with presentations from our three featured guests, spend the afternoon getting our hands on fiber and then conclude with a community meal and show and share, hosted by the Northwoods Fiber Guild. Participation is free for any student enrolled in a Fiber Week course, or $25 for all others. Modest materials fees may apply in some cases.
9am-1pm Speaker Series
2pm-4pm Fiber Fabrications Fair
5:30pm Community Chili Feed Potluck
7:00pm Show and Share
Speaker Series: Blue Building
9:00am: Weaving by Design with Kelly Marshall
Kelly Marshall is recognized for combining Rep weave's rich texture and linear structure into extraordinary textiles inspired by the aesthetics of the Arts & Crafts movement, contemporary design, and traditional Scandinavian weaving. She will show you the inspiration behind her designs and how she translates that inspiration into woven textiles. She will share her beginnings in fiber art and how that developed into her weaving business and the publishing of her book "Custom Woven Interiors: Bringing Color and Design Home with Rep".
10:15am: Sprang: The Original Elastic with Carol James
Many of the conveniences we take for granted in modern clothing have roots in the skilled hands of ancient fiber artists who practiced all-but-forgotten techniques to make useful and durable items for daily wear. Sprang is one such technique that produces a naturally stretchy fabric. Join Carol James for an exploration of this ancient skill which has been used in everything from bonnets to socks to full body suits and military dress from Europe to India to South America. In fact, there is ethnographic evidence that the Ojibwe people were also familiar with sprang. Carol will share photos and replicas and historical evidence of this fascinating fiber art.
11:30am: Wild Fibers with Linda Cortwright
From yurts to yarn, from Alaska to Afghanistan, the world of wild fibers is larger than you think. Join Linda Cortright, magazine editor, world traveler, and founder of the Pangong Craft Center on some of her journeys to remote destinations, pursuing the cultural and environmental importance of wild fibers.
2:00pm-4:00pm Fiber Fabrications Fair and Open Studios: Red Building
Get ready to try your hand at a variety of fiber activities. We'll have a dozen different activities set up to stop by and try as well as cozy circles of knitters, spinners and more where you can gather with your fellow fiber enthusiasts. The goal is for casual fiber fun with a variety of options. Stay as long as you like! Occasionally, an activity may require a modest materials fee paid to the instructor. Free for all enrolled students or part of the Fiber Friday registration.
Activities available during the fair:
Crank Knitting Machines with Annie Albertson
Knitting with Longwool Locks with Becky Utecht
Sprang: The Original Elastic with Carol James
Sewing a Tailor's Ham with Carol Colburn
Wool Sock Repair with Elise Kyllo
Spin and Go with Martha Owen
Bobbin Lace with Kelly Marshall
Hand Embroidery with Cheryl Larsen
Crochet with Abbey Swanson
Boro Stitching with Michelle Greenhouse
And more!
Host a Table
Want to share a skill with others during the FIber Fabrications Fair? We're looking for a few more people to host activity tables like the ones described above. We're imagining about a dozen tables in the red and blue buildings where students can pull up a chair and learn something-- whether it's through watching a demonstration or (preferably) a small make-and-take experience. They could stay for 10 minutes or a whole hour- the goal is casual fiber fun! If you are interested in volunteering to host a table, please get in touch with Sarah Waddle at swaddle@northhouse.org ahead of time.
3pm-5pm: Small Group Seminar with Linda Cortright: Travel and Textiles
$25, advance registration required; space limited. Register here!
Linda Cortright has traveled the world exploring far-flung regions and quiet corners as she uncovers fascinating and rare fiber stories to share in her well-respected journal Wild Fibers. In this two hour seminar, she'll share her reflections on how to travel: what does responsible tourism look and feel like? How can we be both strangers in a strange land and ambassadors of goodwill during these interesting times? How can shared interest in craft help build intimate connections across the globe? Limited to 15 students, bring your stories and reflections.

5:30pm: Community Chili Feed | Blue Building
Soup's on! We'll host a chili feed for all Fiber Retreat students. We'll provide the chili, please bring a small accompaniment to round out the meal-- bread, crackers, fruit, cheese, sweets, it need not be complicated. Enjoy a cozy dinner before the Show and Share.
7:00PM: Show & Share, Hosted by the Northwoods Fiber Guild | Blue Building
The Fibers Retreat Show & Share is a cherished event of the weekend when retreat participants and instructors can come together and share work they have done, past and present. Bring something from home or from a retreat class to share. All are welcome.
Course Offerings
Sponsors