Beginning Spinning: Spindle and Wheel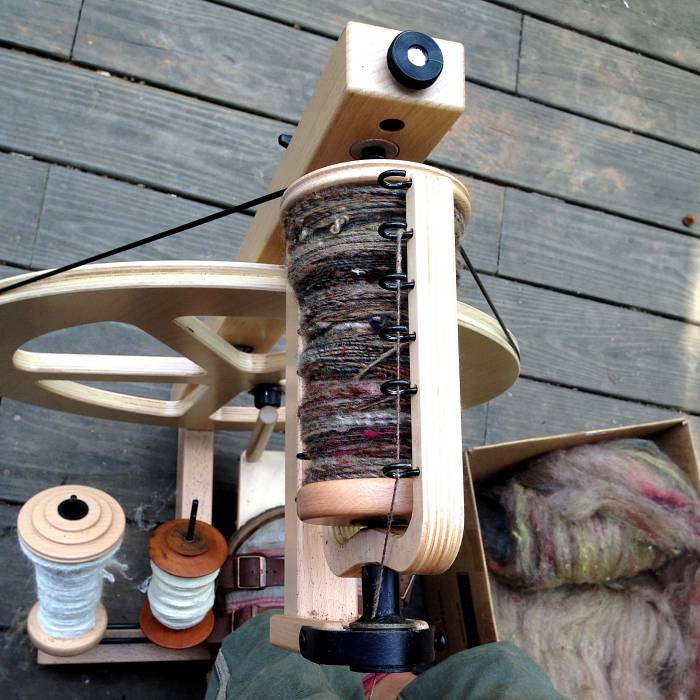 Course Overview
Discover the historical craft of hand carding and spinning on a spinning wheel. Beginning spinsters will strive to get the feel for the simple act of creating consistent yarn. Those with some prior experience will work to improve their techniques. Class will include ample time for discussions of many topics, including sheep and wool, raw wool preparation, washing raw wool, hand carding and spinning basics, and the all-important question, on what part of the wheel did sleeping beauty prick her finger? Students will play with color and fiber blends from the start and work with some simple novelty yarns. The adventure includes spinning on a point spindle/wheel. Students are encouraged to bring their own wheel in working order or borrow a wheel from North House. Please let us know if you plan to bring your own wheel.
Required Tools
Apron
Song or story you have heard about sheep and wool
Favorite tea to share
Optional Tools
If you have one:  Spinning wheel in good working order.  Please let us know.
Pair of hand cards
Oil bottle  
Any fiber ( a small sample) that you have a question about.
Session Information
This course is part of Fiber Week! Plan to attend Fiber Friday, a new feature in 2020. On February 14, we'll host a day of speakers, demonstrations, open studios and community gatherings free for all enrolled students. This popular model, borrowed from our Wood Week and Basket Week, allows students and instructors alike the opportunity to meet one another, expand their interests and enjoy our cozy campus learning atmosphere. Come early or stay late; you won't want to miss Fiber Friday! Full schedule available in early 2020.
Dates
Tue, Feb 11th, 2020 – Thu, Feb 13th, 2020
Course Details
Skill Levels:
Beginner to Advanced
Hours:
Days 1/2: 9am-5pm, Day 3: 9am-1pm
Intergenerational age:
N/A
Tuition:
$225.00
Materials fee: $25.00
Required
You will need the following tools for this class:
Optional Tools
Feel free to bring your favorite tools and whatever materials you might feel appropriate for this course.
Spinning wheel in good working order
Pair of hand cards
Oil bottle
More Information
Once registered, students will receive a confirmation email with further class information. Please call us if you haven't received it within 24 hours.
Latest Update:

View recent changes →
Spin Your Own Yarn: Spindle and Wheel - 2/11/2020