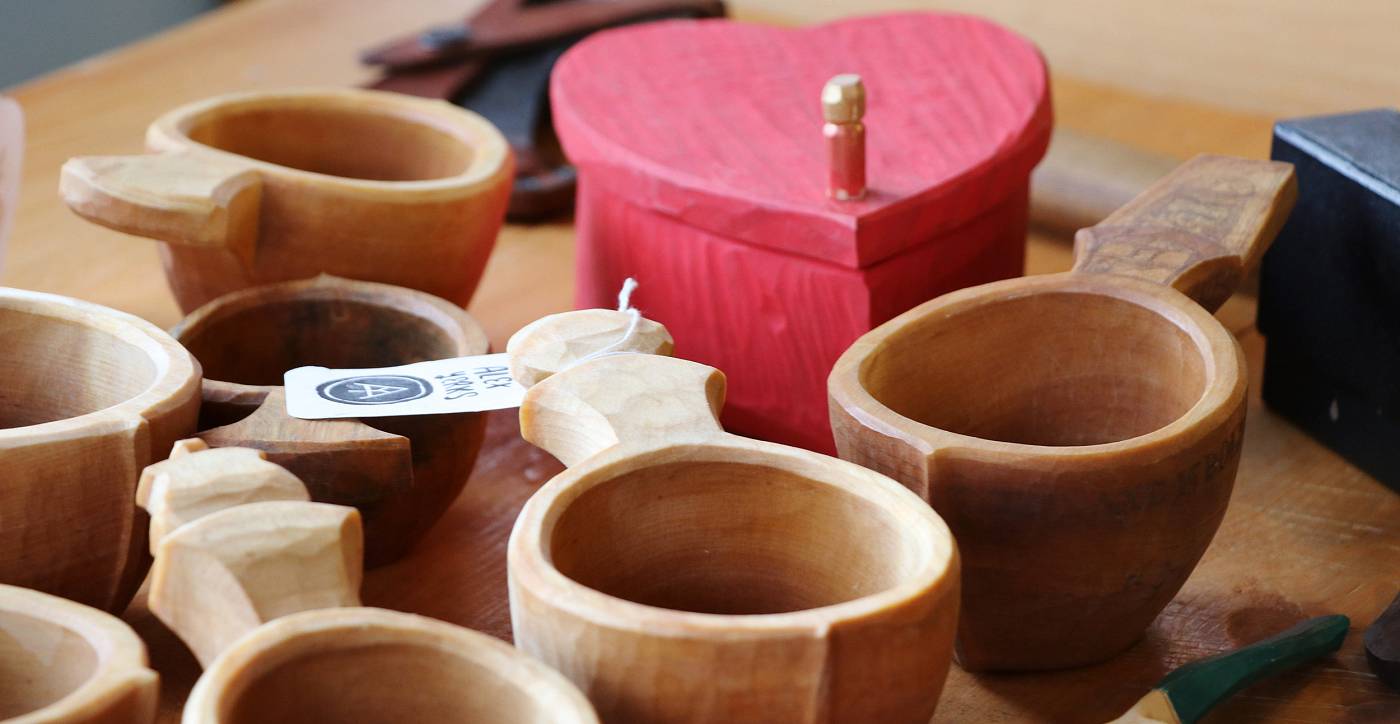 Thanks for your interest in North House!
Click on one of the following to learn all about registering for a class:
How & When to Register for a North House Course
How do I register for a class?
Depending on how you plan to pay, you can either register on your own through the course portal of our website or by calling our friendly front office which is open 9am-5pm, 7 days a week at 218-387-9762.
In a few instances, you'll need to call to register: if you want to pay with a gift certificate, work-study credit or using escrow, register as a scholarship applicant, register your child for a youth program, or if you want to use the local discount (for legal residents of Cook County, MN).
How do I register online?
In 2021 North House switched to a new registration system which requires that each student has an account to register. If you and your friend or family member are planning to take a class together, you'll need to set up individual accounts.
If you don't have an account, you can create one here! It just takes a moment, and this is a great way to make sure that you are in our system and ready for any registration day!
If you've taken a class since 2021 you should already have an account. If you can't recall your username, please use "Find my username" instead of creating a new account. This will help us to keep accurate records, and help us keep your membership status current too.
When can I register for a course?
Courses are intentionally kept small and often fill quickly, so registering as early as possible is encouraged. Registering at least three weeks prior to the course start date is especially advisable as courses without a minimum number of registrations may be canceled.
Throughout the year, we have several course releases during which we open a new group of courses for registration. We post the release dates ahead of time in our weekly email newsletter. Course registration opens at 9am CST on course release days. Being a North House member allows you to register one day prior to the general course release.
Upcoming Course Release Dates:
This registration includes coursework scheduled for January-May, 2024, and also includes Fiber Week, Wood Week, Volunteer Service Learning weekend, and winter online classes.
Do you have waitlists?
Some classes are in high demand and fill up quickly! Don't worry if you don't get in on your first try. If you are seriously interested in a course, we encourage you to put your name on the waitlist. Of course there's no guarantee, but sometimes registered students need to change their schedule and drop a class. When a spot in class opens up, students on the waitlist are contacted in order until the spot is filled. For last minute openings, we may contact everyone on the waitlist at the same time.
Another reason to put yourself on the waitlist is it sends our Program Managers a clear signal that this class is popular and we should consider scheduling more sessions in the future. Even if you don't get in this time around it makes it easier for you and others to take the class in the future.
---
How Do I Register on Member Early Registration Day?
If you're an active member (or become a member here!) and want to take advantage of this benefit, we have a few tips to offer:
1. If you don't have an account in our online registration system, now is the time to create one! Please see "How do I register online?" above for more details.
2. Check your membership status:
Once you have signed into your account, click on "My Account" and then "My Membership." You'll see the status and expiration date of your membership (which is roughly one year from the date of your last donation).
A gift of any amount makes you a member at North House, whether that's a one-time gift or a sustaining membership. For household memberships, please include both names when completing your donation. Become a member here.
Once you've made a gift it typically takes a few days to be reflected on your profile in our registration system. Making your gift at least a week before registration day helps to give our staff time to get this reflected on your record.
If you've made a gift more than a week ago and you aren't seeing your membership status reflected, please be in touch! Emailing info@northhouse.org is the best way to reach out so that we can get your question passed on to the appropriate staff member. If you don't have an account, please set this up first before reaching out, as that will help us to move a little quicker to be able to accommodate everyone.
Whether you're signing up on Member Early Registration Day or open registration day, courses will not be open until 9AM Central Time. We try our best to make it fair for everyone, and so we do not answer the phones before that time on either registration day. We do monitor email in an effort to get folks answers in a timely manner. Questions can be sent to info@northhouse.org.
---
Payment Information, Discounts & Scholarships
When and how do I pay for my course?
Tuition and materials fees must be paid in full to secure registration in a course. Payment plans are available upon request for those unable to make a full payment at the time of registration. For courses where the materials fee varies, the fee is paid directly to the instructor on the first day of class via cash or check. Payments to North House must be made in U.S. currency by cash, check or money order payable to North House Folk School. We also accept Visa, Mastercard, American Express, and Discover.
Are there any discounts available?
A local discount of 25% on tuition is available to legal residents of Cook County in Minnesota. An individual may request the local discount totaling up to $200 in any calendar year. The discount does not apply to materials fees. Proof of legal residency is required (MN Driver's License or MN State ID). Please call us at 218-387-9762 to register in order to take advantage of the local discount.
How do I apply for a scholarship?
Scholarships are available at different levels (Half, Full and Full+). Learn more about our scholarship program here.
Do you have a work study program?
What happens if I need to cancel my registration?
Students who cancel their enrollment more than 21 days prior to the first day of the course will receive a refund less a $50 cancellation fee to cover administrative costs. In recognition of the time and energy instructors invest in preparing for courses, students who cancel their enrollment 21 days or less prior to the first day of the course are not eligible for a refund.
Some courses, such as sailing trips and Build Your Own Timber Frame courses, have different cancellation policies. Those policies will be noted on the course page.
If North House must cancel a course, students will receive a full refund of any payments made for that course.
See our current Covid policies here.
---
Other Frequently Asked Questions
Do North House courses have age restrictions?
Unless otherwise stated, all of our classes are designed for and open to students 18 years old and up. In the interest of encouraging intergenerational learning, some North House courses are open to students under the age of 18 provided that they are accompanied by a fully enrolled adult student. Due to the unique nature of each course, minimum age requirements are defined by the instructor and can be found in the course descriptions. All courses that are open for intergenerational learning are clearly defined by the course description. Tuition rates may vary for adult/youth pairings. Please inquire at registration about restrictions.
We offer several youth classes, programs and camps throughout the year. Please see our current youth programs here.
How accessible is the North House campus?
For more information about physical accessibility on campus please see our campus policies here.
How does North House use my Information? (Privacy Policy)
We respect your privacy and will not sell or give your mailing address or e-mail address to another party. We use our mailing list to notify you of new classes and current events here at North House. You may ask to be removed from our mailing list or e-mail newsletter list at any time by contacting us at (888) 387-9762 or info@northhouse.org.
Read our complete Privacy Policy.
Latest Update:

View recent changes →