Punch Needle Rug Hooking: Birds of the Northwoods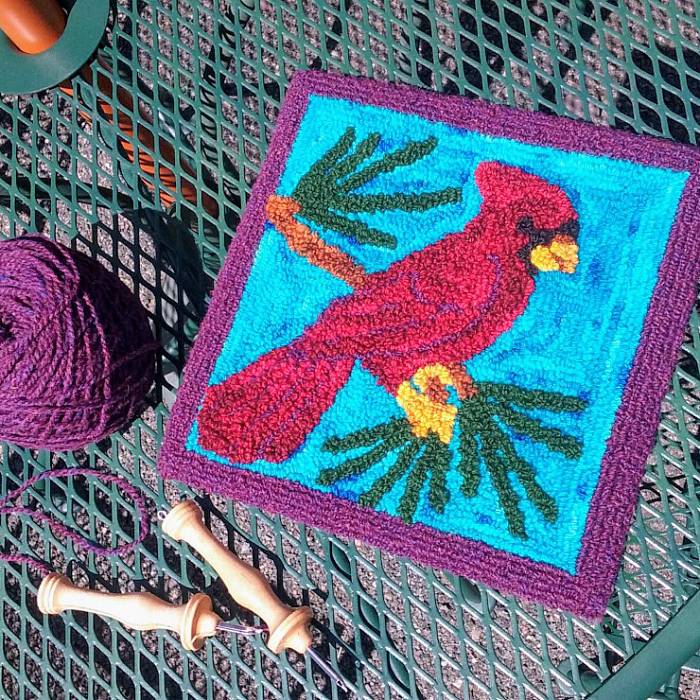 Course Overview
Punch needle rug hooking is a contemporary take on traditional rug hooking, in which the piece is worked from the back using an Oxford Punch Needle. The yarn is fed through the core of the punch needle, which leaves behind even loops on the opposite side of the backing. This creates a "coloring with yarn process" that feels like magic and invites imaginative interpretation of the design. Explore this new style of rug hooking with a selection of bird-themed designs from the instructor (cardinal, chickadee, loon, owl, or hummingbird) to create a colorful and textural piece of your own. Using yarn from the instructor's sheep, students will learn how to stretch the monk's cloth backing onto a frame and use two sizes of the Oxford Punch Needle to turn the chosen design into a looped pile home accent.
Designed by Amy Oxford in Vermont, the Oxford Punch Needle transforms this traditionally hooked rug process so that it's both speedier and kinder on the wrists. Wool and wool-blend yarns are the best fibers to use in the punch needle, so please make certain you do not have a wool allergy before signing up for this class.
See a demo of punch needle rug hooking in the video below!
Session Information
This course is part of Fiber Week! Plan to attend Fiber Friday, a new feature in 2020. On February 14, we'll host a day of speakers, demonstrations, open studios and community gatherings free for all enrolled students. This popular model, borrowed from our Wood Week and Basket Week, allows students and instructors alike the opportunity to meet one another, expand their interests and enjoy our cozy campus learning atmosphere. Come early or stay late; you won't want to miss Fiber Friday! Full schedule available in early 2020.
Dates
Sat, Feb 15th, 2020 – Sun, Feb 16th, 2020
Course Details
Skill Levels:
Beginner to Advanced
Intergenerational age:
12+ w/ adult, 14+ w/o adult
Tuition:
$245.00
Materials fee: $55.00
Required
You will need the following tools for this class:
Sturdy sewing needle and cream-colored upholstery thread
Thread Scissors
Fabric pins
Yarn bowl (a cereal bowl work well too)
The instructor will contact you prior to class regarding design selection for your project, so please watch for this email.
This is NOT a class for students with a wool allergy. The substitution of synthetic or alternative fiber yarns would be very difficult for a beginning punch needle student and the outcome not as pleasing.
Optional Tools
Feel free to bring your favorite tools and whatever materials you might feel appropriate for this course.
Notebook and writing implement
Images of the bird you chosen, for color inspiration
More Information
Once registered, students will receive a confirmation email with further class information. Please call us if you haven't received it within 24 hours.
Punch Needle Rug Hooking: Birds of the Northwoods - 2/15/2020