Revelations in Rep Weave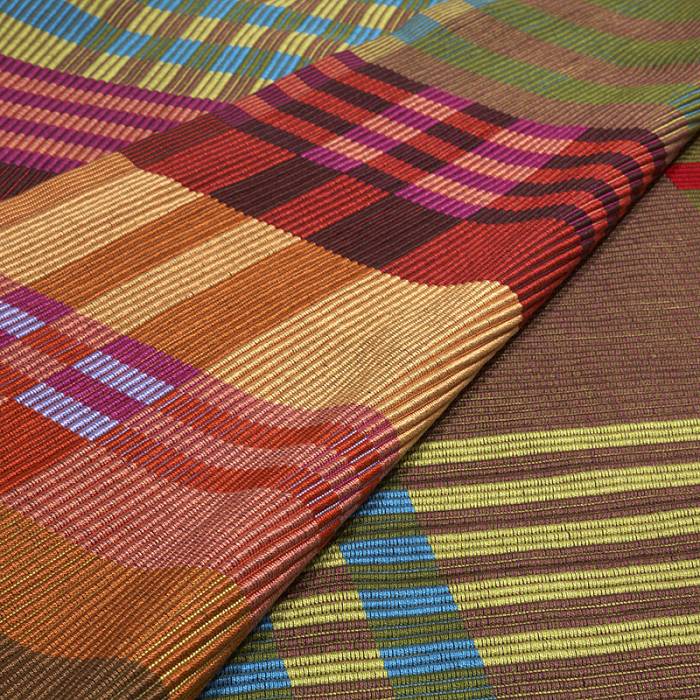 Course Overview
Immerse yourself in the wonderful world of rep weave in a four day workshop with celebrated weaver Kelly Marshall. This course will include presentations and discussion covering the unique characteristics of rep weave, color blending and designing, pattern block movement as well as demonstrating weaving technique and material selection. Each student will weave a table runner to take home. The course is for intermediate to experienced weavers, each participant will be expected to be able to warp the loom independently. Students can purchase a warp and weft from the instructor $65 or bring their own warp, wound according to instructions provided by the instructor, and weft. After registering, students will receive a packet of warping instructions for either a 4 or 8 shaft pattern, to create a 10" wide table runner using 5/2 pearl cotton.
Session Information
This course is part of Fiber Week! Plan to attend Fiber Friday, a new feature in 2020. On February 14, we'll host a day of speakers, demonstrations, open studios and community gatherings free for all enrolled students. This popular model, borrowed from our Wood Week and Basket Week, allows students and instructors alike the opportunity to meet one another, expand their interests and enjoy our cozy campus learning atmosphere. Come early or stay late; you won't want to miss Fiber Friday! Full schedule available in early 2020.
Dates
Mon, Feb 10th, 2020 – Thu, Feb 13th, 2020
Course Details
Skill Levels:
Intermediate to Advanced
Intergenerational age:
N/A
Tuition:
$405.00
Materials fee: $5.00
Additional materials fee paid to instructor when class starts:
Additional $65 due to instructor if purchasing a warp and weft for class
Required
You will need the following tools for this class:
Pencil
Calculator
Colored pencils
Scissors
Reading glasses if needed
Optional Tools
For this course, you can choose to purchase a wound warp and weft from the instructor for $65, or you may wind your own warp and suppy your own weft. If you choose to bring your own warp and weft, the instructor will provide suggestions on yarn to buy as well as instructions for preparing your warp.
More Information
Once registered, students will receive a confirmation email with further class information. Please call us if you haven't received it within 24 hours.
Latest Update:

View recent changes →
Revelations in Rep Weave - 2/10/2020