On the Hjørdis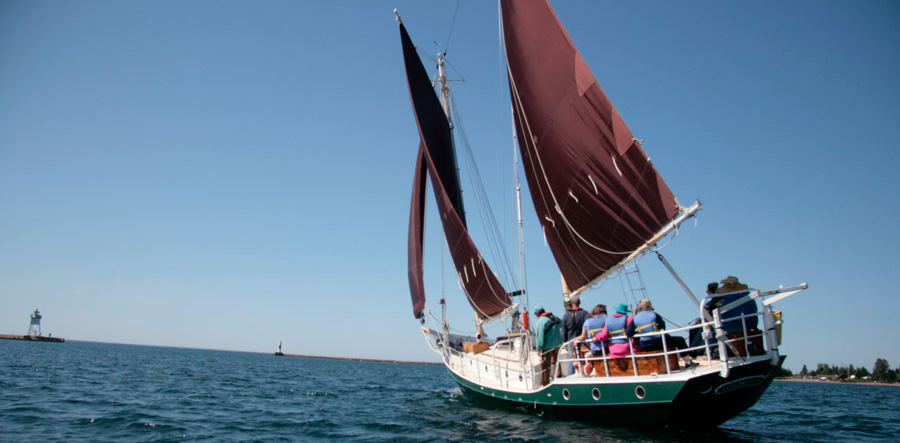 The flagship of the Grand Marais Harbor, Hjørdis shares the name of the mythical Norse goddess of war. Take a trip on this 50' traditionally-rigged steel schooner and gain access to both the largest lake in the world and experience Grand Marais as it was approached in the centuries before Highway 61 — from the water.
Reservations
Reservations can be made online up to one hour before the scheduled sail. Beyond that, call North House for availability. Per Coast Guard regulations, we can accommodate up to 6 guests per sail. Regardless of age, each passenger counts towards our 6 guest limit, and therefore must be registered. All youth up through age 15 must be accompanied by an adult. As the boat cannot simply return to shore upon request, North House recommends serious consideration before deciding to bring youth ages 0-5 aboard.
Each sail requires a minimum of 3 guests. If the minimum number of guests is not met, the captain may cancel that sail. Alternatively, if two passengers are registered and arrive to find that the minimum number of guests has not been met, they may "float the boat" by paying an additional $10 each which will allow the sail to happen.
Booking & Cancellation Policy
A credit card is required to hold your reservation but will not be charged until the sail. If you cancel your booking more than 48 hours in advance, you will not be charged. If you cancel fewer than 48 hours in advance or do not show up for your sail, your card will be charged the full amount.
Our captains reserve the right to cancel a sail due to weather, equipment failure, or failure to meet the minimum number of guests. If we do cancel a sail, your card will not be charged. We will do our best to notify you ahead of time that your sail is cancelled by phone and email. If you do not get a call from us, assume that your sail is going ahead as scheduled.
Check-in and What to Bring
Please arrive 15 minutes before your sail is scheduled to depart. Check in at the Yellow Building (School Store).
Please dress warmly. Out on the lake, the temperature is often at least 10 degrees cooler than on land. Dress in layers and bring a jacket. Sunglasses, a winter hat, mittens, and scarf are recommended.
You are welcome to bring snacks or beverages along. Water is a great idea.
If you are bringing a young person who weighs less than 50 lbs, you will need to provide your own PFD.
Dogs do not make good crew members, and are therefore not allowed on the schooner.
Sailing Courses
Our regular courses provide another great way to experience the Hjørdis while building your sailing skills. Our array of sailing classes range from navigation to ropework, basic sailing to multi-day sail training trips to the Apostle Islands and Isle Royale.
Youth Sailing Program
We also have a Youth Sailing Program, providing learning opportunities and involving youth in everyday operations of the Hjørdis. See our Community Programs page for more information.