Wille Sundqvist and Bill Coperthwaite Slöjd Fellowship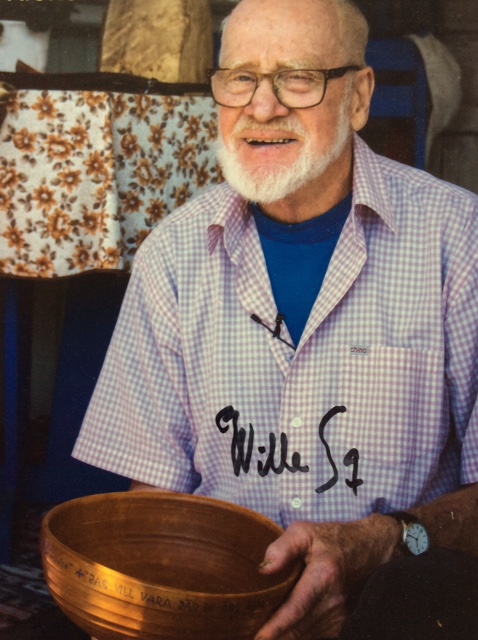 To Honor Wille Sundqvist
October 26, 1925 - June 3, 2018
The Sundqvist Family has requested contributions to honor Wille's long and inspiring life be made to the Wille Sundqvist and Bill Coperthwaite Slöjd Fellowship. The Fellowship was established in 2015 on Wille's 90th birthday. Wille Sundqvist lived in Bjurholm, Sweden and devoted his life to teaching, mentoring and furthering the importance in our social and cultural traditions. His passion for handcraft was exploring the form and function of spoons and turned bowls. He traveled extensively, wrote several books including Swedish Carving Techniques, and has inspired countless people around the world to explore slöjd and to learn and work together.
The annual Slöjd Fellowship is awarded to craftspeople to further deepen the meaning, skills, and connections among those passionate about simple living and handmade objects. It provides financial support to green woodworkers and other craftspeople to travel from their home country and share their thinking about handcraft, showcase their skills and design work, further their own research, and extend the international community of handcraft.
The Fellowship is also named for Bill Coperthwaite, a long time friend and collaborator of Wille's, who died in 2013. Bill was a homesteader in coastal Maine, a visionary social critic, architect, author of A Handmade Life, and proponent of "democratic living," where handcraft and simple living encourage us to seek, experiment, create and dream together toward building more meaningful community and a better world.
The Wille Sundqvist and Bill Coperthwaite Slöjd Fellowship is awarded in partnership with the North House Folk School. Charitable contributions to the Fellowship may be sent (noting "Slöjd Fellowship Fund") to North House Folk School, P.O. Box 759, 500 W. Highway 61, Grand Marias, MN 55604.
Questions can be directed to Peter Lamb, Jögge Sundqvist, or to Tom Morse at North House Folk School
Latest Update:

View recent changes →