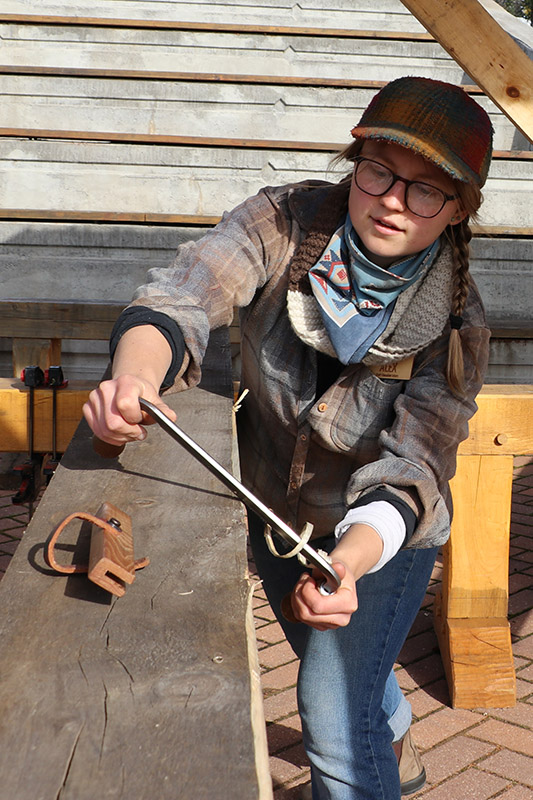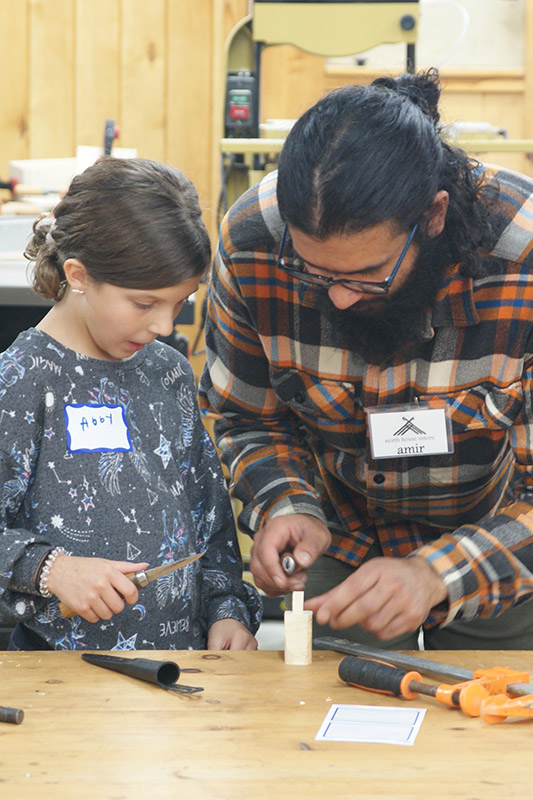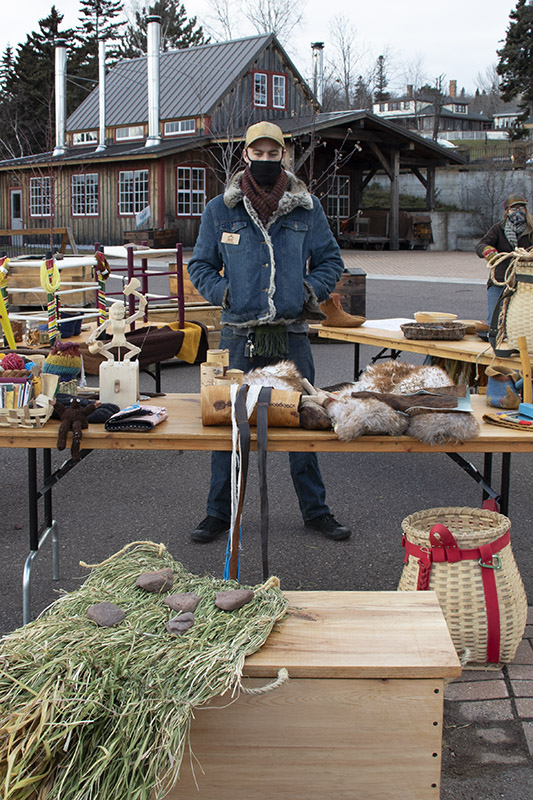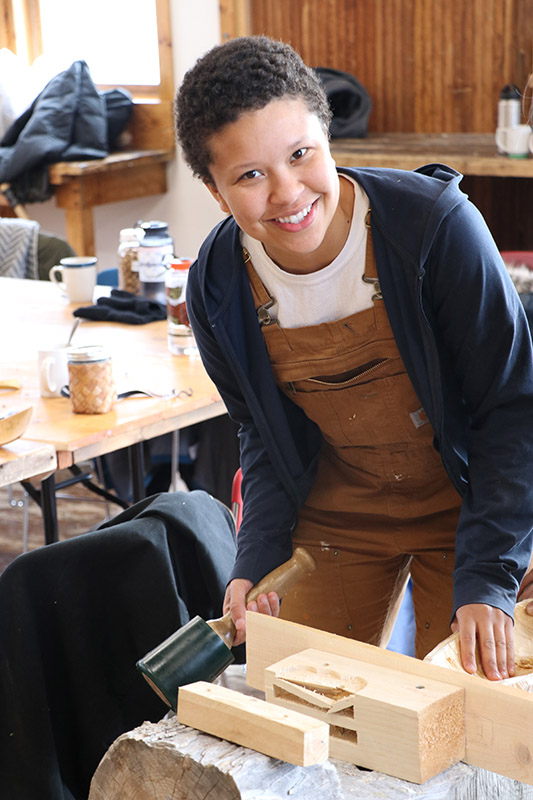 Application Information
We anticipate opening the application period for the 2022 internship year in late summer 2021. The 2022 internship is planned to run January-November. Sign up for our e-newsletter to be notified when the application information is available. Questions about the program are welcomed anytime, contact Program Manager Sarah Waddle at swaddle@northhouse.org with questions.
We are seeking applicants for the 2022 Craft Education Internship which will run January 19th-November 20th, 2022. Download the information and application instructions. Questions are welcome anytime, please contact Program Manager Sarah Waddle at swaddle@northhouse.org.
Applications due September 26th
Watch the replay of a live Q and A session about the Craft Education Internship at North House Folk School, that took place Tuesday September 7th.
Program Overview
Imagine spending months immersed in the joyful, busy, and creative work of our folk school. Your days as an intern are filled with coursework, projects to explore the inner workings of an educational non-profit, campus hosting and logistical wrangling, and countless moments to learn from students and instructors excited about craft. Our internship is a launching point for individuals interested in gaining a broad exposure to traditional Northern craft, learning about non-profit administration, and exploring their own professional pathway in education and craft. Ideal intern candidates are passionate about craft, curious to learn, and happy when pitching in on tasks large and small to help make our folk school run.
The goals of the craft education internship include:
Nurturing appreciation for the future of traditional craft through focused education and skill development in craft as well as through relationship building with instructors and students.
Increasing awareness of and exposure to various responsibilities and opportunities involved in non-profit education, administration and program management.
Developing and strengthening educational leadership skills by engaging in public outreach, facilitating small-group learning experiences and creating a positive and supportive learning environment for students of all ages.
Each year, the four interns live in community in a beautiful loft overlooking the harbor on our campus. In addition to provided housing, interns receive a modest living stipend and a stipend for course tuition and materials during their internship. We are a dynamic, educational nonprofit committed to teaching traditional northern crafts while fostering lifelong learning. Our curriculum emphasizes hands-on learning and includes courses ranging from timber framing to northern ecology, birch bark weaving to artisan bread baking.
Meet the 2021 Interns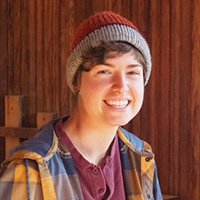 Alex Blust
Alex grew up in the Chicagoland area. She has lived for brief stints across the country where she worked as a white water raft guide, ranch hand, and organic farmworker before setting down roots in Minneapolis, Minnesota. After several years working in housing-related nonprofits, Alex left the office to work with her hands as a residential remodel carpenter. In her free time you'll find her hiking, sewing, swimming, reading books and building things.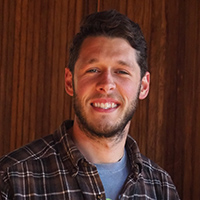 Wesley Hathaway
Wesley grew up in Indiana and has also lived in Arizona and Alaska. Growing up being creative was always encouraged, whether it was playing an instrument, drawing, or just cutting up popsicle sticks. Wesley spent 6 years in the Air Force which is how he stumbled upon a folk school in Fairbanks, Alaska and got exposed to craft. Fast Forward and he is now interning at North House Folk School with the hopes of learning more about the wonderful word of craft.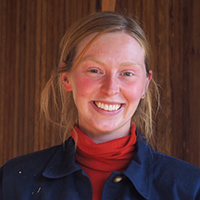 Lauren Newby
Growing up in Eau Claire, WI, Lauren was always told by her mother, "If you are bored, use your hands and make something." She developed her admiration for design, strength of wood, and traditional craft while rebuilding a 1850s dovetail log cabin and studying woodworking and furniture design at UW-Madison. Exploring early American craft history, she is interested in breathing new life into antique tools and methods. Lauren is excited to advance tactile processes at North House through woodworking, weaving, picking berries, and baking bread.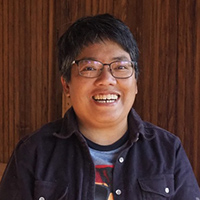 Mary Tripoli
Mary (she/her) grew up in a small town in southwestern Pennsylvania, but has been enjoying life in the Pacific Northwest for the last 17 years. Now finished with her corporate career, Mary enjoys cycling, fly fishing, cat wrangling, cooking, board games, camping, looking at birds (but not knowing what they are!), and spending time with her partner Amy. An avid maker and fixer of things, she discovered green wood carving 4 years ago and has never gone more than a few days without carving something—a spoon, a spatula or more recently, fanbirds! She can't wait to dive in and be a part of the North House community for this season.
Hear from Former Interns
Two former interns share their perspectives on the internship and talk about what they went on to do afterwards in North House's 20th Anniversary video below. The video is queued up to begin at the intern interviews, but we'd recommend starting from the beginning and watching the whole thing if you have the time — it's worth it!
NORTH HOUSE FOLK SCHOOL-Celebrating 20 Years Of Teaching Traditional Northern Craft from Layne Kennedy on Vimeo.