Bead Embroidery: Painting with Beads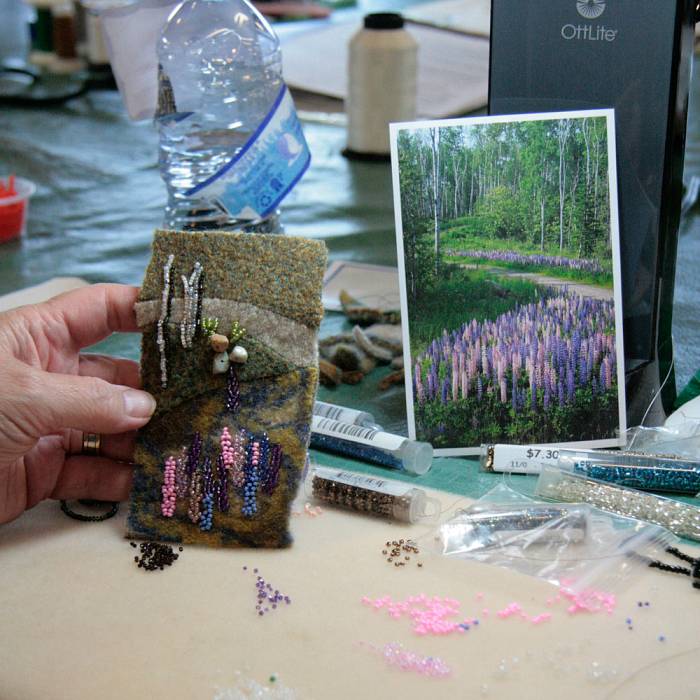 Course Overview
Bring a favorite landscape image to class and create your own unique bead painting on felted wool (material provided). Your piece can be made into a pin for a wearable work of art, or framed for display. This workshop is for all skill levels, for those new to beading on fabric as well as for those wishing to explore the use of beads in their needle arts. Bead artist Jo Wood will introduce you to her favorite techniques for "painting" with beads. Her goal is to demystify the basic materials and process of bead embroidery. While working with bead colors and textures, you will also learn some simple principles of composition, transferring patterns, and how to add depth & dimension to your work. The use of beads has spanned cultures across the globe for more than 6000 years. Learn how this traditional needle art can be used in an innovative way. Come join us for a fun and relaxed creative experience and learn a new skill for your future projects.
Jo's approach to 'painting with beads' is a unique combination of tradition and innovation. Preview Jo's bead embroidery style on her website by visiting www.jowoodbeads.com
Session Information
This course is part of Fiber Week! Plan to attend Fiber Friday, a new feature in 2020. On February 14, we'll host a day of speakers, demonstrations, open studios and community gatherings free for all enrolled students. This popular model, borrowed from our Wood Week and Basket Week, allows students and instructors alike the opportunity to meet one another, expand their interests and enjoy our cozy campus learning atmosphere. Come early or stay late; you won't want to miss Fiber Friday! Full schedule available in early 2020.
Dates
Wed, Feb 12th, 2020 – Thu, Feb 13th, 2020
Course Details
Intergenerational age:
N/A
Tuition:
$215.00
Materials fee: $25.00
Required
You will need the following tools for this class:
An inspirational landscape to use for your design (photo, pics from magazines, etc.) Electronic images DO NOT work well for this class.
Beads- seed beads in size 10 to 15 . Bring 8 or more colors. Choose a variety of surface finishes (opaque, matte, transparent, silver-lined, etc.) that work with your landscape
scissors (small, sharp) (available for purchase @ North House School Store 888-387-9762)
reading glasses if you need them or magnification if that helps
bead tray or beading blanket
samples of your needle art that you would like to share with the group
Optional Tools
other beads and beading supplies if you have them
More Information
Once registered, students will receive a confirmation email with further class information. Please call us if you haven't received it within 24 hours.
Bead Embroidery: Painting with Beads - 2/12/2020