The Artisan Development Program nurtures the growth of the next generation of traditional craft artisans. The program offers professional development including mentorship, education practice, studio space and time for artisans committed to pursuing craft education as a professional pathway. Resident Artisans in the program build in-depth experience in their craft, while enhancing the vitality of North House Folk School as craft ambassadors for the school. Participants cultivate meaningful relationships, develop craft and teaching skills for future leadership, and forge connections with regional, national and international institutions and artisans.
The program is unique nationally in its level of support for craft artisans and in-depth length. The Artisan Development Program began in 2017 with an initial cohort of two artisans. Each year two additional resident artisans join the program, with each cohort spending two years in the program.

The program of study for artisans includes the following:
Craft Study — Engagement with a professional mentor, dedicated studio space, budget for mentorship, materials, and tools
Teaching Skill Development — Assisting instructors in courses at North House, independent teaching at North House, participating in professional development
Public Engagement — Traveling to conferences, festivals, and regional events to build professional networks, sell work, and represent North House, as well as demonstrating craft and representing the program on campus.
International Connections — Assisting in creating opportunities for international instructors to visit and teach at North House; spending several weeks traveling and researching craft in Scandinavia in the second year of the program.
Who should apply?
This program is designed for craft artisans and makers with four or more years working in their craft medium who already have some experience teaching and showing their work. Resident Artisans focus in one or more areas of craft with current available core areas for focus being: fibers (felting, spinning, weaving, knitting), basketry, leatherwork, wood (turning, timber framing, boat building, carving, building), and foods. Other areas of emerging interest to the Folk School may be proposed, provided that they have a strong connection to traditional Northern craft.
The program is designed to benefit emerging craft artisans by providing them with a supportive environment to hone their skills, develop their voices as makers and teachers of craft, and steep themselves in what it means to make a life and a living in the world of traditional craft. Past residents have used their time in the program to take their work in new directions, develop and deepen connections with master craftspeople as mentors, create foundations for craft entrepreneurship, and expand their horizons as educators.

Benefits to Resident Artisans:
As the only fully-funded program of its kind, resident artisans are provided with housing (including all utilities) and studio space during their two years in the program. They are also provided with a monthly living stipend and significant funding for professional development, travel (both nationally and internationally to study craft), and mentorship.
Studio spaces are semi-private in a large sunny historic church building just blocks from the main North House campus. Studios are empty and are to be outfitted fully by each participating resident.
Watch a PBS Segment from the show Making It Up North about the Artisan Development Program:
Current Resident Artisans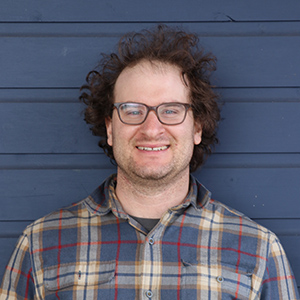 Josh Tolkan
Josh spent his youth paddling rivera of Northern Wisconsin and sailing on Lake Michigan. While attending Carleton College he began paddling Minnesota's Boundary Waters and sailing the midwest collegiate racing circuit. After spending a summer teaching sailing at the Center for Wooden Boats in Seattle, he became a hobby boat builder. During seven years spent as an affordable housing project and construction manager he built a cedar strip canoe, a nutshell pram and remodeled an RV trailer into a mobile kitchen. Finally Josh decided he had had his fill of management life and needed to be using my hands on a daily basis. In 2016 he enrolled at the Northwest School of Wooden Boat Building near Port Townsend, Washington. His year of school culminated in a third place finish for his team at the Port Townsend Wooden Boat Festival's 3 day Boat Building Challenge! In the fall of 2017 he went to work for Wilderness Inquiry in Minneapolis, Minnesota. There he redesigned and prototyped Wilderness Inquiry's 24′ Voyaguer canoe and then helped Wenonah Canoe prepare to mass produce that design for Wilderness Inquiry.
Josh is excited to spend two years as an Artisan in Development at North House. He hopes to inspire the North House and Grand Marais community into the history and possibilities of traditional wooden boats, and to use his time here to launch himself into a career as a self-employed boat builder.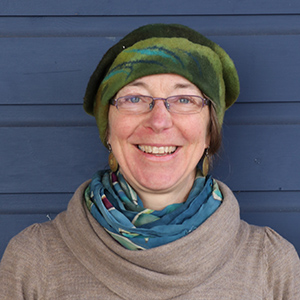 Elise Kyllo
Elise Kyllo grew up in South Minneapolis but immediately after college discovered a love for the wilderness while guiding BWCA trips from the end of the Gunflint Trail. This experience ultimately led her back to Grand Marais and to North House Folk School after many years of farming, urban gardening, being an environmental educator and artist. Somewhere along the way, wool as an artistic medium entered her life and replaced the paints, clay and inks with a desire to create things of beauty and usefulness with wool. "It's somewhat of a mystery as to how I fell in love with wool, but undoubtedly it's the close connection to the land, the sustainability of fiber from sheep, from grass and sun, magically transforming wool into an endless list of things with just water, soap and patient agitation. Felting with wool is completely intoxicating and never, ever dull."
Teaching felting at North House Folk School over the last 12 years has allowed Elise to merge her passion for teaching, art, creativity and living simply. North House created a path back to the north shore, which has led to the building of a house, growing a north woods garden and now the Artisan Development Program. For the first time, Elise has a studio space and feels excited to be able to focus on developing her felting and teaching skills, work with felting mentors, dig deeper into understanding numerous breeds of sheep and practice the nuances of being a working craftsperson/artist.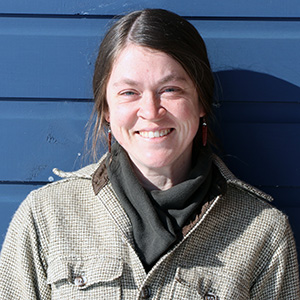 Emily Derke
Northern Minnesota is where Emily calls home. The materials growing in the area are of great influence in Emily's work. Primarily a basketmaker, She works with willow, birch bark, cedar bark, and other local materials to create useful items. Emily has spent time learning basketry in folk school settings, apprenticeships, workshops, and dedicated time practicing independently over the last 10 years. Teaching has been a main focus of her work. The desire to connect with people while creating and working with the materials that grow around us has inspired Emily to continue learning more about the materials and place we live.
Basketry continues to be the main focus of Emily's work, but she also spends a great deal of time working to harvest and grow food, exploring the land around her, sewing, tanning hides and furs, and continuing to work towards living in a way that connects her to the things we need, use and eat.
As a current Artisan Development Program participant, Emily is looking forward to diving deep into the world of basketry traditions, exploring other crafts related to life in Northern Minnesota, and working on teaching these important crafts.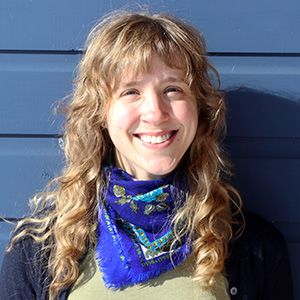 Christine Novotny
Christine Novotny is a handweaver with a love for color, pattern, and design. Christine has spent most of her life painting and drawing, capturing memory and her love for the natural world through imaginative, colorful paintings. After many years of creating work that either went up on a wall or into her flat file portfolio, she became frustrated with the lack of physical interaction between the work and the viewer. She longed to create work that was accessible, functional, tactile, and beautiful. Christine took a floor loom weaving class in 2014, thinking she would transfer the imagery in her paintings into tapestry weaving. Instead, she instantly fell in love with the precise, methodical, and attention-demanding process of creating textiles on a floor loom.
Christine has gone onto weave rugs (paintings you can step inside!), scarves, table linens, and wall art, all guided by her love for surprising color and design interactions. She enjoys manipulating the proportions and repetitions of old weaving drafts from around the world to create work that feels rich and contemporary, but still rooted in tradition. Christine firmly believes in the power of attention and slowing down, two fundamental skills in creating woven work.
Christine is thrilled to be an Artisan in Residence at North House—to have time and support to create new textiles, challenge herself to learn new skills, and gain the professional tools necessary to support a life in art and craft.