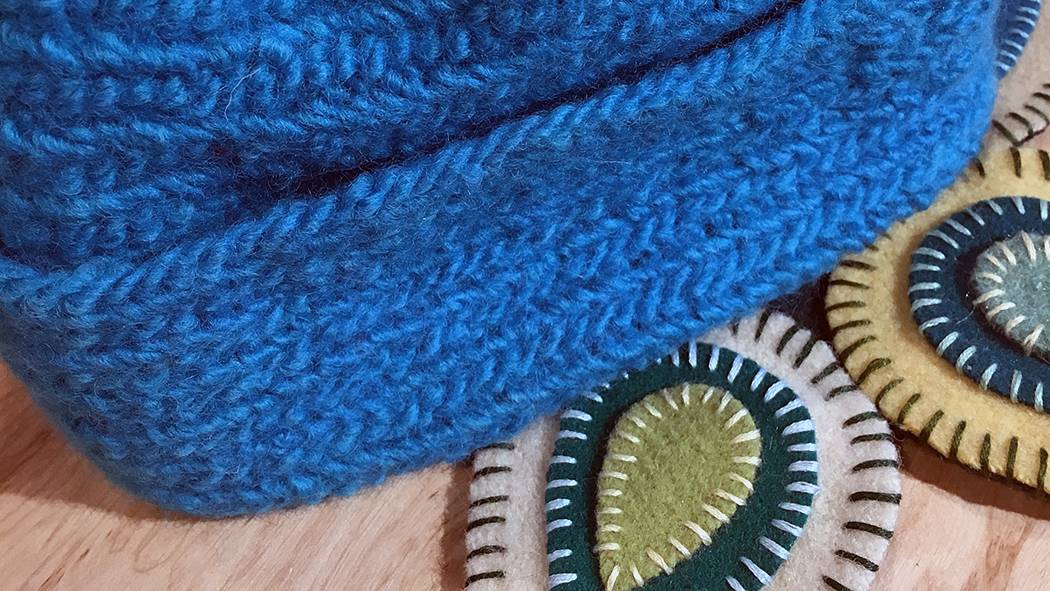 Overview
Wool, woodstoves, and winter weave together for a cozy week at North House each February. Join us on campus for this special week-long gathering that celebrates all manner of fiber arts. Featuring speakers, demonstrations, community gatherings, and coursework from long-time North House instructors as well as new guest artisans; tuck in to the warm and wooly camaraderie this winter. Create your own fiber adventure spinning, knitting, felting, sewing, beading and more!
Fiber Friday, a fabulous feature of Fiber Week, will be February 17. We'll host a day of speakers and mini courses, free for all enrolled students. Meet your fellow students and instructors, expand your interests and enjoy our cozy campus learning atmosphere. Come early or stay late; you won't want to miss Fiber Friday!
This year's Featured Guest Instructor is Leon Ozaawaagosh Valliere, a recognized Elder, Spiritual Leader, and Teacher from Waaswaaganing or Lac du Flambeau in Northern Wisconsin. He was raised in a traditional Ojibwe hunting and gathering culture. Ozaawaagosh will offer a course in traditional Anishinaabe Finger Weaving and be our Fiber Friday Featured Speaker.
Scroll down for the Fiber Friday schedule, a list of community gatherings and evening events, and our Fiber Week courses. Registration for courses is open now!
Event Details
EVENT DETAILS
All Week: Evening Activities
Blue Building, North House Campus (unless otherwise noted)
Free
Tuesday, February 14
7:00pm | Fiber Circle (Red Building)
Join resident artisan and instructor Laura Brown for an evening gathering for fiber friends. Bring a project to work on and enjoy the camaraderie of fellow fiber enthusiasts. All levels are encouraged to join and share. Bring your own materials and tools.
Wednesday, February 15
7:00pm | Private Shop Tour and Fiber Circle at Dappled Fern Fibers
Enjoy a special look around local yarn shop Dappled Fern Fibers during a private shop tour with owner Dorothy Broomall. Enjoy light refreshments and stick around for a fun fiber circle with Dorothy. Bring your works in progress or start something new with a just-purchased ball of beautiful yarn! Register here.
Dappled Fern Fibers is located at 15 Broadway Ave, Grand Marais. www.dappledfernfibers.com
Thursday, February 16
CANCELLED | Weaving through Scandinavia
We are sorry to share that due to unforeseen circumstances, the talk with Christine Novotny has been cancelled.
Saturday, February 18
7:00pm | Show & Share, Hosted by the Northwoods Fiber Guild
The Fiber Week Show & Share is a cherished event of the weekend when Fiber Week participants and instructors can come together and share work they have done, past and present. Bring something from home or from a Fiber Week class to share. All are welcome.
Sunday, February 19
7:00pm | Presentation: My Life with Sheep with Martha Owen
Join spinner, knitter, vegetable dyer, storyteller, and teacher Martha Owen, from the John C. Campbell Folk School, for an audience-influenced conversation about Martha's life with sheep. Topics might include: Keeping Sheep, sheep personalities, songs and stories with sheep, interesting wool, and "some of my best friends are sheep".

Martha shares, "In my personal fuzzy world I am a sheep farmer that has had to learn a lot, most of it the hard way. I did not grow up farming and in fact it was after many years of keeping sheep and being a worker of wool that I realized that that is what we are doing here. My farm product is wool. I look at what comes from my animals and seek out its best use." Join us!
Monday, February 20
7:00pm | Fiber Circle
Join resident artisan and instructor Laura Brown for an evening gathering for fiber friends. Bring a project to work on and enjoy the camaraderie of fellow fiber enthusiasts. All levels are encouraged to join and share. Bring your own materials and tools.

FIBER FRIDAY, February 17
A day of learning and community, creativity, and exploration! We'll start the day out with presentations from two local fiber artists, then enjoy a webinar presented by fiber friends in Sweden. Enrolled Fiber Week students can sign up for afternoon mini courses, and the day will be capped off with our Featured Speaker.
9:00am-1:00pm Speaker Series
2:00-4:00pm Mini Courses
7:00pm Featured Speaker
Speaker Series
Blue Building, North House Campus
Free, no registration required
9:00am: Weaving Scottish Tartans
Mary MacDonald
Mary will show a PowerPoint on how to read tartan patterns before warping the loom. Tartans must follow registered sett, or specific color order of yarns, to be considered authentic.
A variety of woven samples will show how the scale or size of the tartan is influenced by the weight of various yarns. Whether weaving heavy tartan blanket or fine fabric, the color order must remain consistent, however. Mary will bring an assortment of weights of yarns and finished tartans to show these differences.
10:30am: Passionate About Wool: Four Felters in Four Countries
Elise Kyllo
Elise, who recently completed the Artisan Development Program, shares her appreciation for the generosity and passion of four felters who hosted her as she traveled around Scandinavia, helping her discover the wonderful world of wool, felting, and fika. Join us for this warm and woolly travel presentation.
12:00pm: Stories from the Textile Program at Sätergläntan with Johanna Runbäck and Susana Ayton
Join us virtually or in the Blue Building on campus for a webinar viewing featuring instructors from our sister school Sätergläntan located in Dalarna, Sweden. Co-hosted with the American Swedish Institute, we'll learn more about the three year program of study at this venerable institution, celebrating 100 years of traditional craft education in 2023. Johanna and Susana will be guest instructors at North House in June 2023. Watch the Recording of this event on North House's "Crafting in Place".

2:00pm-4:00pm Mini Courses
Students enrolled in courses offered during Fiber Week will be able to enroll in a two hour mini course on Fiber Friday. Registration information will be provided via email to registered Fiber Week students. Mini courses are tuition-free for enrolled students; materials fees will vary. Registration for mini courses begins in late January, so sign up for your Fiber Week course today!
• Intro to Finger Weaving
with Leon Ozaawaagosh Valliere
Get the basics of finger weaving in this mini course. Featured guest Leon Ozaawaagosh Valliere will teach the basic set up and techniques in a large group setting. Students will take home a small project underway. A materials fee of approximately $25 will be collected during class.
• Scrap Fiber Beads
with Martha Ritter
Give those fiber bits from the craft room floor a new life in this mini course all about creative sustainability. Using weaving thrums, tiny fabric scraps, and sewing thread, students will create one-of-a-kind beads. This making process is simple and fun, and students will be able to develop their own designs as they bring their beads to life. All materials for the course projects will be provided, but students are welcome to bring scraps from their own stashes for their creations or to share. A materials fee of $5 will be collected during class.
• Utilizing Wool Remnants - Easy Patterns and Projects
with Jan Shepherd
Explore creative ways to utilize wool remnants using hand sewing and basic embroidery. Come to class ready to stock your idea folder, create a wool project, and take home several patterns, tips for finishing projects, and a generous bag of wool remnants from Faribault Woolen Mills! Examples such as pincushions, sewing 'hams', mittens, pillow forms and seasonal decor will be on-hand for inspiration. You may choose to design and start your project in class or simply copy as many patterns as possible to take home and re-create at a later time. A materials fee of $25 will be collected during class.

7:00pm: Featured Speaker
Finding Our Stories with Leon Ozaawaagosh Valliere
Blue Building
Through the eyes of Leon Ozaawaagosh Valliere, craft is not simply about making things, but about leading us toward a better life. Craft can help us learn our history, both the beautiful parts and the painful parts. Ultimately, it can help us better understand our relationship with the rest of creation through using our hands to harvest, weave and create. Join Lac du Flambeau elder Ozaawaagosh for a discussion of what it is to be a better human, including how his own Anishinaabe cultural and craft traditions shape his worldview. Yes, he'll talk about finger weaving too, but the real story here is about returning to and understanding the roots of a shared human experience. This is a not-to-be missed evening.

COVID UPDATES
Our plans for Fiber Week 2023 remain fluid as the pandemic remains a presence in our lives. Keep an eye on this page for any schedule changes.
Course Offerings