From Scraps to Substance: Traditional Patchwork Reimagined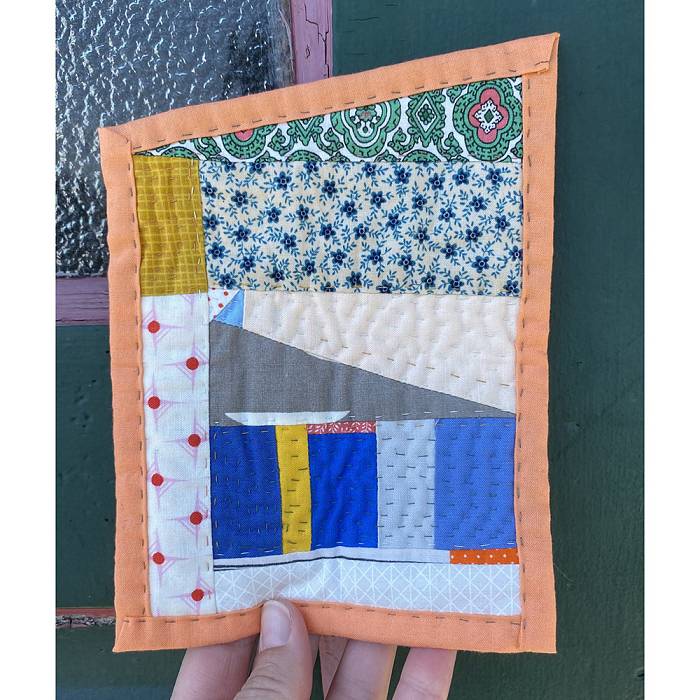 Course Overview
Repurposing and using up small pieces of fabric is at the heart of traditional patchwork quilting. If you have been saving scraps from sewing projects with the intent to sew them into something meaningful, this class is for you!
We will start with a brief history of patchwork quilting as inspiration, and then we will get to work. Swap scraps with others participants or work through your own pile to turn your crumbs into any number of usable, beautiful pieces. Projects may include: a series of mini quilt tops or squares for a larger quilt, patches for clothes or bags, custom yardage to sew into a patchwork garment. Techniques will focus on improvisational quilting with a consideration for composition, value, and color to bring your scraps to life.
With the guidance from the instructor–along with imagination and intuition–you will create a unique project plan and execute it over two days.
Physical Ability/Skills Needed
Some sewing machine experience is helpful.

Students should have the ability to sit and sew.

Some standing is required.
Provided materials
Cutting mats, rulers, rotary cutters, scissors, sewing kits,
Required Tools
Sewing machine, which must be in good working order. North House can provide machines for students to use. Please contact info@northhouse.org at least two weeks before class to request use of a sewing machine.

That bag of small scraps that has been haunting your sewing space for who knows how long!

Thread, needles, pins, thimbles, anything you like to sew with.
Optional Tools
Any tools you like to have for sewing, and if you have a specific patchwork project in mind, bring that.
Dates
Sat, Feb 18th, 2023 – Sun, Feb 19th, 2023
Course Details
Tuition:
$190.00
Materials fee: $10.00
From Scraps to Substance: Traditional Patchwork Reimagined