Water, Woods, and Mountains
Angela Robins travels west to study with bowl turner Helga Winter
This past week I traveled to the Pacific Northwest to visit my partner and to study with the artist Helga Winter. Helga lives in Port Townsend, which I used to tell myself was the "Grand Marais" of the Pacific Northwest, because it's a popular tourist destination with a rich arts and culture scene - but after visiting it for the third time, I realized that was a bold claim. The population is more robust than this small northwoods harbor, at approximately 10,000, and being at the end of of a peninsula, it's surrounded by ocean and mountains.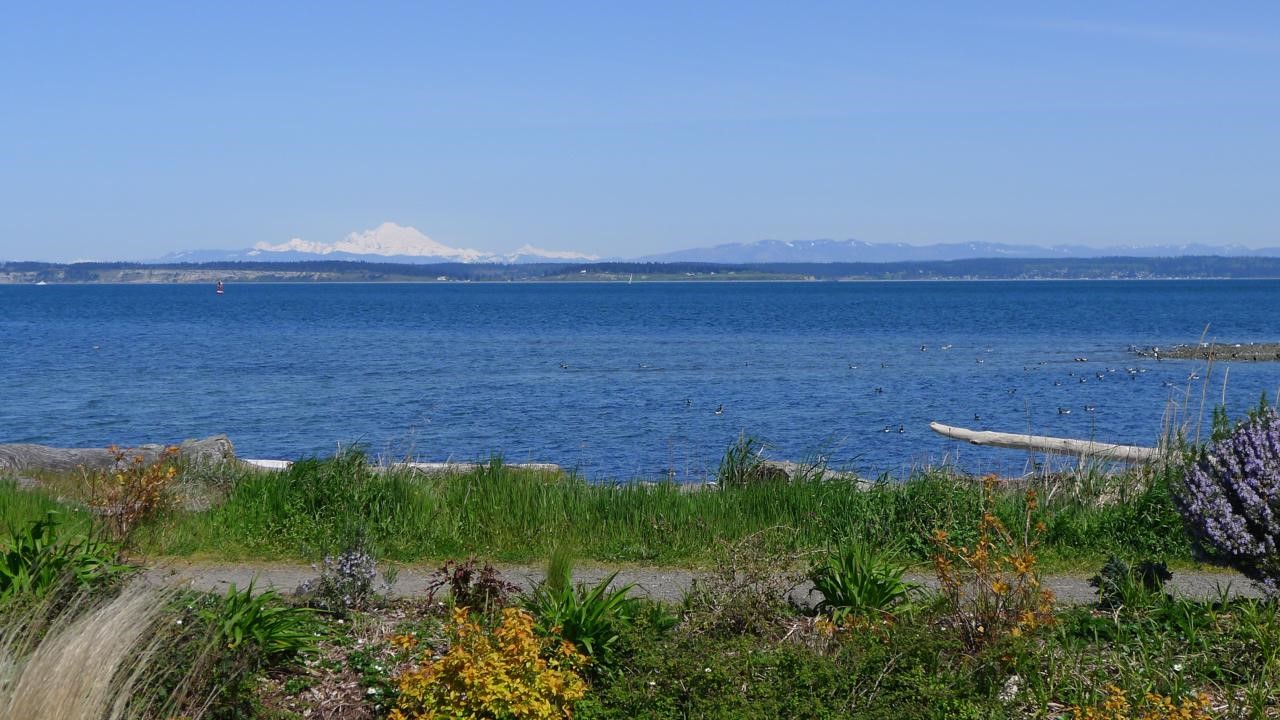 From foreground to background: a beach in Port Townsend, the Puget Sound, Whidbey Island and Mount Baker.
When I visited I could see the Cascade Mountain range to the east and the Olympic Mountain range to the southwest. While taking the ferry over, Mount Rainier peaked out over an island at 14,410 feet and Mount Baker at 10,781 feet. On clear days walking just a block can reveal a dramatic new sight miles away.
I have admired Helga's work ever since I first saw one of her pieces that Gallery of Wood Art curator Tib Shaw brought to North House's Fresh Cut Symposium in 2015. It was a turned bowl made of Pacific madrone, Helga's primary turning material ever since she moved to the pacific northwest in the late 1980s. She turned madrone while it was still "green" or wet from being recently cut, and would often cut blanks from tree crotches where two branches diverge and then turn a thin-walled vessel. The resulting vessels had incredible movement and warping that is stunning and evocative.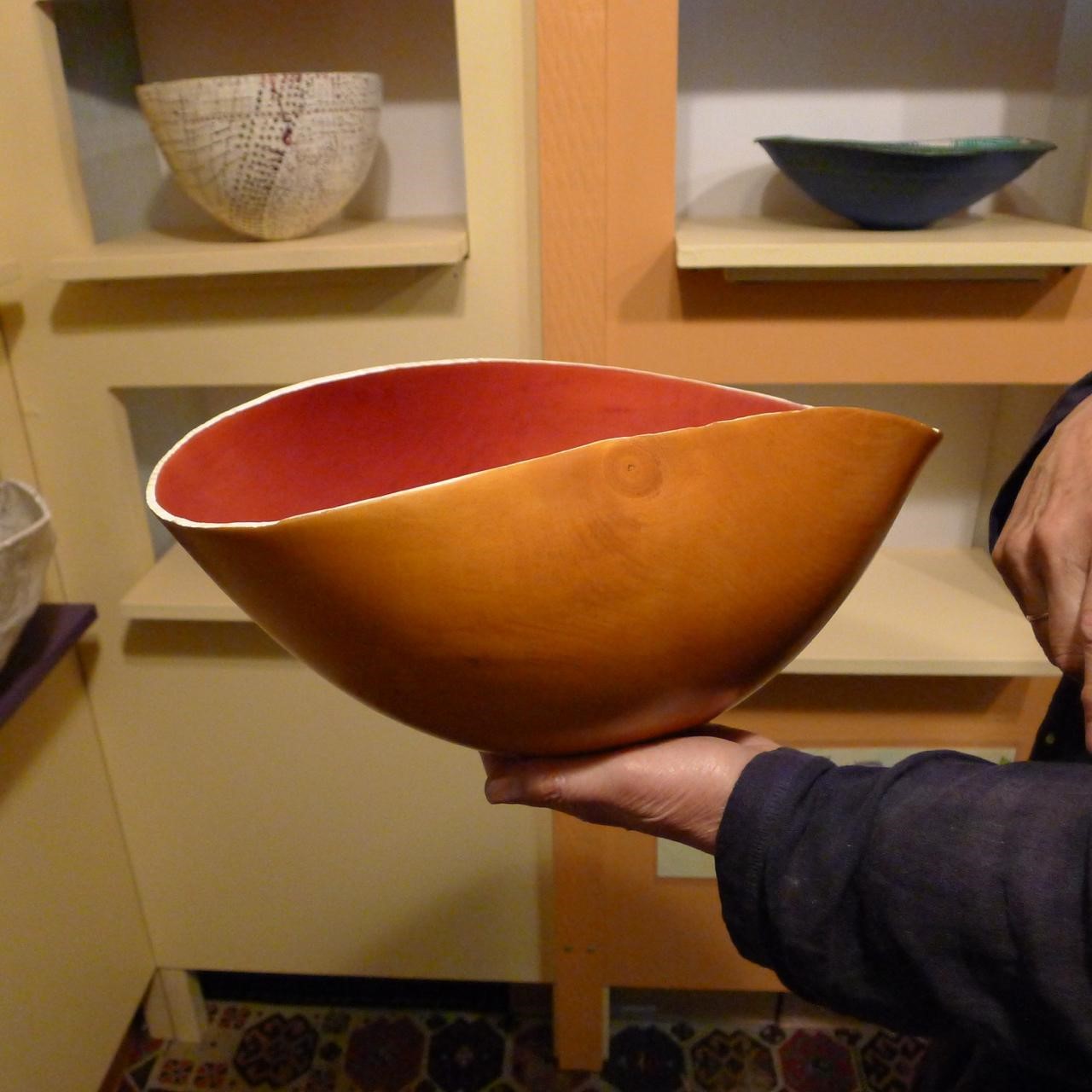 Helga holding one of her Pacific madrone vessels.
In her essay, "The Mysterious Process of Creativity," Helga writes, "I utilize recycled wood because that is the way I have always worked. It is natural to me. The cracks and holes can evoke empathetic feelings—life does not let us solve every problem. How we deal with problems is more important than fixing them." (Winter, 2009). As a green woodturner myself, the relationship between her process and outlook on life resonate with me.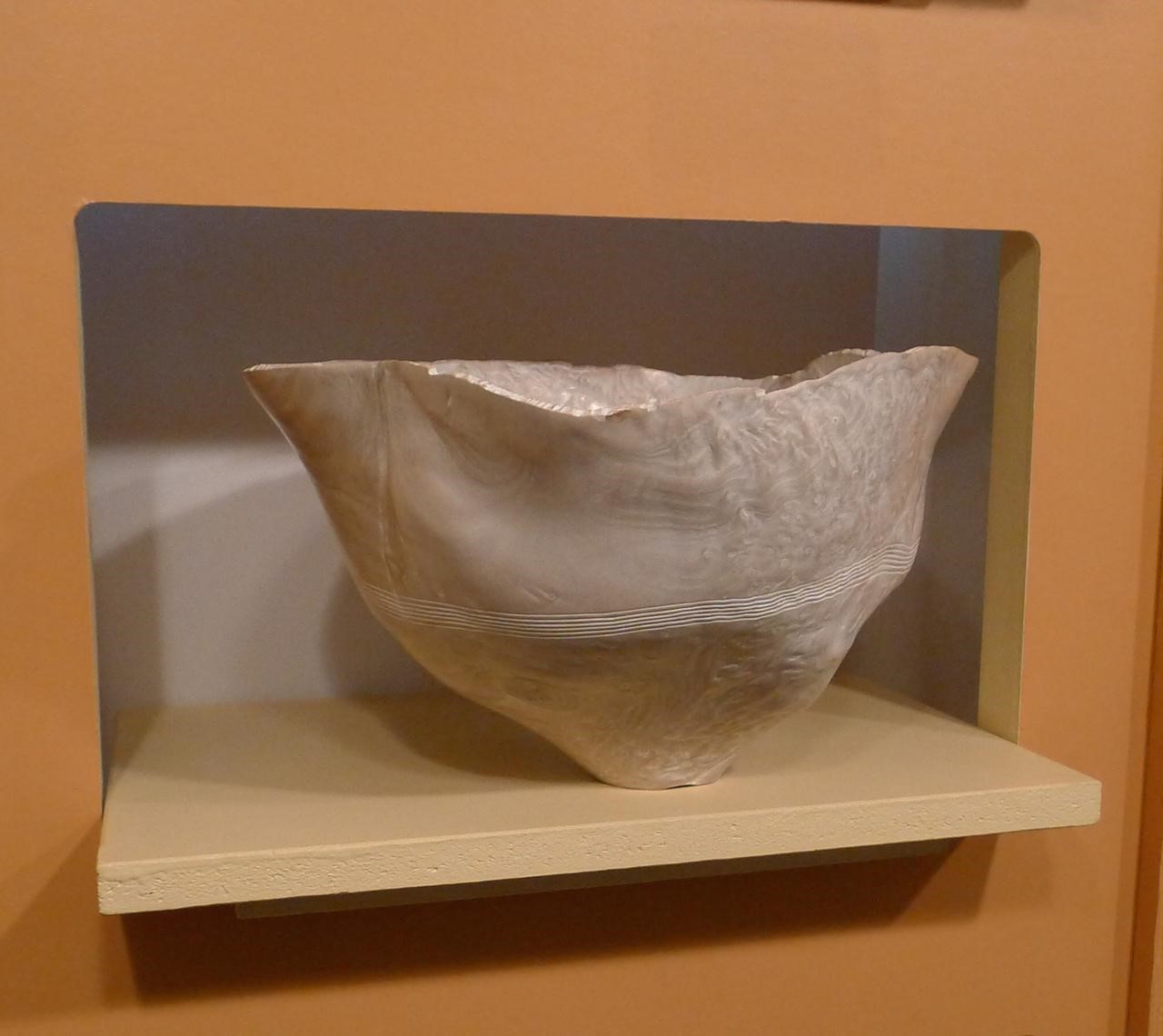 One of Helgas' pacific madrone vessels on display at her home.
Although I was first exposed to Helga's work through her woodturning pieces, I have since learned that she is a multi-disciplinary artist and creates work in other mediums, including sculptural paintings, multi media paintings and intricate paper vessels. During our time together, she generously taught me a variety of surface finishing techniques for my own wood turned pieces.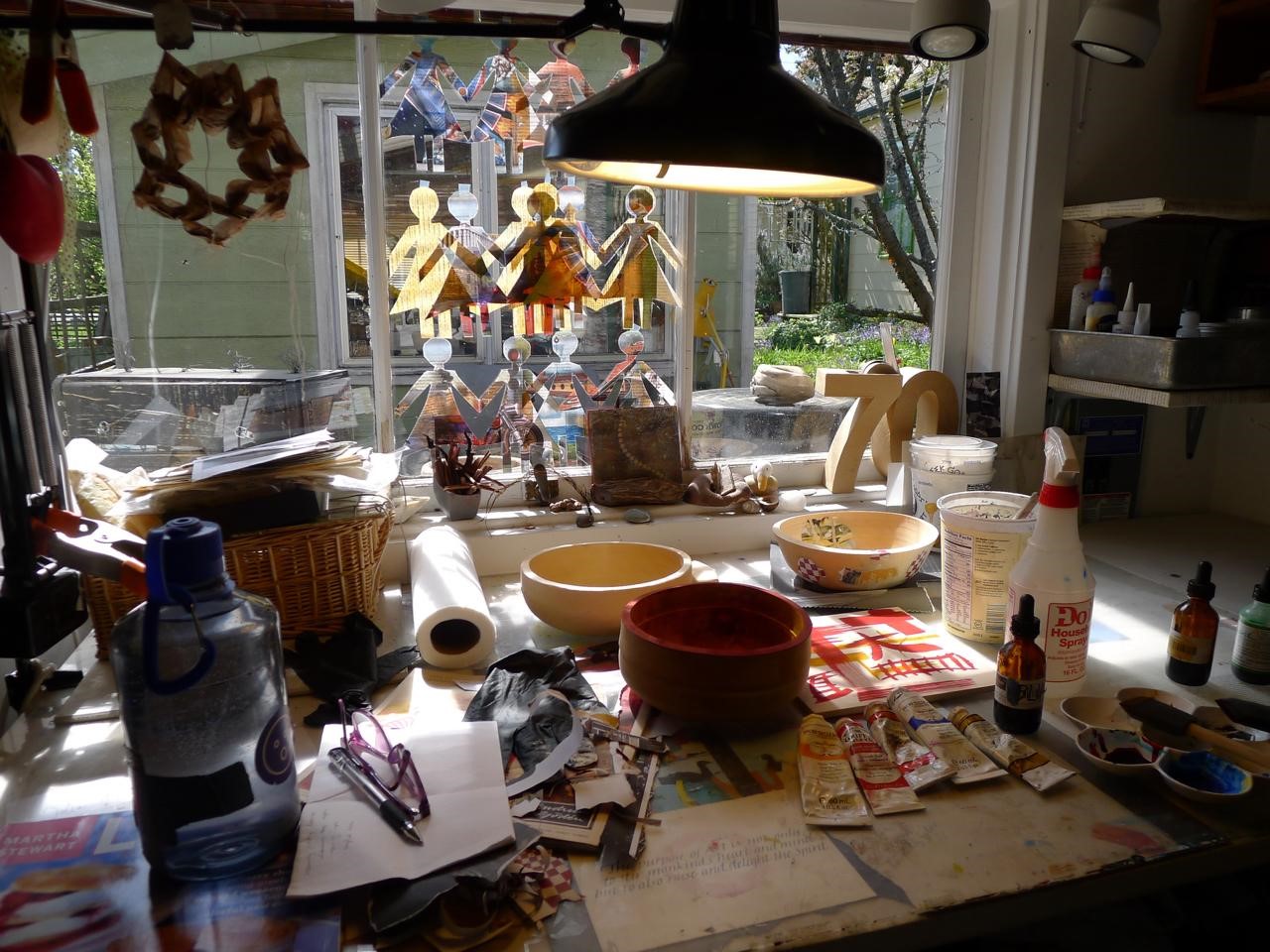 Working in Helga's studio, experimenting with surface decoration on three of my birch bowls.
Some of the techniques included staining wood, making paper transfers, wax resist, and finishing bowls for food use. She also shared her insights on being a working artist, how she deals with creativity blocks and the importance of having uninterrupted time.
I'll share a few highlights here. In order to finish a piece with vibrant translucent colors, she recommends using silk color dye or a luthiers dye, and applying it to the inside of the bowl first. One challenge is the dye can bleed through the end grain, creating splotchy coloration. If this happens, she suggests sanding the end grain in order to seal it up. This helps to avoid the dye from bleeding once the outside of the bowl is stained. Once both sides are stained, it should be left to dry. For the final finish, wipe on oil paints with corresponding colors to give the surface more depth.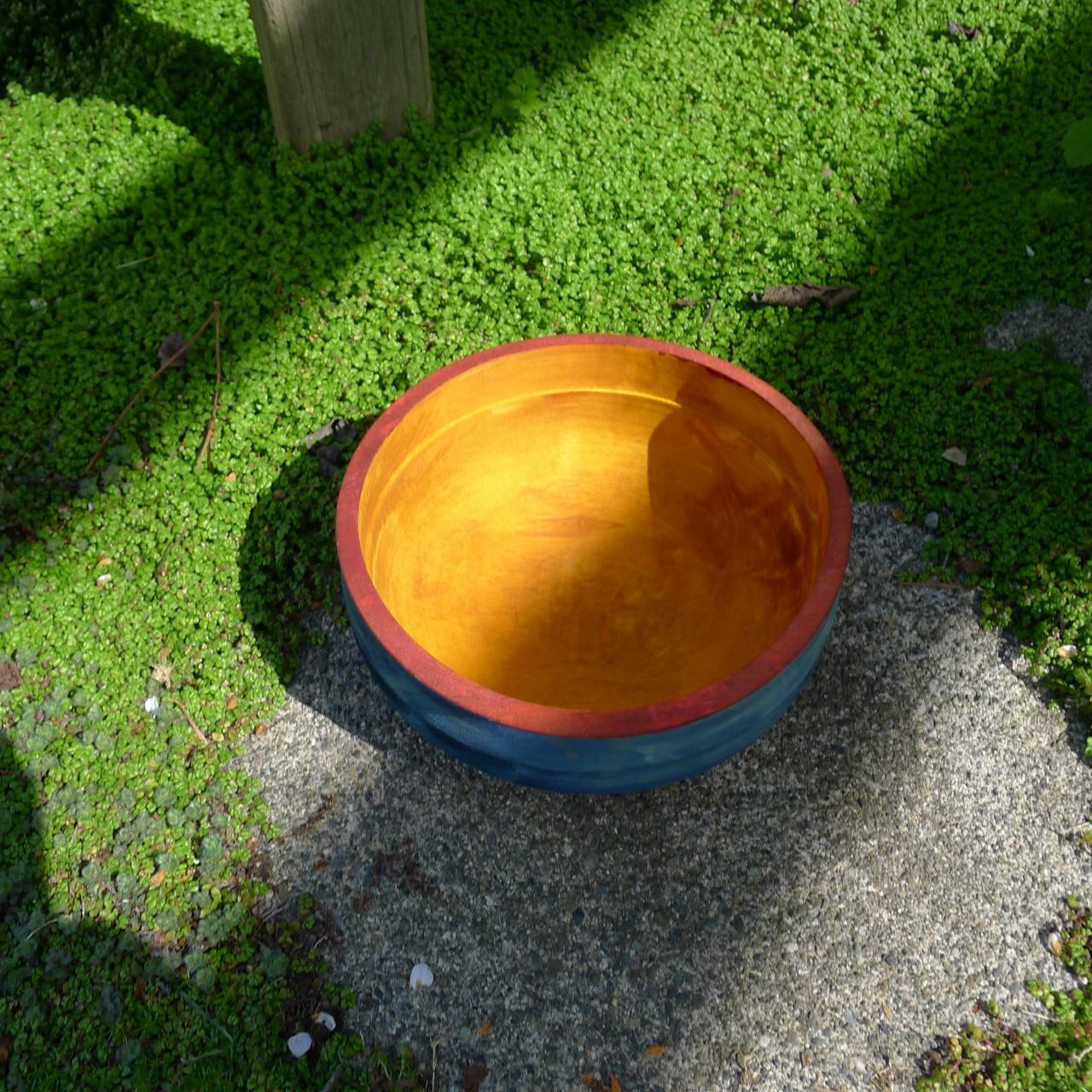 Birch bowl drying after being stained.
For making a paper transfer, gesso was used for adhesion, and once it dried, I saturated the paper with water in order to remove just the top layer. A reverse image of the backside of the paper is revealed through this process. Below is a photo of my bowl before the top layer of paper was rubbed off.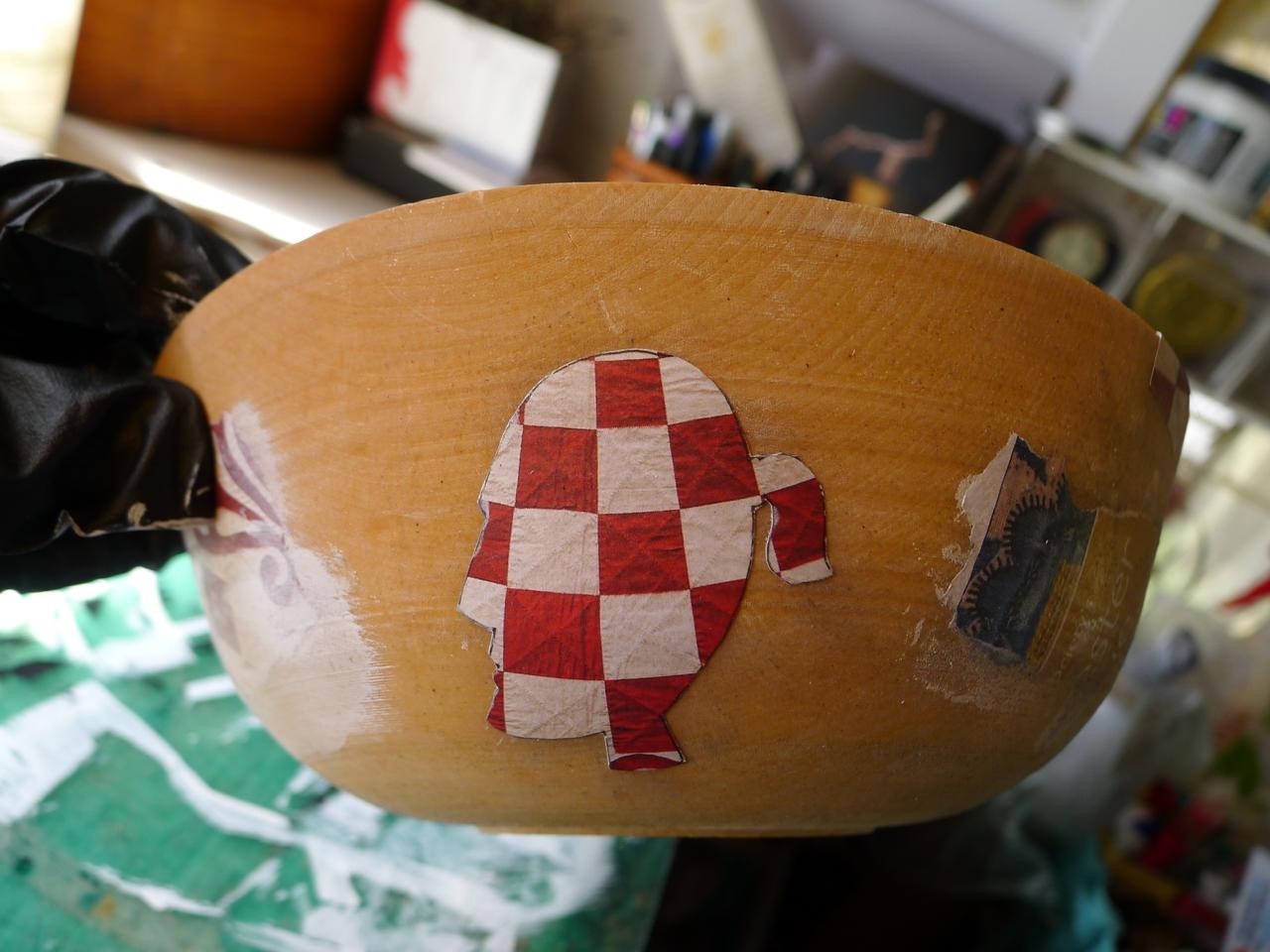 Close up of paper transfer before top layer was removed.
We also went on a walk to visit the Women in Wood Exhibit at the Northwind Arts Center, which Helga co-curated with wood artist Betty Scarpino. It highlights the work of fourteen professional women woodturners and woodworkers. Woodturning is a male-dominated medium, and over the past few years there has been a rise in efforts to foster community among women woodturners. The establishment of the American Association of Woodturner's Women in Turning committee a few years ago and this exhibit are both encouraging pieces of this larger movement.
Below are a few highlights from the show: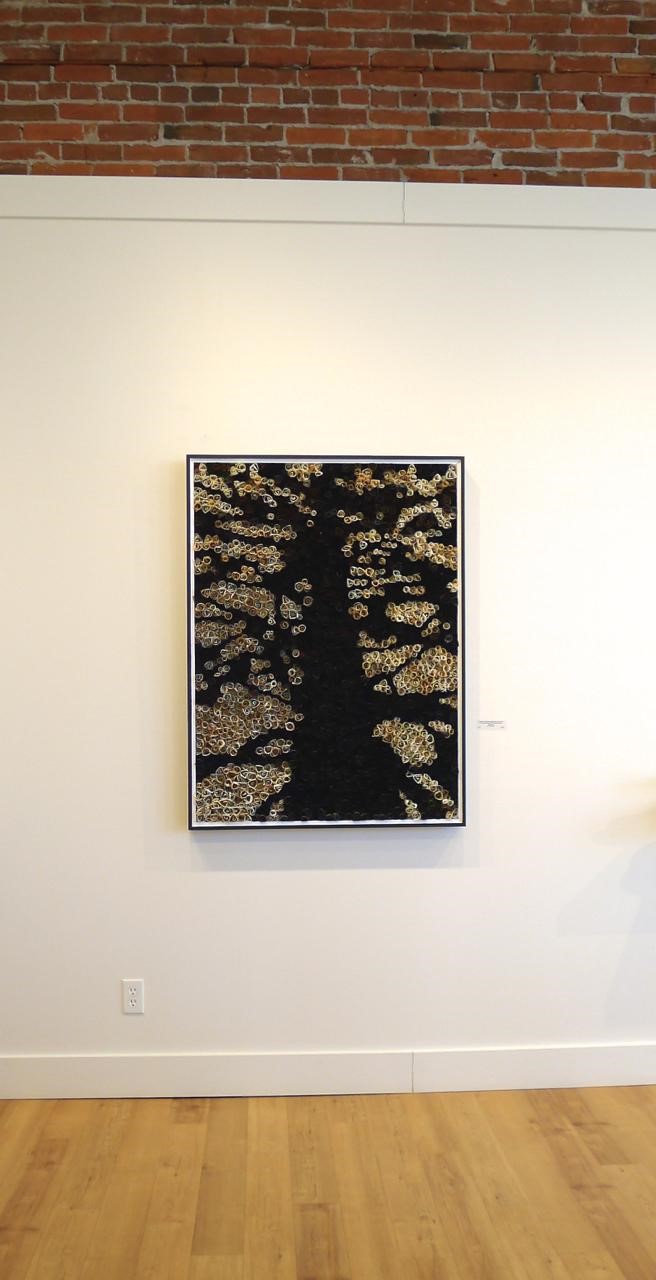 "Shadow Tree," Reconstructed books, unpigmented beeswax, ink, Helga Winter, Port Townsend, WA ​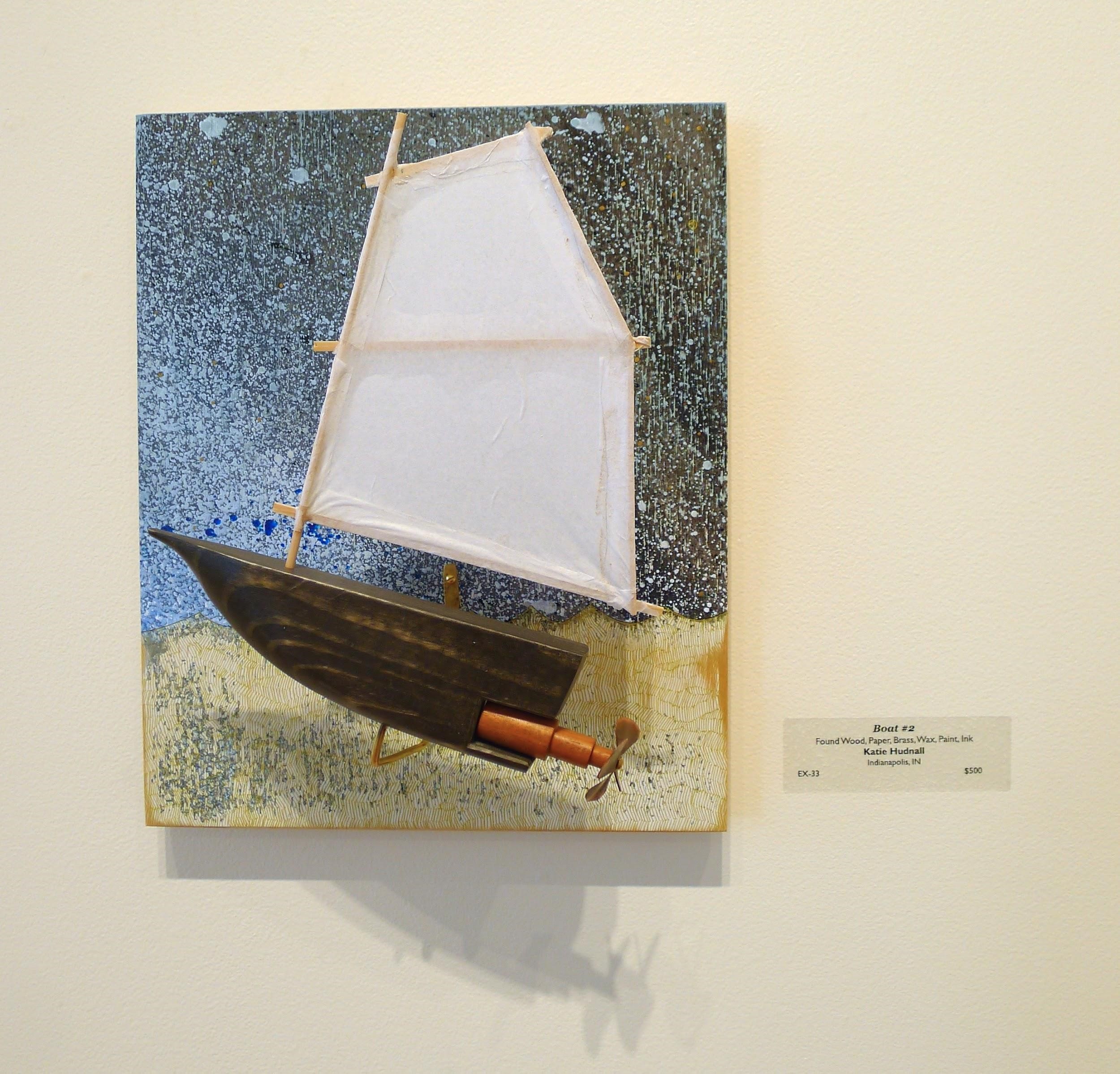 "Boat #2," Found wood, paper, brass, wax, paint, ink, Katie Hudnall, Indianapolis, IN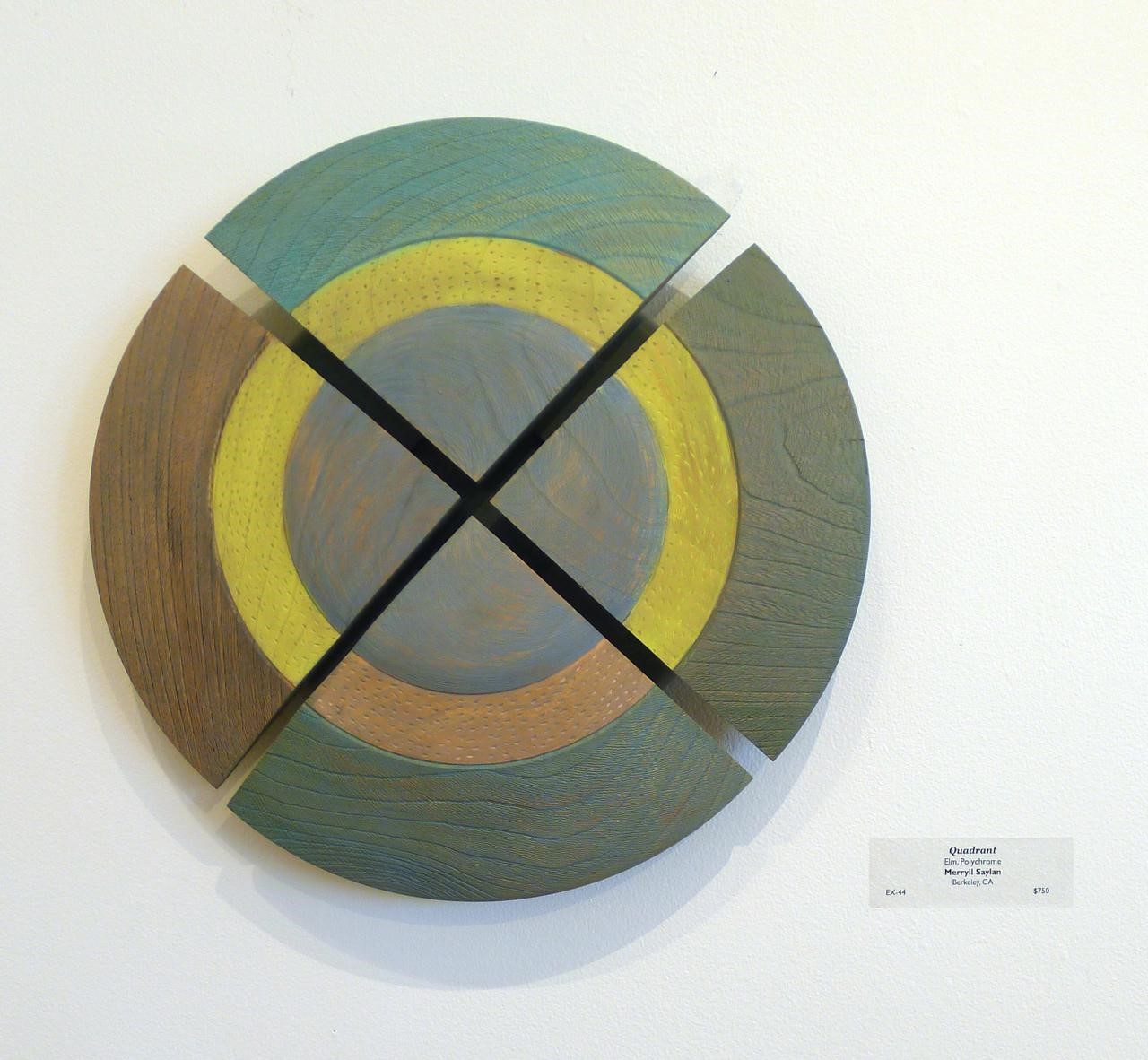 "Quadrant," Elm, Polychrome, Merryll Saylan, Berkeley, CA
Getting to study and visit with Helga was a rich experience and felt like the right way to welcome in spring. Her artistic vision, relationship with her natural surroundings and outlook on life are inspiring. I'm grateful I got to experience even just a snapshot of her life and work.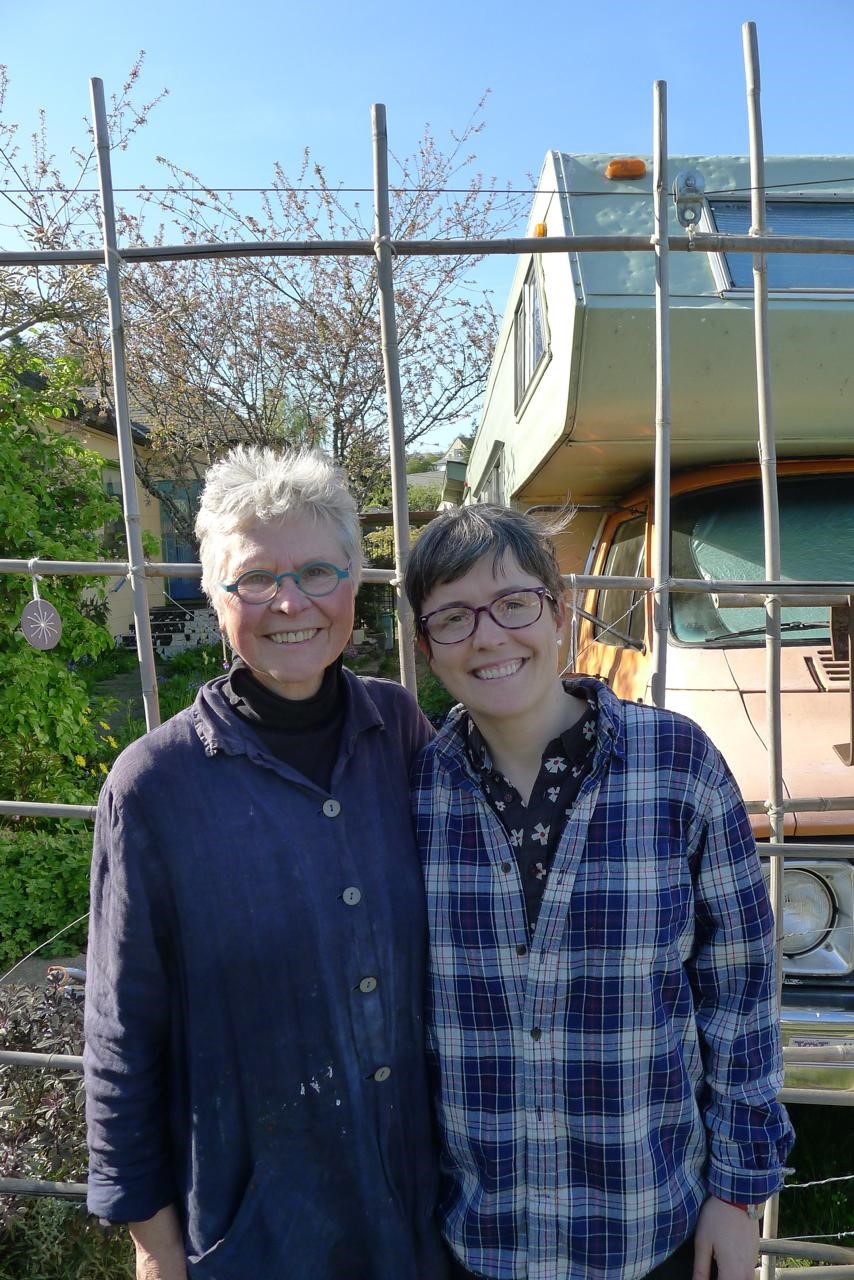 Helga and I in front of her handmade, self-closing deer gate & vibrant garden.