Spring Just Might Be Here...
Hello everyone!
This is now Sarah reporting - the interns have moved through our first "assistantship" rotations and onto our second, so I'll be hanging out here around the blog instead of the school store, Lucy is now fully submerged with sailing, and you'll be hearing from Mike come August/September.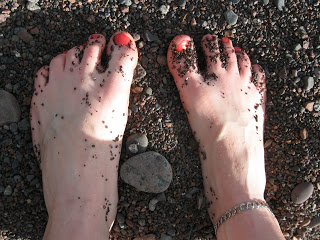 Standing on the Lake Superior shore.
It's getting busy here on campus, we have every classroom full this weekend and the Hjordis had her first sail of the season just a couple days ago. The weather is warming up and giving us lots of rain for the trees and they have POPPED. There is green everywhere! I didn't spend the long cold winter up here, but I welcome Spring happily nonetheless.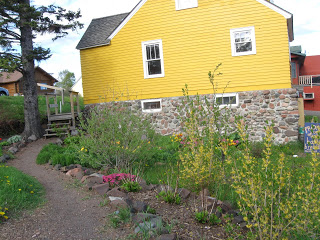 Flowers blooming outside the Yellow Building.
This morning I went on my very first sail as a deckhand, and even got to steer the boat for a while. A big deal for me, since I grew up in a land-locked state with no "largest freshwater lake in the world" nearby and my water skills are not, shall we say, advanced. But the Hjordis is a good little boat and treated me well. It's been foggy on and off, but mostly sunny today. All that green on the shore is fabulous from the water. I'm a bit sun-tired now, but it's a good feeling. Might not make for the most articulate blog post, but satisfying.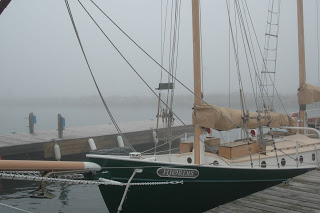 Hjordis in our friendly fog (well, at least it likes to come visit sometimes).
Ok well I wrote all that about a week ago, so there might be a vague chance this will be more coherent. The busy-busy-ness of North House: Summer is starting on its upward swing. I had the intern-privilege of taking a class this past weekend and now have rudimentary cattail basketry skills. I also got to peek at the process of making Norwegian Ale Bowls and carving spoons/butter paddles/coffee mug rack whenever I had to take a break from weaving (sorry, twining, take the class and you can learn the distinction between the two as well). Once again got to meet a bunch of great new people and had some good times.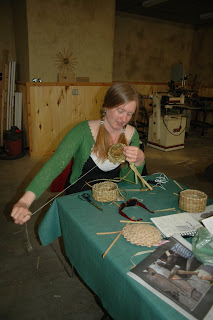 This is me, making my cattail basket lid/hat.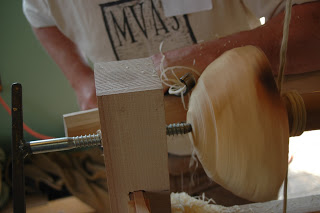 The making of an ale bowl.
Off to lunch now, then getting campus ready for the Boreal Birding Festival happening this weekend. Nice to say "hello" to all of you, come in and visit for a while in person if you can!