Running Errands with Erlend Part II: Trondheim to Askvoll
A story from Angela Robin's recent craft research trip to Scandinavia
Posted on August 31, 2018
Resident Artisan, Angela Robins, recently returned from a research trip to Sweden and Norway. The following is a blog entry detailing an adventure through the Norwegian countryside.
This is the second part of my story of meeting and traveling with the Trondheim-based sculptor, Erlend Leirdal. (Check out Part I here.) Erlend works primarily with wood, and I got connected to him through the resourceful Facebook group, Critical Craft Forum. I had been on the lookout for woodworkers and woodartists in Norway, and am grateful that someone suggested I reach out to him.
Soon after contacting him, he invited me to his home and then on an 18-hour road trip to pick up a used lathe. As a solo female traveler, I had some hesitation, but based on the recommendation and photos of him wearing a suit and holding chickens, I decided to accept the invitation. I'm glad I did because Erlend became a great new friend.
After a wonderful first night of good conversation over baked Norwegian cod, vegetables, potatoes and wine, I went to sleep in their finished basement where his partner Lotte had kindly covered the windows so I could sleep through the light of the evening.
The next morning we started packing food, camping equipment and two travel mugs of coffee. We had a nice big breakfast and there didn't seem to be any rush. Around 10 AM, Lotte said, "Wow, if I were you I would have left by now," and I remember thinking – hmm, I wonder how this is going to pan out. I still couldn't believe we were driving 9 hours to get a lathe, and figured it had to be shorter than that.
We left about an hour later after packing all of the food into a beautiful handmade wooden latched box and packing up his red truck with the gear – including a lavvu, which is a tent based on a mobile dwelling of the indigenous people of northern Scandinavia, the Sami. These were traditionally used so that they could follow their grazing reindeer herds.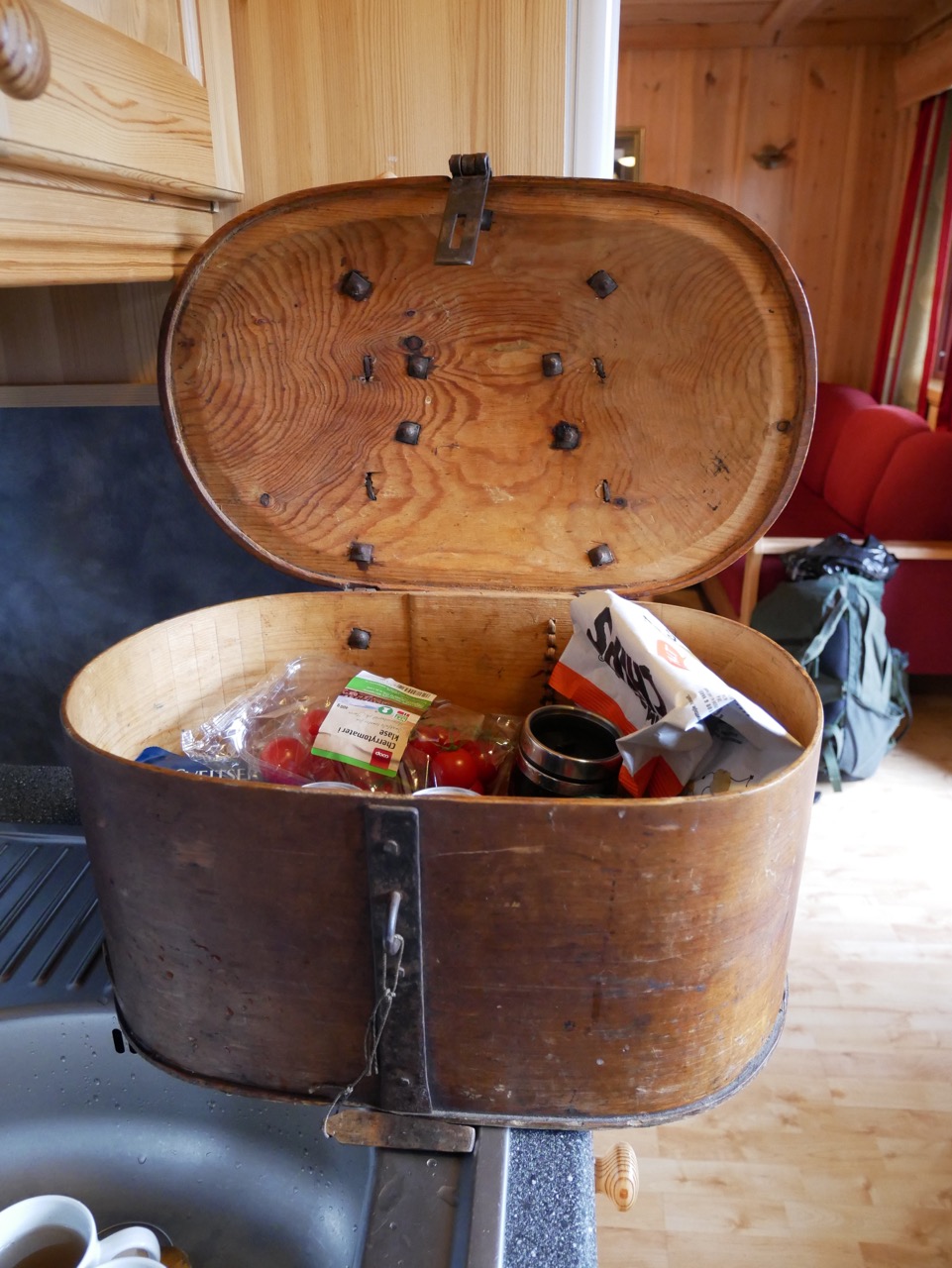 Erlend's handmade traditional bentwood box container that he made in his twenties.
There were so many dramatic landscape chapters along the drive. We drove through narrow farming valleys, were people had lived and farmed for hundreds of years, with full-scribe log cabins and birch bark roofs dotting the entire landscape, all the way up steep hills and down to the edges of rivers.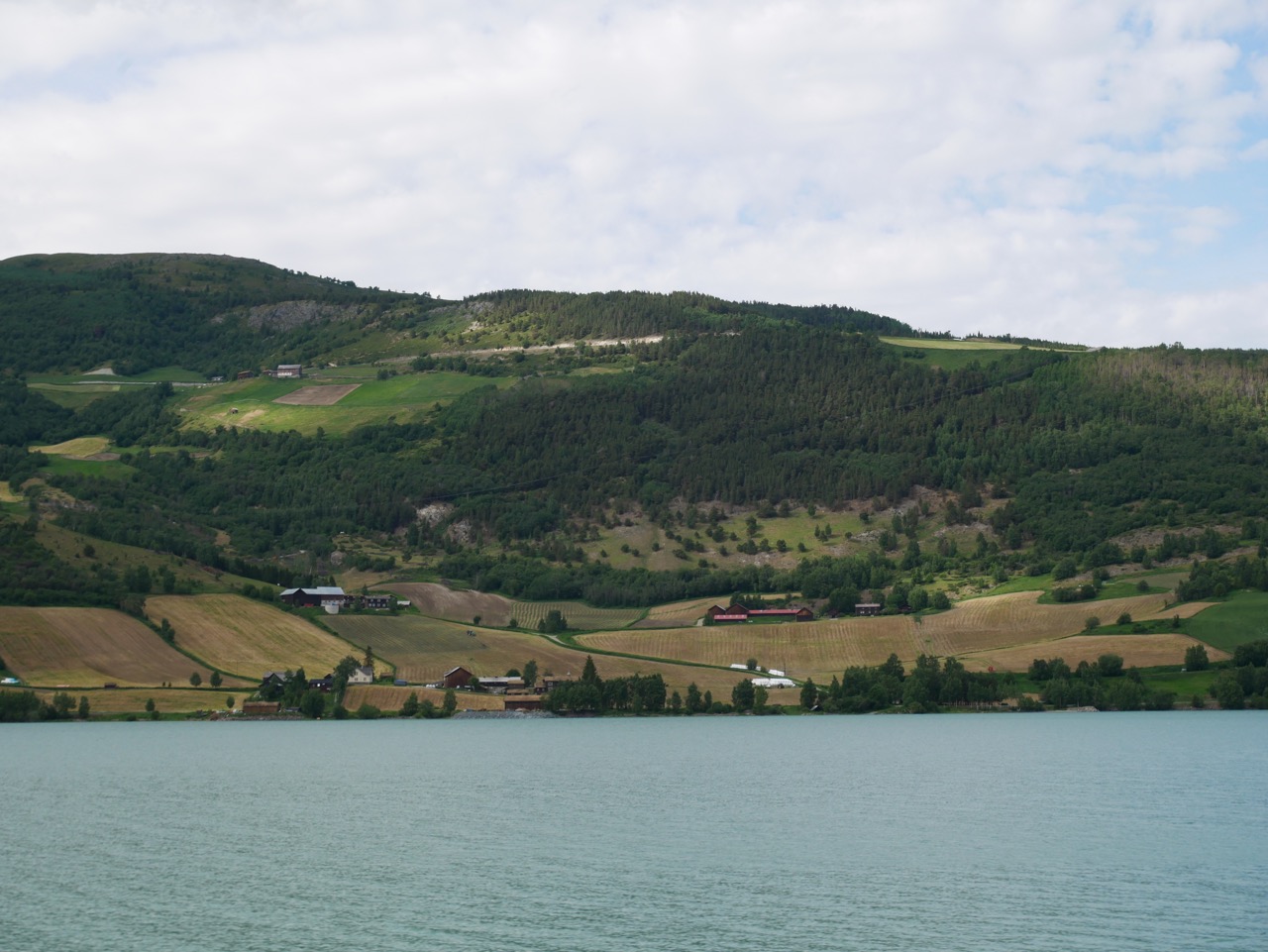 Small farms dotting the landscape.
Within a few hours of Trondheim, we climbed in elevation and the trees got smaller and we could see snow-capped glaciers in the distance.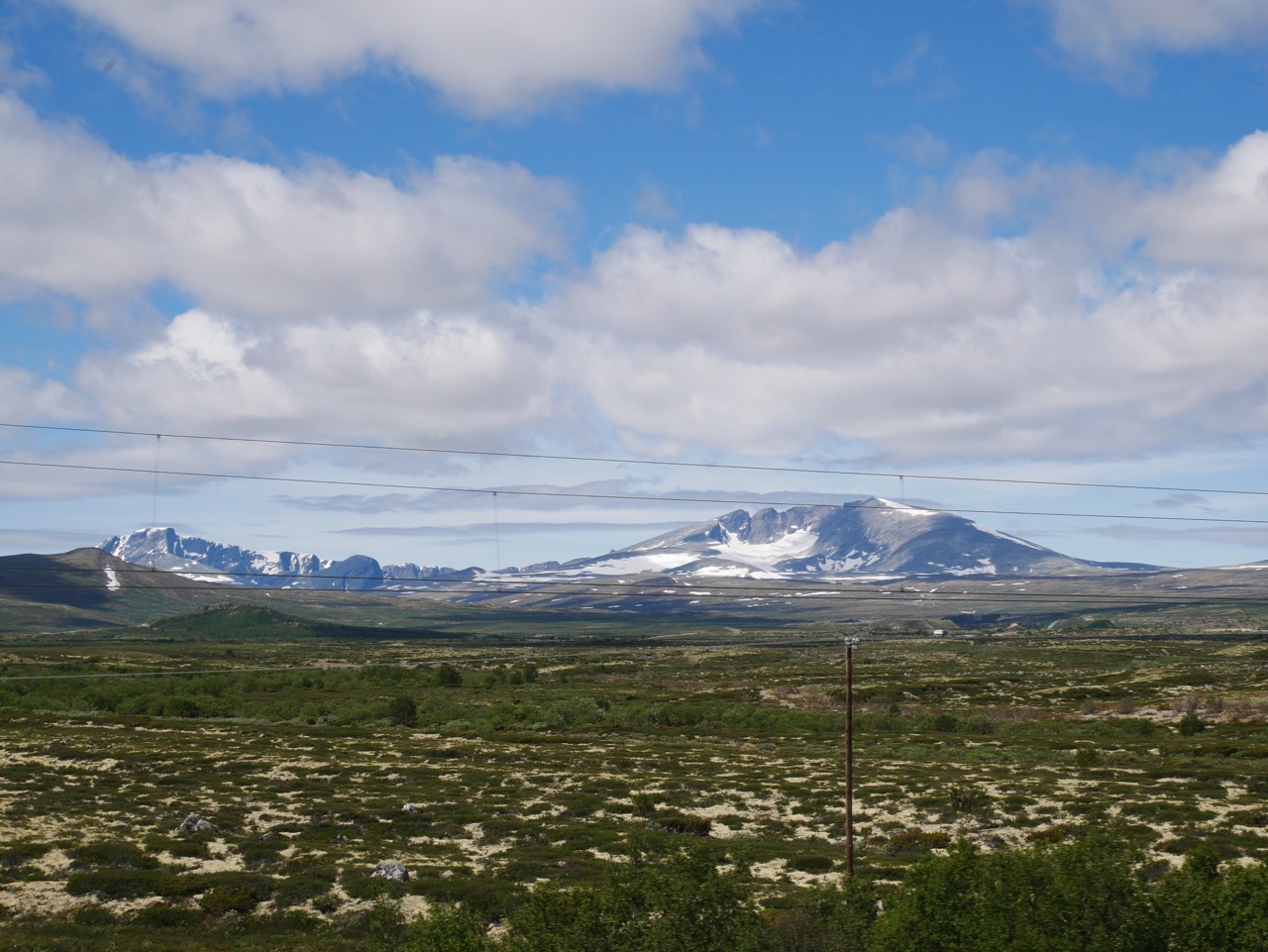 Land of the musk ox - Dovrefjell–Sunndalsfjella National Park.
We passed one of Norway's main sources of schist, in Otta, and could see where bulldozers were removing future tiles from the mountainside. In this region, many of the old buildings have slate (technically schist) shingles covered in lichen and moss. Some are a golden brown from the iron content in the slate, and others remain a shimmering gray. My favorite style was with schist shingles that had been left in irregular shapes.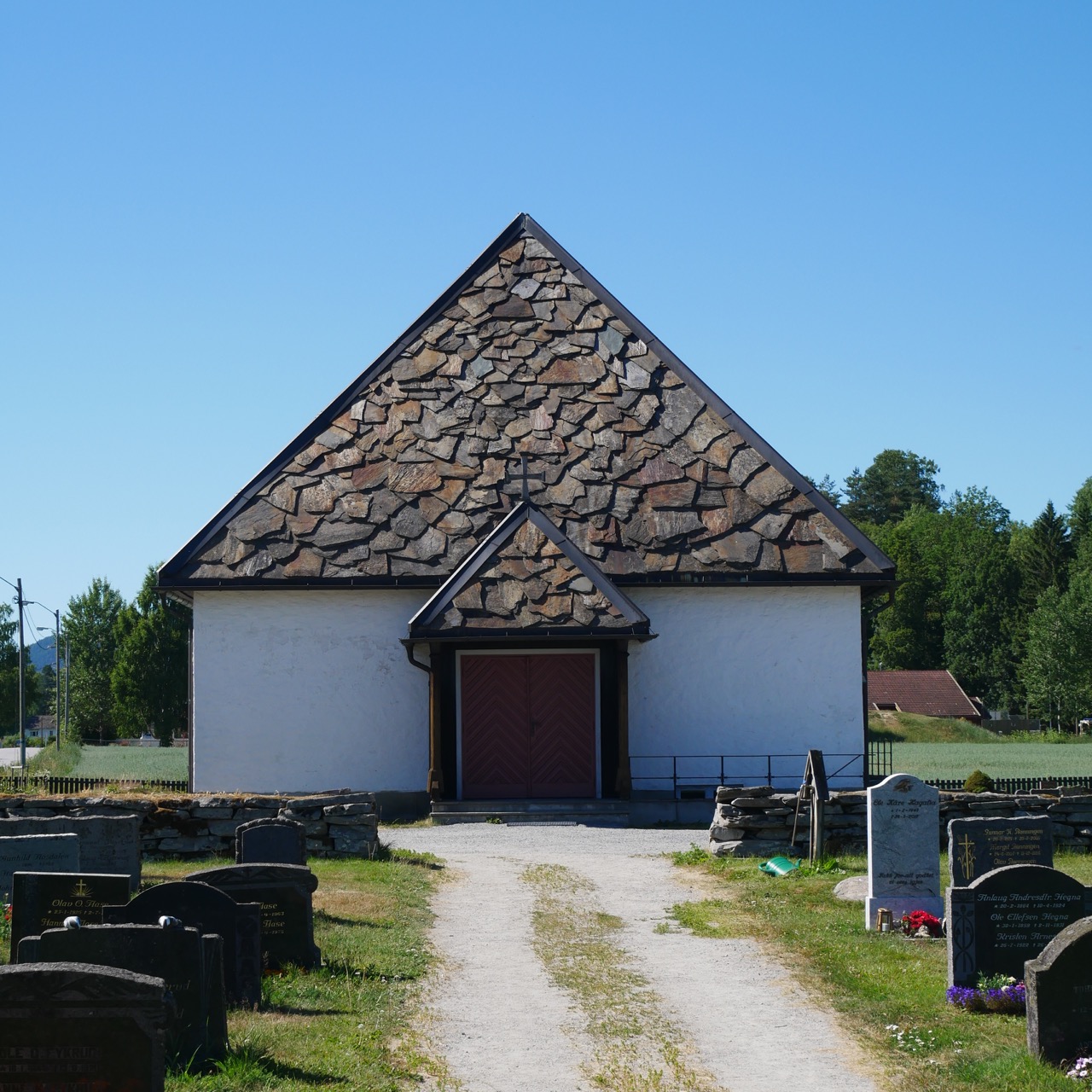 An example of my favorite type of schist shingles with irregular shapes. Photo taken from a later date in the trip at Heddal Stave Church.
In Dovre, we visited the Hjerleid School & Crafts Center, which is known for its woodworking program, including Viking-style carving, acanthus carving, Scandinavian-style full-scribe log cabin building, timber framing and more. When we arrived we met up with a former workshop assistant of his who was working on a commission of an enormous wooden hand.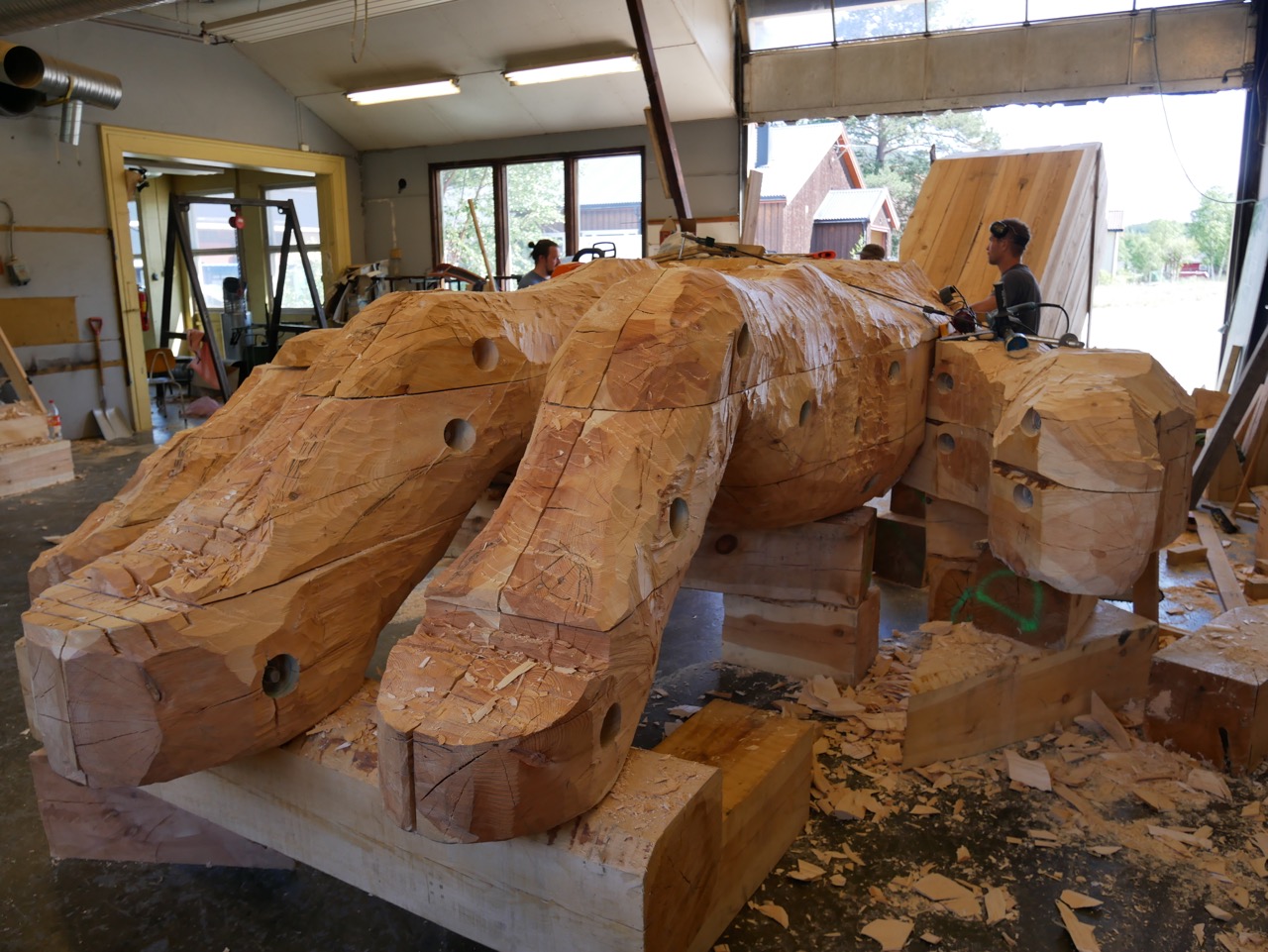 Hardcore handwork at the Hjerleid School & Crafts Center.
A few hours later we got to visit the town of Lom's wooden stave church. It was built in the 12th century, and modified in the 1600s. I was struck by the use natural curves in tree trunks and roots for the arches in the ceiling. The ceiling looked like the ribs inside of a Viking ship. Outside Erlend talked about how the wooden siding was intentionally overlapped in order to protect the building from the dominant direction of high winds.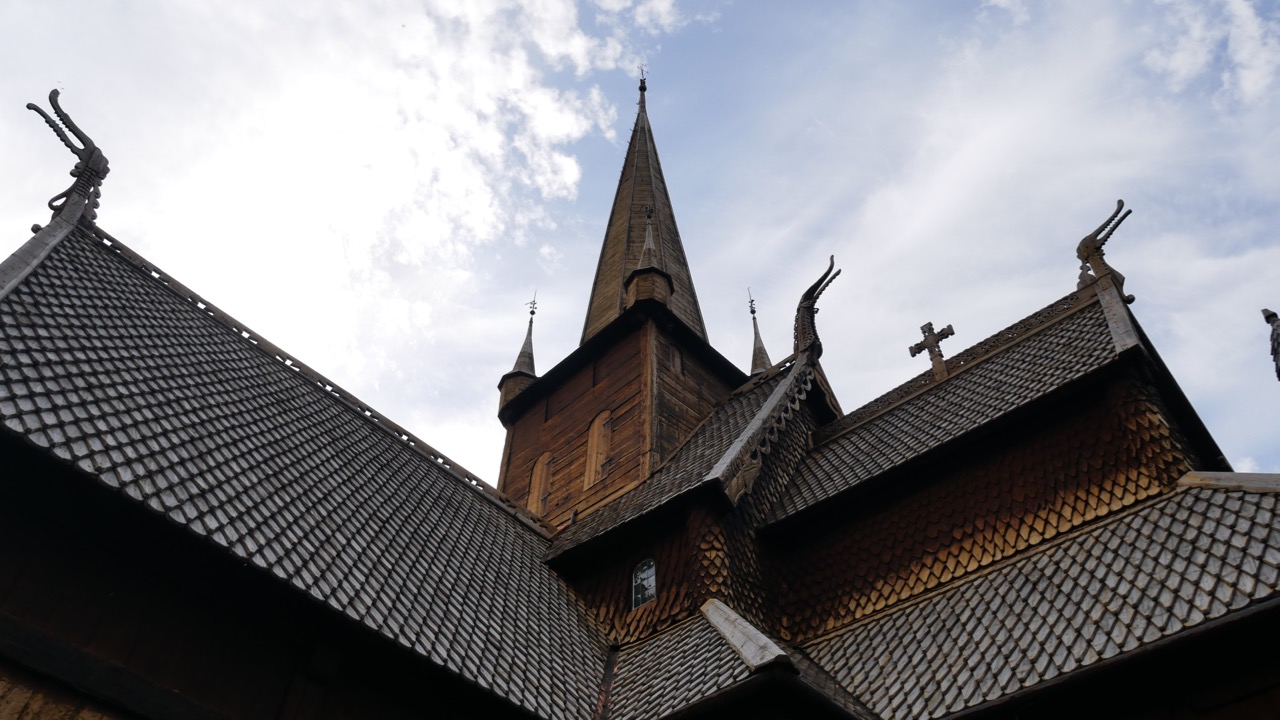 Wild roof line. Lom Stave Church.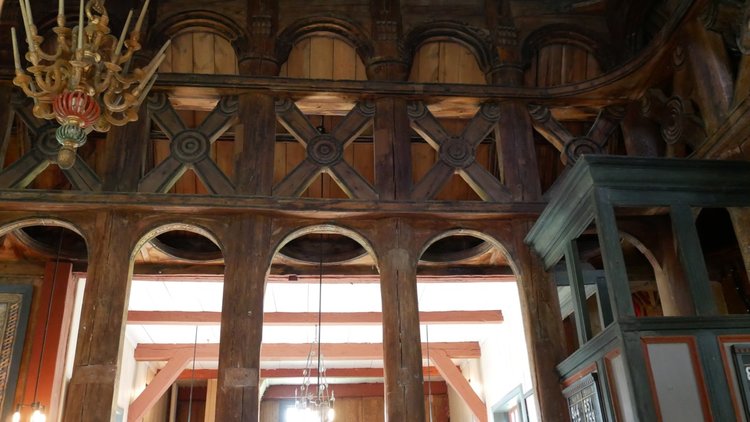 Beautiful curved arches made from the knees of trees.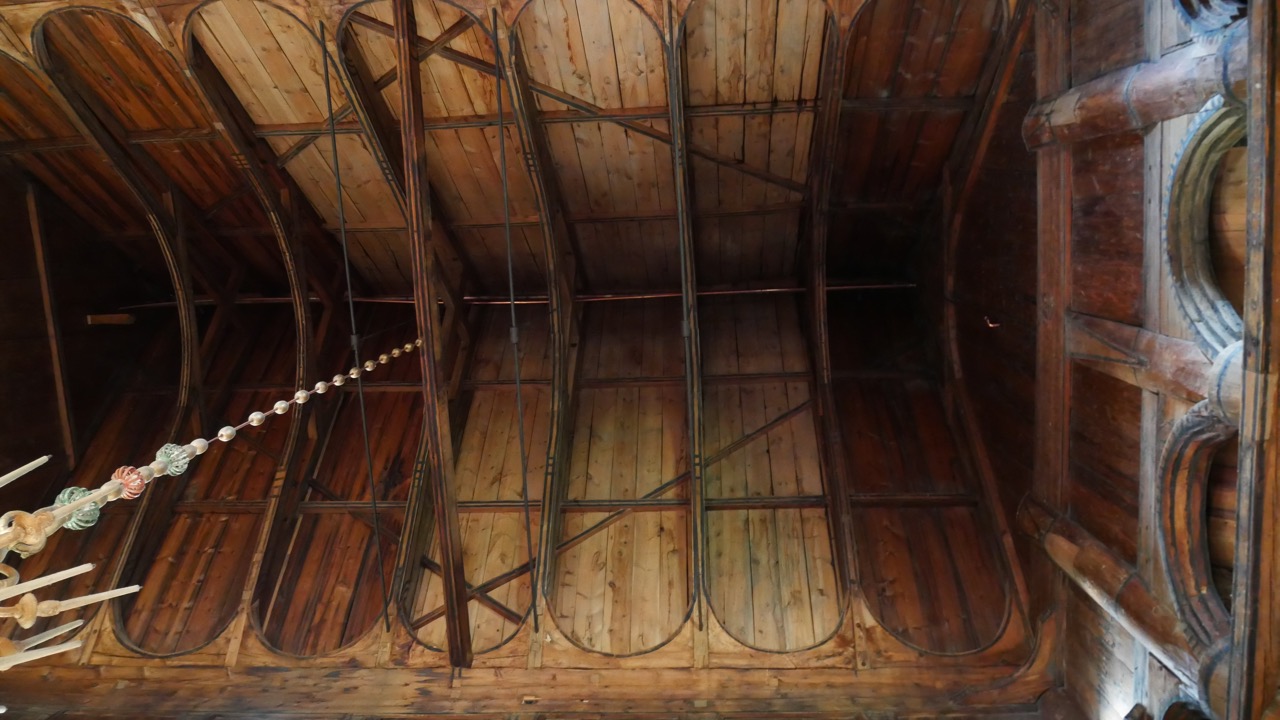 The ship-like ceiling of the church.
After taking in the sites of this church, we found a nearby pizza joint and had dinner. At this point it was about 7 at night and we had just passed the halfway point of our 9-hour-plus journey.
As we continued driving southwest, we started to climb again uphill, towards Jostedalsbreen National Park, home to Europe's largest glacier. The road followed a rapid-filled white and blue river. Suddenly we were surrounded by gnarly, twisted pine trees that Erlend described as "troll-like." He said they were reminiscent of the Norwegian painter Lars Hertervig's work. It was great getting to read the landscape through his cultural perspective.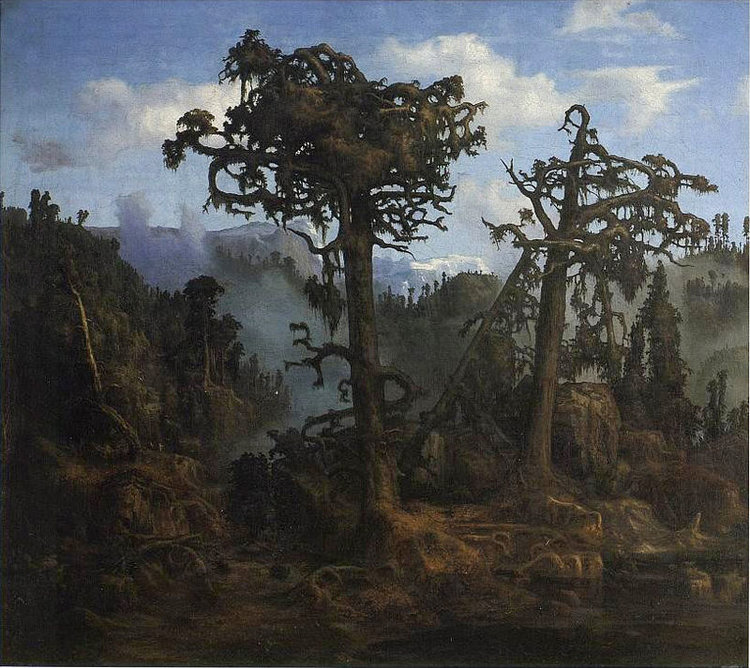 Lars Hertervig, Old Pines, 1865
Soon the trees disappeared and snow-capped mountains returned. We saw a dramatic mountain in the distance, and suddenly our road went straight into the face of it; into the tunnel called Oppljostunellen.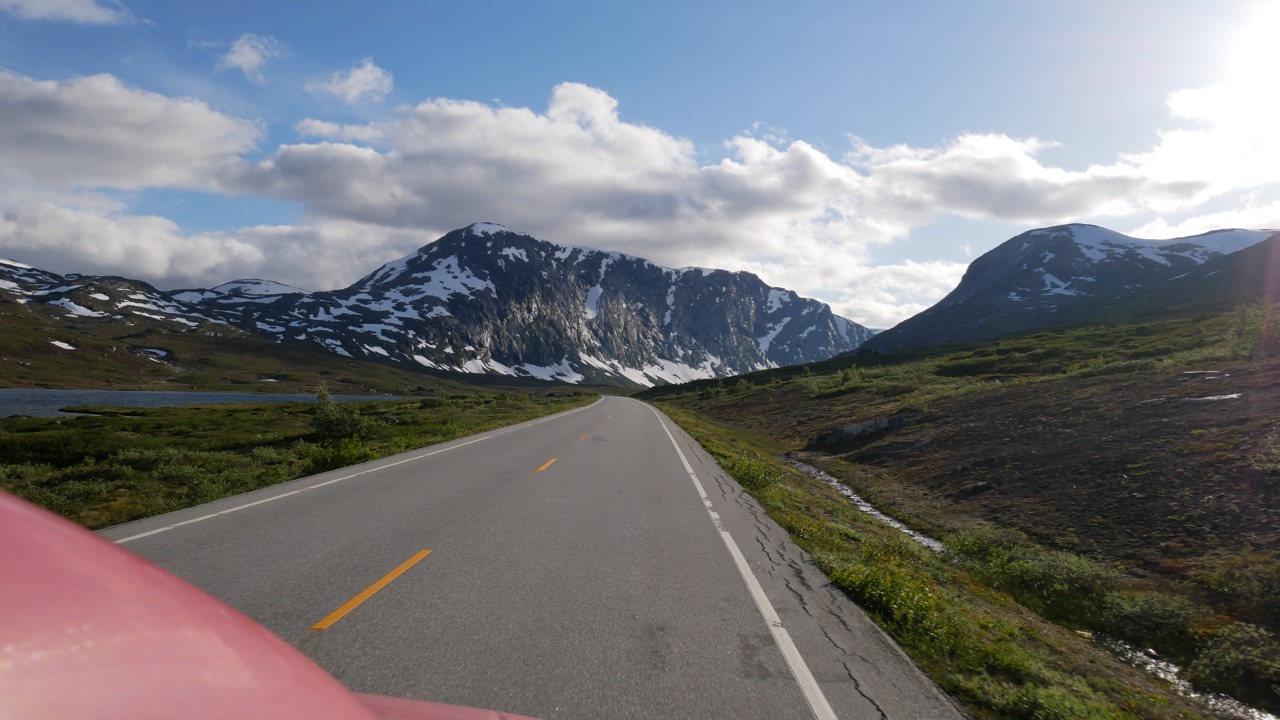 Approaching Oppljosegga mountain.
The tunnels in this region of Norway are numerous and can be quite narrow. A few of them did not have an inner constructed wall, just blasted shards of rock and steaming condensation as the cool air from the outside hit the warm air from the depths of the mountain. We entered one tunnel behind a semi-truck, and when it slowed down mid-tunnel, we realized it was trying to pass by another semi-truck with just a few feet between them and jagged walls on either side.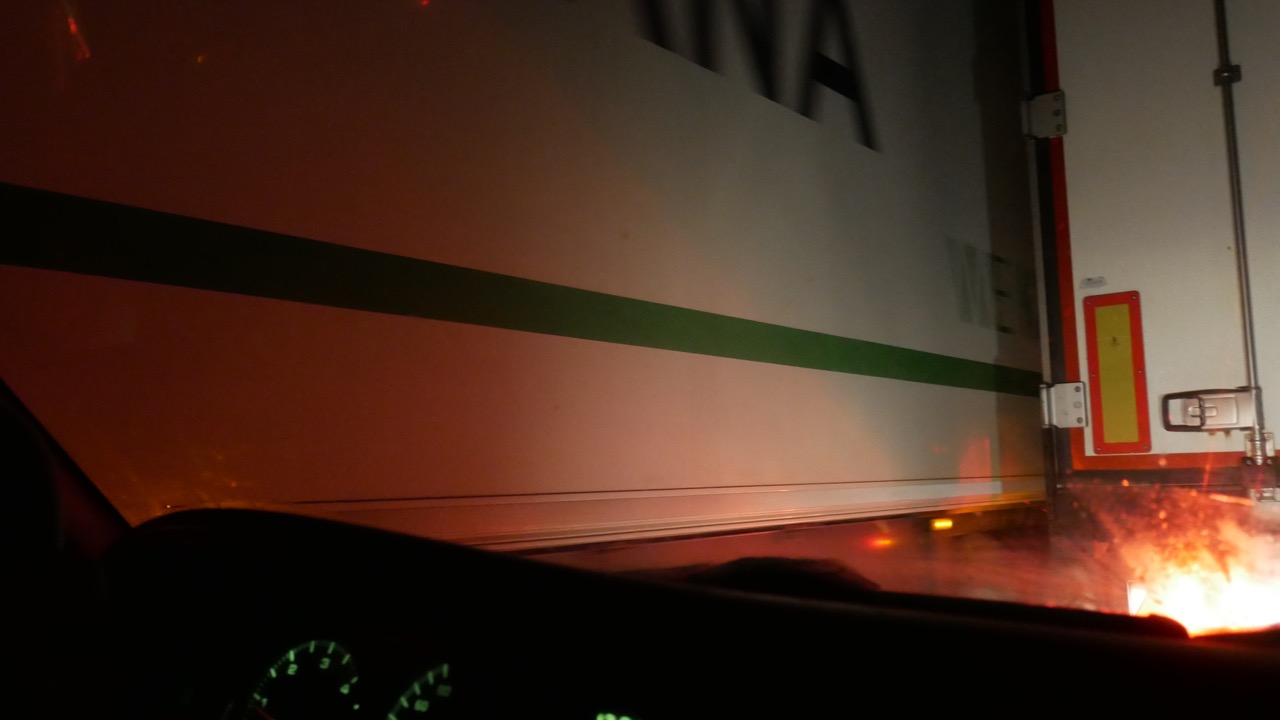 Ahh - real life claustrophobia test. Two semi-trucks slowly passing one another, our dashboard in the foreground.
When we finally emerged from all of the tunnels, we were officially in fjord country. The scenery was an almost constant "mind explosion" as Erlend put it, with waterfalls dropping off the sides of cliffs, small farms plopped on mountain sides, sheep, goats and cows grazing on brilliant green escarpments and snow covering the tops of barren mountain faces.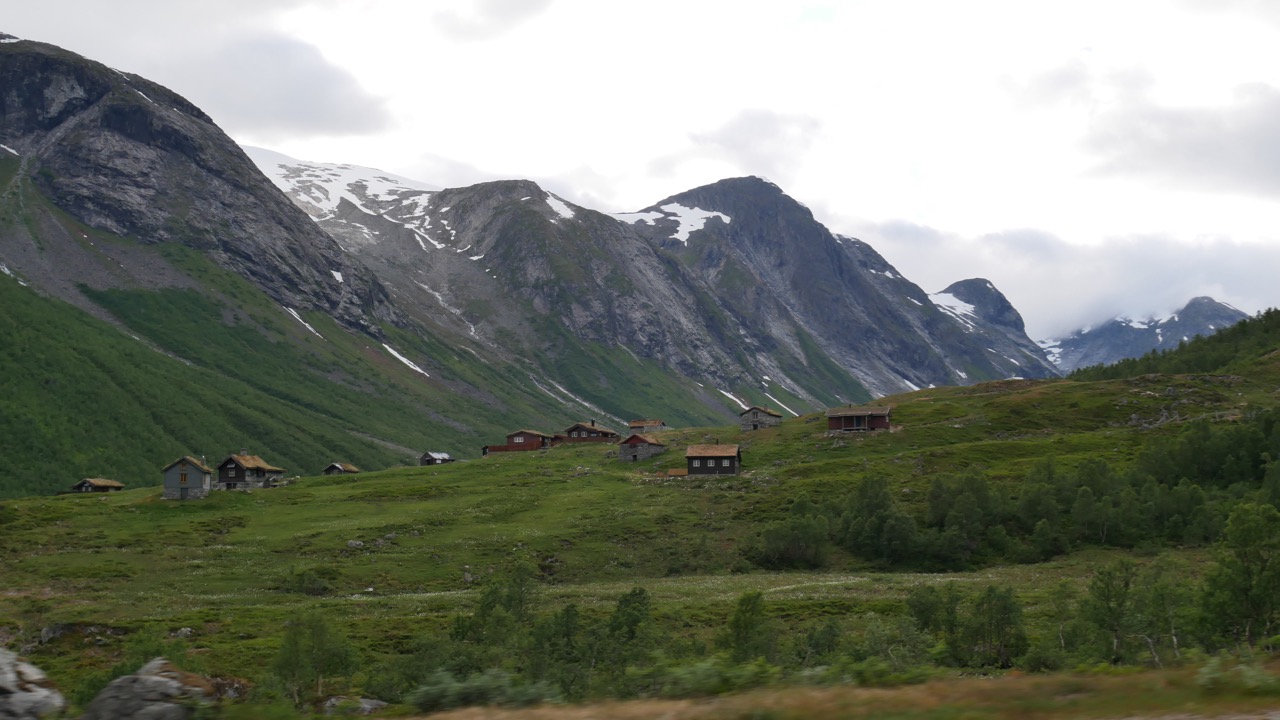 Fjord country summer time mountain farms, or seter, which were built in clusters. Typically women would live their in the summer and tend to their herds of sheep and cows. For a thorough explanation of seters versus cottages, check out this 1983 New York Times op-ed.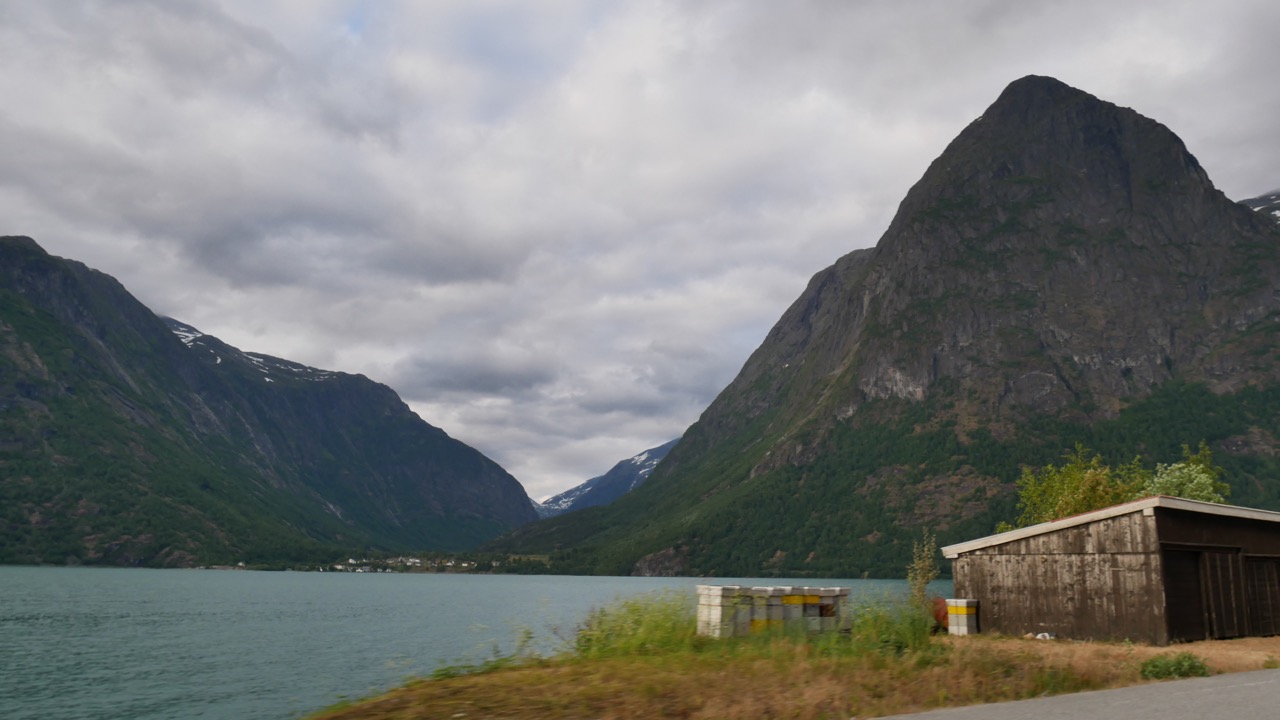 But what is a fjord? This is a fjord! Ocean water that runs miles inland and becomes brackish when mixed with freshwater. Or to be more exact: "a long, narrow, deep inlet of the sea between high cliffs, as in Norway, typically formed by submergence of a glaciated valley." (Dictionary.com)
We ran out of water hours before our destination, and there weren't any stores open at 11 PM (even though the sunlight made me think everything should be open). Fortunately Erlend pulled over next to a 'sky waterfall,' which fell dramatically over a 1,600 foot sheer cliff, and we brought our water bottles down to the pond that the waterfall fed. We filled them up and drank the water straight. I was a little wary, especially given how many birds seemed to fancy this pond, but the sky waterfall was a good sign and our GTs (gastrointestinal tracts) survived intact.
We drove into the night, but it never got dark. Once we finally got close to the coast, we kept thinking every small town was our final destination, and we'd cheer, "Askvoll!" only to realize google maps was struggling to accurately estimate our rural Norwegian windy-road-laden journey.
Finally we arrived in Askvoll at 1 AM to what looked like dusk, and we set up the lavvu in a public park in the center of town.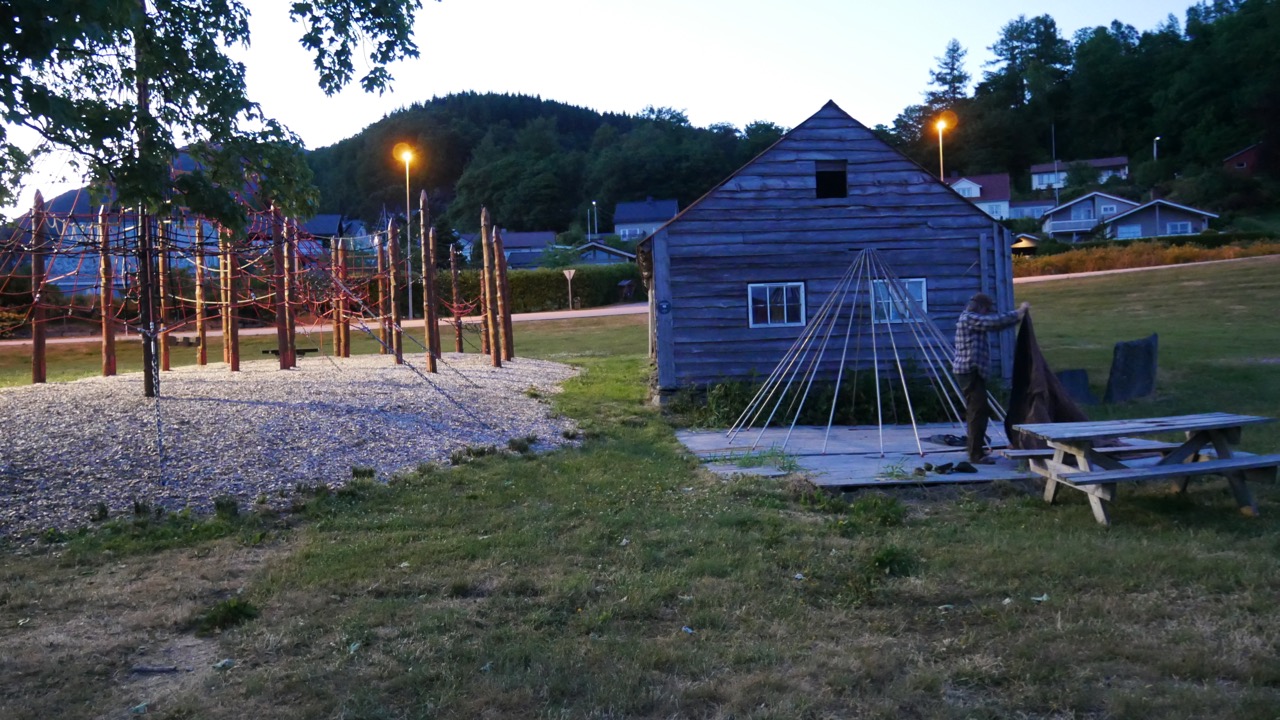 Lavvu set up next to the jungle gym.
I had caught a cold during the drive and the hard ground and cold ocean air didn't help much. I blew my nose through the night and woke with a fever but managed. We picked up the lathe late that afternoon with only a few bumps (we had to wait 8 hours in Askvoll for the seller to return home and the lathe fell over once while moving it with a forklift). But once it was loaded and strapped down to the truck bed, we hit the road and headed northeast, back to Trondheim.

To learn more about Angela's work and travels, you can read and subscribe to her blog here