Norwegian Fjord Horse Experience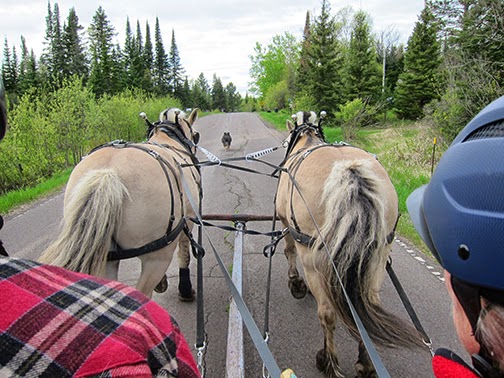 North House Instructor Philis Anderson has lived on Minnesota's Gunflint Trail for 51 years, and during that time there's been a lot of horsing around: fjord horsing, that is. For 30 years Philis has worked with Norwegian Fjord Horses, a breed of working horse from Western Norway. Want to meet one? Through our Norwegian Fjord Horse Experience class you'll get to know the horses, as well as Philis herself. During the class Philis offers two-hour lessons on any combination of the following: grooming the horses, learning to put on a harness, driving the horses by walking behind them and learning to steer, and going for a wagon ride on trails through 160 wooded acres.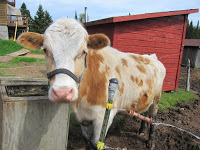 The steer at Philis' farm
Philis and Fjord Horses go way back. She fell in love with Fjord Horses while traveling in Norway, and in 1994 she bought her first horse, Karina, who is now 21. Philis said, "[The horses] are like potato chips; you can't have just one!" In addition to Karina, Philis cares for three other horses, and a steer from a nearby farm.
Norwegian Fjord Horses are unique animals that are known for their calm temperament and strong work ethic. They're a 2000 year-old ancient breed that traditionally used to pull boats up the fjords in Norway. Today they are bred for sport and have developed thicker bones to increase draft power. Traditionally, if the horses were bred and did not meet working criteria, they were slaughtered for food.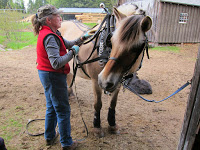 Philis prepares for a wagon ride
Philis' favorite quality of her Norwegian Fjord Horses is each horse's personality. Her face lights up when she describes the distinct characters of each horse and comments that they're comparable to the unique characters of children and people. For example, Philis can tell when Karina gets worried and is aware of small nuisances that bother Karina. Driva is the spunky horse, Katinka is "like a tank" - she's forward and the one Philis will ride alone with these days, and Loki is the wisest who can always figure out a trick. Philis and her horses have experienced a lot together over the years and have a trusting relationship.
If you're interested in signing up or learning more about working with Norwegian Fjord Horses or going for a horse-drawn trail ride, you can learn more on our website, or give us a call for details and to register at 888-387-9726. The minimum is one person, and the maximum is four people to learn how to drive or six people to go for a horse-drawn ride. Sturdy boots and sun protection are required and leather gloves are recommended to hold the reins.