Making Paddles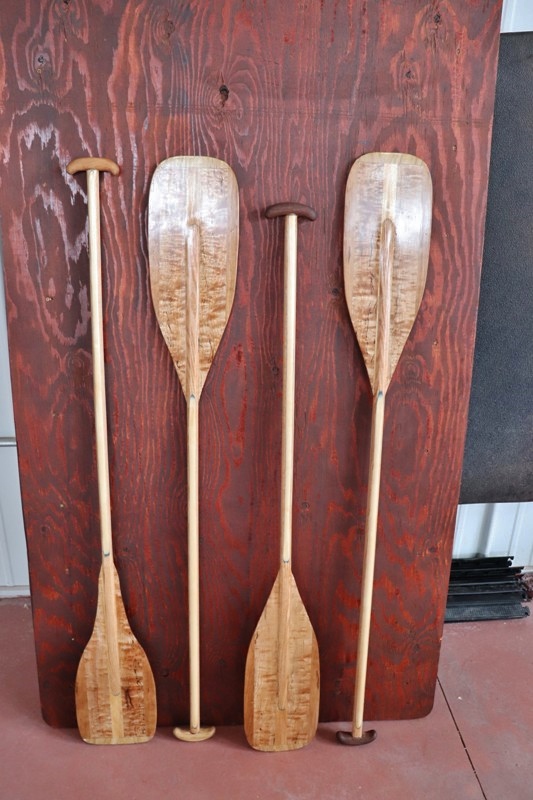 North Housers,
Blog Post #2 from me coming at you.
I spent a good part of February working on canoe paddles. I made some fairly high tech laminated paddles. I had a design idea in mind and spent some time playing around to figure out ways to make the process more efficient.
I started with some beautiful pieces of wood for the blades. I had a nice billet of spalted, curly big leaf maple from the rain forests of the pacific Northwest, that I won in a boat building competition in Port Townsend. It was begging to be shown off and paddle blades were just the way. I also had some nice cherry that my friend Ann had given me from her dad's wood pile after her dad, who was quite the wood worker, passed away. Being an advocate of the qualities of black locust, I made the tips of the blade of that very durable, super hard wood. I wanted to use these beautiful pieces of hardwood efficiently so rather than glue up a 1.25" thick paddle blank that I would end up removing tons of material from, I sliced the hard woods to 3/8" thick and edge glued them together to make blades 9 inches wide.
Next I needed a shaft design that would work with these pre-cut thin blades. I used 5 layers of 3/8" material, alternating between white pine and red oak. Alternating soft and hard woods can make hand shaping tricky but I thought it would make a nice visual. In the glue up on the shaft I left a slot at the end that the blade could slide into. I glued up several shafts at once and put the blades in at a separate step. I also played around with dying the epoxy I used to glue the shafts together, so there is a subtle blue tint revealed in the shafts glue lines.
I made several blade shape patterns to try and rough out the blade shape before gluing the blade into the shaft. Then once the whole unit was assembled I did a lot of final shaping. The shafts went from four to 8 to 16-sided and then they were sanded using a hand held sanding belt to form a perfect ellipse. The blades were tuned up to perfect shapes. Then I had fun using a variety of round bottom planes and spokeshaves to carve a nice transition between the shaft and blade.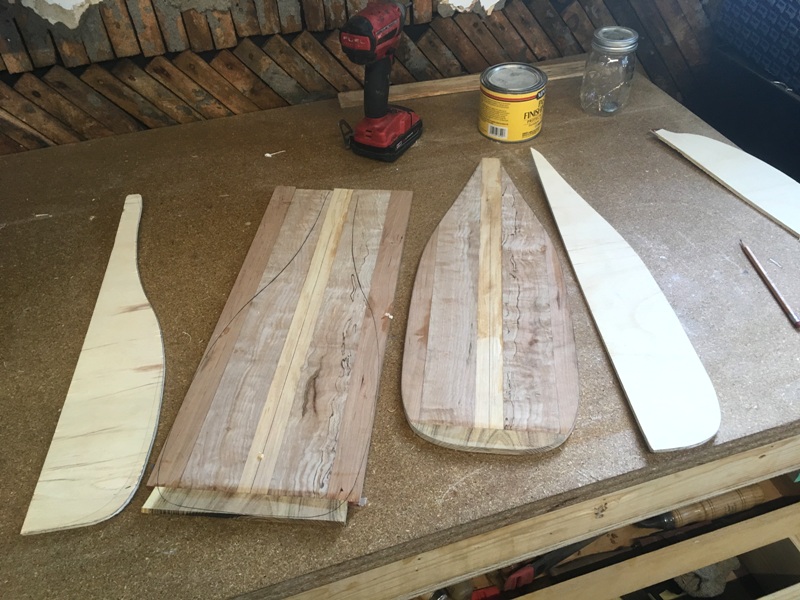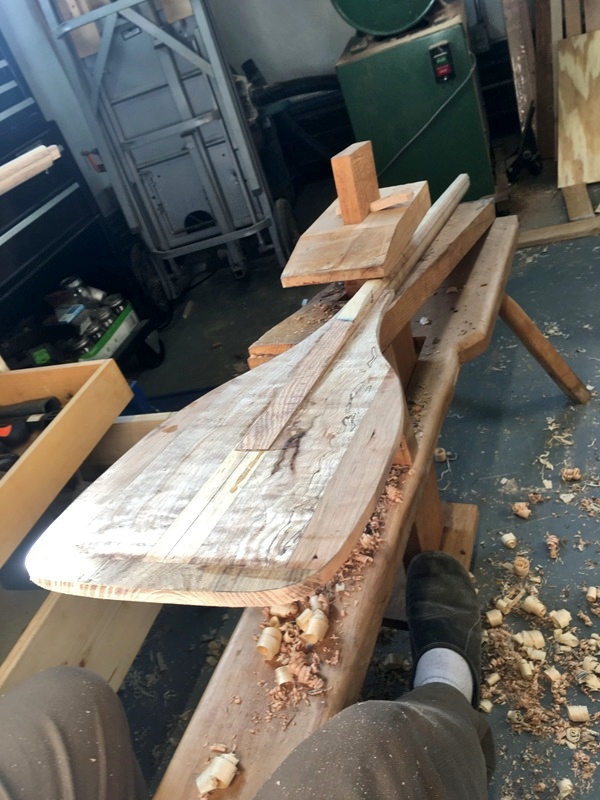 I really like a "t grip" for paddle handles so I hand carved little pieces of hard woods (I used black walnut, black cherry and black locust on varying paddles) to be my grips. I chopped a mortise in the handle and cut a little tenon on the end of the shaft and wedged the handle onto the shaft. Carving hard woods is time consuming but I think the product is worth it on these blades.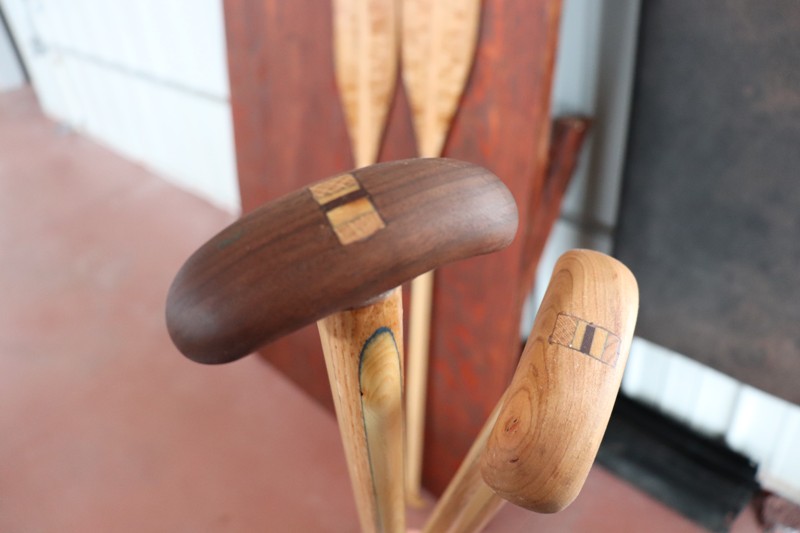 Finishing the paddles off started with a lot of fine sanding. Then I fiberglass the blades and epoxy-coated the shafts. After epoxy, I made the shafts and blades real bright with a couple layers of marine grade varnish. I left the handles raw and just oiled them for a contrasting matte finish. Paddles are available for sale now in the school store or let me know and I could send one to you! Also stay tuned for a laminated paddle making class the first weekend of August!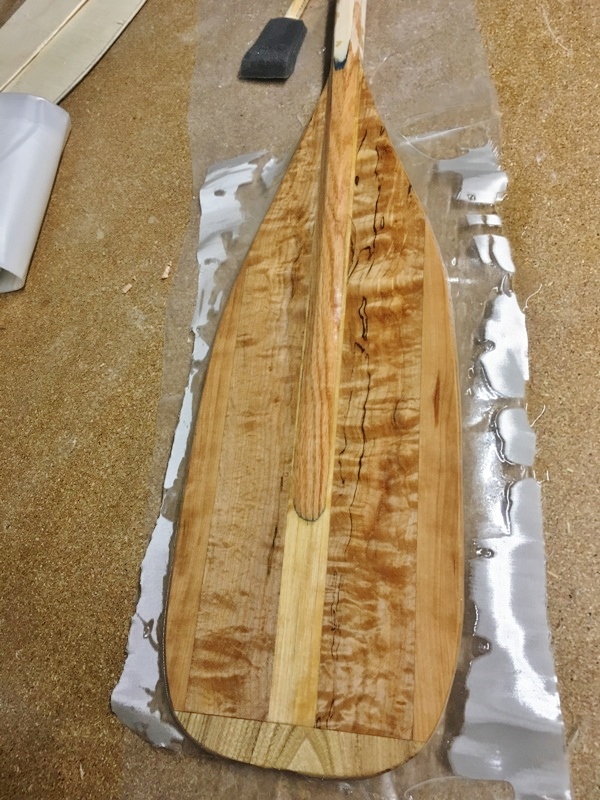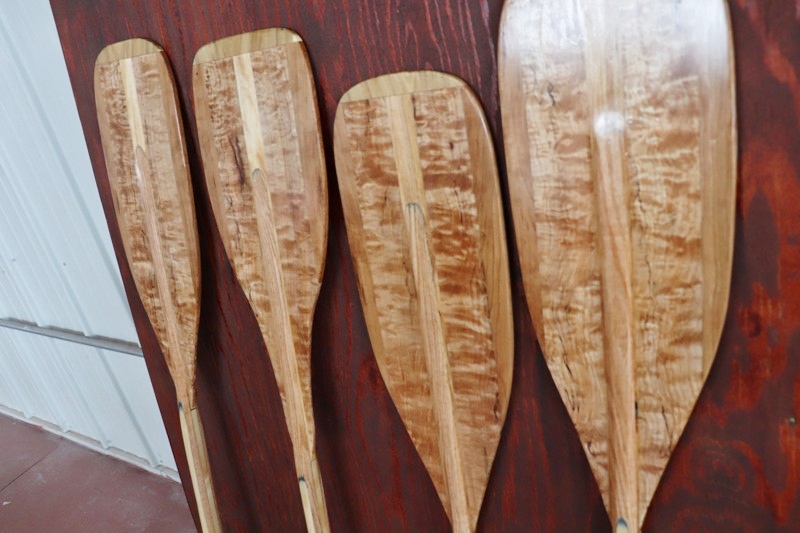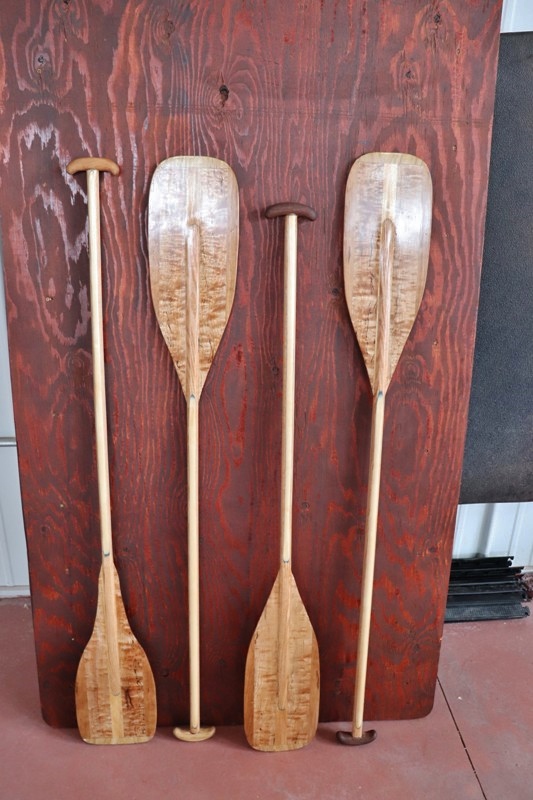 In other news, when I finished the paddles I dove head long into working frames for two Baidarkas I am building. I wrote a little about those Baidarkas in my last blog. In short, the bottoms are laminated and the tops are half lapped. So the frames are all done and I am really excited about them. The boats will be coming together with stringers in May and June!
Coming up in April I will be building a cedar canvas canoe in a class with Tom Healy and Jeanne Bourquin! That boat will be raffled off by the Grand Marais Chamber of Commerce this summer to raise money for their Great Places street scape improvement program. Stay tuned to my instagram for photos of the canoe build as it comes along.