Herring Skiffs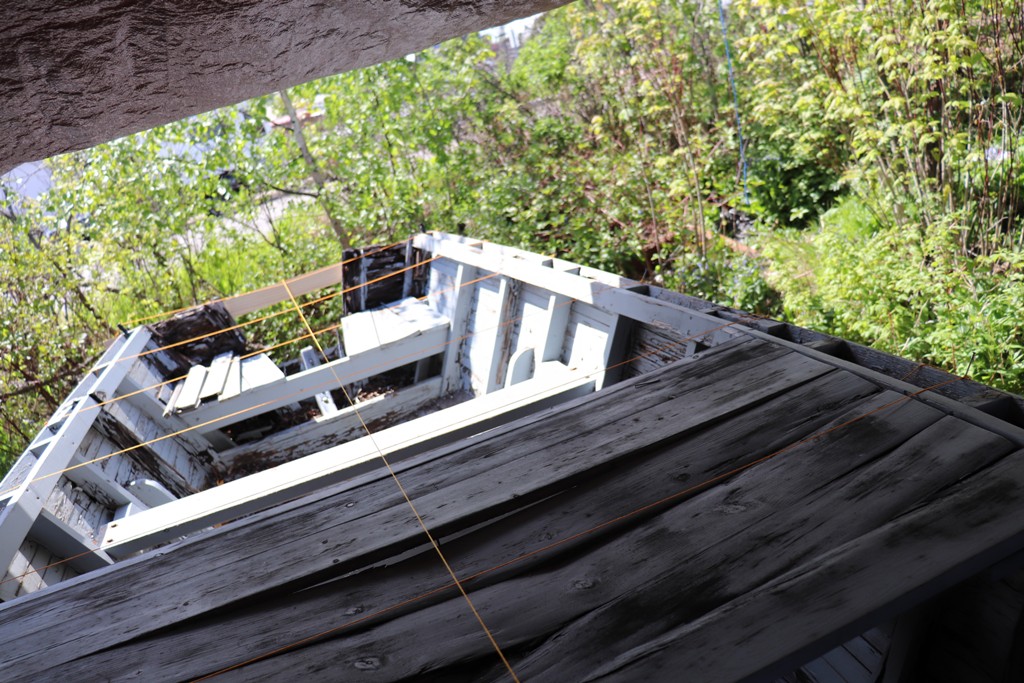 Hello North House Blog followers!
It has been pretty busy around here lately. Before the Wooden Boat Show, I helped Douglas Brooks teach a lofting class, then demonstrated during the Boat Show, and after the Boat Show, helped Ken Kosick with his class building a cedar-strip canoe. Last week I was on campus demonstrating paddle-making all weekend as the instructor in residence. But let me catch you up on what I was working on in early June and what will keep me busy throughout my time as Resident Artisan here.
Herring Skiffs are the hallmark small fishing boats quintessential to the North Shore. Local historian, anthropologist, and retired superintendent of the Grand Portage National Monument, Tim Cochrane, wrote a book called, "A Good Boat Speaks for Itself," which is a great source of information about these boats. They were often home-built by local fishing families and there was never a unified design, each family built their own. The first Herring Skiffs were large double-ended dories, but as the outboard engine entered the scene, herring skiffs got shorter, fatter and developed a transom. This allowed North Shore fisherman to fish further and deeper out into Lake Superior.
I am enamored with wooden flat bottom work skiffs. They are incredibly efficient, easily move fast enough to have fun on the water without wasting gas or money on a huge engine. Simple flat bottom skiffs can often achieve speeds 16-17 mph under a 10 to 12 H.P. motor. Furthermore their wide backend lets them skip across the water and also gives them great stability and the ability to carry a large load of fish, people, or stuff. The North Shore Herring Skiff is one of these boats. I believe the Herring Skiff can once again become a useful boat for people of Minnesota and I aim to help lead its re-discovery.
Back in March I went down to the Cook County Historical Society to talk to them about old boats in the area. I found out they had a herring skiff that is a great example of the design used towards the end of its evolution into a motor boat. They have been feeling guilty because they wanted to preserve the boat for its historical value, but unintentionally had left it to rot in the elements for too long.
So I spent a week in June taking the lines off of this boat. I used string lines to establish a center line on the boat and sectioned it off every 2 feet along its length.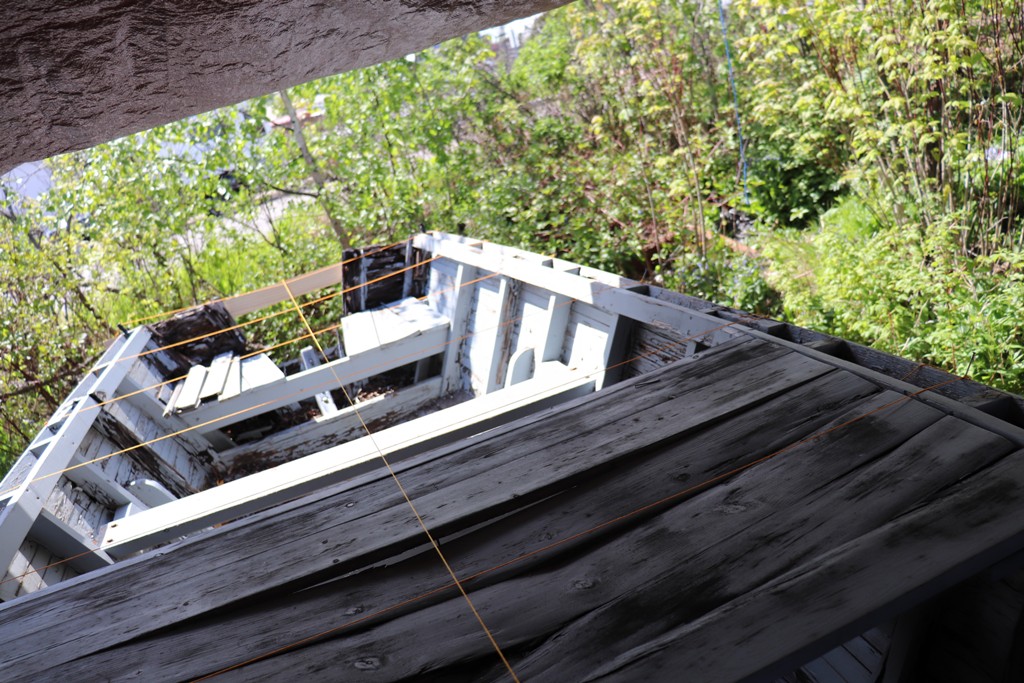 Then I shot a laser level at the boat to establish a horizonal base line. I hung a plumb bob at every two-foot station along the length of the boat. Then I used a bullet level and a four-foot ruler to measure the height from the baseline, and the width from the plumb line of the chine sheer point, chine point and rabbet point into the keel. This was a painstaking process but once I got a rhythm it went pretty good. Special measurements had to be taken of the stem and the transom.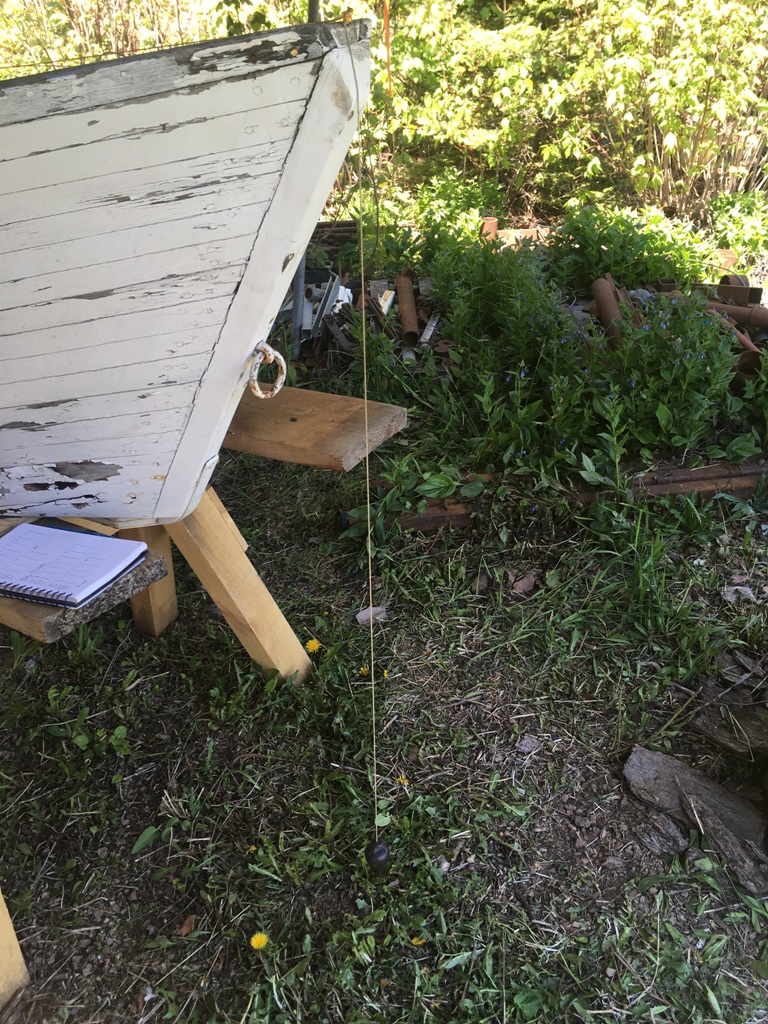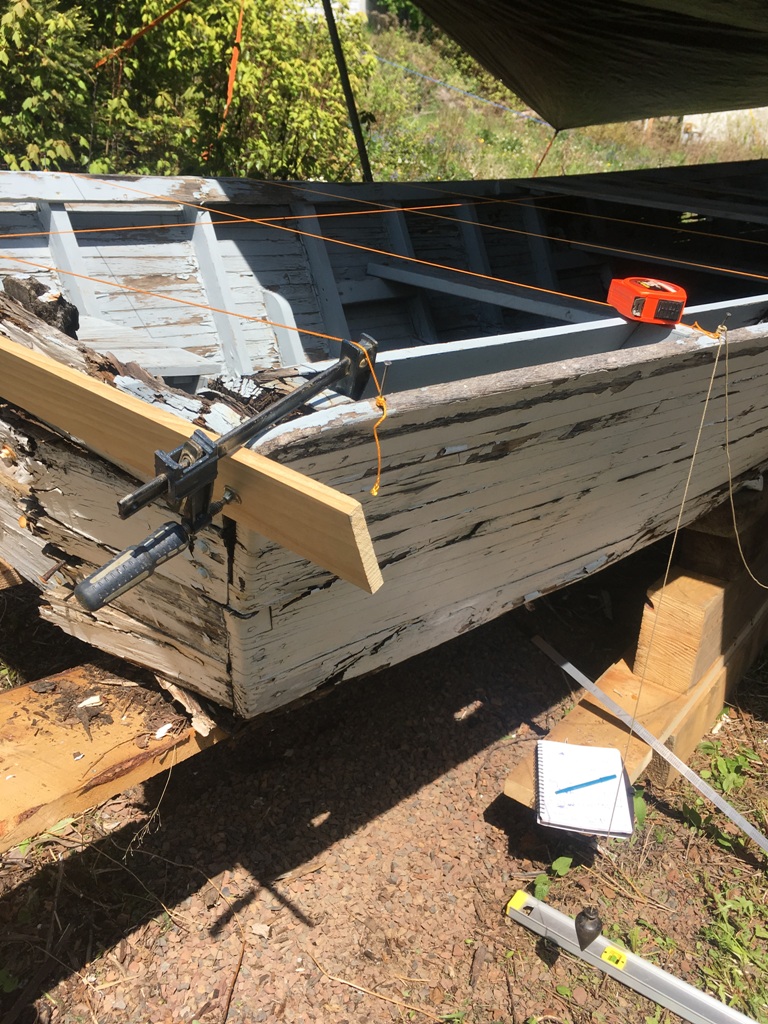 I used all of this data to put together a table of offsets and then made an architectural drafting of the boat.
The next step is to build a replica of the herring skiff. That process will start in September at the Unplugged festival where I will teach a one-day lofting class, where we will loft construction patterns for the herring skiff as a class. After that, this winter I will teach a one-week boat building fundamentals class at North House during which we will frame and start to plank this boat. The boat will be finished next summer with the help of local volunteers who want to rediscover the region's lost working watercraft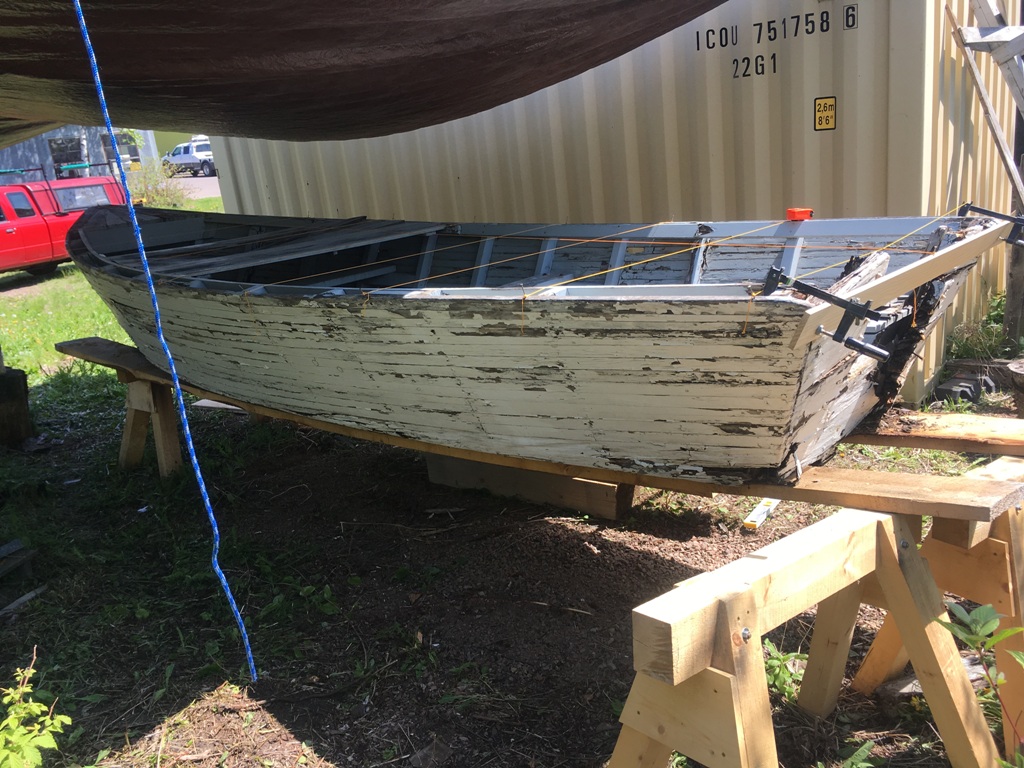 If your excited about herring skiffs, or have a story to tell me about one, I'd love to hear from you: josh@manywatersboats.com