Hello from Scandinavia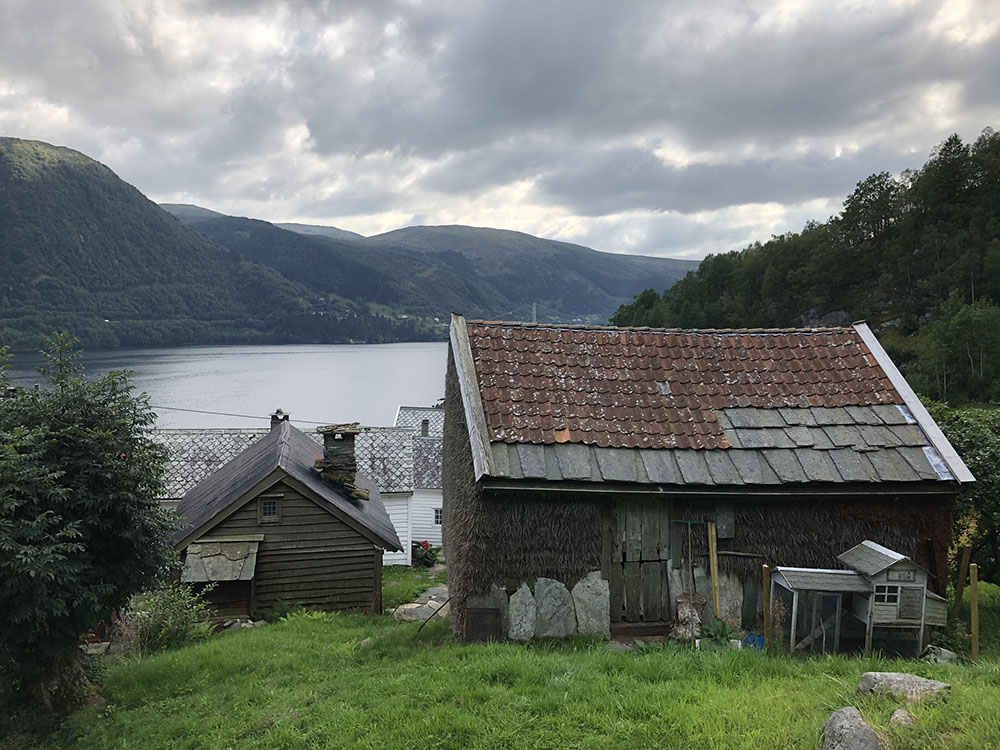 I've been traveling now for 4 weeks and there are so many stories to tell. To begin this journey Peter Henrikson and I traveled to Bergen to meet up with Trond Oalaan.
Posted on August 28, 2019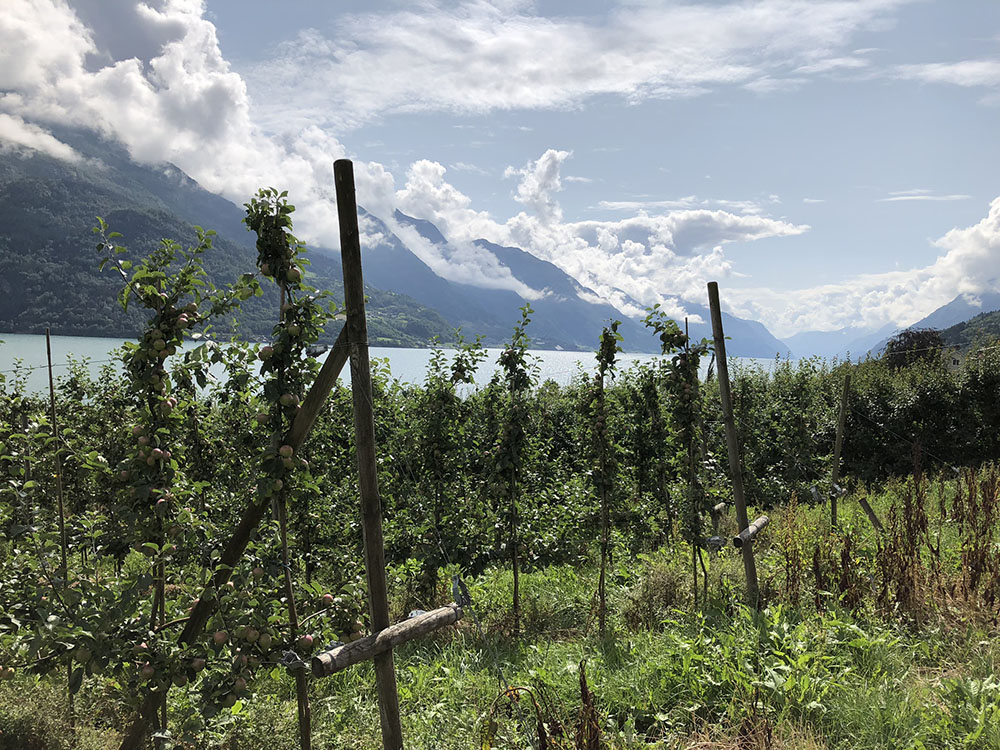 As a part of the Artisan Development Program we have the opportunity to plan and arrange a study/travel journey in Scandinavia. It's a fantastic opportunity to experience the culture and learn from talented crafts people abroad. I've been traveling now for 4 weeks and there are so many stories to tell. To begin this journey Peter Henrikson and I traveled to Bergen to meet up with Trond Oalaan.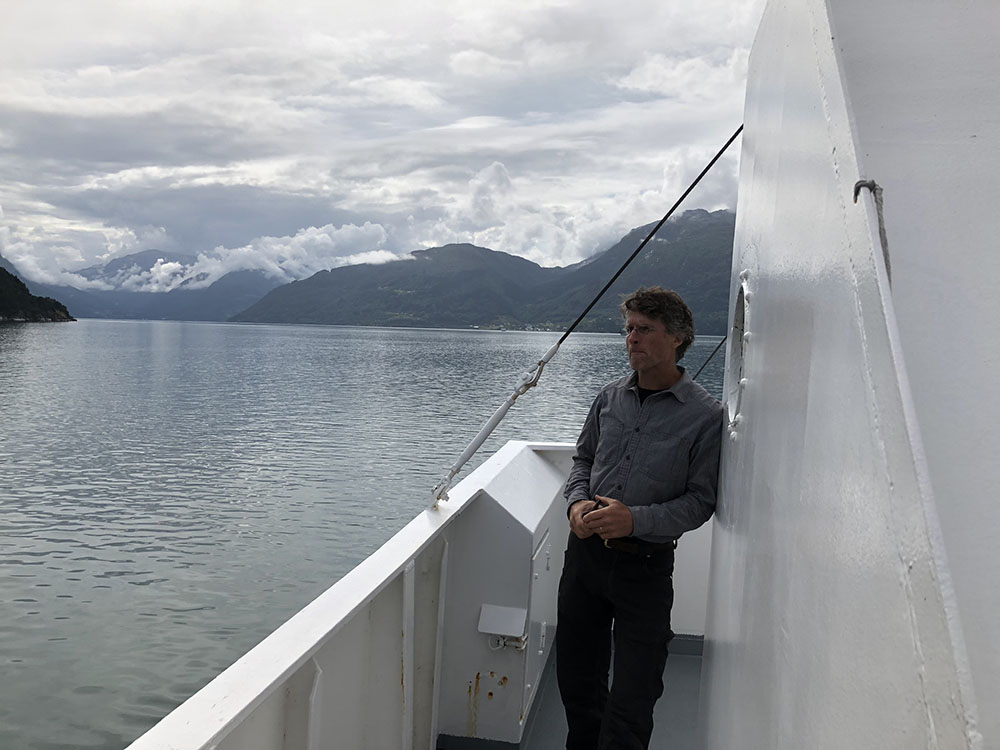 You may remember Trond from my last blog post because he was at North House fairly recently teaching a Skjelter course. I have been excited about grindbygg timber framing for the last few years and it just so happens that Trond is somewhat of an expert in this framing style. He kindly led us on a tour of old grindbygg barns in the breathtaking fjords of SW Norway.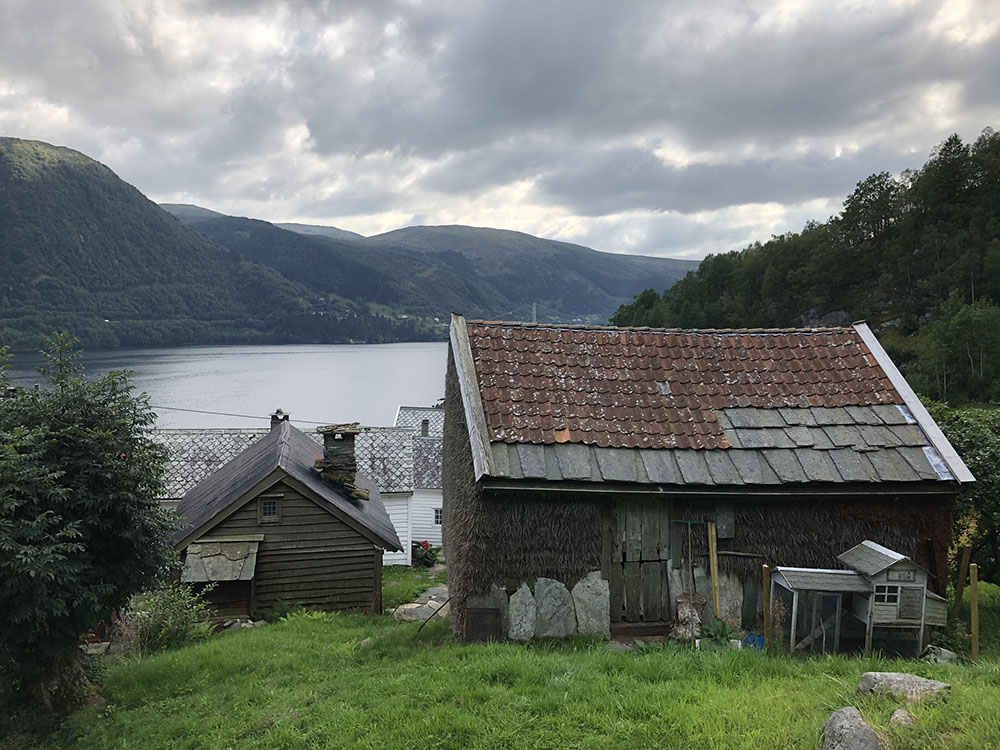 Many of the barns we looked at had components from the 1500s. Seeing them in person revealed some of the nuances in their construction and also revealed a lot about the culture and how these buildings have been used over the years. What I didn't realize is how often these buildings were moved, taken apart, and repurposed. There were many different reasons to do this. For one, materials were very expensive. We often think of Norway as country completely covered in trees. In reality, at the time many of these buildings were constructed almost every accessible piece of land had been cleared either for agricultural use or to use the forest resources for building materials and fuel. Often large materials for bigger barns were purchased. Trond and some students built a replica of a peat storage structure that once stood on a farm that belonged to his great grandmother's family. The peat was used as a fuel for heat and cooking since there weren't many trees available for them to use. That story paints a striking picture of how few trees stood in the area at that time. Here are some photos of the student-built project that stands at Hordamuseet.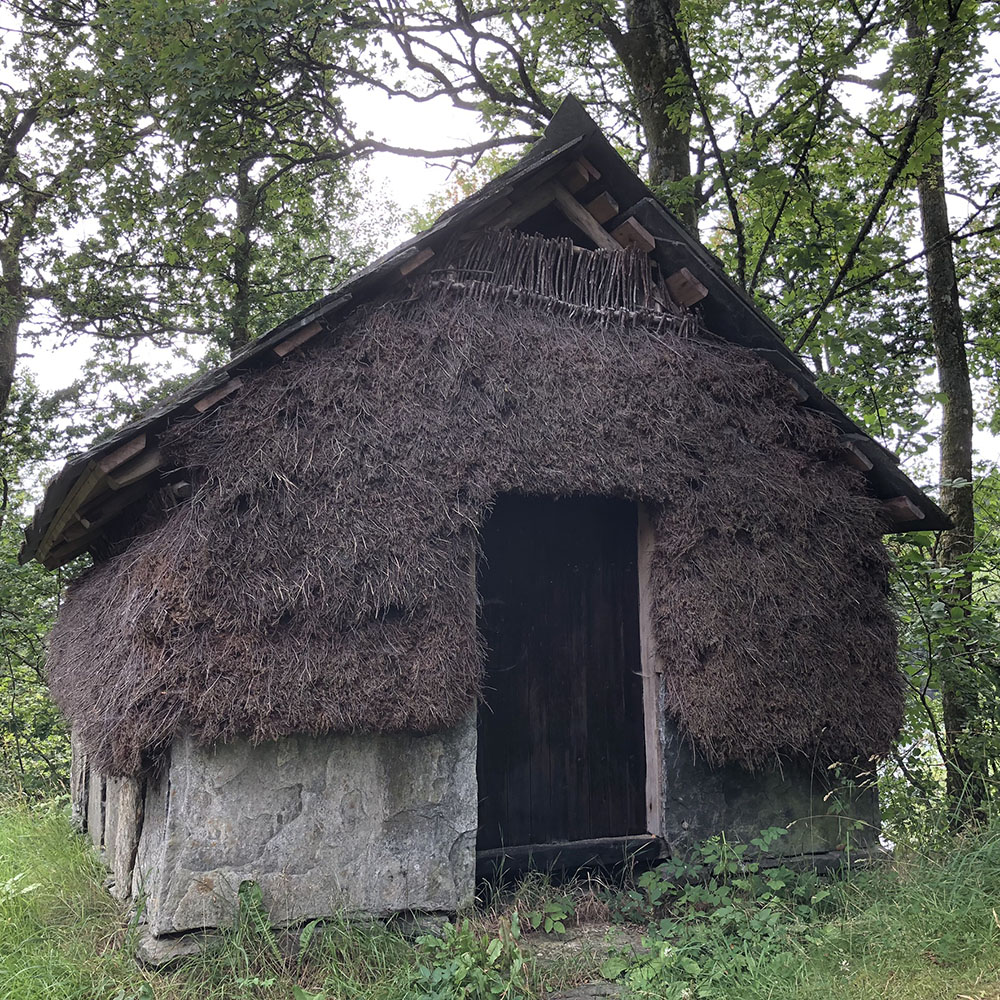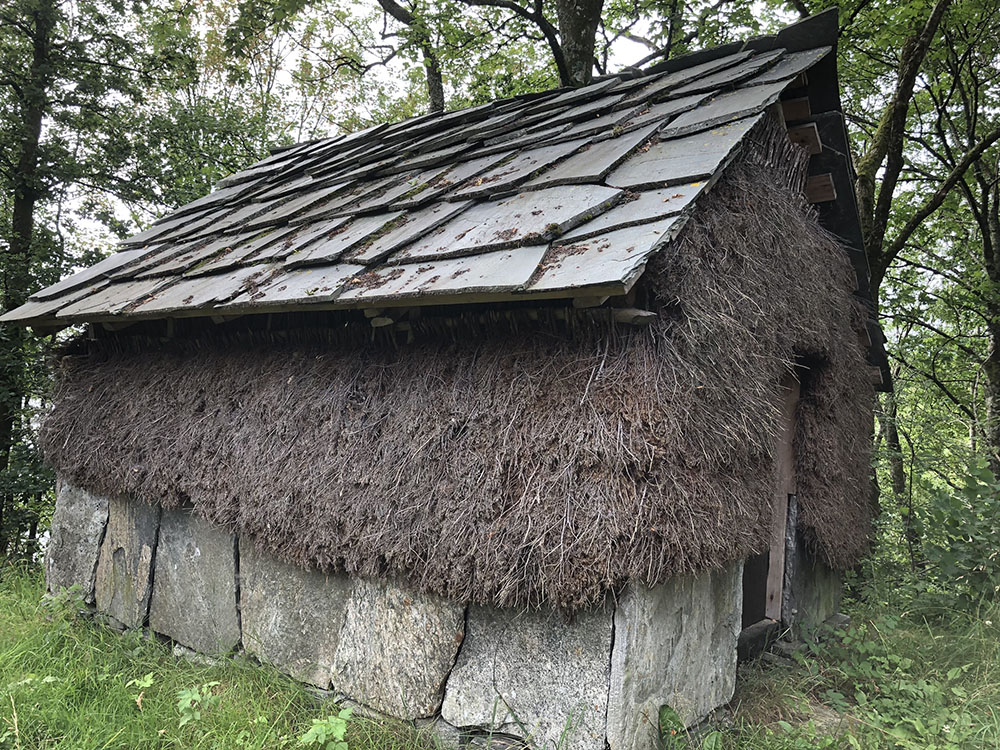 Again, being precious materials, it was often more economical to repurpose pieces from older barns rather than start new. Farms were divided and inherited by the sons of a given family. In many cases the barn was split as well and became the basis for new barns.
As we toured some of the older building Trond pointed out certain features that indicated that the components were likely from the 1500s. Earlier versions of grindbygg structures had dramatically canted posts (splaying out at an angle rather than a vertical orientation). These posts rested directly on the ground. The ends of the rafters extended past the wall plates and rested on a separate exterior wall. This created an aisle between the outside of the structural posts and the exterior wall. At the time these were built the farms had separate out buildings for grain crops and cattle. The early grindbyggs were used for storing hay and grain. Later the hay storage and cattle barns were combined into the structure. Rather than resting directly on the ground the posts landed on a stone foundation which was built up creating the space for housing cows in the winter. In order to make this work the posts needed to be plumbed up (made vertical) rather than the flared orientation they once had. A lot of the older posts had pockets to house braces in different locations before they were changed. Also, the "head" of the tie beams have evidence of adjusting the angles to accommodate this new plumb orientation. There are some photos here that highlight the tell-tale signs.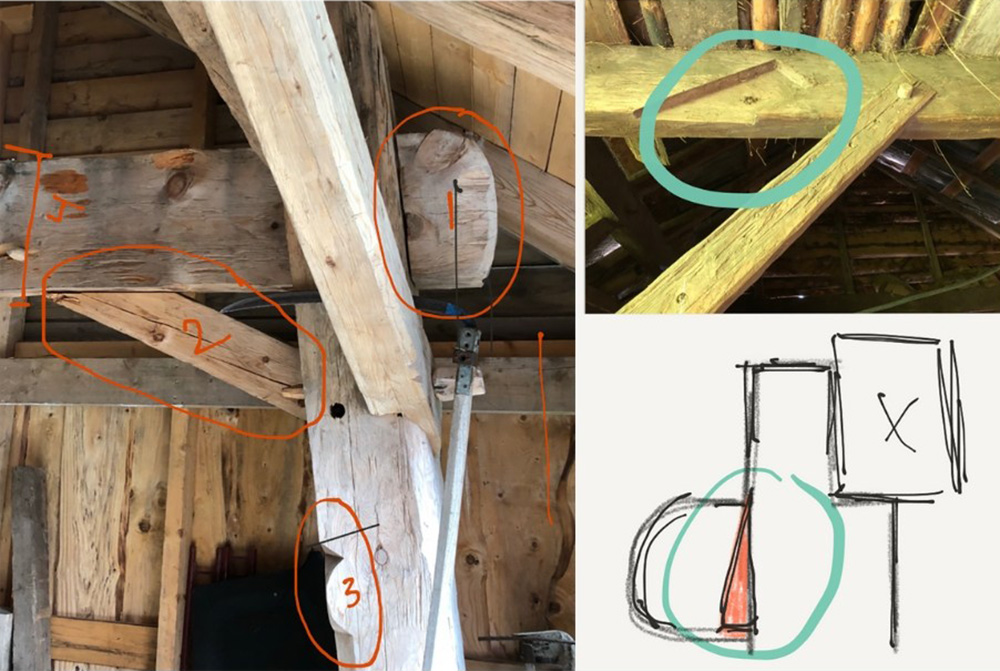 Many of the old posts were covered with carved symbols. These symbols were commonly found on the East facing posts that created the entry to the threshing floor. As the entering grain passed by the posts the symbols were meant to have the power to block spirits and creatures that may harm or spoil the harvest. I'm curious to hear more about these stories but Trond was telling me of all the different ne'er-do-well mythical creatures that loomed on the outskirts of the farm waiting to do harm. It was also interesting that on many of these nicely hewn surfaces there were choppy axe marks where someone removed the superstitious symbols that could potentially tie them to pagan beliefs.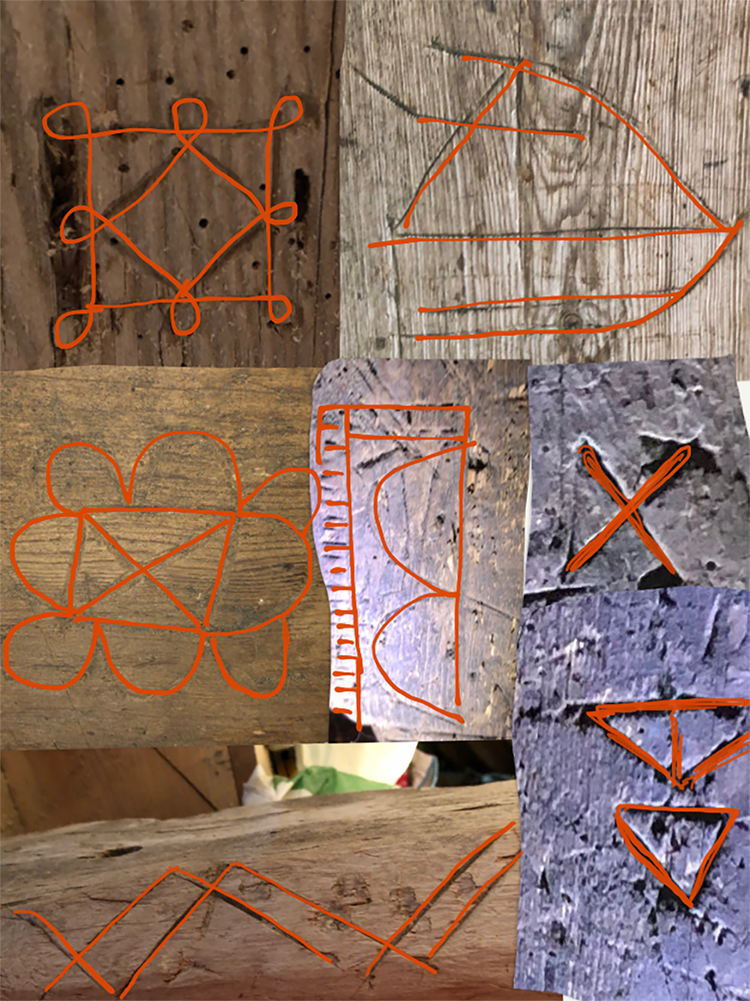 In addition to some private barns we visited two old farms, Havratunet and Agatunet, that are preserved as museums. Both of these farms were kept in their original arrangement. There was political pressure in the 1800s to change the way in which farms were arranged and inherited. At that time, they typically resembled small villages with multiple, often related, families sharing resources and farming the land together. But as families grew farms were divided and subdivided into increasingly complicated segments. Many of the farms and little farm hamlets were split up. Havratunet and Agatunet are some of the only remaining farm hamlets of their kind in SW Norway.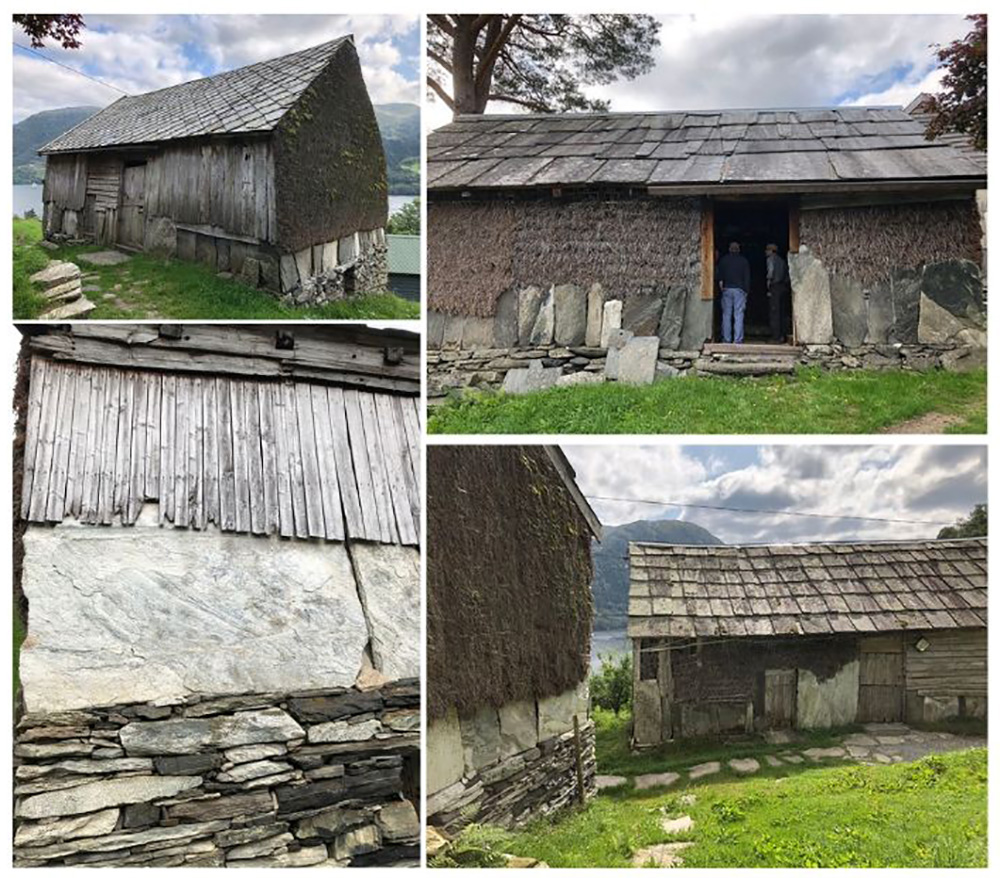 Havratunet is situated on a steep hill side on the southern part of Osteroy. The grindbygg barns there are spectacular. They look as if someone scraped up the landscape and draped it over the top of a wooden framework. The roofs are made with heavy slabs of slate. The siding is a mix of vertical and horizontal cladding as well as woven juniper. The woven juniper is particularly unique and has a really special presence. The boughs of are woven into a lattice of saplings creating a wall that sheds water and resists the worst of the winds while providing some ventilation for the stored crops so they don't mold in the wet maritime climate.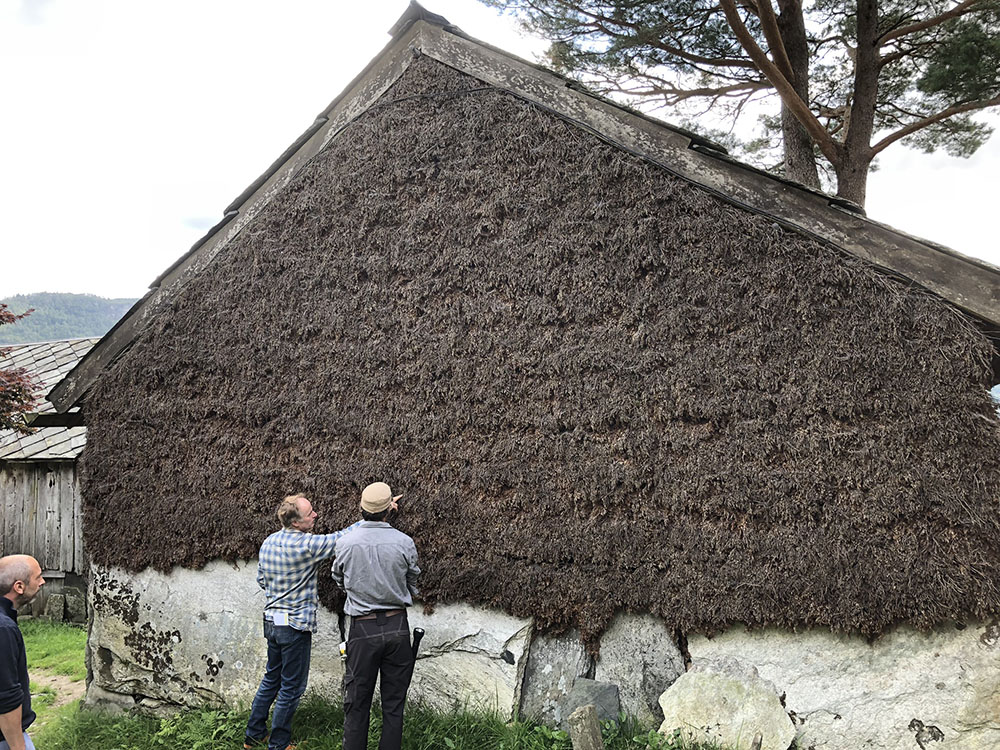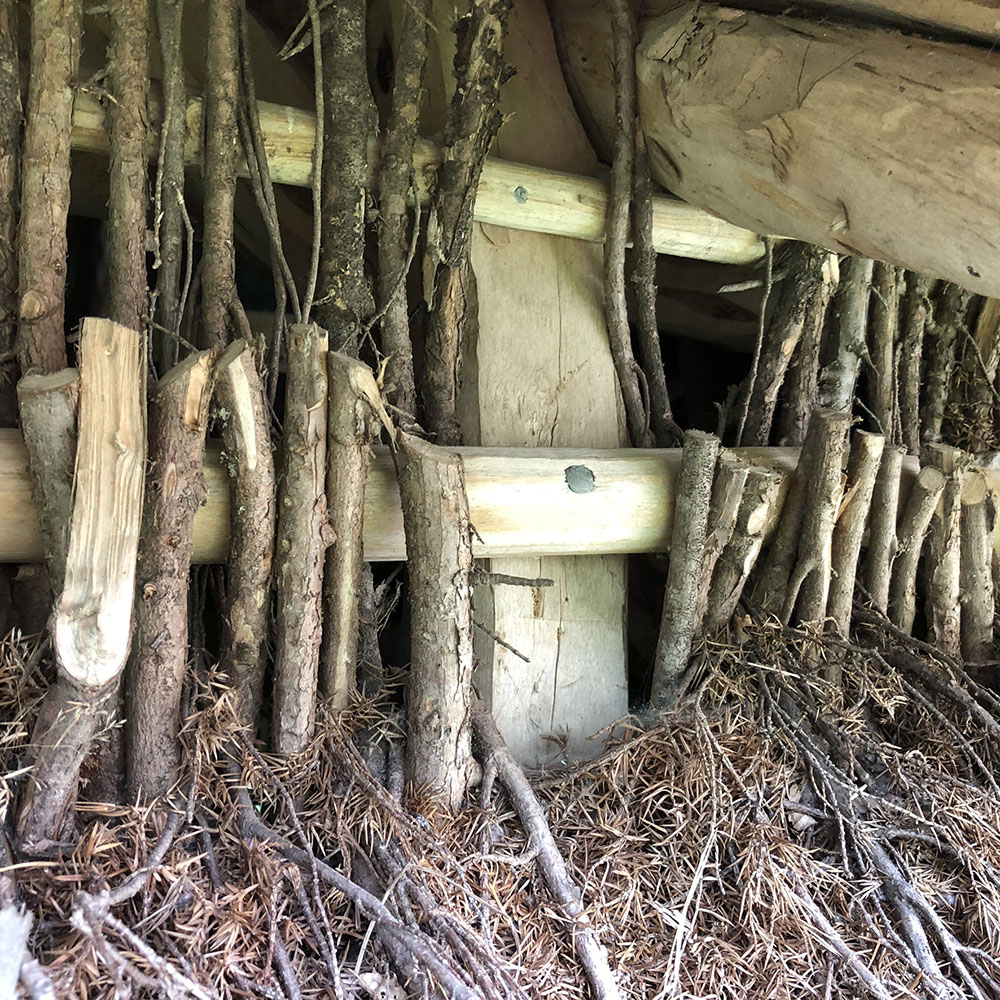 At Havratunet they try to keep the farm functioning the way it did while it was in operation. There's a crew of folks that cut all the hay with scythes, transport bundles on their backs with a rope and bent wooden loop system. They then mound it in columns with the aid of longs sticks. It was great to see these old barns in action.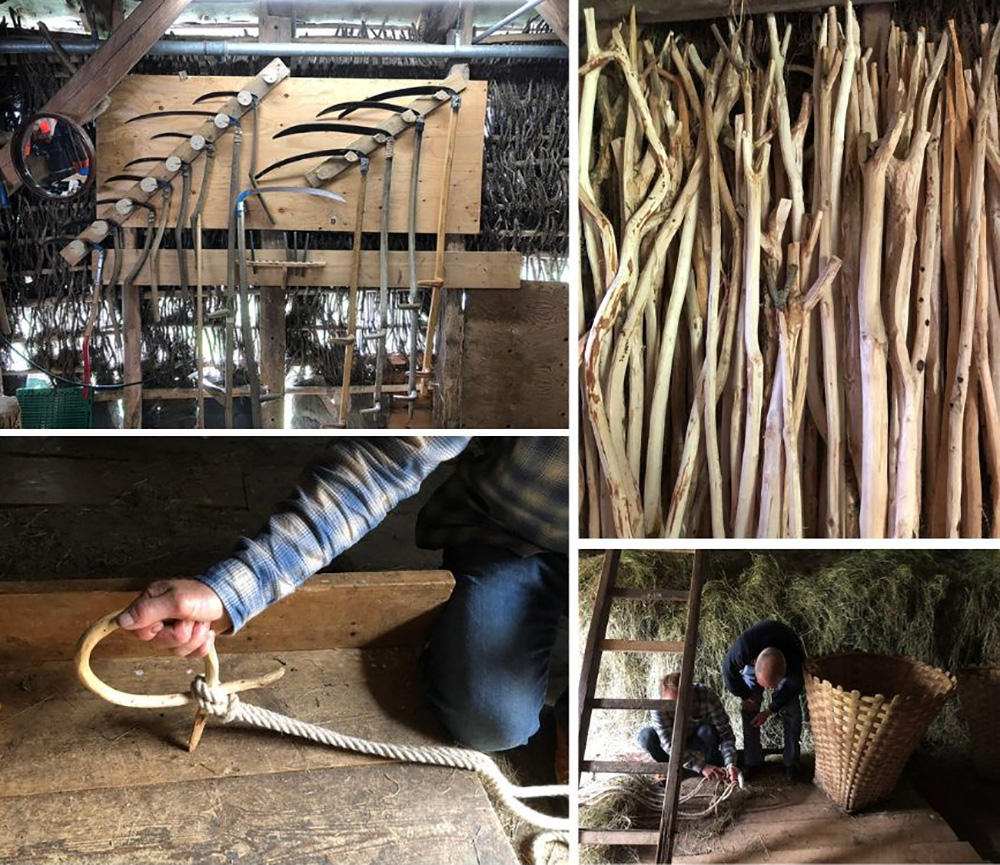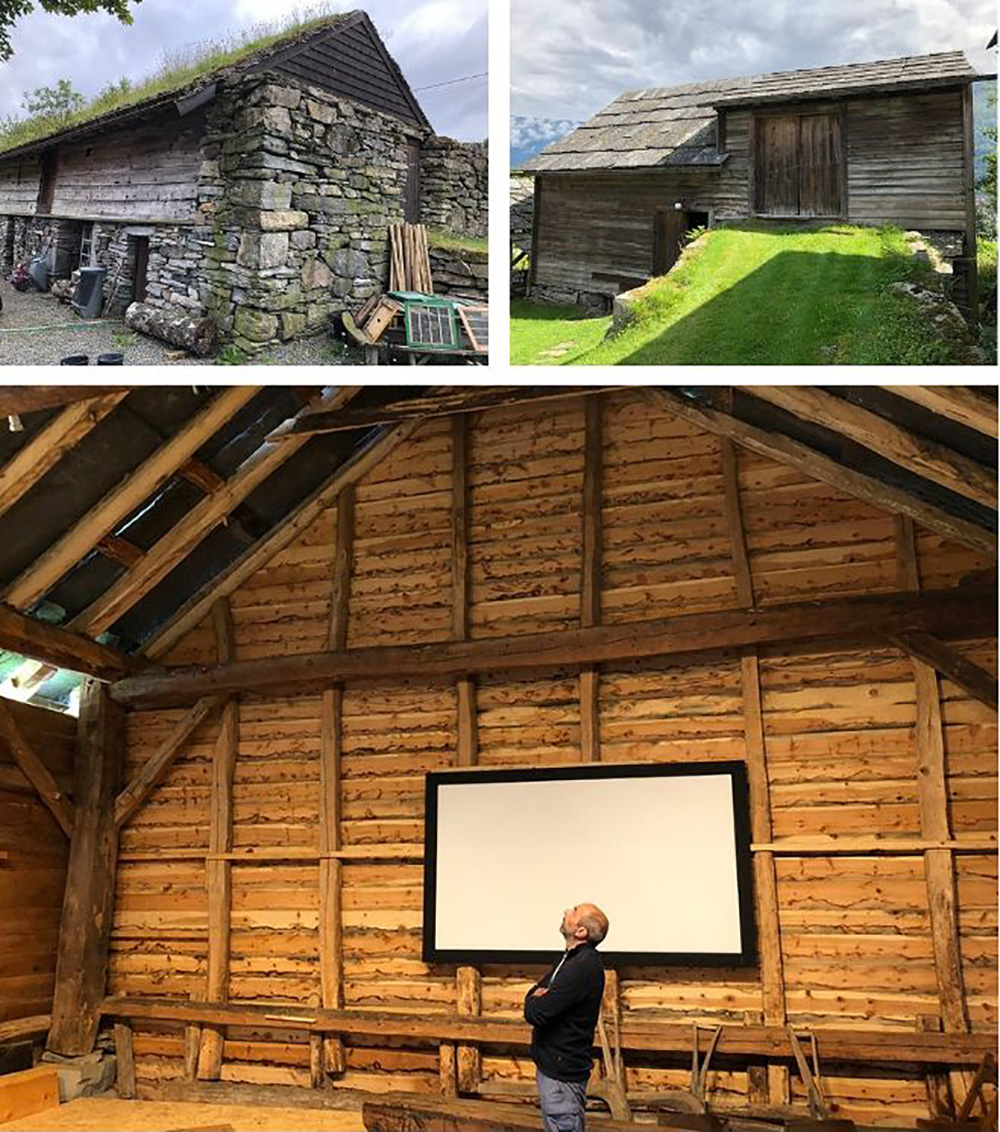 I think it's also interesting to note that a lot of old grindbyggs exist in Hordaland because they continued to be used. We saw barns and small outbuildings on virtually every rural property. There is one particular style of building that combines a boat house with an elevated living space. This house on stilts allowed farmers that had to travel a long way to the fjords for fishing to have a place to sleep so they didn't have to make the long journey daily. Here's a few shots of one of these structures. The floor joists are hung with naturally curved U-shaped hangers.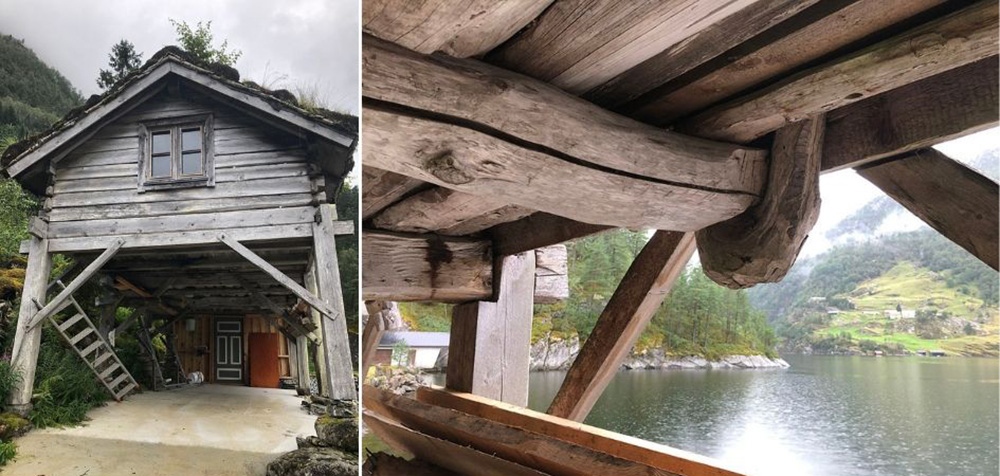 I have had an opportunity to build 7 of these frames in the last 3 years so it was a real treat for me to visit some grindbyggs in their "natural habitat." Trond was fantastic guide to Peter and I. I'll look forward to including some of these newly discovered details into future projects.