From Birds to Boats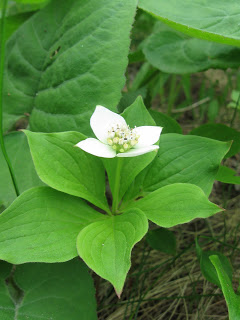 Fearless intern Lucy informs me this is a bunchberry (easier to photograph than more-mobile birds).
This past weekend we welcomed many birders and wildflower-ers to campus in between explorations in the field. They identified something like 70+ birds and 50+ wildflowers and I daresay a good time was had by all. Evening programs included bird tagging, Big Belching Bog, and long-eared swamp donkeys. And apparently two of the rarest flowers in Minnesota are growing right over on Artist's Point, which is pretty cool to know.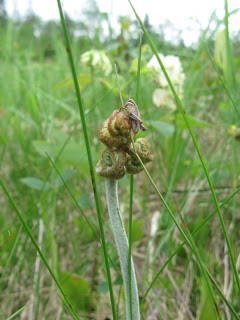 Little grasshopper on fern at Pincushion.
I got to do a little hiking/trail running of my own up at Pincushion yesterday and there are indeed a great many flowers blooming. It's a lovely sight. Then I took a little detour further up the Gunflint to buy yogurt and milk from the dairy. Came home and made some delicious yogurt-peanut-chocolate chip cookies, then harvested rhubarb and chives from the garden outside of Yellow for dinner (raw rhubarb, chives, buckwheat noodles and cashews, mmm...).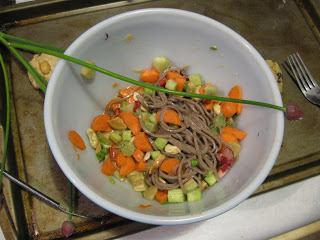 Dinner, with dessert peeking around the edges.
Spent some time brainstorming kitchen organization the other day, and nearly walked into this awesome ginormous spider web outside the back door. It seriously takes up almost the entire height of the door frame. I think the warmer weather is bringing all of our little insect friends out, but don't worry we don't let them into the kitchen.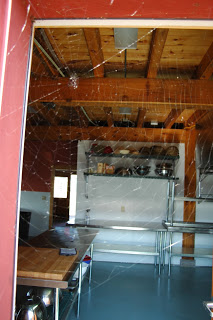 Everyone here this week is putting last-minute touches on Wooden Boat Show preparation, since it is only ONE WEEK away. Yesterday I got to spend some quality time in the sun with paintbrush and can creating sandwich signs. Also did a little kitchen planning, as the baking for the Chowder Lunch on Saturday (June 18) will be led by yours truly - almost fifty loaves of bread! It'll be a good time for sure. And then, of course, are all the boats on display and the crafters and the builders and the auction. We're definitely looking forward to it here - stay tuned for more information.