Film Review: The Story of the Weeping Camel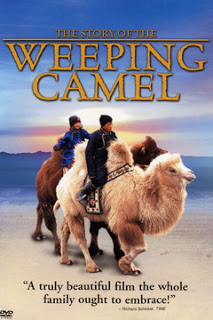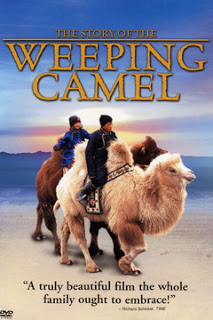 The potential of spontaneous group activity is a perk of living in a small community of North House interns; recently, Angela suggested we watch The Story of the Weeping Camel, a recommendation from the spouse of a staff member. So we did, and I think I speak for my fellow interns when I say that we highly recommend it.
The Story of the Weeping Camel is a 2003 German docudrama set in the Gobi desert of Mongolia. The film stars a small family of nomadic sheepherders, 4 generations of whom live under the same canvas yurt-roof. At first, the film highlights their routines during the camel birthing season; soon, however, the quiet drama of a camel mother who has rejected her newborn albino colt sets in motion seemingly age-old rituals. A plot-driven narrative, the stage is set against the striking, sand-blown steppe of the Gobi Desert.
As you'd expect from North House interns, we spotted the various crafts and crafting highlighted in the film. After taking the time to sharpen an aggressive pair of scissors, the grandfather and great-grandfather help each other shear a camel's neck. The great-grandmother then twists the long strands of unprocessed wool as she forms a two-stranded rope, shaping it into a decorative bridle for one of the newborn colts. She does this sitting in the one of the yurts—or ger—that is decked-out in colorful rugs and tapestries. The stability and insulation of the ger is proven in a later scene, when the wind is howling outside but only a faint hum is heard from within the desert home. Must be felted wool panels, we thought. Gotta love wool.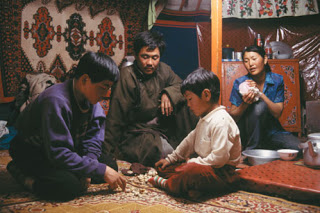 Aside from the more utilitarian crafts, the film also features games and music. The young boys play a dice-like game using animal teeth (or other bone fragments). Toward the end of the movie, you hear a visiting musician play the Mongolian morin khuur while the mother sings a haunting melody. The movie ends with all 4 generations sitting around the ger in the evening, singing.
I had a personal reaction to the film, having spent two years living in rural society in Paraguay. Children playing pretend in the sand, the pace of life, sheep sounds... even some of the personalities reminded me of people I knew. This is not to say there is a pan-cultural rural identity. Instead, there is something familiar when you step outside our culture and into a more traditional, elemental way of life.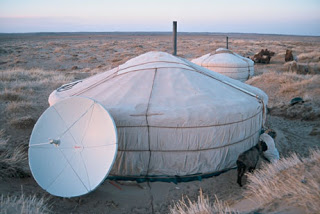 The film addresses other themes as well —technology, Westernization, animal husbandry, anthropomorphism— but to cover all those would take a very committed blogger and a patient audience. Go watch the movie instead.