Emily Dickinson Brooms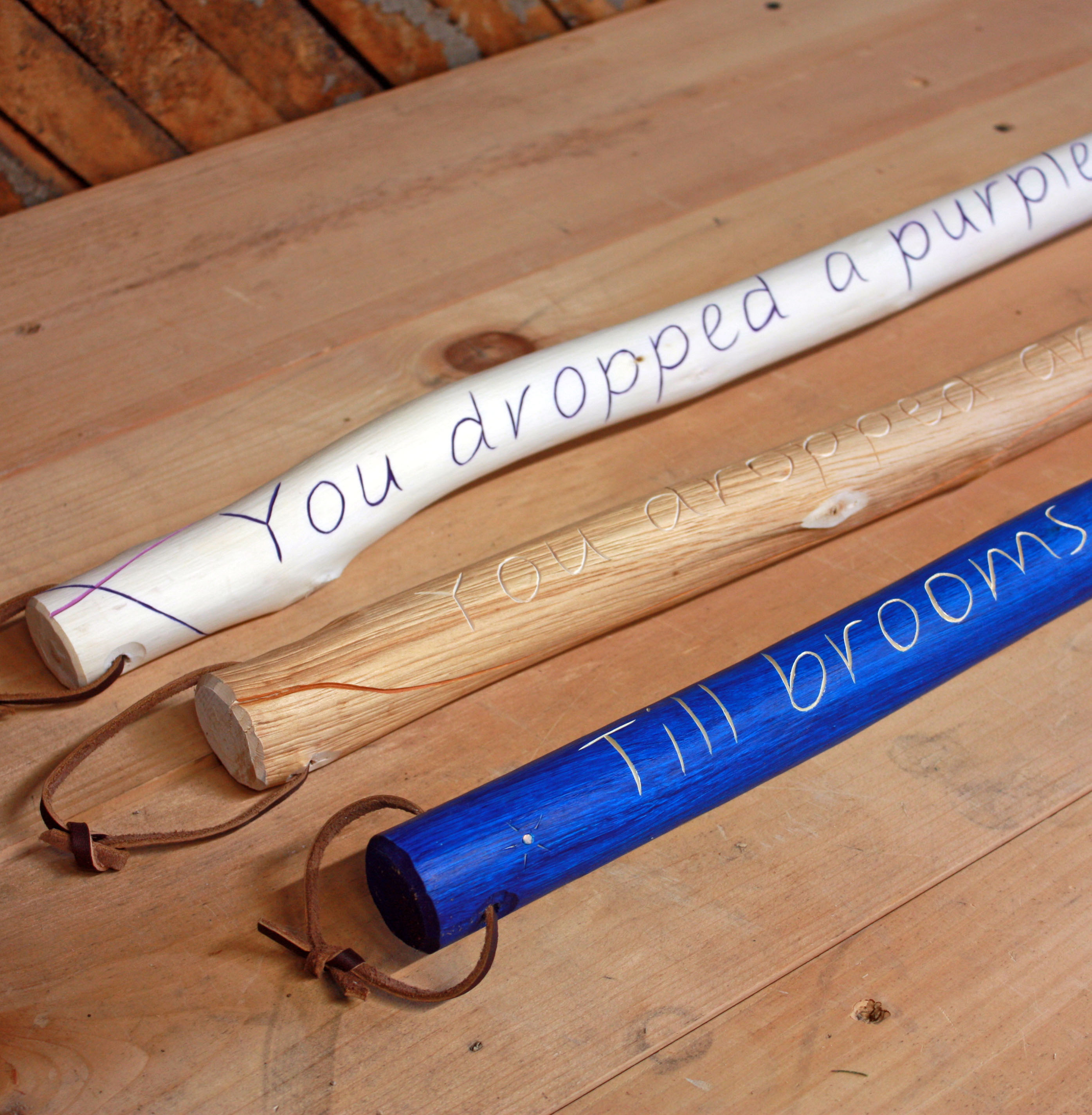 Posted on January 3, 2019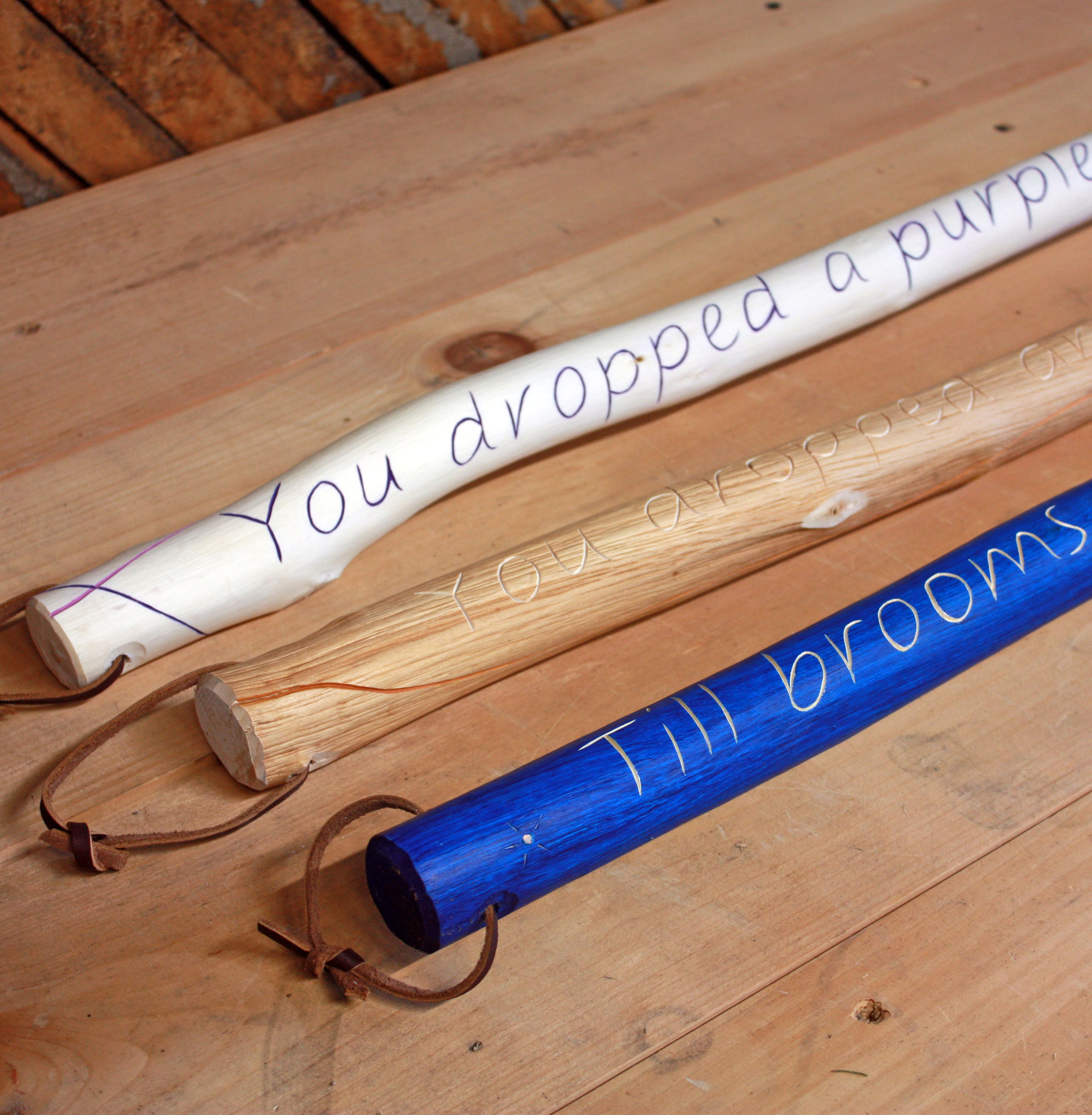 She sweeps with many-colored brooms,
And leaves the shreds behind;
Oh, housewife in the evening west,
Come back, and dust the pond!
You dropped a purple raveling in,
You dropped an amber thread;
And now you've littered all the East
With duds of emerald!
And still she plies her spotted brooms,
And still the aprons fly,
Till brooms fade softly into stars -
And then I come away.
-Emily Dickinson
I was introduced to this poem through the music of Josephine Foster, who has an album completely devoted to the poems of Emily Dickinson. Since one of my more well-known craft focus areas has been broom-making, this poem understandably grabbed my attention. The words of this poem, in which Emily Dickinson uses a sweeping housewife to describe the sunset, have been swirling around in my mind for the past few years as I've pondered how to incorporate this into broom-making.
My mentor in the Artisan Development Program, Dennis Chilcote, who is also a broom-maker and has added some beautiful carving to broom handles, challenged me a few months ago to broaden my vision of artistic brooms by making brooms worth more than one hundred dollars. A few ideas have come to mind since then, but the one that has excited me the most has been the opportunity to incorporate "She Sweeps with Many Colored Brooms" into a series of twelve brooms.
Tackling one line at a time, I'm working to create a visual representation, either figuratively or literally, onto each handle. I am then carving the line of the poem into the handle using free form chip carving methods, which I've also been using on my recent shrink box projects.
The first handle that I completed is "Till brooms fade softly into stars –". This handle I first painted with a deep blue oil paint to represent the evening color after the sun has set and the red and orange have faded from the sky, but before it is fully black. I then carved the words through the paint and finally created my stars. For this, I used a method that Jane Mickelborough showed me at the Milan Spoon Gathering, and which I used in a couple spoons that I carved in her class. Using brass and copper tacks, I cut short lengths, sanded them down, and tapped them into pre-drilled holes in the handle. I then used a combination of chip carving and a stab knife to add lines to represent sparkle around each star. I finished the handle by painting light gold into the carved letters and chip carving around the stars.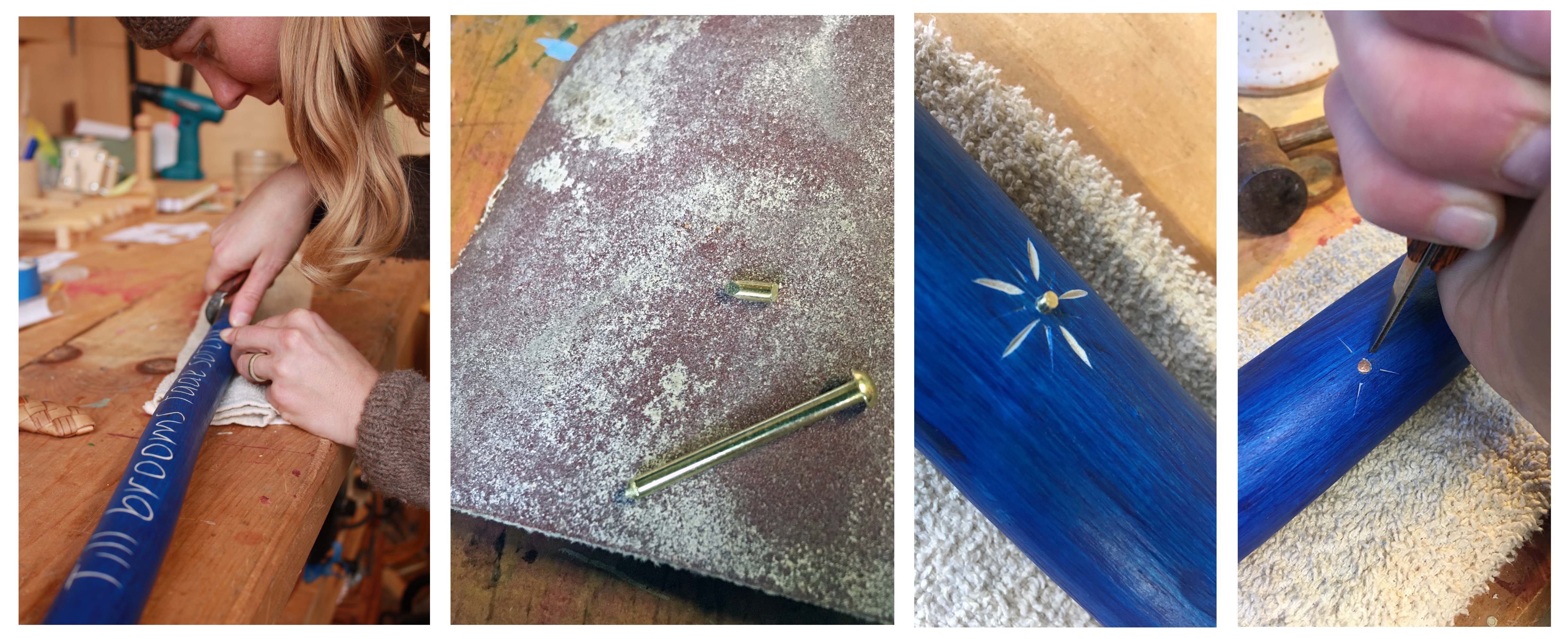 My plan with this handle is to tie a broom onto the end that incorporates dark blue broomcorn fibers along with yellow or gold crosses over the blue string used to tie the broom flat. So far, I've completed three of the simpler lines of the poem and have lots of fun and more intricate ideas for most of the other lines. I love that this project is allowing me to experiment with a variety of carving and embellishing methods, as well as new paint types and techniques. I'm not sure exactly where the final products will end up or how this project will factor into my identity as a broom-maker, but I appreciate that the Artisan Development Program is allowing me the time to follow my whims and work on projects like this.