Community Supports Craft
Resident Artisan Elise Kyllo considers the role of the community in her often solitary craft in her latest blog post.
Felting, like any craft, can be intensely solitary and for someone who thrives on social interaction, this can be challenging. Personally, teaching is a fuel that keeps my felting fire burning. Without the joys and invigorating challenges of sharing my wool craft with others, there has been a grayness to my days during Covid.


The joy of felting together and making things
It's helpful to recall my deepest wish from last year, "more focused studio time". My wish was granted, 10 times over. Now, as you can guess, I am challenged by the excess of studio time, lacking the highlights of teaching, selling and working towards known goals. It is clear that I need to put some energy into adding vibrant color into my life and setting new goals. Thankfully, wool's natural character is colorful and full of possibility.
The pleasure of teaching is irreplaceable, but I have discovered the joy of working with people on commissioned wool pieces. There have been a number of commissioned pieces this past year that have brought me into numerous conversations with others, discussing who they are, what they wish, what their favorite colors are, their hobbies, their shoe size, hand size, head size. The list of inquiries goes on depending upon what I am making.
Going through this process of getting to know someone so I can successfully make them something they will use and cherish, is a way of connecting with others, building relationships and community. In the ideal, I am thinking about someone when I am creating, making a piece that is unique and individualized. In the best case scenario, I am bartering with another person, exchanging items with another person rather than exchanging money for goods. This invariably leads to a deeper connection, longer conversations and the building of a relationship. Acknowledging this pleasure in connecting with others through craft, I understand why I struggle to make things to sell on line. It's also becoming increasingly clear that I am more artist than I am craftsperson. I enjoy making, creating, expressing and transforming. Even when my intention is to set off on a day of production, I am swiftly distracted by the possibilities or experimentation, trying a new wool, mixing in other fibers and consistently, making something unique.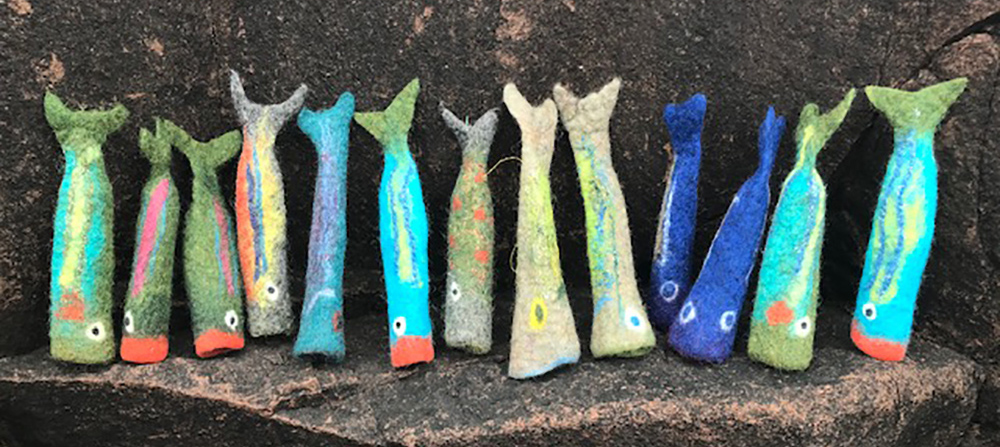 cast iron pan pot holders, even something so simple, there are no two pieces exactly alike
Listing the many commissioned pieces I made in the last year, I am surprised by how long this list is. I am thankful for the many people who trusted me to invest in something made especially for them.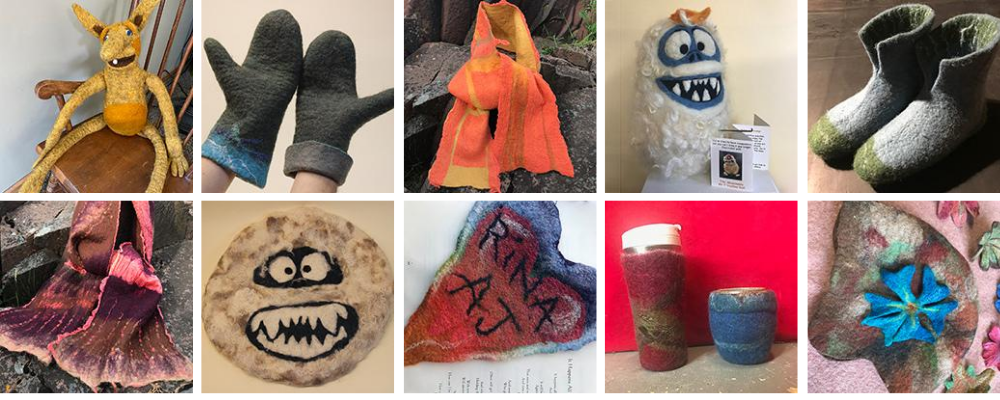 One of the most amazing barters of the century was indirectly a benefit of covid. Deborah, who lives in North Carolina bought a felting class in the annual Unplugged Auction, in the hopes that she and a friend would visit North House for the first time and would be designing a felting class with me. All travel plans were cancelled and I wasn't able to fulfill my promise. In our conversations about what to do instead, she very generously offered to help me develop my website. I am guessing she saw how sad my website was and could see my skills were more creative than technical. As a small gift in exchange for her tremendous help, I offered to felt her anything she wanted. She kindly asked me what I wanted to make. After a list of questions about her hobbies, colors, her favorite art, I decided to create a sculptural piece.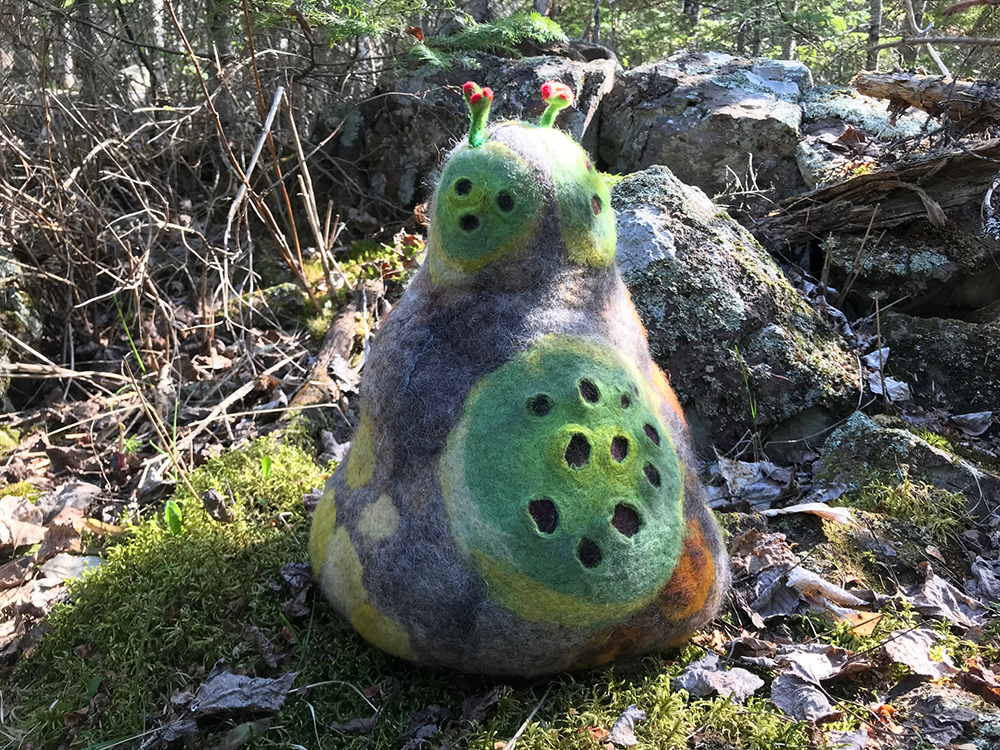 I am forever indebted to Deborah for setting up my website and supporting me to continue the work of updating the website and in the future selling my work on the site. I look forward to when Deborah will visit Grand Marias and I will happily offer her a felting class making whatever she can dream of.
If you are interested in felting, I hope you'll take a moment to visit my new website worksinwool.com.
The most recent commission was also an auction item to raise funds for the future of North House Folk School. I was lucky that Jean Cochrane of Grand Marais, purchased the item of 4 felted seat cozies, which we designed in collaboration. It was an easy project to embrace because Jean requested the theme be wild foods, for a dining room set of seat cozies. Each cozy celebrated a gift from the boreal forest that I also love and gather; maple syrup, wild rice, chanterelles, blueberries and ramps.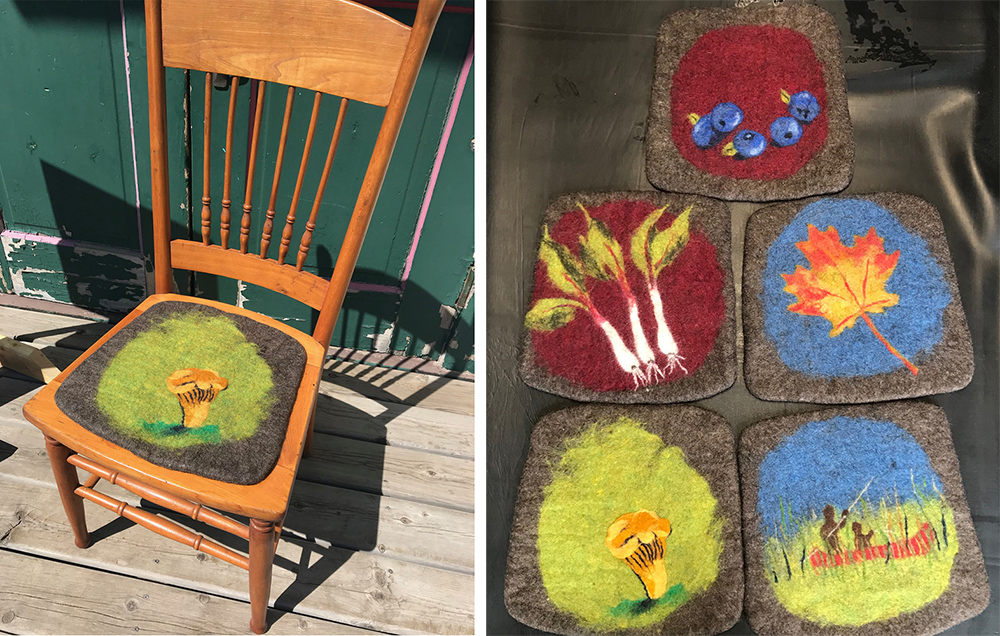 I continue to question whether I would enjoy the work of felting as a way of making a living; whether it is really possible, financially. What I do know is that I love making things with wool and enjoy sharing this with others, as a teacher, a maker, a person who values bartering goods with others and nurturing community that is created by sharing what we love and do well.
Come visit me on the North House Folk School Campus, August 12th-15th, while I am the instructor in residence. I will be wet felting slippers and cast iron pan potholders and I am always happy to teach an impromptu "how to mend your wholly wool items". Bring them along and we can work together. I will have The Wooly Wonder Mending Kit for sale as well as scarves, seat cozies and more.