Bread Baking Bonanza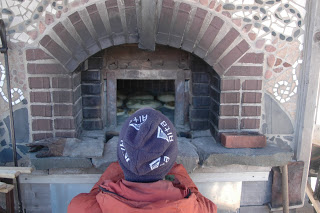 Work is love made visible. And if you cannot work with love, but only with distaste, it is better that you should leave your work and sit at the gate of the temple and take alms of those who work with joy. For if you bake bread with indifference, you bake a bitter bread that feeds but half our hunger.

Kahlil Gibran, The Prophet, from Kiko Denzer's Build Your Own Earth Oven
Smells good, tastes good... We had the joy to work with instructor Amy James -elsker av brød (lover of bread)- for a full day of wood-fired bread creation yesterday. Amongst the variety of breads born from the hearth were: cartas de musica (Italian, very thin, crackly cracker-like goodness), pita (Balkan in origin), focaccia (Italian for flat bread), and sourdough boule (French for ball).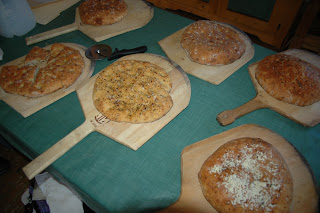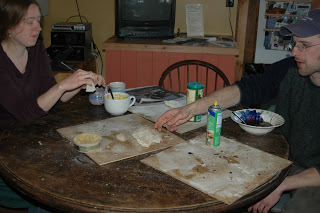 In preparation for our Friday baking demos and Saturday student pizza potlucks, the four of us embarked on a day full of gluten-ous goodness.There is a simple yet complex art to each form you are about to create, from the stoking of the fire, to the wetness of the dough, to the type of yeast used, to rolling out and oven placing.Amy is a gem-full of knowledge, enthusiastically encouraging us to let our hands figure out what they feel is right throughout each recipe.I can't say I had a favourite that we baked but it was good to try our hands at a little bit of everything, and unearth the possibilities from 900 degrees on down! We discovered the victimizing, silent nature of fresh bread, as students all around campus seemed to wander in at just the right time for a little taste...
After taking his first bite of a freshly warm round of focaccia, fellow intern Mike smittenly said, "Wow", with a look in his eyes that voiced "paradisaical"...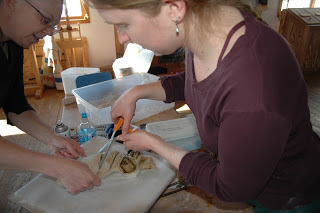 If you're interested in learning a little bit more, or a whole lot more about baking rustic/sourdough/ancient grain breads with Amy, check out the courses she is offering this year at North House.