2023 Wooden Boat Show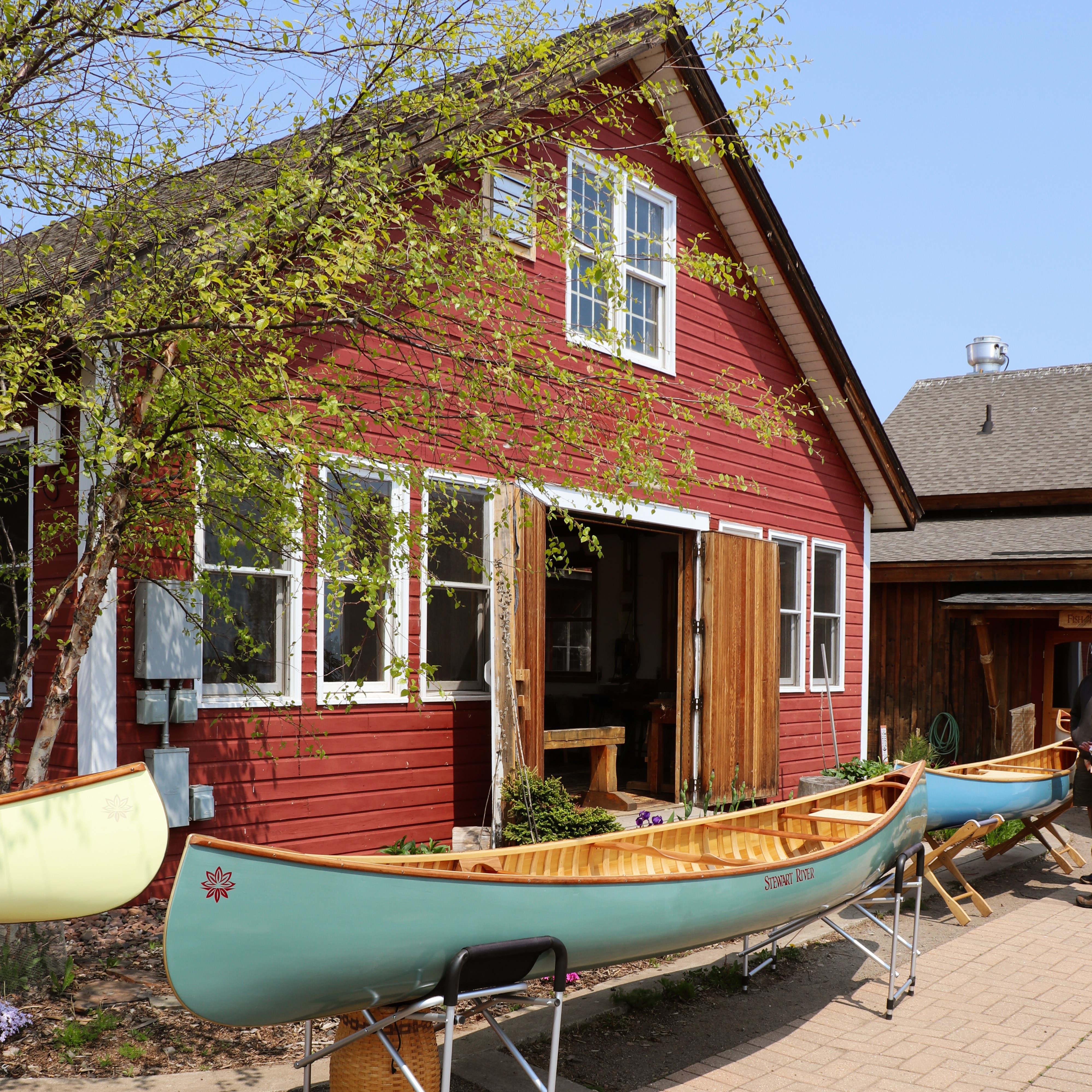 From wooden boats to the Solstice Pageant to singing "Happy Birthday" to Sätergläntan, this year's Wooden Boat Show was one to remember.
After a smokey start to the week on the North Shore, the skies cleared and the sun came out to kick off the 26th annual Wooden Boat Show, our biggest event of the summer.
"What a joy it was to see the commons filled with boats and craft demonstrators once again, and to have so many friends and neighbors on campus," said Greg Wright. "The boat show is like a big family reunion, and with so many community partners involved this year AND guests from Sweden celebrating their folk school's 100th anniversary, it was like magic!"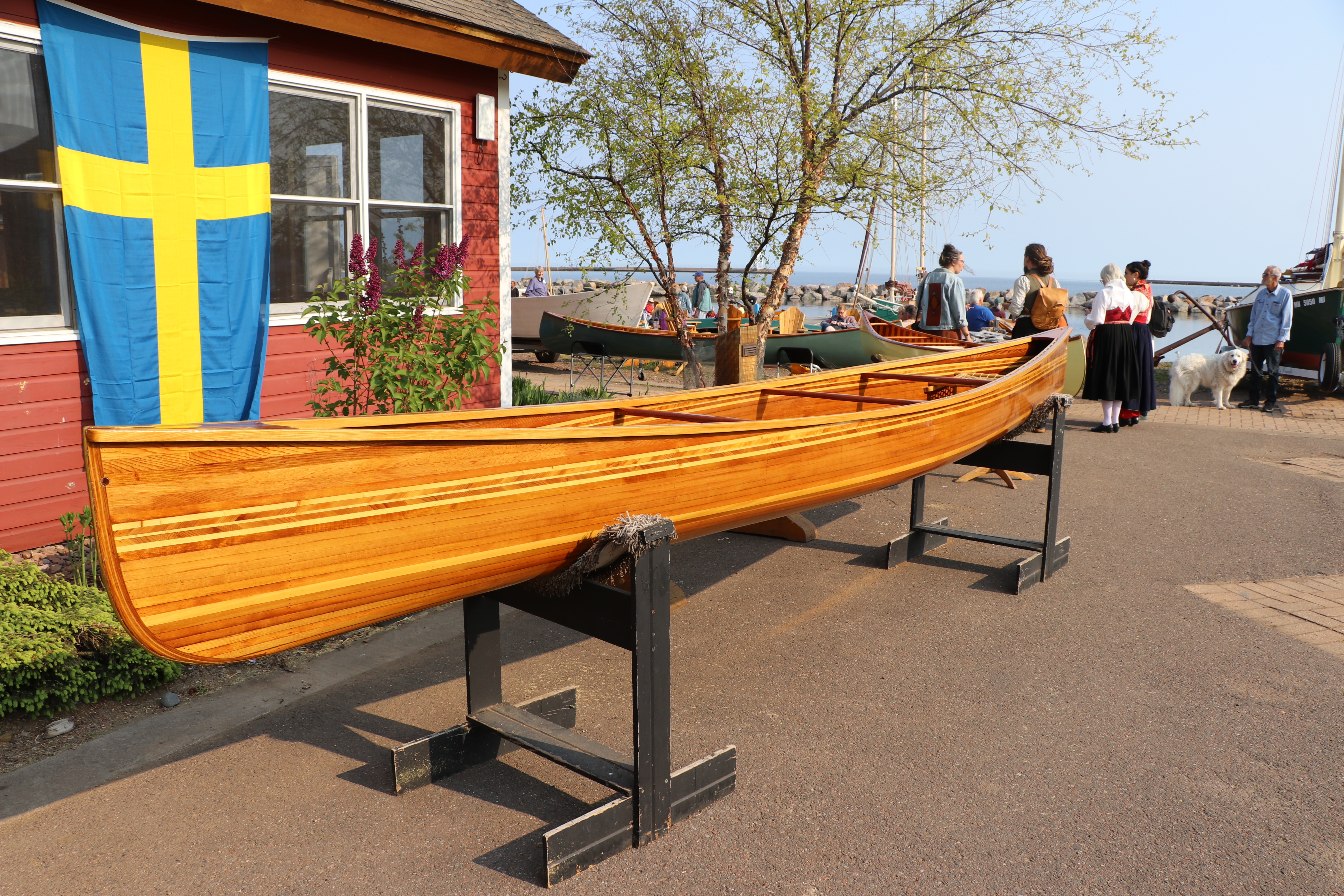 Campus was decked out in Swedish flags to welcome the visiting instructors from Sätergläntan
On Friday night, the Grand Marais Lions Club hosted their 11th annual fundraising BBQ. At the same time, North House gave away 400 pieces of free pie made by the Blue Water Cafe—a perfect early-summer evening. The BBQ and pie social followed a talk by Christine Novotny about her travels in Scandinavia studying weaving and fiber traditions, and a screening of Matthew Baxley's new film Rainbows in the Wilderness.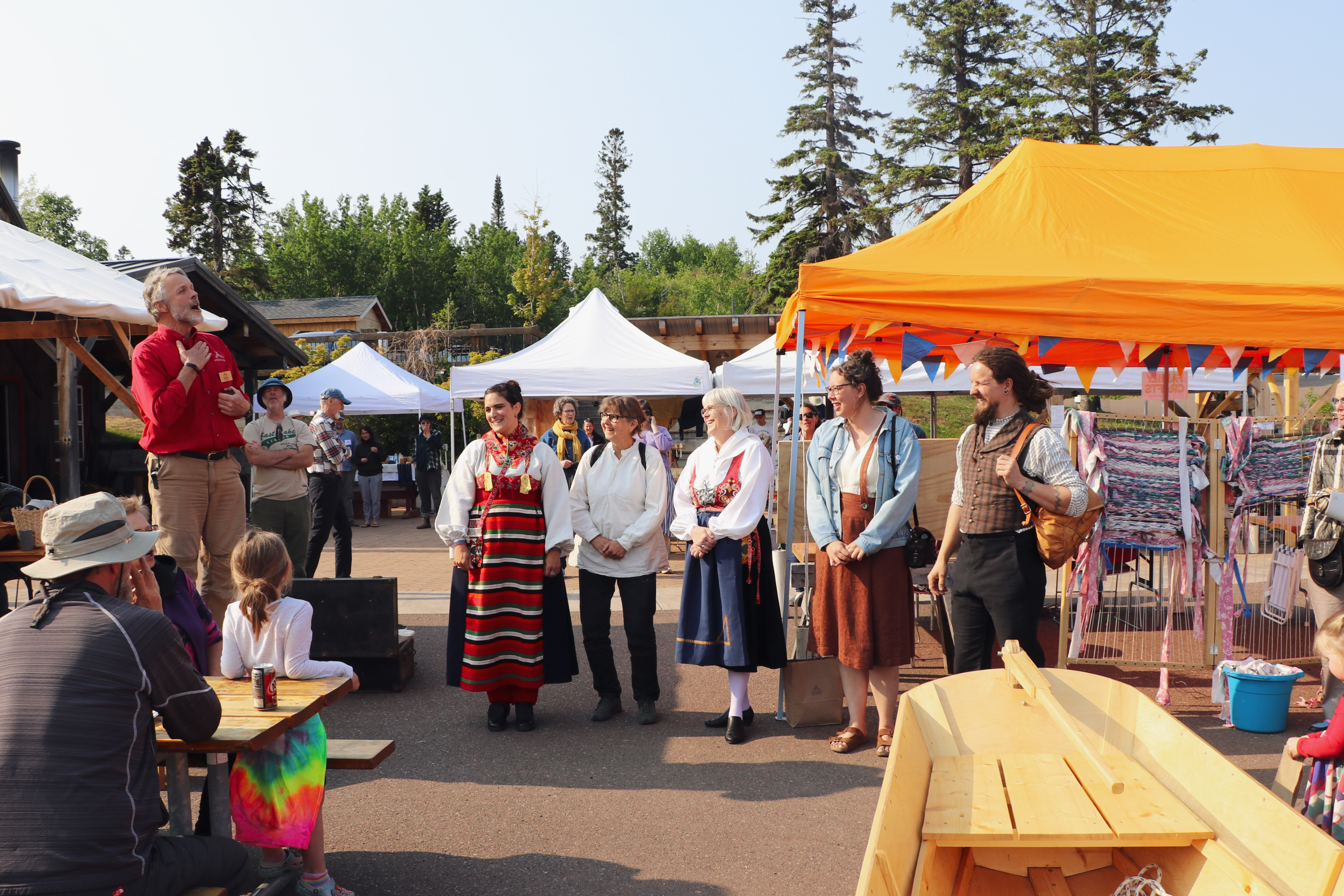 The BBQ and Pie Social culminated in singing "Happy Birthday" to the Sätergläntan delegation as they celebrated 100 years
Saturday's Lake Superior Chowder Experience raised $3800 in support of Empty Bowls Cook County, with the line stretching from the Blue Building all the way to Highway 61. "It's a fantastic partnership with North House," said Empty Bowls board member, Beth Kennedy. "They realized they had a unique opportunity to leverage their iconic event to address an important community need." Special thanks goes to The Angry Trout, Birch Terrace, Bluefin Bay, Blue Water Cafe, Cascade Lodge, Cook County Co-op, Fisherman's Daughter, Hungry Hippie Tacos, and Lutsen Resort for their donations to the event and the more than 225 people that participated.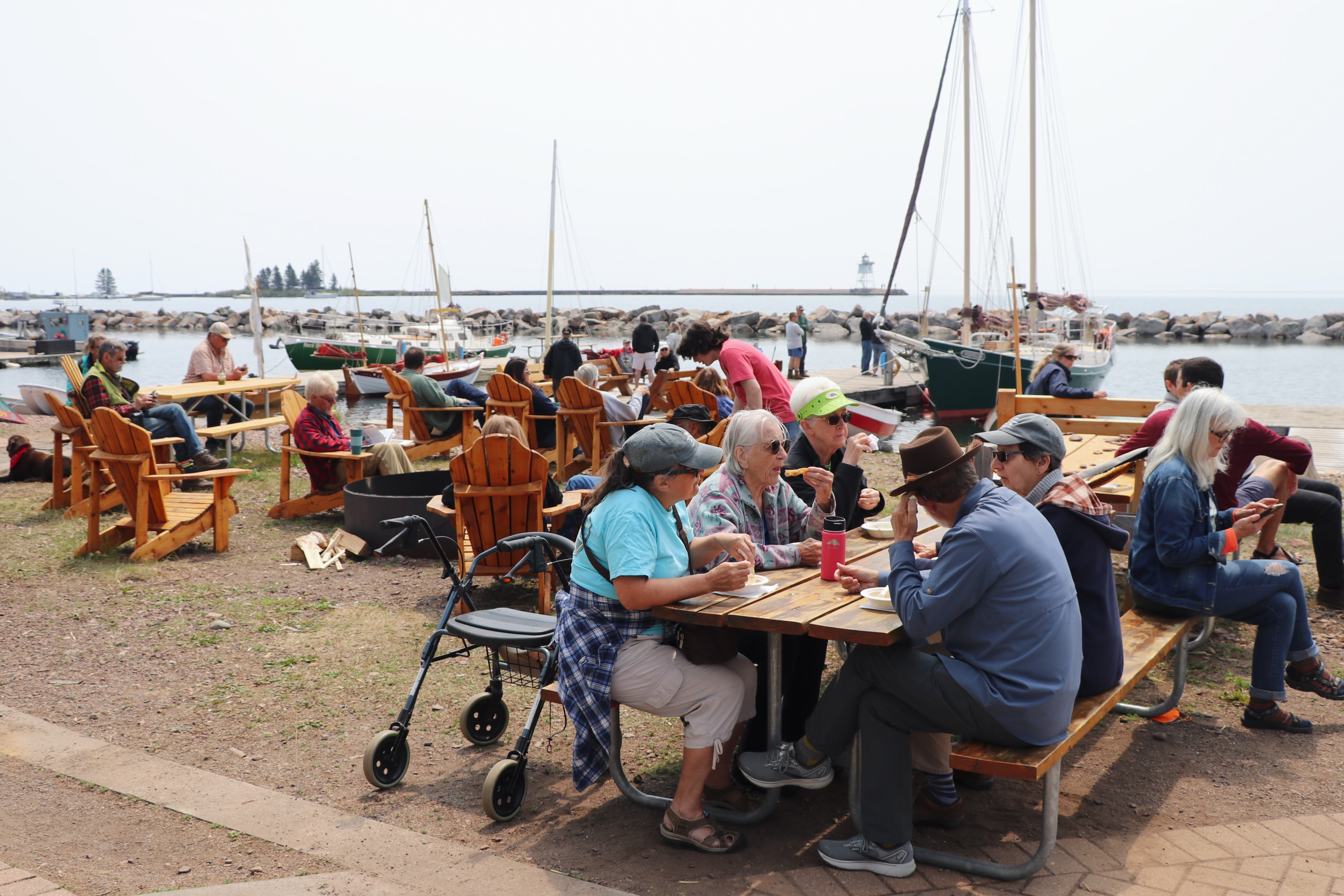 Both community members and visitors alike enjoyed a harborside meal at the Lake Superior Chowder Experience, a fundraiser for Empty Bowls Cook County
Saturday also featured craft demonstrations by guest instructors of the world-renowned craft school, Sätergläntan, located near lake Siljan in Dalarna County. Beth Moen highlighted traditional Swedish woodworking tools, Johanna Runbäck gave a presentation on Swedish folk dress, Susanna Ayton showed the process of transforming flax into linen, and Johan Säfström demonstrated traditional blacksmithing techniques.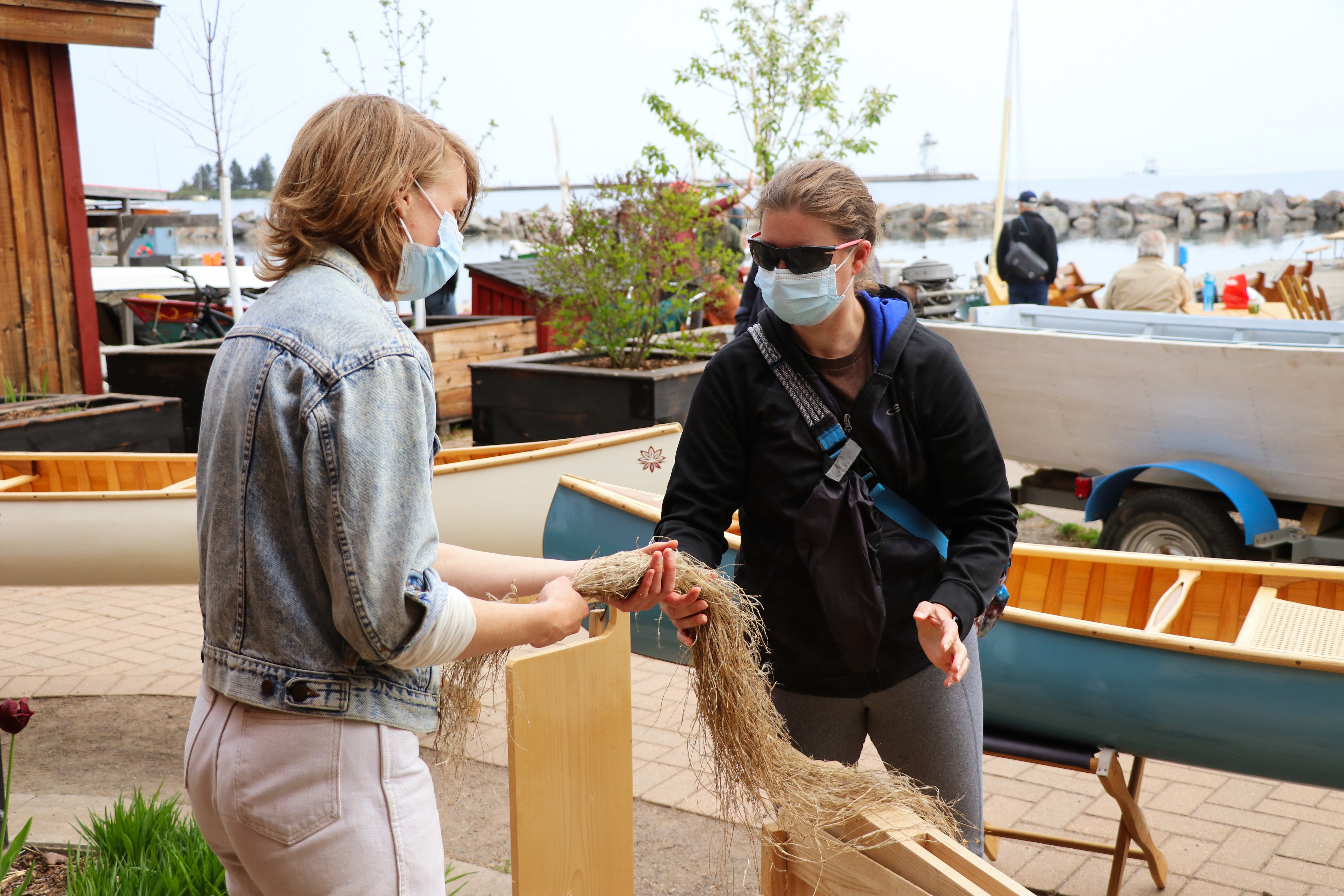 Folks got to try their hand at traditional flax processing, as taught by Susanna Ayton of Sätergläntan
The weekend crescendoed with the beloved Solstice Pageant put on by the Good Harbor Hill Players, with new leadership from Olya Wright and Naomi Tracy-Hegg and many local youth participating. This year's performance included record snowfall, the northern lights, and the amazing summer sun. One audience member exclaimed after the show, "It was so amazing, they were telling my story, and I don't even know them!" A recording of the performance will be available online soon.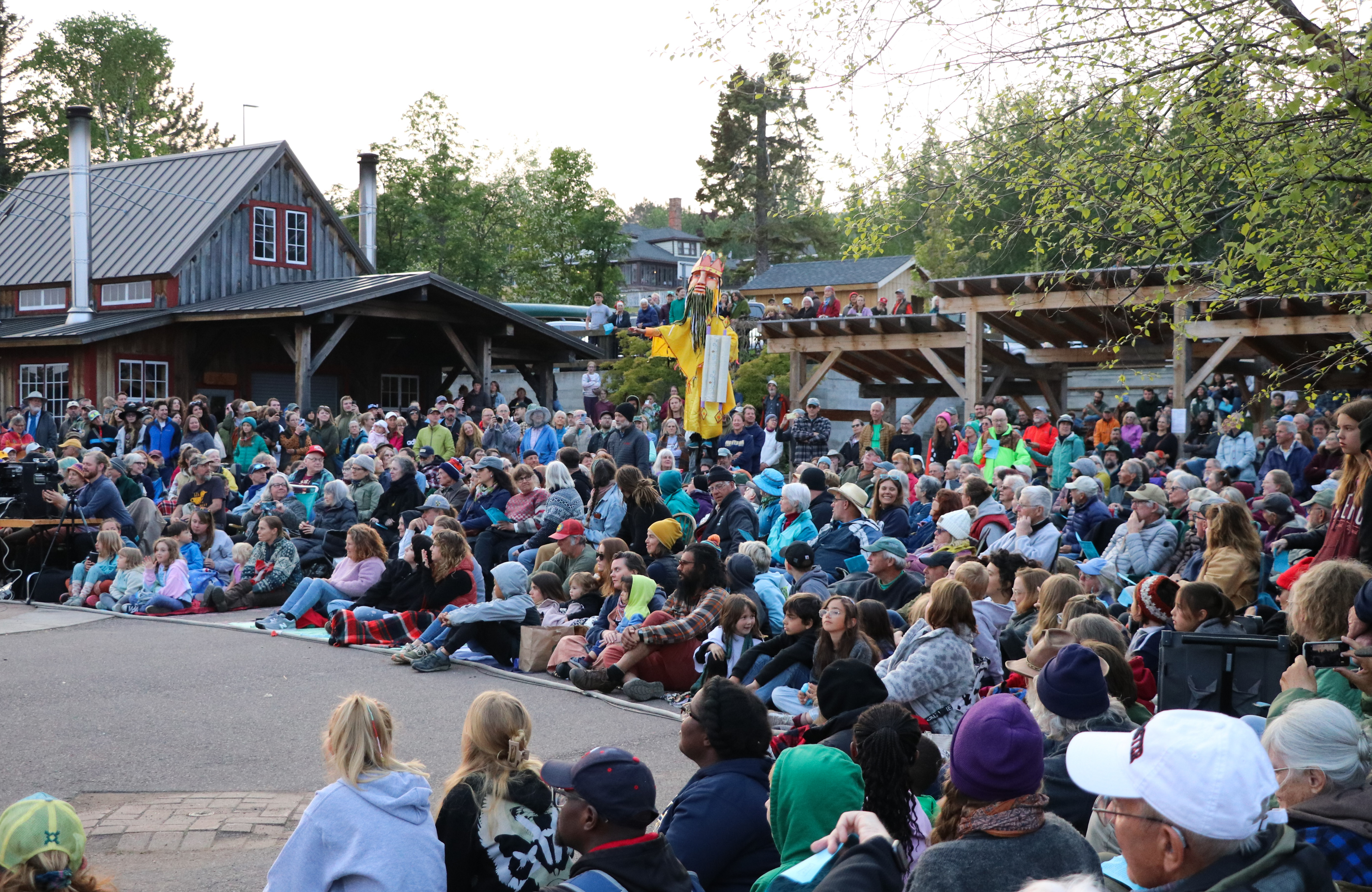 The sun king returns through the crowd of spectators at the Solstice Pageant

North House also hosted free family crafts throughout the weekend in partnership with the North Woods Fiber Guild which brought YMCA Camp participants down Friday afternoon and welcomed over 170 kids to create fiber art, as well as origami versions of the Hjørdis, North House's iconic sail boat.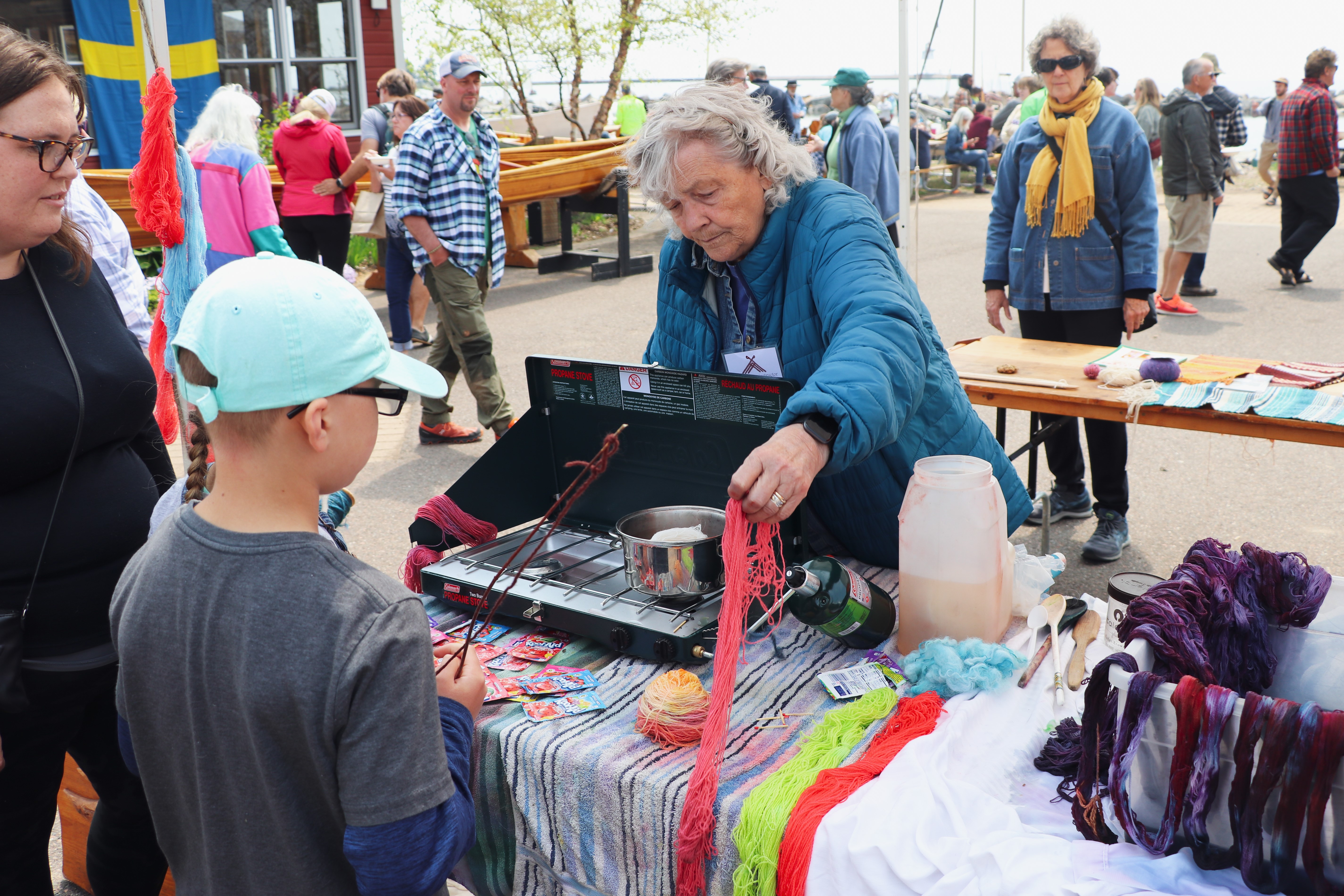 Fiber Guild member Julie Arthur demonstrates how to dye yarn with Kool Aid

Sunday morning was the featured speaker, Ted Bell, founder and owner of North Star Canoe, sharing his experience as a designer and paddler.
"We have come a long way over the years," said Greg, "and it's been made possible by the work of so many hands—from local businesses and community groups, to thousands of volunteer hours, and the generosity of many more. It truly takes a community to host a community event."