2023's Wooden-Boat-a-palooza was not to be missed, read more in the wrap-up blog post. Countless boats, a mast rigging in progress, the commons filled with artisans demonstrating their skills (including our featured guests from Sätergläntan!). Wonderful food was had by all, and it closed with a presentation by Ted Bell, founder of multiple successful canoe companies. Stay tuned for information on 2024's event, scheduled for June 21 - 23, 2024.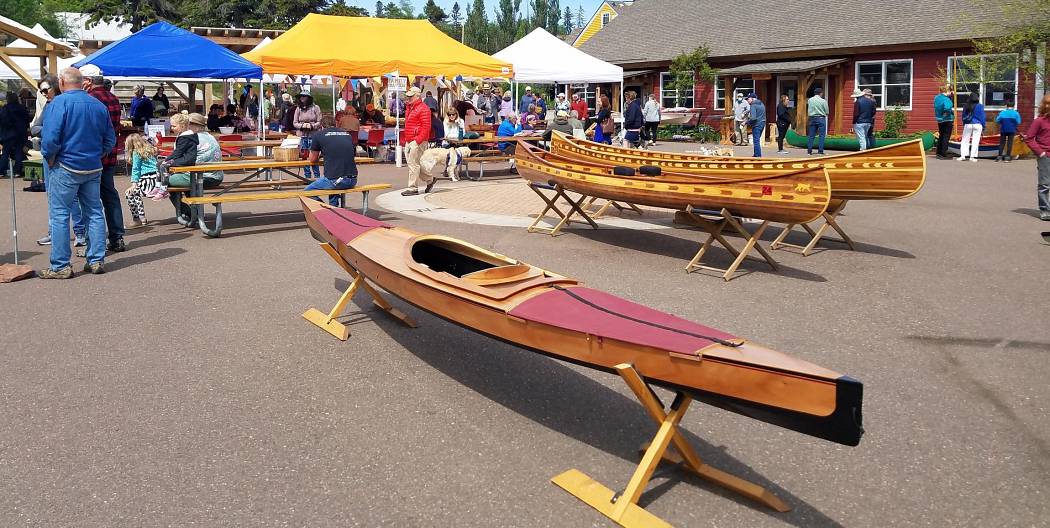 Overview
Summer's arrival in the North deserves to be celebrated! The Wooden Boat Show features craft demonstrations, community food events, speakers, kids activities and of course, wooden boats as we celebrate the summer solstice. In 2023, the event includes an extra special birthday celebration with our friends from Sätergläntan Institute for Slöjd and Handcraft Community as they celebrate 100 years of handcraft education. A delegation of Swedish craft teachers from the school will join us for coursework, demonstrations and naturally, pie!
This year's Featured Presentation on Sunday, June 18 will be Ted Bell, founder and President of Northstar Canoes, sharing about his life building canoes and companies. Don't miss Fika and Friends featuring coffee and light refreshments before Ted's presentation on Sunday at 10:30am.
Event Details
Coursework: June 12-15
North House is honored to welcome a delegation from Sätergläntan Institute for Handcraft in Dalarna, Sweden. Founded in 1923, Sätergläntan has trained generations of craftspeople, preserving and carrying forward centuries-old Scandinavian handcraft traditions in woodworking, weaving, sewing and metalwork into the 21st century. Sätergläntan welcomes students from around the world and continues to be a wellspring of inspiration and learning. There will be a variety of evening gatherings and opportunities for sharing with all of the Swedish guests throughout the week and during the Wooden Boat Show.
On Campus Events: June 16-18, 2023
Crafting on the Commons
Friday, June 16, Noon-6:30pm & Saturday, June 17, 10am-4pm
Witness skilled traditional craft artisans as they join up in community over the weekend to celebrate the process of craft. Demonstrators will be on hand outdoors Friday-Saturday, welcoming your curiosity and questions.
Friday, June 16, Noon-6:30pm

Saturday, June 17, 10am-4pm
Featured Demonstrations
Saturday, June 17
Our friends from Sätergläntan will be sharing their skills at special featured demonstrations. Each demonstration will be 45 minutes.
Wooden Boat Display
Friday, June 16: Noon-7pm; Saturday, June 17: 10am-4pm
Wooden boat builders and enthusiasts from across the Midwest are invited to display their crafts on campus throughout the weekend. Admire the work of others, get your questions answered and perhaps feel inspired to build one of your own. And stop by the harbor to see Visiting Vessels!
Boat Display registration is now closed.
Family Drop-In Crafts
Friday, June 16: Noon-5pm and Saturday, June 17: 10am-4pm
Bring the whole family down to the Boat Show and drop by the Family Area. We'll have craft supplies for all ages to join in the fun as we get creative on the theme of boats (including making an origami Hjørdis!), water, and fish! Plus the Northwoods Fiber Guild will be returning to the Family Tent for fun fiber activities. Perfect for imaginative folks ages 2-102. We will host a number of short drop-by activities for family small groups on campus.
Speaker Series
Friday, June 16: 2pm, 3pm, and 4pm
Watch, listen, and be inspired by stories and histories that connect craft, livelihood, and survival. (The 4pm speaker will be announced soon.)
2pm | Weaving Through Scandinavia with Christine Novotny
Join Christine Novotny as she tells stories from her 5 week journey through Scandinavia as the culmination of her time in the Artisan Development Program. From the prescient tapestries of Hannah Ryggen in Trondheim, Norway to visiting the studios of master weavers and young contemporary weavers in Stockholm, Sweden, Christine gained a perspective on the world of weaving in Scandinavia and what we can learn from it in the United States.

3pm | Rainbows in the Wilderness film showing and Q & A with Matthew Baxley

Rural America has long been a space where Queer folks can anticipate danger and discrimination. Our nation's wilderness areas involve the same hazards. That's why Outfitter, Jason Zabokrtsky, decided to guide a paddle trip exclusively for Queer identifying participants. This short Documentary follows a group of 9 LGBTQ+ strangers into the far northern wilderness in search of adventure, safety and belonging. Through painful confrontations with the landscape and self doubt, each individual on this journey encounters beauty and belonging in the backcountry. Following the film will be a Q&A with the filmmaker.
4pm | The Evolution of Sail Power: From Coconut to Carbon Fiber with John Koon
Sailing, like most human endeavors spanning millennia, is both beautifully simple and endlessly complex. Whether you've only admired graceful boats in the harbor or messed about on a lake or logged days of sea time crossing oceans, John Koon, expert sailing instructor and rigger visiting our inland sea can teach you something. Join him for a presentation to understand the physics and mechanical properties of sailing rigs, from the most elemental to a glimpse into the high tech world of possibilities.
Boats-to-Tools Auction
Saturday, June 17: 10am - 3pm
Find boats, unique craft, tools, books, and other treasures for sale at our annual auction!
Interested in supporting North House's mission by providing a donation? If you have a boat you are interested in headlining the auction, contact Libby (llarson@northhouse.org). For more information, visit the Boats to Tools auction page. The auction item submission form is now open. Here's a preview of 5 boats that will be featured in the auction along with plenty of other treasures.
Featured Presentation: Paddling On with Ted Bell
Sunday, June 18
Noon
Ted Bell, founder, and President of Northstar Canoes began paddling and racing canoes as a youngster in Indiana. In his early twenties, he started manufacturing USCA Marathon and Downriver Whitewater Racing Canoes. In his late twenties he moved to Minnesota and became a Manager at Midwest Mountaineering; but quickly returned to building canoes in his garage in his "spare time". Now nearing retirement, Ted shares the story of how it all started and how his winding journey got him to where he is today.
Community Gatherings
Live Music on Campus
Friday, June 16; Noon to 7pm & Saturday, June 17: 9am-3pm | Free
Keep things moving and grooving with live music on the Commons.
Friday, June 16
Noon-2pm: Frozen Britches
2-4pm: Abbyzak
4-7pm: Eric Williams

Saturday, June 17
10am-Noon: TBD
Noon-3pm: Dan Nelson and Superior Sound
Grand Marais Lions Club BBQ
Friday, June 16; 5-7pm | $5 - $10 a la carte picnic fare or BYO
Ready to kick off summer in the North? Make the most of a perfect combination—a BBQ by the Harbor, live music, and good company. Support the Grand Marais Lions Club and purchase their classic ($5-10) picnic fare (or Bring Your Own) and top that off with free pie! North House is honored to support the Grand Marais Lions Club. We'll have a campfire going as well.
100th Birthday Party Pie Social
Friday, June 16: 5pm - till the pie runs out
Celebrate Sätergläntan Institute for Handcraft's 100th Anniversary with a tasty slice of pie from the famed Blue Water Cafe, live music, and good company including our visiting friends from Sweden.
Community Paddle/Row/Sail on the Harbor! Small Craft Takeover!
Friday, June 16: 7-8pm
Celebrate the longest days of the year on the water with a Small Craft Critical Mass Paddle. Weather permitting, we invite anyone with a boat to join us for a row, paddle or sail on the beautiful waters of the Grand Marais harbor. Portage on down to campus and head out from our docks or use the Rec Park boat launch, with ample parking available. BYO boat, PFDs, and paddles.
Community Contra Dance Featuring Evergreen Isle and caller Lisa Leedham
Friday, June 16: 7-8pm (Family Dance) & 8-10pm (Community Dance) | Free
North House's boatbuilding workshop converts into a traditional community contra dance on Friday night, welcoming families for the first hour to learn traditional dances geared towards families with children. All are welcome for the following two hours for the community dance.
Lake Superior Chowder Experience - An Empty Bowls Fundraiser
Saturday, June 17: Noon -1pm
$15 adults, $10 kids 12 and under
Get your bowl for the 23rd annual Lake Superior Chowder Experience – a festival highlight that brings chowders of North Shore restaurants for you to taste. Smoked salmon, garden vegetable, classic clam, and poblano-potato, were just a few of the interpretations area restaurants took last year. Combined with freshly baked breads from North House's wood-fired oven, this is a North Shore culinary event not to be missed. This year's event is a fundraiser for Empty Bowls, fighting hunger in our community.
Summer Solstice Pageant presented by Good Harbor Hill Players
Saturday, June 17: 8pm | Free

Enjoy an evening on the harbor enjoying the Summer Solstice Pageant – "The Winds Have Changed: The Scroll Must Go On!" – featuring larger than life puppets.
Fika and Friends
Sunday, June 18: 10:30am | Free, donations appreciated
Wooden Boat Show's joyous celebration of craft and community continues on Sunday morning! All are welcome to join North House for a mid-morning fika as we thank our circle of members and friends. Coffee and light refreshments will be served, including locally baked bread, smoked fish, and other treats!
Visiting Vessels
Head down to the docks to see an assortment of interesting boats! Check out a diversity of hulls -- from wood to fiberglass to steel -- and chat with the crews that keep them afloat.
Nord Hus
Grand Marais, MN
Owner: Lonnie Dupre
Nord Hus is a custom Brent Swain designed steel vessel built in 2000 for high latitude sailing. Currently being outfitted with a custom mast and rigged as a Cutter.

Length: 35' - 5"
Beam : 10'- 6"
Draft: 5'-10"
Displacement: 17,280 lbs.
Births: 5
Tiller
36 HP Kabota Diesel


Hull is hard chined 3/16" steel plate. The deck and cabin is 1/8" plate. Nord Hus has a modified 3/4 keel (lead filled) with a cutaway at rudder. Brent Swain is known for frameless steel yacht building known as the Origami technique. A proven robust method with a deck stepped mast that also offers a very roomy cabin. The vessel is spray foam insulated for cold weather and condensation prevention. Interior finished in hardwood.

This design has sailed around the world and been through the Northwest Passage several times.

Nord Hus was shipped from Washington state to Knife River Marina last year and went under minor modifications to the interior and a new paint job. Nord Hus will leave its home of Grand Marais on Lake Superior in Spring of 2025 on an arctic voyage lasting 5 years. Nord Hus will be used as a research and expedition support vessel in Greenland, Canadian Arctic Archipelago, and Alaska.
Paul La Plante
Grand Portage, MN
In 1999, North House Folk School and Grand Portage National Monument collaborated in the re-construction of a 19' Great Lakes Mackinaw boat. Named for Grand Portage boat builder Paul LaPlante, the boat was a labor of love for the many North House staff, students, and volunteers who worked on it.

Length: 19'
Keel, stem and stern posts: white oak
Bow and stern: tamarack tree knees
Planking and decks: white pine
Spars, boom, gaff and oars: black spruce
Open Boat: Schooner Hjørdis Electric Motor
Saturday, June 17, 3-5pm

Climb down into the boat to learn about and see the new electric motor on schooner Hjørdis with Captain Bill Hansen.
Sail on Lake Superior
Friday, June 16 - Sunday, June 18
The flagship of the Grand Marais Harbor, Hjørdis shares the name of the mythical Norse goddess of war. Take a trip on this 50' traditionally-rigged steel schooner and gain access to both the largest lake in the world and experience Grand Marais from the water. Book your sail now.
Call for Volunteers
June 14 - 18
Wooden boats galore, activities for people of all ages, a celebration of the start of summer on Lake Superior. The Wooden Boat Show is made possible with the support of many volunteers each year. It's not only a great way to help support an educational, fun-filled event, it's an opportunity to meet other folks and be a part of making it all happen!
Becoming a volunteer is easy. Preview the different positions available, see what best suits you, then sign up for a role (or two or three!) at our online volunteer sign-up form.
Please call or email Liv at North House at (218)-387-9762 or lsulerud@northhouse.org with any questions.
Volunteer Roles

Campus Set-up

Physically active individuals who aren't afraid to get their hands dirty to make campus shine. Duties include assisting with set-up and clean-up activities (cleaning campus, moving boats, lights, tables, sweeping, setting up tents, etc.). Work Study credit applies.

Physical requirements: capable of lifting heavy objects, standing for duration of shift, climbing ladders etc.

Greeter

Hang out at the entrance at the top of the hill, answer questions and inform passersby of what's going on at North House this weekend! You'll have the help of signage and brochures to be able to direct folks to the various activities on campus.

Physical requirements: willing to sit or stand for 2 hours outside.

Info Booth Attendant

Friendly greeters familiar with the North House story and mission will work in pairs to talk to visitors, share your love of North House and sell cookies (and point them to the bathroom). No experience needed.

Physical requirements: willing to sit or stand for several hours at a table in the shade

Set Up Boats to Tools Auction

Volunteers will sort auction items, set up and arrange tables, and post bidding sheets. This is a great role for people that can make an eye catching arrangement and want a preview of all the items for auction!

Physical requirements: capable of walking around sorting objects, lifting books and moderately heavy objects.

Pie Social Serving and Clean Up

This will be a standing or seated repetitive task slicing pie, plating it and serving free pie to visitors! This is a role for people that love to interact with and serve their neighbors! Afterwards volunteers will help to clear and clean the area.

Physical requirements: requires sitting or standing for 2 hours outside.

Chowder Serving & Clean Up

Volunteers will serve chowder and bread to visitors! This will be a standing or seated repetitive task for people that love to interact with and serve their neighbors! Afterwards volunteers will help to clear and clean the area.

Physical requirements: capable of standing, wiping, moving tables & doing dishes.
Course Offerings