Why I Weave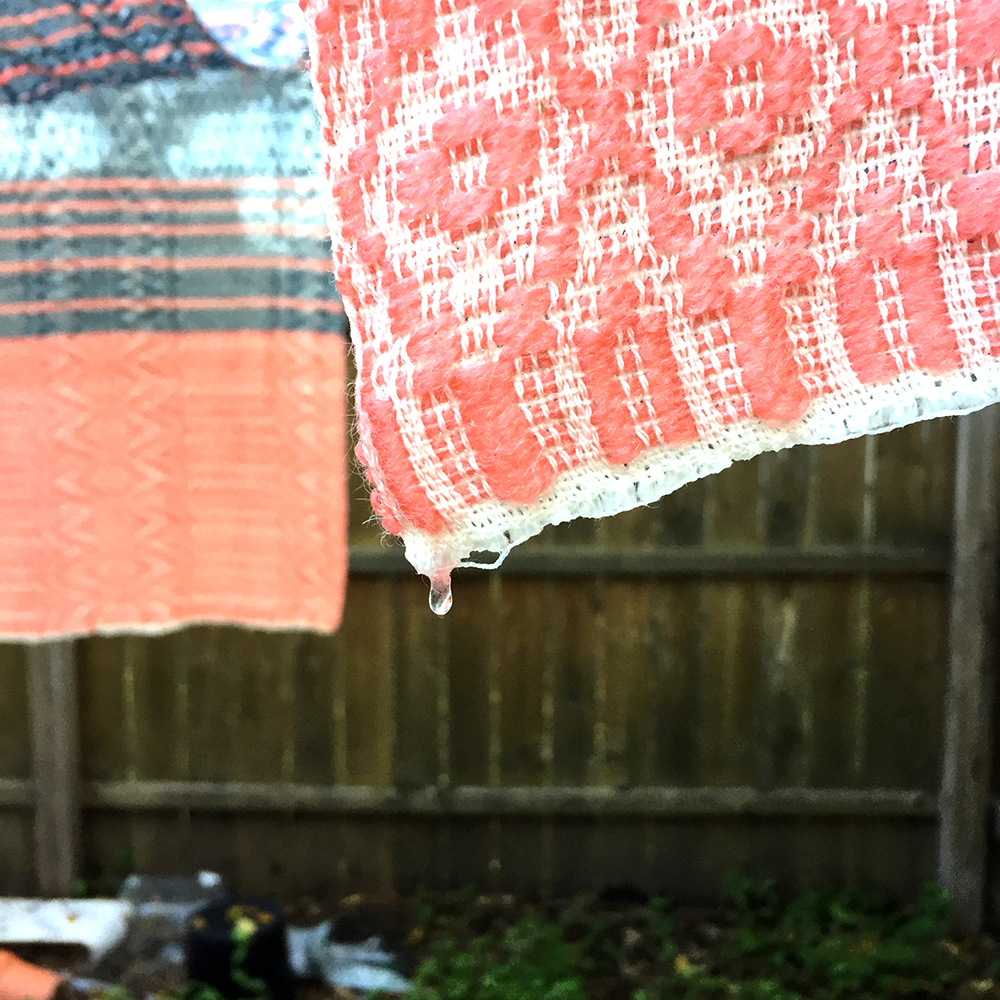 As a way to begin this 2 year growth and exploration as a resident artisan, I'd like to share: WHY I WEAVE
Posted on February 27, 2020
Hello everyone! My name is Christine Novotny, and I am part of the newest cohort in the Artisan Development Program.
Since arriving in Grand Marais 3 weeks ago, I have been busy setting up my studio space, but also just diving into work to help inform that setup. I've begun a test for 8 shaft crackle weave and have been hand-seaming 2 panels of my 3 panel coverlet.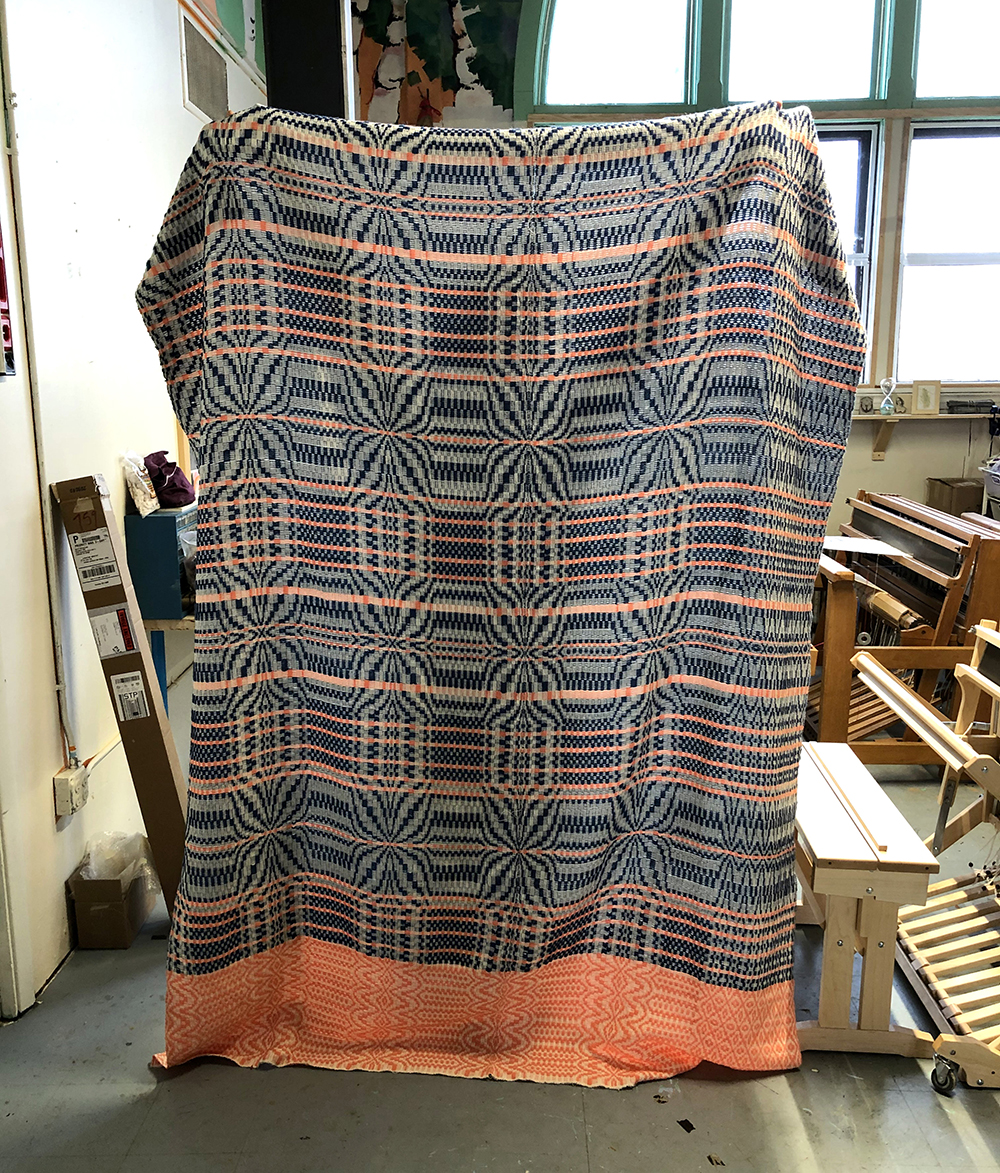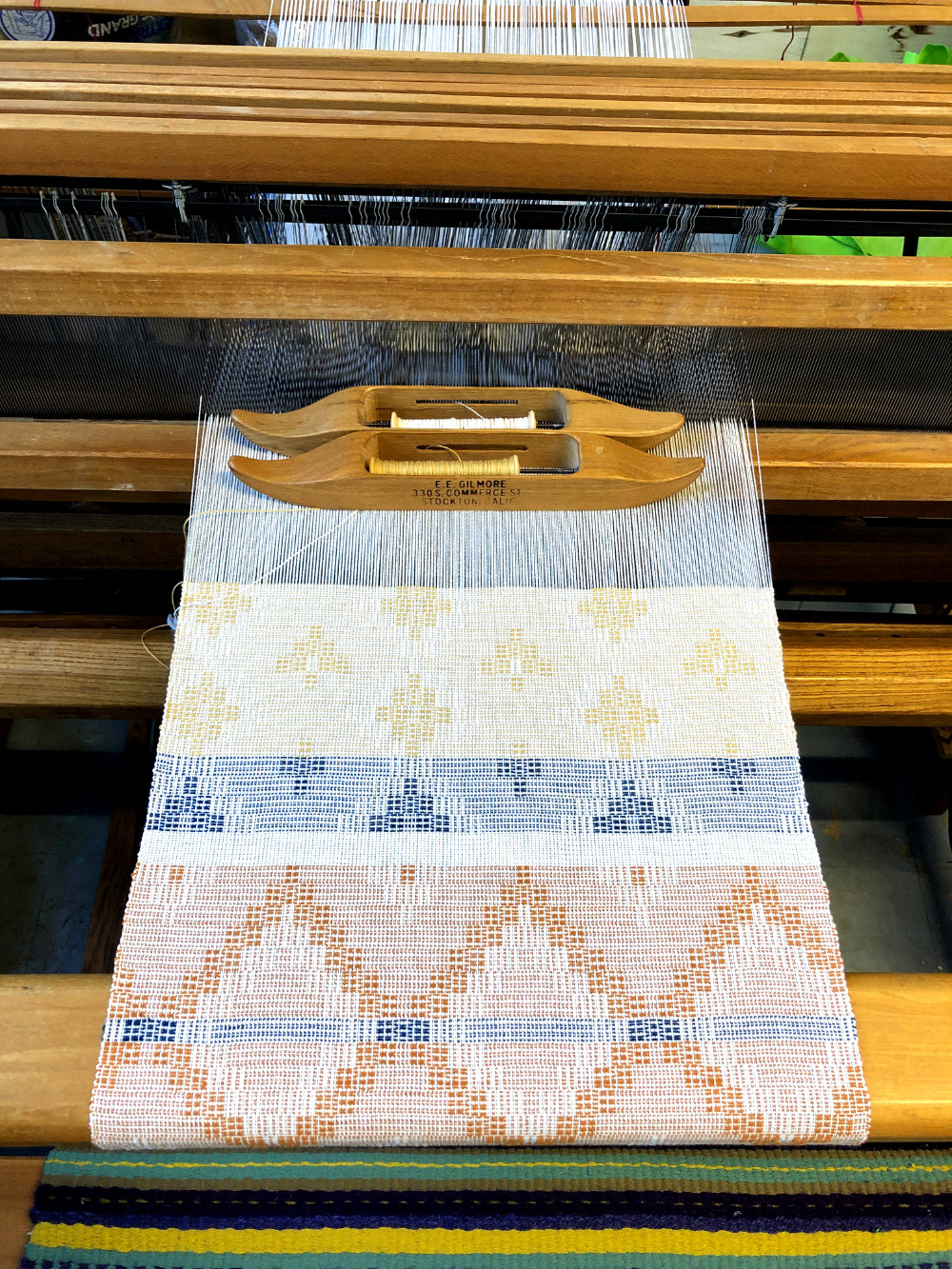 I could go on and on about my shelf location deliberation, bracket making, or painting my studio wall yellow, but I'd rather talk about why I am at North House, pursuing weaving. As artists and makers, we all have many stories and reasons for doing what we do. Sometimes we get so caught up in the making that we forget to share the why. So, as a way to begin this 2 year growth and exploration as a resident artisan, I'd like to share: WHY I WEAVE
Interaction
I began my artistic endeavors as a painter. I've been drawing ever since I could remember, began oil painting in high school, and went on to receive a Bachelor of Fine Arts in painting at Indiana University - Bloomington. In 2015, I felt that painting was not allowing me to connect with individuals tangibly. I grew tired of making paintings that went on a wall, or into a flat file portfolio. I wanted people to interact with my work through touch and use. So I began to work with fiber in hopes to give my paintings a new voice through a different medium with a functional purpose. When I began weaving, I intended to primarily weave tapestry, transferring my painted imagery and ideas into woven cloth. However, when I began to weave on a floor loom, I fell in love with the craft and process of weaving on a floor loom. Making slow, steady, linear cloth was so vastly different from my painting practice, and I revelled in the functionality and tactile qualities of cloth. I loved making things that are useful and beautiful, and invite interaction.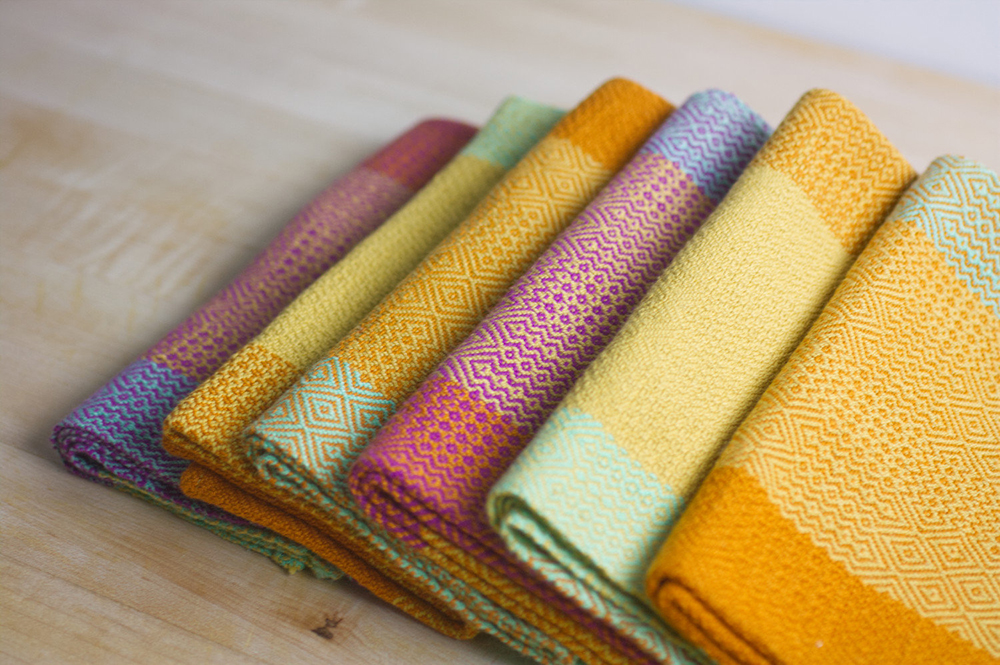 Cotton napkins in 3 colorways
Attention
I am a total daydreamer. I can drift in and out of conversations and nod and smile quite convincingly while being in my own little world. I am also a millennial who picks up her phone 75 times every day. There is so much in the world to pull me away from the present moment. My weaving practice provides a respite from that distraction culture. When I'm weaving, I have to focus on the present moment and PAY ATTENTION - and when I let my mind slip away for too long, I lose my place and it shows. My pattern skews, my selvedges get messy and wonky. Weaving is a constant reminder to me to come back, focus on what is in front of me, and revel in the precision and attention.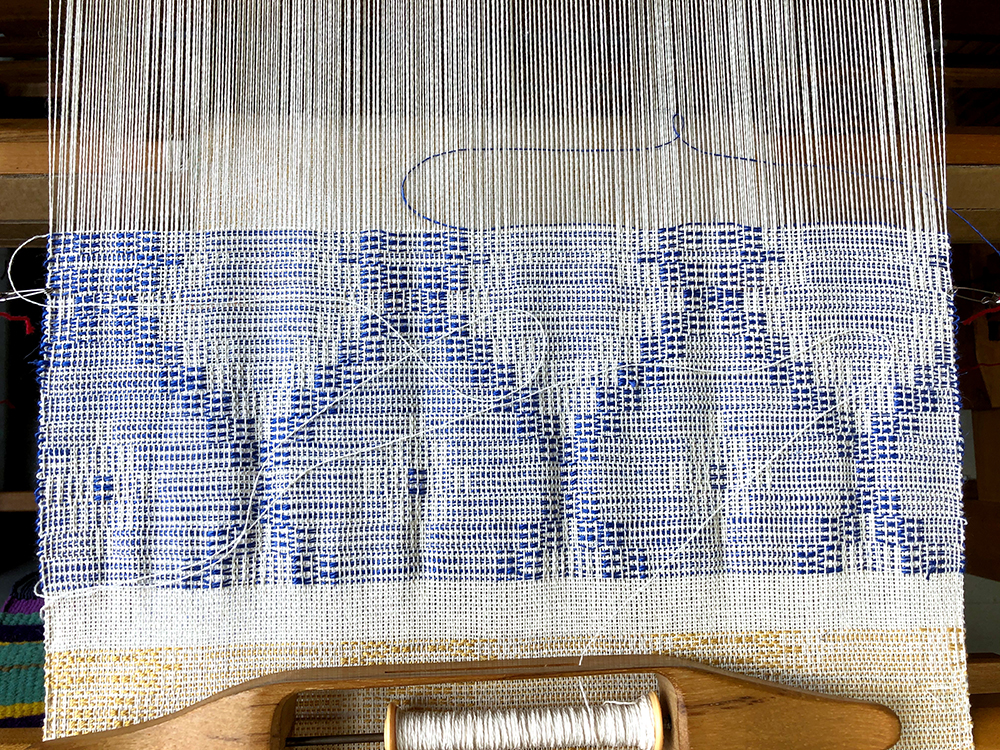 A treadling error on my crackle weave as my mind drifted
Wonder
Weaving is magical. I still remember that sense of wonder as I set up my first loom and wove an overshot wall hanging. Every step of the way, I was confused, but in the end, I had warped my first loom, figured out how to keep my tabby shuttle and my pattern shuttle straight, and created this simple beauty. The mystery of making cloth had me hooked, and I was determined to better understand it.
Now, I understand that it's not quite "magic" that creates a good textile. There are so many small pieces to pay attention to as you dress a loom and weave, and it really matters how well you execute each step. My wonder now centers around the endless possibilities of color interaction, pattern manipulation, material and function. But also, I marvel at all the weavers who figured this stuff out! From tying warp around your waist and leaning back to create tension in the warp, to the weaver's cross to keep your threads in order for a floor loom, weaving is full of ingenious systems and methods that still fill me with awe.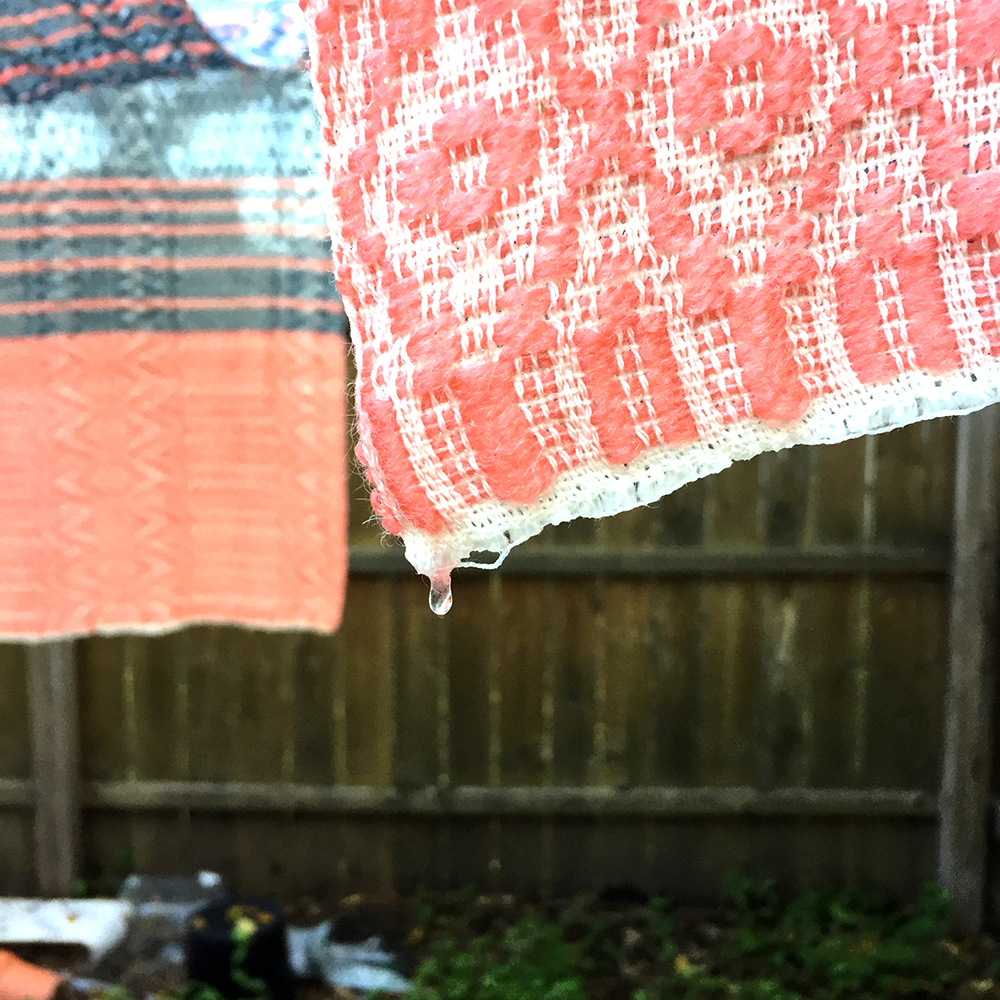 My coverlet drying in my backyard, after being fulled
Legacy
Like many, I come from a long line of people who worked in textiles. My grandmother was an incredible sewist, and my mother a knitter and crocheter, at least before she had me and my sister running around keeping her busy. I lost my grandmother at 13 years old and lost my mother 10 years later, at 23. I have treasures from each of them - an irish wool raglan coat that my mother knitted in her 30s, and my grandmother's Pfaff sewing machine from the 1980s, which is still an incredible machine. When I weave, I feel connected to my family, who chose to create beautiful things with a functional purpose. I also feel connected to so many people who came before me, all over the world, who wove to adorn, to warm, protect their floors, dry their dishes. I am proud to sustain the legacy of the women in my family and all the artists and craftspeople who have come before me, connected through movement, material and necessity.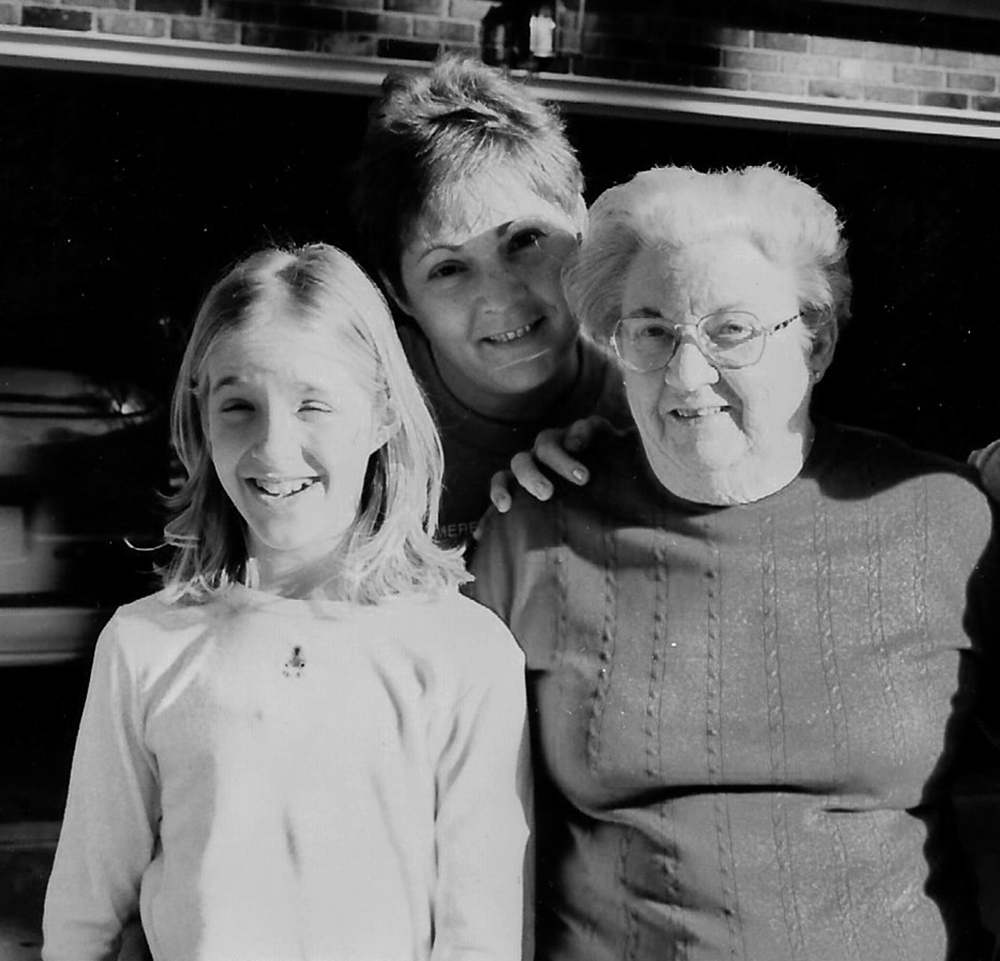 Me as an awkward pre-teen, with my mother Ann and grandmother Nancy
I look forward to sharing more musings over the two years with all of you and hopefully meeting many of you along the way! I'll leave you with a quote from a lovely blessing that sits on fridge at the ADP house:
"May you experience each day as a sacred gift, woven around the heart of wonder"
-John O'Donohue