The Dance of Art, Craft, Teaching... and the Virus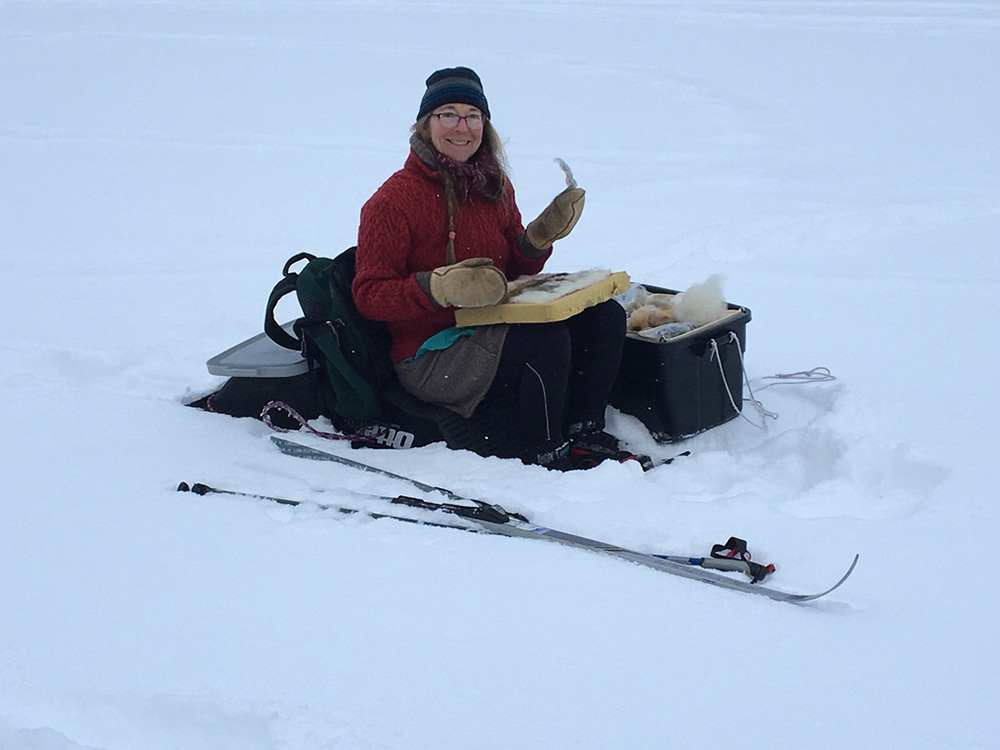 Elise Kyllo blogs about the joy of her time in the Artisan Development Program, rhythms changed by COVID-19, and the essentiality of making.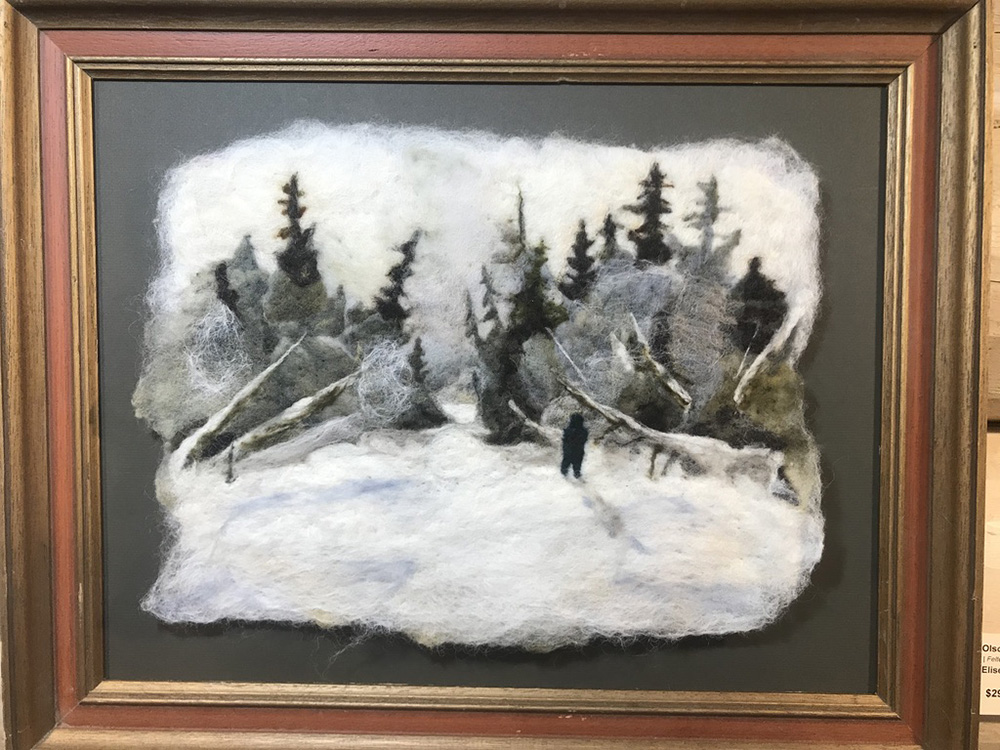 I couldn't not address the current drama of COVID-19, but I also wanted to include the joy of my experiences in the Artist Development Program. So there are two parts to this blog, before and after, which I expect will be a common perspective far into the future.
Two weeks ago, I began writing this blog, sharing thoughts about teaching and my craft of felting. I had just completed a busy teaching time and was really excited to focus my energy in the studio and planning a two month trip to Scandinavia. Similar to everyone, all my plans evaporated due to the surprising power of the COVID-19. Scandinavia has been set aside, but remains a dream, and I have enthusiastically jumped into an endless list of felting projects. As everyone has experienced, our lives have been turned upside down and many of our busy schedules have suddenly evaporated. All of the planning and hoping, building, and dreaming has been set aside. It hasn't been very long since the virus changed our daily lives but it certainly feels much longer than it has been. Understandably, we are on the edge of our seats, trying to gracefully adapt, hold on as we let go. Letting go of our calendars, our routines, our daily lives carved into well worn patterns. Letting go so that we can adapt our lives to fit into new parameters and limitations. Letting go so that we can focus on what really matters. In the bigger world, our leaders are trying to quantify or qualify what is essential… to our survival. Strange isn't it? What is essential? Remember in grade school, listing what is essential for life? Air, water, shelter, food. It's a little more complicated than that, but here we are, forced to simplify our lives and hold onto that which is essential.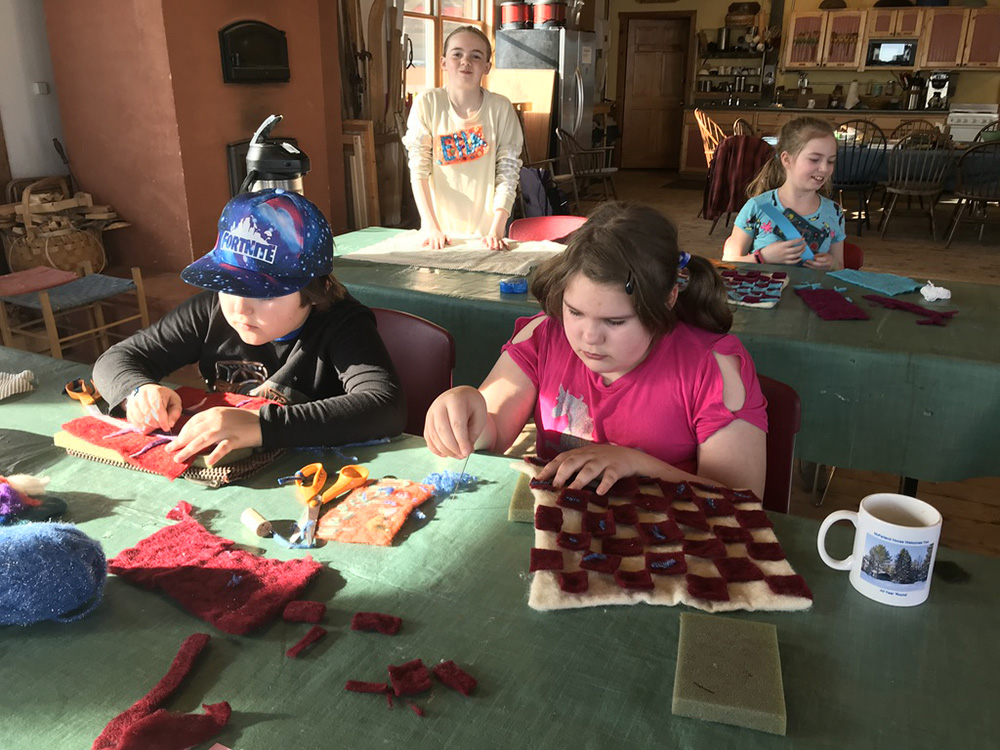 Handworks Club
For many artists, who are always pining for more studio time, this could be seen as a great gift of solitary time in the studio. At last, nothing else that we should be doing or places we should be. It could be seen as a period of precious time to dig deep into creativity. I would suppose that many of us make things that are not "essential" like bread, tools, shoes are. Or what we make is cheaper and easily purchased from a third world country. It is true, much of what we make is about beauty, inspiration, perspective, and not essential, exactly. On the flip side, what I think could be considered essential, is the making of things. Especially at this time, there are some of us who will find peace and sanity in using our hands to make things and to share these things with others. To offer beauty or hope, a new way of seeing, thinking, and feeling. It could be that we will recognize how important it is to support a local economy that will provide our basic needs, instead of being dependent upon a factory thousands of miles away. As an artist, hopefully I won't stand in my own way, allowing feelings of fear, anxiety, or purposelessness to block this time of making. Hopefully each of us will hear what we are called to do during this challenging time and that this message is not blocked by the constant buzzing of the COVID-19 news feed or the beeping of our devices! May we all be still and listen.
In time we will return to our lives and the virus will not occupy our world. We will return to being teachers and artists, musicians and mechanics, not burdened by fear of this invisible threat. We will begin again. Hopefully we may consider what is working and what is not working in this world. Maybe we will return to our lives and more emphatically embrace what really matters and let go of all of the noise, materials, and distractions that have filled our lives and lured us away from ourselves and what is truly essential.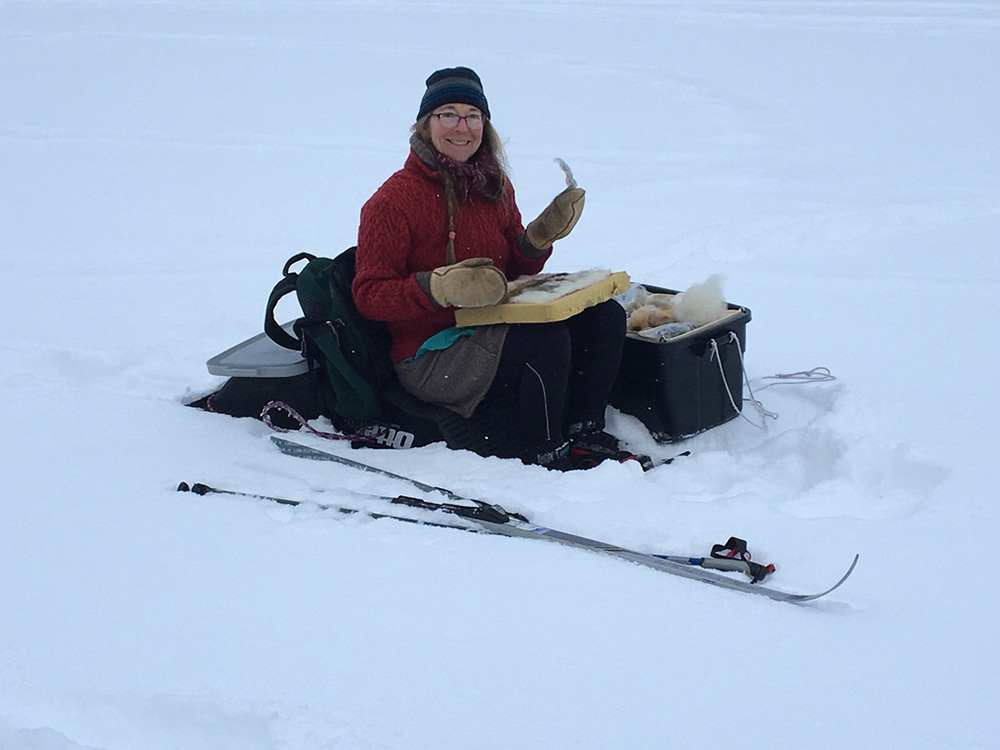 Menogyn Plein Air, painting in the BWCA
The Dance
Begin again. In the Artist Development Program, I continually move through passages, challenges, setting goals, moving through them, and beginning again. Gratitude for this North House Folk School residency, I have the space and time to contemplate, experiment and consider what is working and what isn't working. If there were a graph of my energy, it would resemble frequencies fluctuating up and down. Using teaching as an example, it is something I love doing but I am always surprised by how stressful it is for me. As I prepare to teach, a wave of energy, anxious energy, rises as I focus my attention to the experience I hope the students will have. I practice doing what they will be learning, as if I am relearning the project myself. I experiment with the material and the project and prepare felted models for the class. Once the students arrive, there is an extended burst of energy that is consistently high, full of buzzing, questions, and joy—replacing the anxiety. Then, the wave subsides. The students have created, shared their work, and departed with a new skill or at least an understanding of working with wool. They proudly leave with something they made with their hands that they likely didn't know was possible.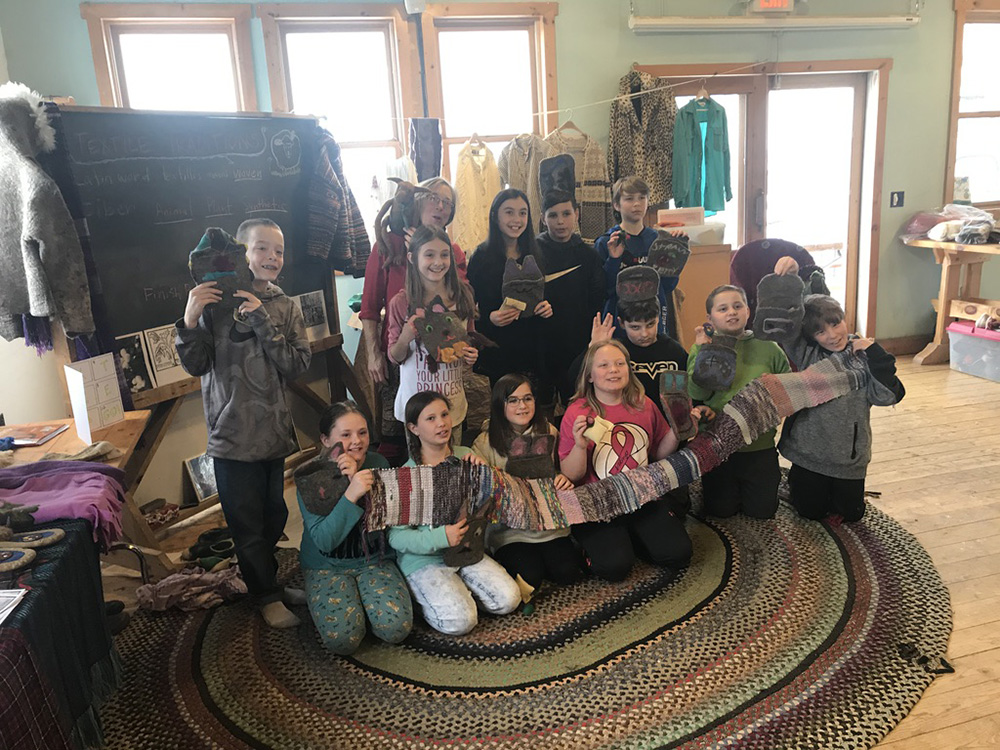 Textile Traditions, final projects, ISD 166 5th graders
The energy graph plummets. The clean up from the class begins, and I return to the studio with a mess of boxed up materials that will be unpacked and organized. This is where BEGIN AGAIN, begins. The energy graph is low as I rejuvenate and consider what is next and meditate on what is working and what is not working.
Textile Traditions, a class for 5th graders at North House Folk School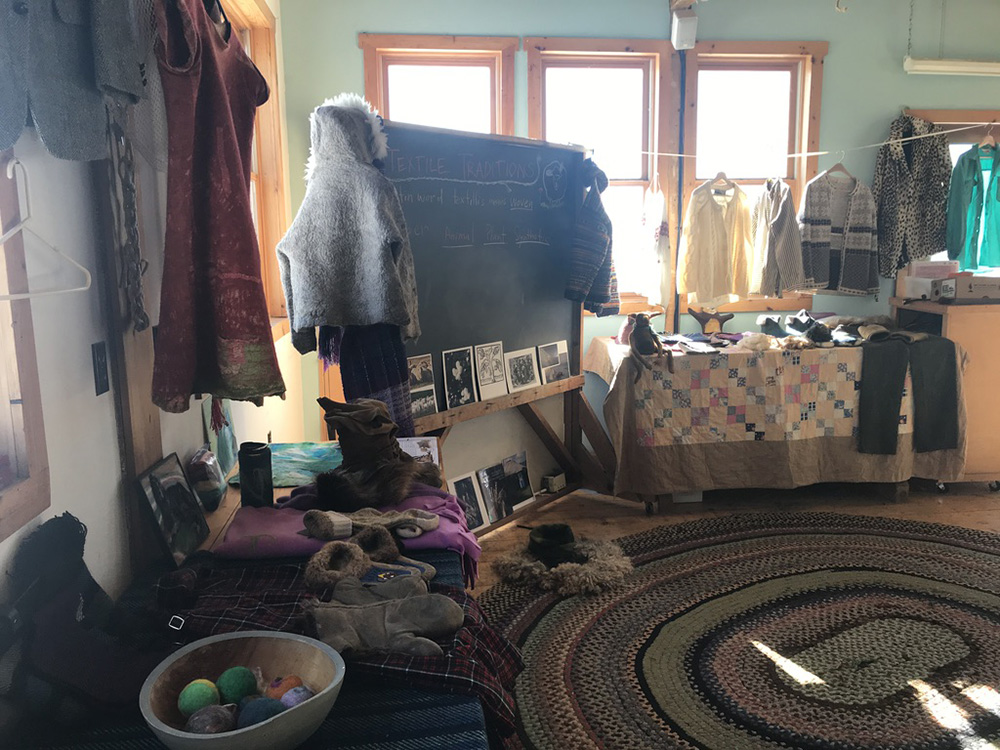 North House's Blue Building transformed into a classroom
During the beginning of 2020, there was a high frequency of teaching energy, which also means a high learning curve for myself. Textile Traditions, a North House Folk School 3-day class extravaganza of all things fiber for 5th graders of Cook County. In summary, it is a history of fiber and clothing.
As I prepared for the class and refreshed my memory on the history of fiber, clothing in particular, I was once again astounded at how rapidly the production of clothing has moved away from homemade to factory made. It wasn't very long ago that families made their own clothing, made their own fabrics on a loom, or were clothed in skin! Only 150 years ago, a couple of generations ago, most people were closely connected to the source of their clothing. Today, most of the clothes we wear are made halfway across the world and made from petroleum and other chemicals. We know so little. The industrial revolution led to slavery and cheap labor, and abundant, cheap products that we so easily accumulate. This certainly motivates me to learn how to felt wool into many useful things, including clothing. When made by hand, clothing comes from the land and is made of biodegradable materials that compost back to nature. The personal energy invested in a piece of clothing makes it a precious item that is unique, cherished, and passed on. Today, the only connection most of us have to our clothing may be the brand name or the logo. It is unfortunate that we know so little about where it was made, what it is made of, how, who, or why.
Thanks to Mary Macdonald, Ann Ward, Alex Norman, and Jake Fee—4 awesome volunteers—the small group experiences of sewing, spinning fiber, weaving on a loom, needle felting, and wet felting were possible!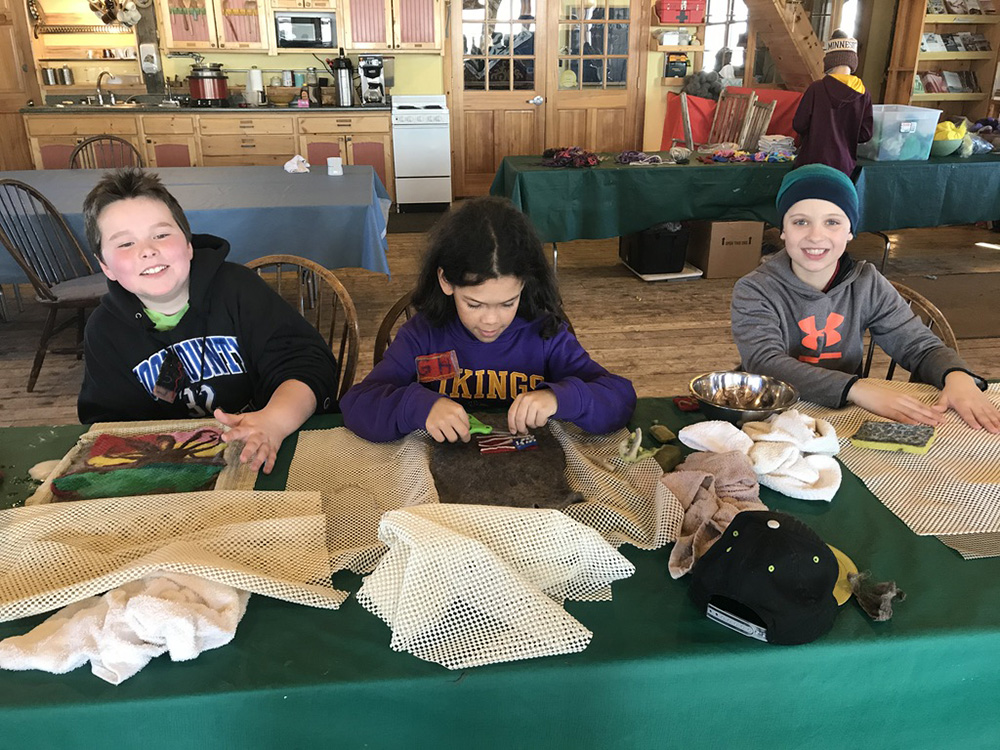 Textile Traditions, designing and wet felting a bag
Each student needle felted a name tag, wet felted a ball/geode, hand spun fibers, sewed a pocket, collaborated on a weaving, and wet felted a bag. They experienced how much energy is required to make fabric by laying out wool and wet felting it into a strong fabric made into a bag. They proudly went home with numerous projects and a felted bag and were gifted with a handful of colorful fleece, a needle felting tool, and the skill to use these at home.
Begin Again. Contemplate, consider, what is working and what is not working.
Diorama Class during Fiber Week
In early winter, I taught a few new classes full of fun. One was a diorama class (for adults), which was a felting workshop that combined needle felting painting and wet felting sculptural pieces to complete a three dimensional scene of the students imagination.
In preparation for this class I found a Swedish folktale about a young princess, an elk, and cotton grass (ohhh magical) and "wool painted" a scene from the story. What pleasure to use wool in this way, illustrating a story. I re-discovered the freedom and the possibilities of painting with wool.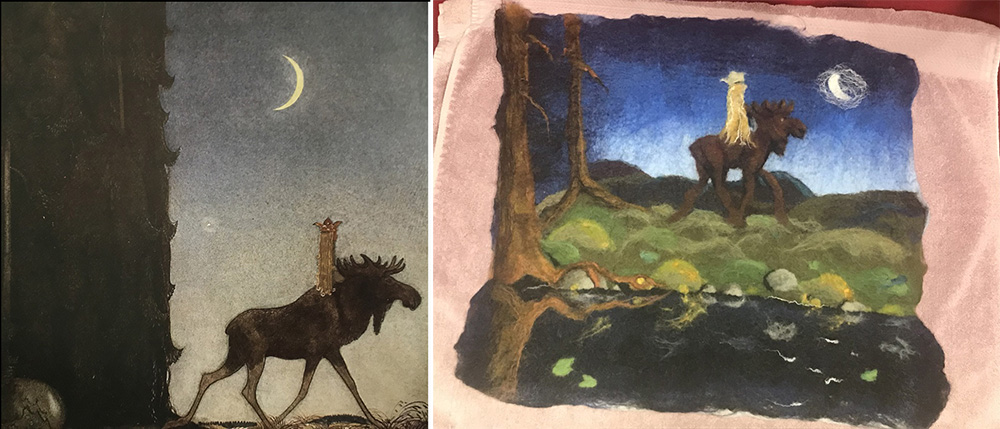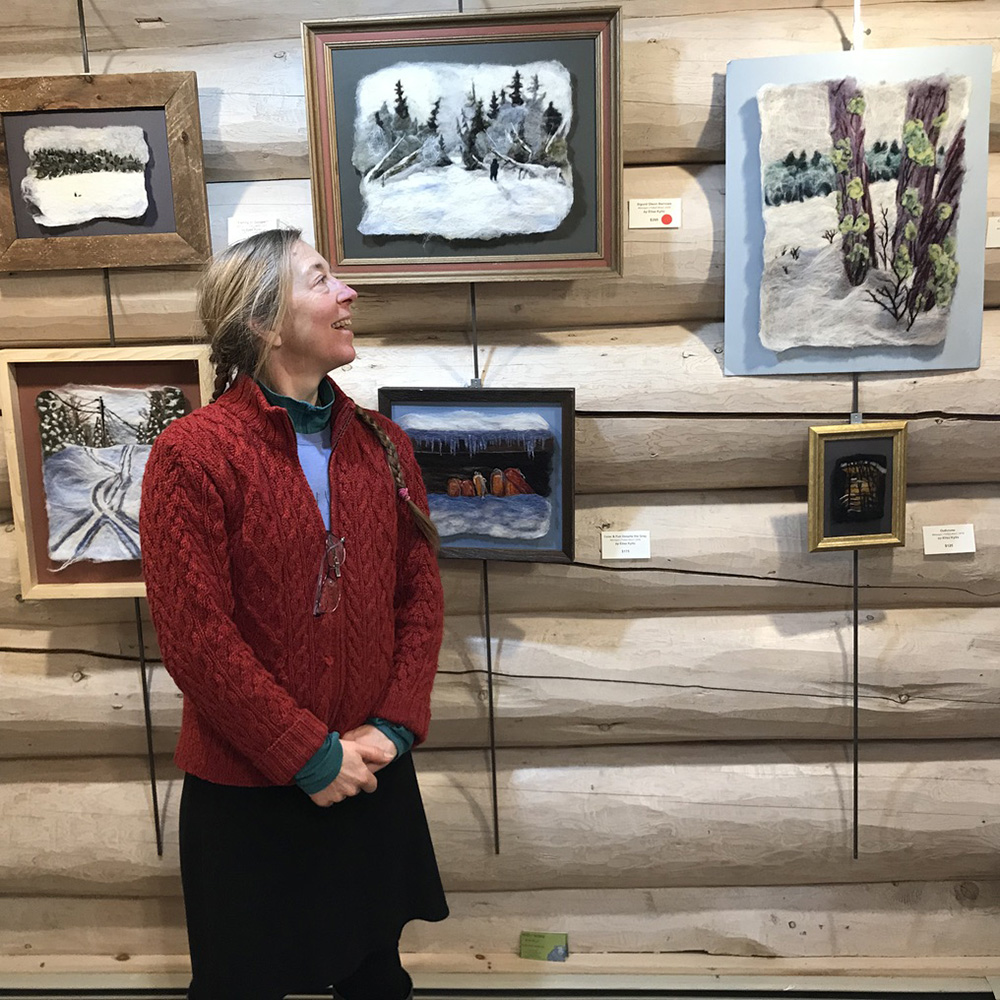 Wooly Plein Air Painting at Camp Menogyn
A desire to continue painting with wool led me to Camp Menogyn at the edge of the Boundary Waters Canoe Area Wilderness, for a week-long Plein Air painting retreat. If Plein Air is a new term for you, it basically means, outdoors, to paint in nature. Painting outdoors in the winter has unique challenges, especially if using wool, but all 19 painters came prepared with lots of layers, thermoses, sleds, and a sense of adventure. We were graced with a thick layer of hoarfrost that made the BWCA a beautiful fairytale landscape, impossible to paint! Everyone was disappointed that there wasn't one moment of sunlight all week, since we were there to capture the interplay of light on landscape. Alas, the BWCA is always beautiful, whether it is raining, snowing, or sunny. Painting with wool while outside was completely new to me but surprisingly satisfying. I pulled a sled by skis, searching for scenes to paint.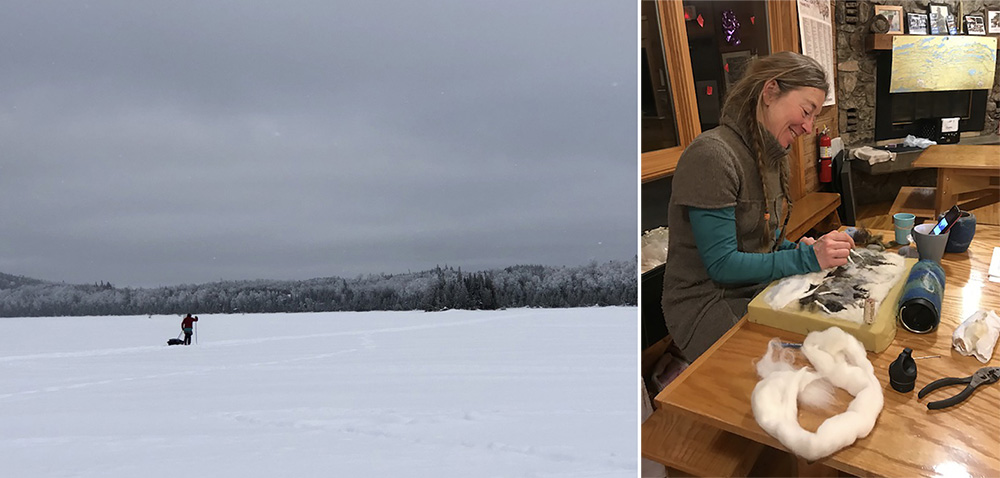 Once intrigued by a sight, I unpacked my box of wool, sat myself down on my sled and set to putting wool onto an old wool blanket with a felting needle. Once I was satisfied with the painting or too cold to continue, the painting was finished indoors and wet felted to bond the fibers together. There were a few challenges of painting with wool outside, one was controlling the fiber with a pair of mittens on, another was wool being blown away. But, the most frustrating was static electricity! At first it was comical, but then so frustrating that the wool wouldn't separate from my hand and would actually jump from the painting back towards me. I've heard a can of spray oil (Pam) is a solution, but I wasn't carrying one!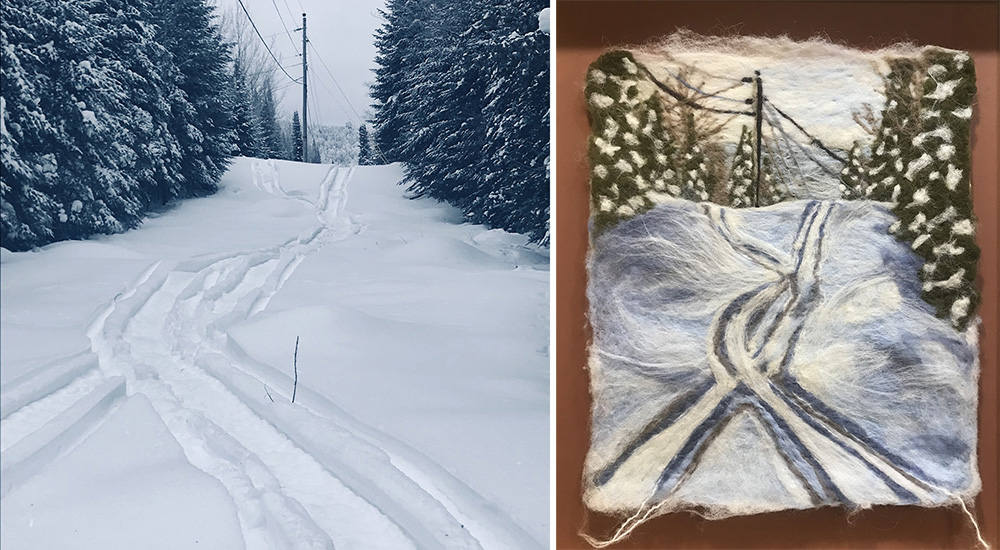 It was a glorious week that culminated in an art show at Johnson's Heritage Post in Grand Marais, where more than 150 paintings were shown. I happily sold two paintings and received many supportive comments. I may not continue to create paintings with wool while an artist in residence, but these techniques will certainly slip into my felting and I will definitely be at Menogyn Plein Air Retreat next winter with my sled of wool.
Handworks Afterschool Club
During February and early March, I taught the after school Handworks Club at North House Folk School. Of course we were playing, working, and creating with wool—needle felting and wet felting. Our main project was felted board games. Before the class, quite a bit of energy (the frequencies were high) went into experimenting with the many possibilities of felting board games with moving pieces that a 9 year old could be successful at. After great pondering and practicing, tic-tac-toe, chess, and checkers were the winners. The students worked very hard on wet felting wool to be durable and then beautifully laid out their handmade wools into patterns for their own designed games.

Like most hand made things, each piece was unique and full of personality. These games will last a lifetime and hopefully will be cherished. Our class was cut short by one week due to the virus, but I still hope we can gather together for a family pizza and game night, using the games they made. I can imagine this project has great potential to be useful in a school setting as it would require a combination of art and challenging math skills. In my dreams, there is a group project of a community chess board that is created, with interesting characters for the pieces. In the future.
Re-evaluating my Closet
As always I add a few photos of things in my life that have been replaced with things I have made with wool.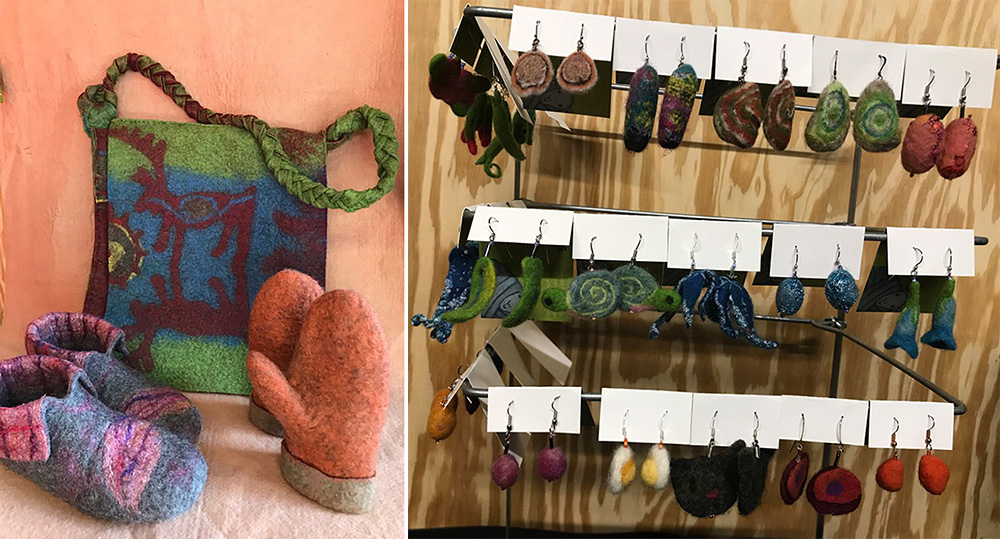 I continue to work at making my favorite vest. This one is close, but I am still learning and perfecting. Being isolated in the studio is a really good time to be focused on a large project like this that takes a lot of planning, thinking, time, and space. When you see me on the street next, I hope I will be wearing THE vest!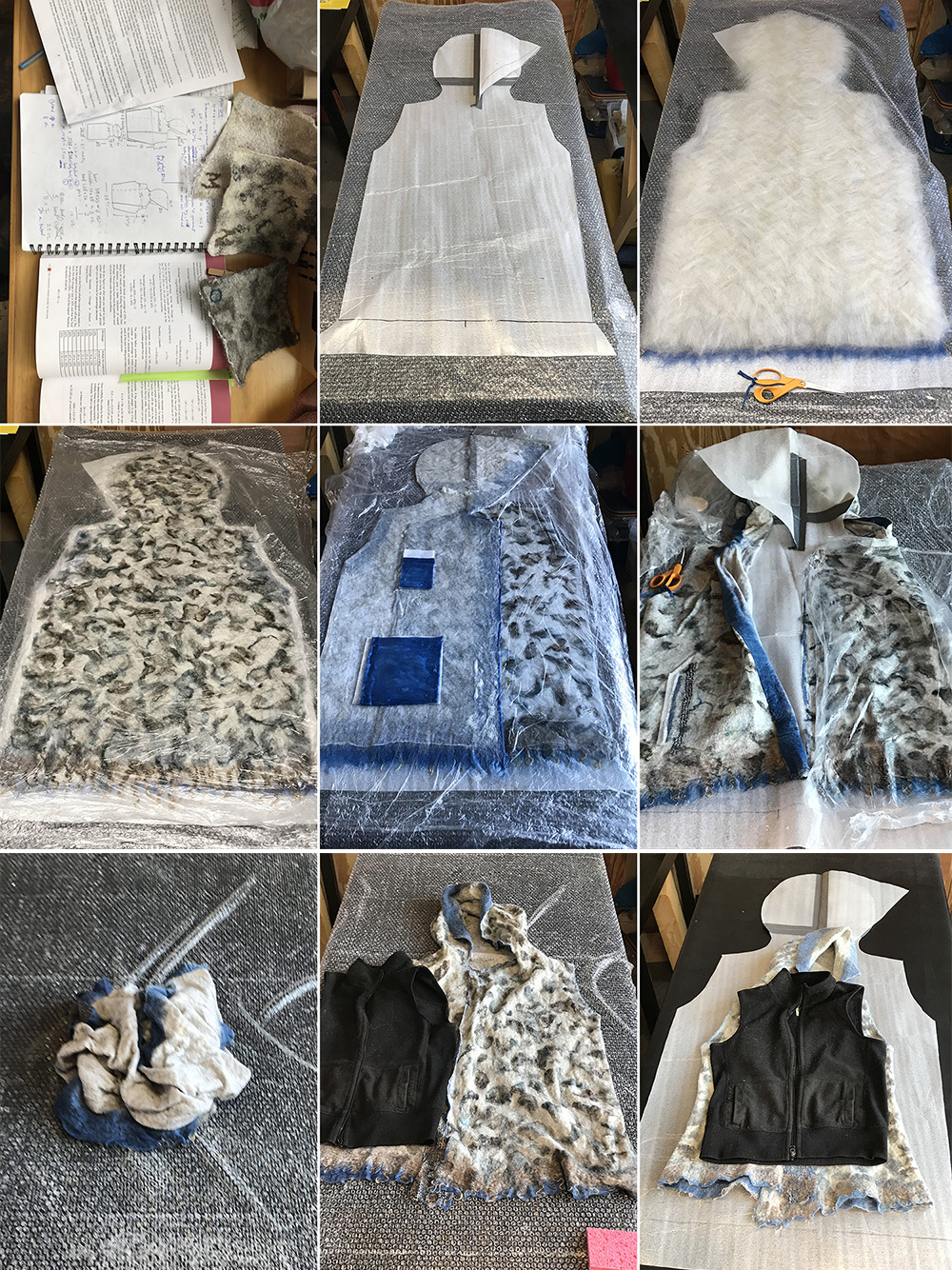 This vest is nearly perfect! One step closer and so very close!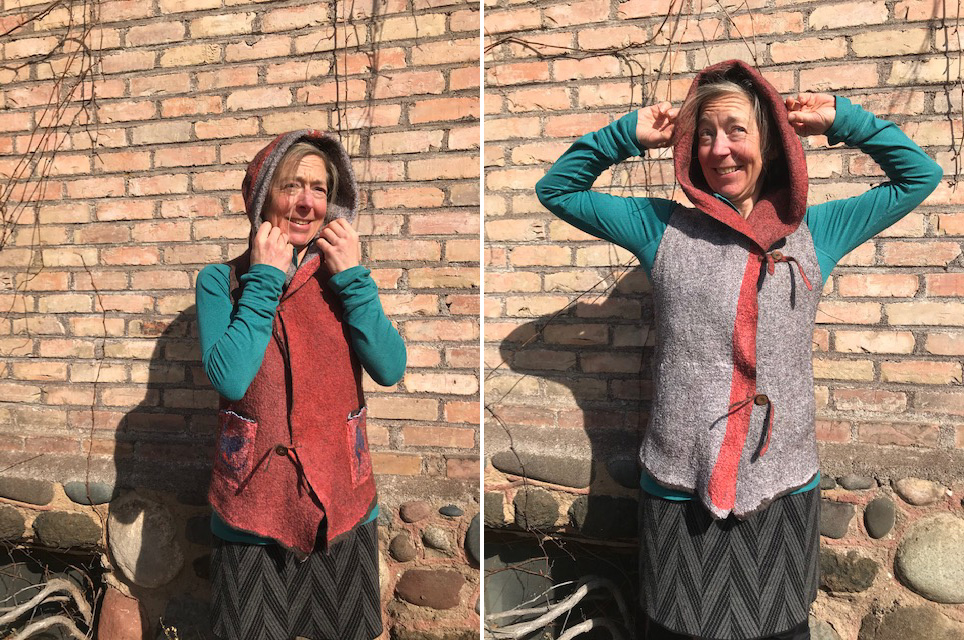 On a last, light note. Spring is around the corner and we are called to be outdoors for fresh air, sun, and exercise. We may not be able to roll in the grass together but the natural world is coming back to life and it is time to get outside and enjoy, whether you are alone or with furry or wooly friends! Be well.