New Resident Artisan, Elise Kyllo
Greetings to the North House Community,
There are many days I pinch myself as I wake to a sunrise over Lake Superior and consider the routine of my life. There are few lucky ones who are offered the opportunity to follow their creative interests, pursuing dreams and challenges within a supportive community like North House Folk School. It's only been a month since I've begun the Artist Development Program, but I've learned so much already, I've been challenged beyond my comforts, and feel great excitement for what is next.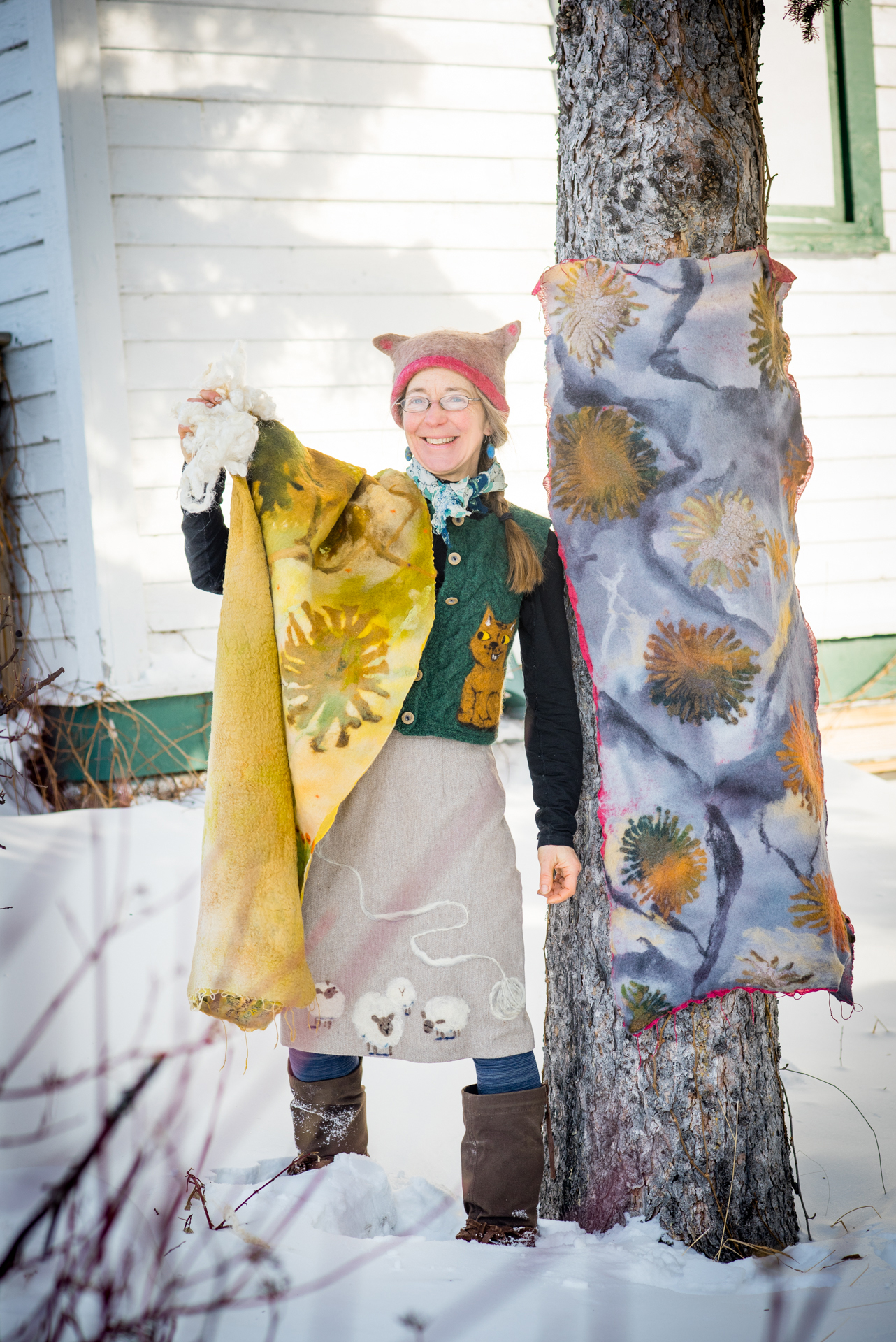 If you don't know me, my name is Elise Kyllo and I grew up in Minneapolis. My first connection to Grand Marais was guiding BWCA trips from Wilderness Canoe Base in the early 1990's. I've felt a deep connection to the northern wilderness and Gichigami, but North House was the reason I returned to Grand Marais and was the reason I built a house on the Gunflint Trail, and call this place home. For most of my working life, I have worked in schools, or community organizations as an educator, organizer, artist, gardener, and farmer. For more years than I can remember, I've been self employed with a great amount of freedom and never a shortage of work. Committing to a full time job in the Artisan Development Program was no light decision, lined with a thick layer of anxiety. It's not that I don't enjoy work, but the common dilemma when we choose to live simply, is that life becomes full of routines that demand attention; chopping wood, growing food, gathering seasonal gifts of nature, preserving food, the list goes on. Days are never dull and often work doesn't feel like "work". Having been involved with North House for 12 years as a felting instructor, I knew the risk was worth it as my fears of full time work dimmed under the bright, positive energy and core values of the school and staff. As a new North House staff member, I feel greatly honored to be more connected to this community. Being a Resident Artisan is an incredible opportunity to delve deeper into my wool infatuation, to become a more skilled craftsperson, a better teacher, and to FOCUS! Ohhh imagine what I could accomplish if I focused on wool work, had a studio space, a mentor, a supportive community, imposed deadlines, time and materials?! TBD. Pinching myself!
From the very beginning I embraced the notion that my work here will be to make this "work"--to embrace the changes, the challenges, the unknowns with a willingness and my best effort.
I will mostly be felting fibers as I still feel there is a lifetime of learning to be done. I won't be focusing on spinning, knitting, or weaving, but instead felting--encouraging fibers to bond together through the magical process of agitation--using only water, heat, and personal energy. It is an ancient craft, likely the most primitive form of making textiles. Yet, it is just as useful, beautiful, and sustainable in today's world of synthetics and factory produced textiles. (In a future blog posts, I will likely speak about a much needed clothing revolution!) I will likely dabble in spinning wool, weaving, dying, processing raw wool, and maybe EVEN knitting to broaden my knowledge of fibers. To not take advantage of the many skilled craftspeople surrounding me at North House is too rich of an opportunity to pass up, as you will see by my upcoming schedule.
I will be a student in "Felting Explorations" and "Felting: Creative Hats and Bags" with Karin Flatøy Svarstad from Norway, "Art of Felt Rug Making" with Mary Reichert, and several artist services courses at the Grand Marais Art Colony. I will be teaching "Felt for the Kitchen" and assisting with Handworks Club, an afterschool craft club.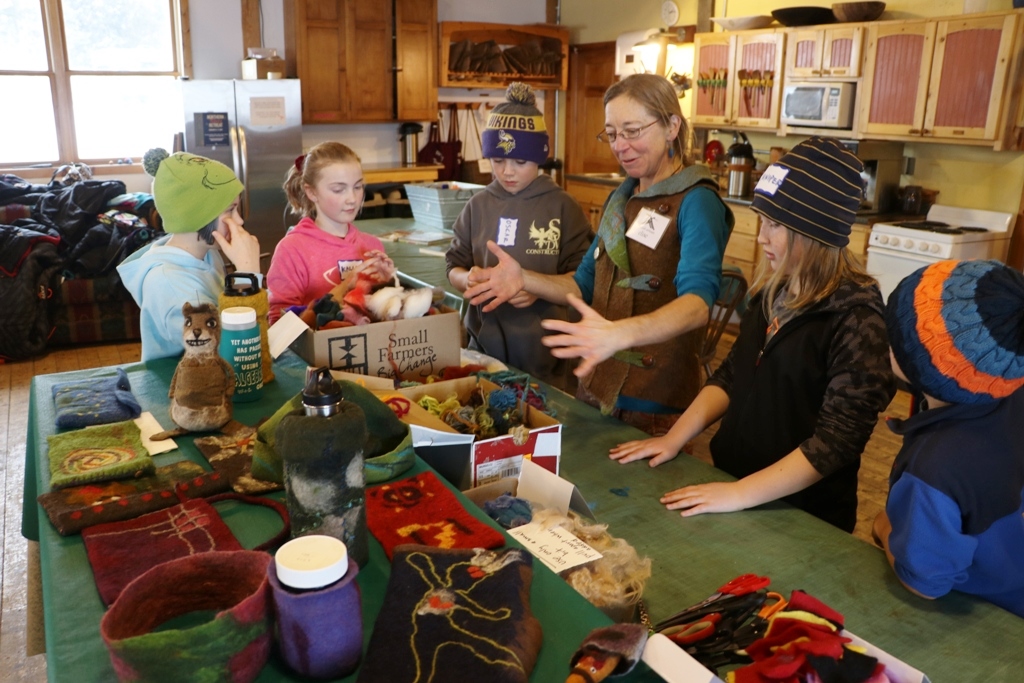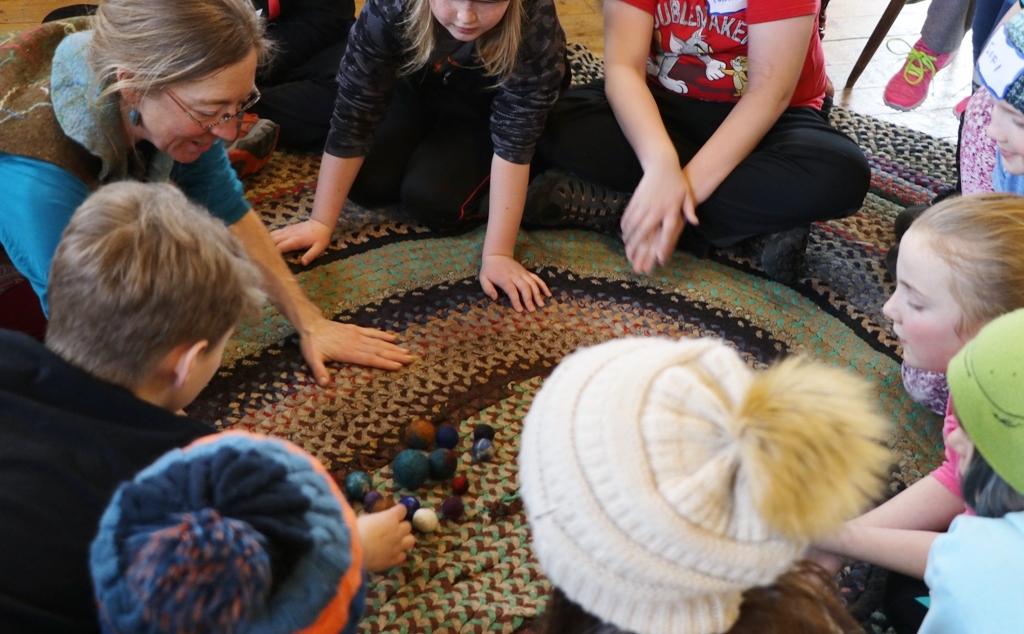 During the first few weeks of the program I worked on developing a curriculum for 4-5th graders in Cook County, called Textile Traditions. While preparing for this class I learned much more than all of the students combined. My anxiety drove me to do deep research into the history of fibers, beginning with Northern Minnesota and branching further to look at the diversity of ethnic textile traditions around the world. As I did research, my lack of knowledge made me wonder if I wasn't paying attention in school or perhaps it was just never talked about. I dove into the rabbit hole of the Industrial Revolution, the Civil War, The IndoChina War, and how textile is closely tied to all of these. Of course, I could talk only so long before the kids eyes glazed over or they began bouncing off the walls. The activities were much preferred and they were busy with experiences in weaving, spinning, needle felting, wet felting, and sewing. For three days, three different classrooms of students visited North House for 2 1/2 hours, and explored the history of fibers in the North and around the world. We focused on wool, cotton, and silk and students were prompted to consider what their clothes were made of and where they were made. They made fabric by wet felting wool, created a design for a personal project, sewed it, needle felted, learned about spinning fibers with Sarah Waddle, and made a community weaving with the retired art teacher, Mary MacDonald. Textile Bingo was a big hit. I was shocked that most students had never thread a needle and didn't know how to tie a knot. Like most of us, it's not surprising that they don't know where their clothing comes from and what it is made of. So different from a few generations ago when most of what people wore was made by hand with local materials! After making a small piece of fabric, I think the students understood why most people in the past only had a few changes of clothes, why they were likely passed down until they were worn out, and why there was no need for closets! Here's a peek into the afternoons: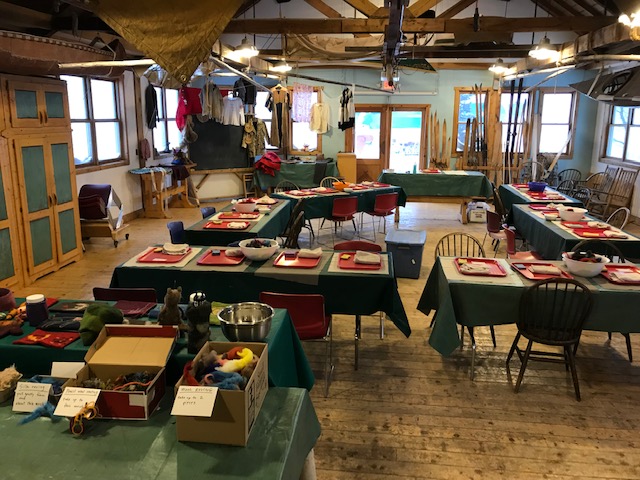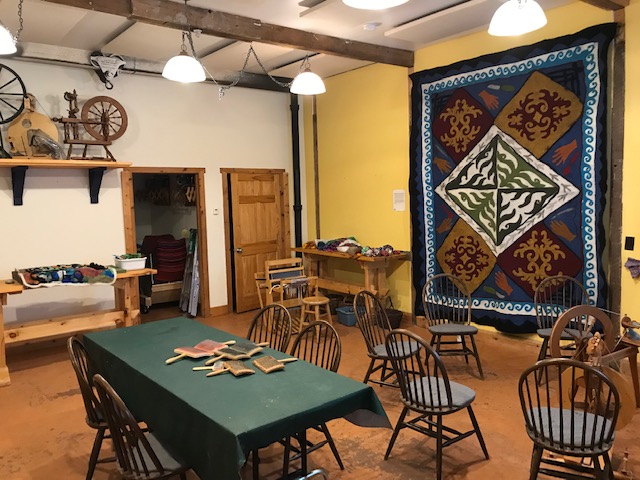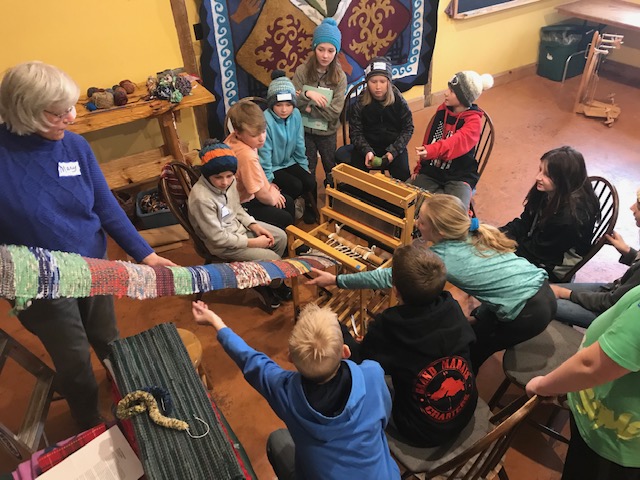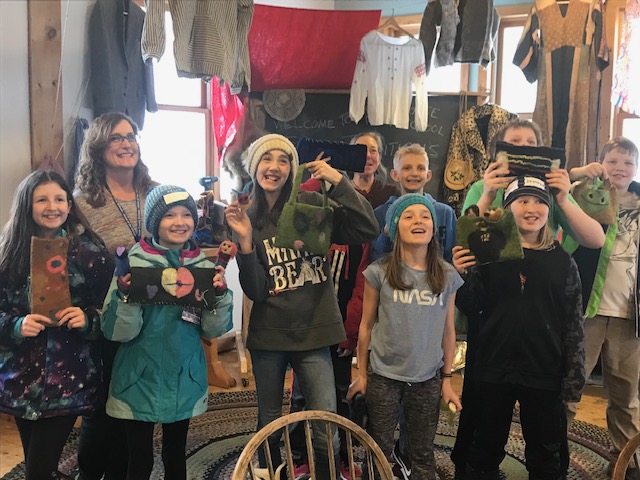 Despite being full of stress during the planning phase, after the fact, I know it was worth it, and by the time six months pass, I will forget the challenges and feel the pleasure of its successful completion.
As I approach the next months, I am looking forward to creating a working studio space and beginning the creative work of discovery and growth in my craft of felting. I am eager to connect with other fiber artists that may become mentors in my process. I will be applying for a couple of summer art fairs and have my fingers crossed I am awarded an art residency on Isle Royale.
Already, I fear my ADP time may pass too quickly! But, perhaps that is just life in general.
Enjoy these winter months of wearing your woolies…oh, wait, we never stop wearing our wool on the shores of Lake Superior! Wool, is always JUST RIGHT!