Nålbinding--What's That?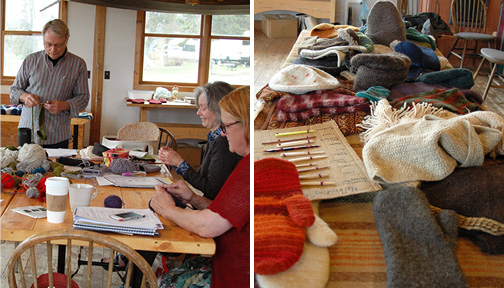 When Larry Schmitt is teaching a class at North House, his display of wooly creations always catches visitors' eyes. "What is nålbinding?" they ask, over and over. Little do they know, Larry is probably the best person in North America to give them the answer.
Nålbinding is an old, old technique, dating back to the Bronze or early Iron Age, or maybe before. Like knitting and crochet, it is a way to make a fabric out of loops, but it uses only one double- or single-pointed needle and short strands of woolen yarn worked in simple patterns. Predating knitting and crocheting by many centuries, variations on nålbinding are found in cultures around the world. The common name for the technique comes to us from Scandinavia, and Larry has focused his exploration of the technique on the Scandinavian traditions.
Larry learned about nålbinding from his parents, who were always involved in textiles while he was growing up in Milwaukee. "Where my parents learned it is unclear," he explains, "but… what they knew, and what they learned is the foundation for what I know about textiles and for what I am doing with nålbinding and bandweaving." Larry took interest in nålbinding at the urging of curators from the Vesterheim Museum in Decorah, Iowa and has since studied nålbinding texts, artifacts, and techniques from across Scandinavia. He has written most of the very few texts on nålbinding available in English, and really is one of the foremost experts in the craft beyond Scandinavia.
Larry notes that while nålbinding can be learned in a twenty-minute tutorial or an internet video, "Everything is plainer when you can speak face to face. Questions can be answered and clarifications made. The act of learning by getting out and interacting directly with others aptly describes the North House experience." Larry's nålbinding classes, three or five days each, are intended to provide enough repetition that students will really absorb the movements and techniques needed to continue with nålbinding after they leave campus. Larry wants students to be able to produce items that will "go out into the world to be used and appreciated, becoming a legacy for the maker."
Indeed, when one handles one of Larry's nålbound mittens or socks, you immediately begin to appreciate the object's density, warmth, and texture. After a visitor has gotten hooked on the beauty and utility of a class's nålbinding, it's not unusual to hear them wander away saying… "I can't wait to take that class."