Mother and Daughter Take the Hard Out of Hardanger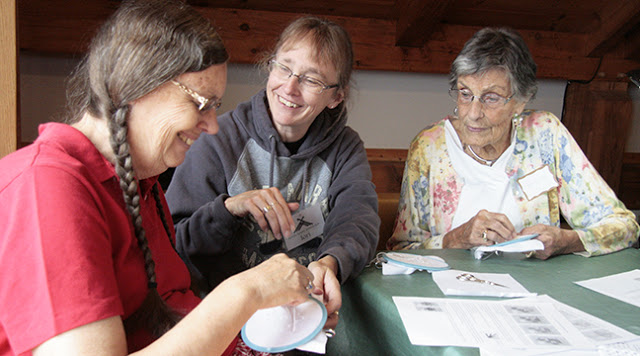 While prepping for a summery pizza bake, I recognized a new student and quickly discovered she was my college physics professor, Barbara Whitten. I could not resist sitting in on the class, Taking the Hard out of Hardanger, to learn more about the craft and catch up with my past professor, a recent first-time North House student.
Native to Minnesota, Barbara found North House Folk School while searching for a needlework class to gift to her mother, Shirley, for her 93rd birthday. The Hardanger class caught her eye. It's a craft her Scandinavian great-grandmother practiced, and one Barbara wanted to learn.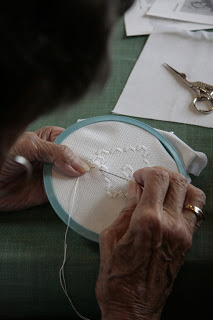 Barbara and Shirley spent two days with instructor, Lori Zimmerman, who patiently taught them to stitch a variety of designs and carefully cut out holes in between delicately stitched canvas. Through wide smiles, these two life-long learners were determined to try (and practice) a new skill. The mother-daughter duo maintained a high level of focus while chatting about family history and the importance of passing on skills from generation to generation.
Shirley believes family gatherings like this one are vital to passing skills on through experience or stories. Shirley recalled her grandmother claiming "reading is bad for you" (a thought which Shirley would dissent) and that we ought to always be doing something like needlework, cooking, hunting, or practicing craft together. Throughout the two days, conversation toggled between family stories and questions on where to stitch next. This winter, Shirley and Barbara plan to pick up their needles and return to stitching more hardanger projects.