Jane Mickelborough and Breton Spoons
There are a lot of fun elements of the Artisan Development Program, but one of the elements I most appreciate, and will probably look back on as most memorable, is the opportunity to travel and to work with interesting and skilled people with whom I might otherwise never have the opportunity to work.
When I heard that Jane Mickelborough would be teaching lead-in coursework at the Milan Village Arts School Spoon Gathering (learn more about the gathering and school here), I jumped right on board and signed up for the class. I've been
following Jane's adventures in the spoon world for a number of years now (check out some of her work here), and still remember the first time I saw a video of her – grey haired, strong, upright woman taking an ax to a spoon blank with confidence, power and passion. I was hooked. She emanated so many things that I admire, and I've continued to be impressed by what I've seen online, so I traveled to the spoon gathering with excitement and a little trepidation – What if she didn't live up to my expectations? What if I wasn't a "good enough" carver for her class that was advertised as only for "experienced carvers"? What even was this wax inlay that we would be working with – something weird and synthetic? Thankfully, I was not disappointed!
We skipped right over introductions and delved into the world of Breton spoons, looking at photographs Jane had taken at museums tracing and drawing out the profiles of the spoons we hoped to carve while keeping with the Breton tradition, and rummaging through a box filled with blocks of frozen hard maple that would soon become our spoons.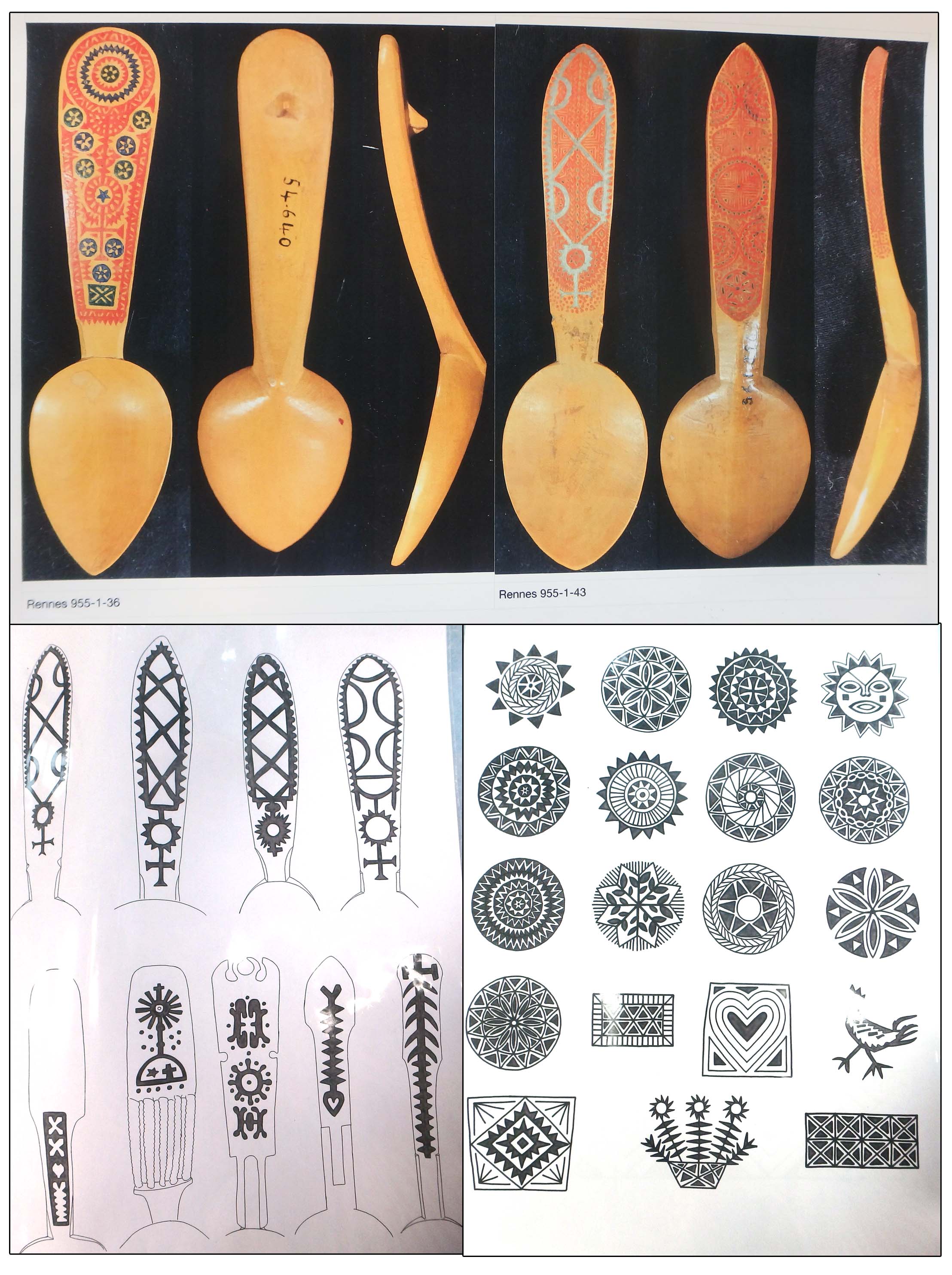 Hard woods are necessary to keep the wax inlay from bleeding into the wood, and in France these spoons would have been carved from box wood (not to be confused with box elder). We moved quickly on to ax work and carving, needing to almost finish our spoon by the end of day one so we could get going on the traditional decorative elements that really makes these spoons exciting. I was in the rhythm and feeling good about my progress, so I decided to work on two spoons side by side, each carved using a different grain direction.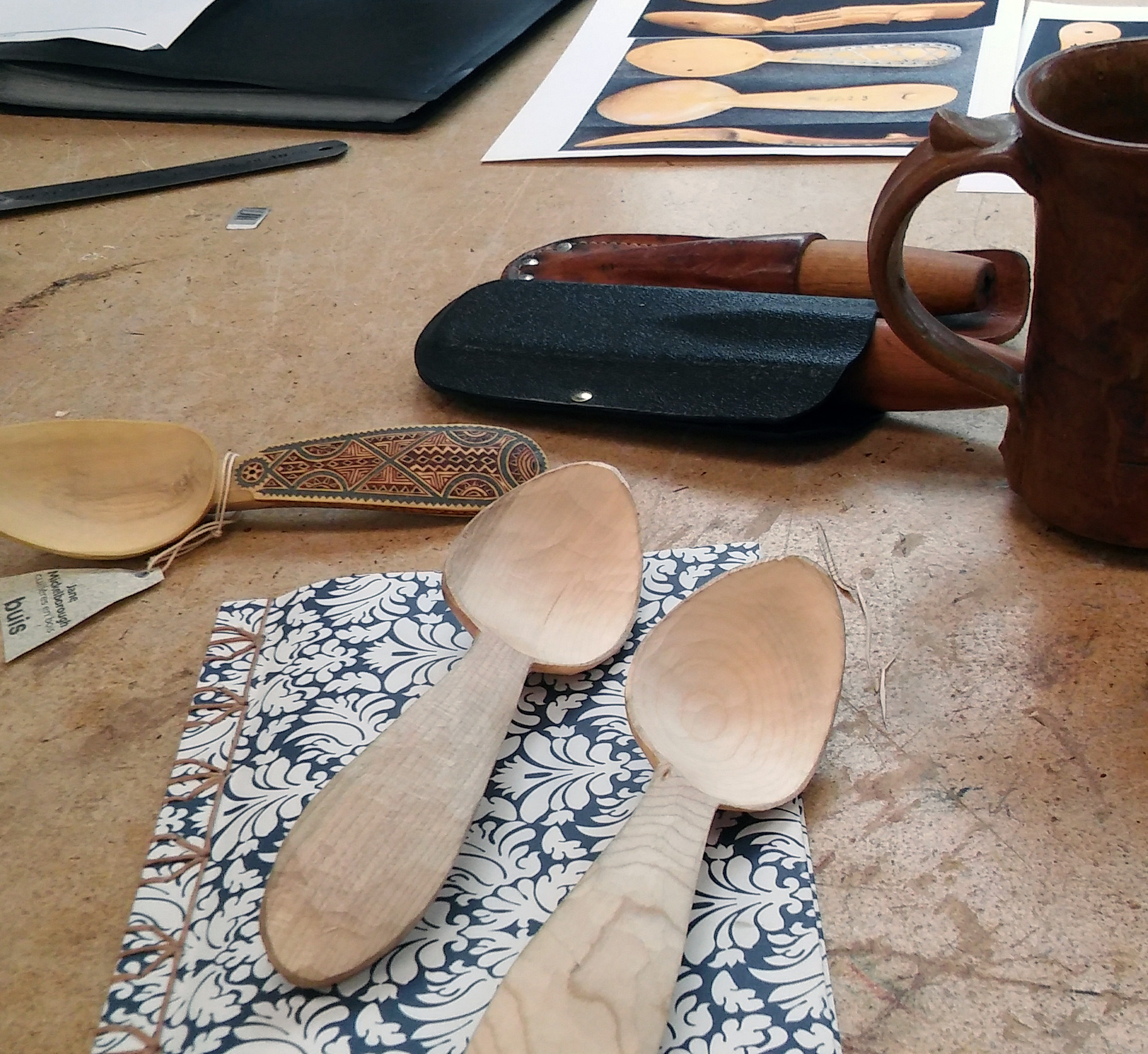 One of my goals in this program is to continue learning about wood movement, grain direction and how these things impact a final product, so this was the perfect opportunity to not only experience how different knife cuts impacted the two spoons, but I would also be able to learn about chip carving on the two types of surfaces, the effect of the wax inlay, and how the spoons will wear over time with the strengths and shortcomings of each grain orientation.
On day two, Jane reviewed the fundamentals of chip carving, talked about traditional geometric designs versus more organic flowing designs and shared what she's explored in the world of wax inlay.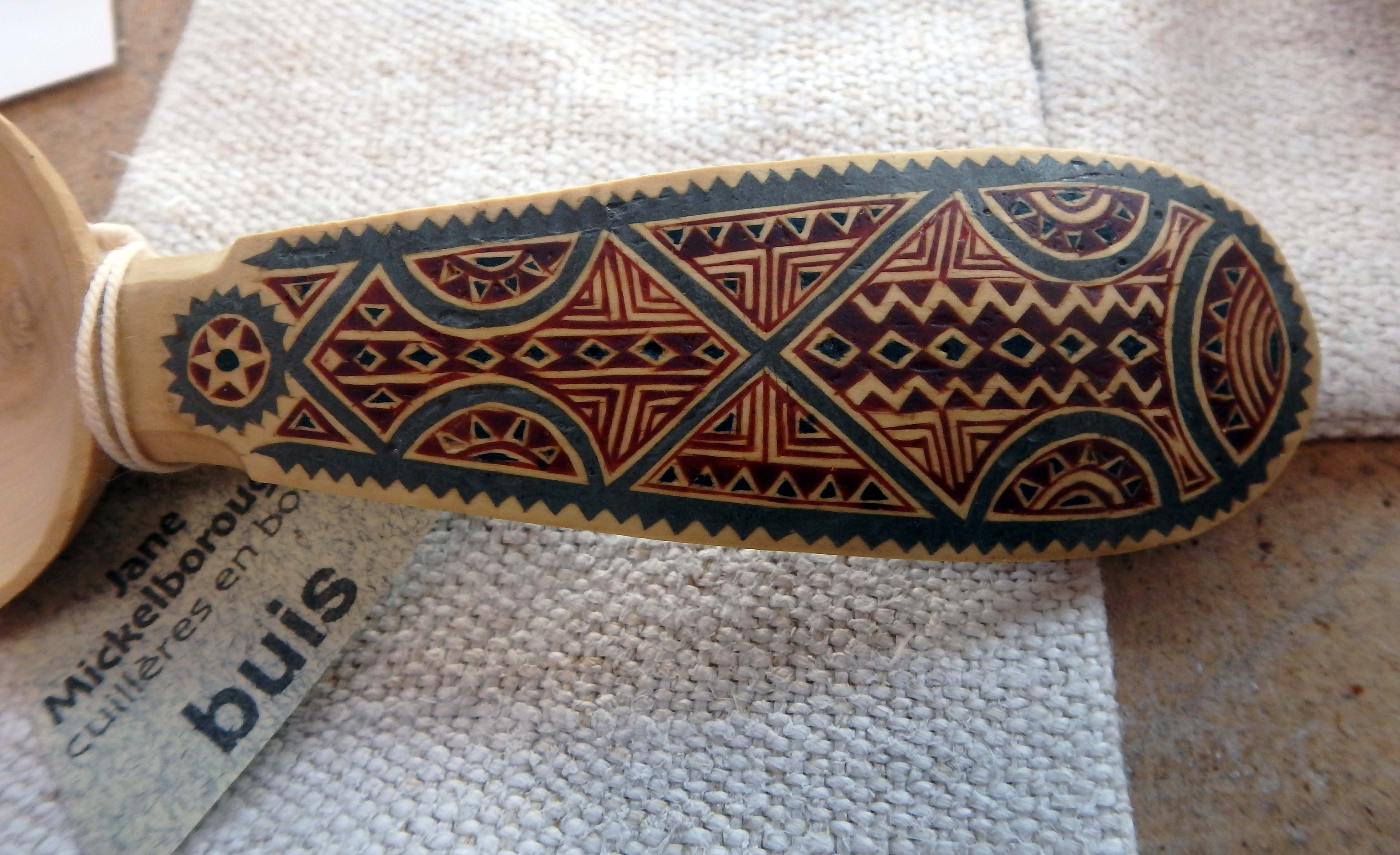 Many of the spoons in museums were made hundreds of years ago, and Jane has not been able to find any recipes or information on the process of making these spoons, so many of her accomplishments have come from experimentation. For the class we used sticks of traditional sealing wax, the type used for sealing letters and bottle tops, not ceiling wax (which probably doesn't even exist). Some students experienced initial confusion about these two very different words that sound just alike! Though now days many sealing waxes are paraffin based, they were historically made from rosin, shellac, beeswax and natural pigment. There are still a limited number of companies that manufacture the traditional waxes in many colors, and Jane also shared her personal recipe with us so we could make our own at home. We spent days two and three carving practice designs, carving our spoon handles, melting the wax into our carving, and scraping away the excess to reveal the final designs. Jane even took the time to show me a new method she was playing with – pounding brass tacks into the spoon handles, which was inspired by some designs she found on traditional Breton furniture. I played around with adding the tacks to my carvings, working with ¼" long sections of tacks using needle nose pliers and a tiny hammer, worrying all along that I was going to crack apart my spoons, into which I had already put almost 20 hours of work!

Jane was an amazing teacher and could easily look at anyone's project and suggest a minor alteration that would bring the spoon more in line with what we were trying to achieve. Her intense passion for the spoons that she carves was also strongly evident and I'm sure added to everyone's enjoyment of the class. Check out the below photos of the spoons I carved, those carved by the rest of the class and a selection of the spoons that Jane brought along.