German Timber Framing
One of my areas of interest as a participant in the Artisan Development Program is traditional building methods. North House offers a number of timber framing courses throughout the year and I have had the good fortune of participating in many of them. Early in August I assisted instructor Gerald David with a German timber framing course. You can check out Gerry's projects here. Gerry is a fantastic teacher and I appreciated being able to learn from his experiences.
In 2006 Germany hosted the world cup and my family and I traveled there to visit some exchange students that we hosted during my high school years as well as catch a few world cup matches. The trip was an absolute blast. I remember being blown away by the large plazas of ornate timber framed structures that line the cobblestone streets in some of the towns we stayed in. These are some photos I took on that trip.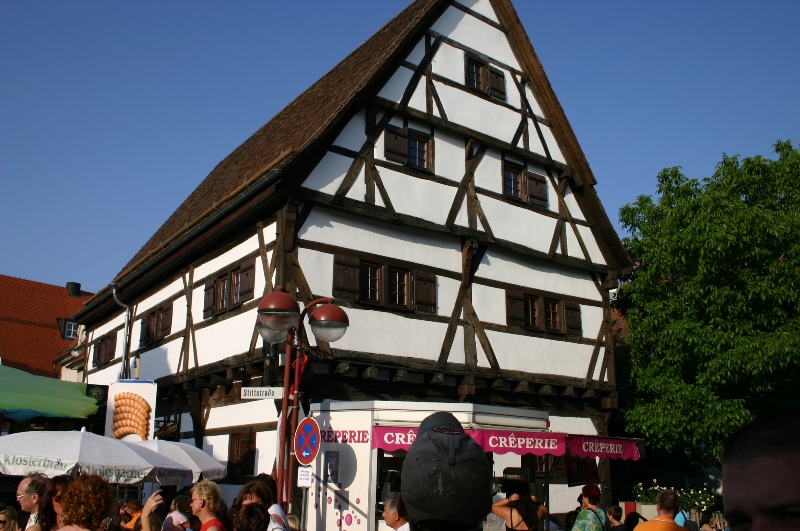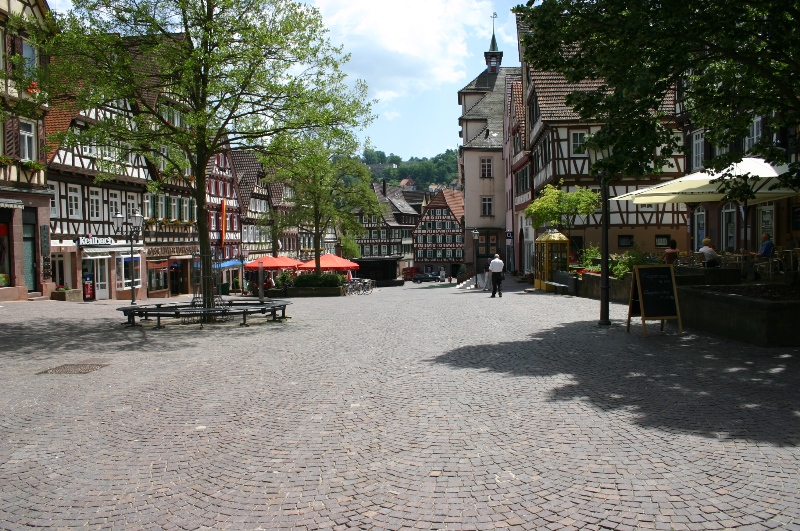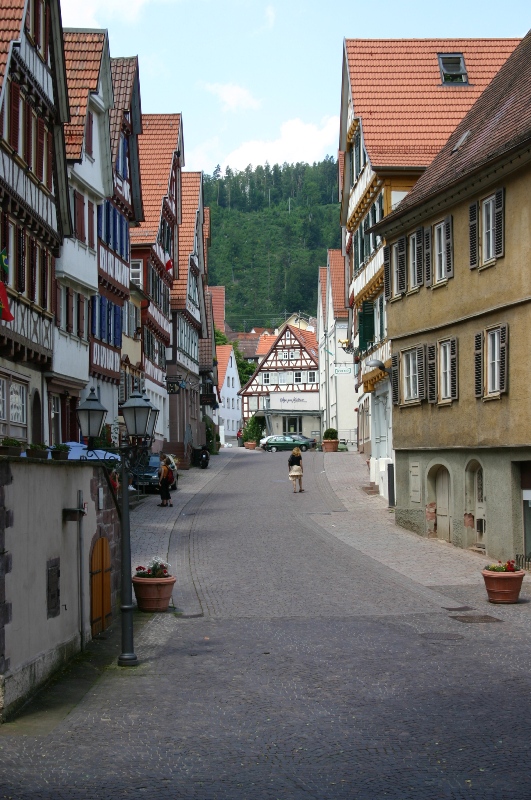 Traditionally these buildings were framed with hardwoods such as oak and the wall cavities were filled with brick or a wattle a daub mixture ( wooden lattice with a clay straw plaster). Some are carved and painted while others have been plastered over hiding their timbered bones. It was delight to be able to study these structures after being captivated by them some years ago.
The layout method for this type of frame is unique and much different than others that I have experienced. Rather than using mathematics and labeled shop drawings to create the joinery, pieces were laid on top of each other in order to scribe or transfer layout marks from one component to another.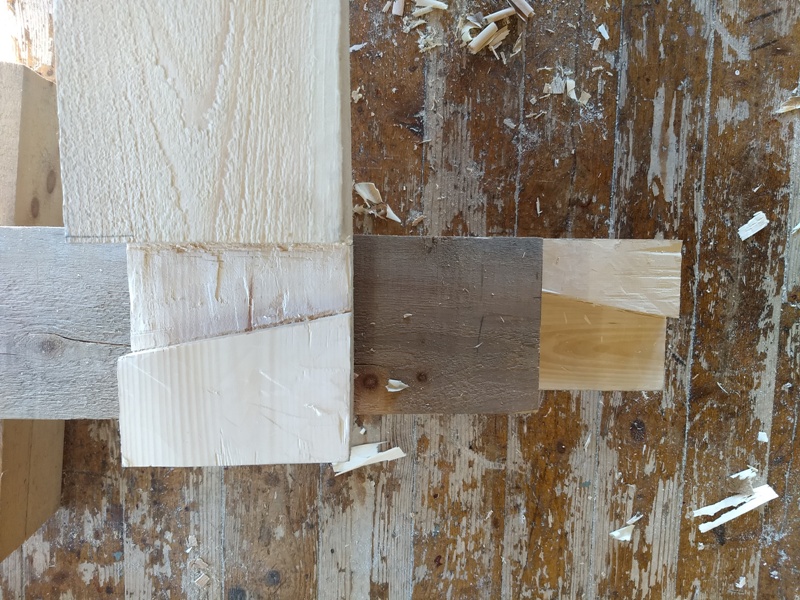 This is one way of insuring nice tight joints as it accommodates irregularities in materials as well as some irregularities in workmanship.
The frame has a hip roof which is a common feature in German frames and can be challenging to build. Gerry introduced a method for laying out this hip roof called schiften. This method is used to make notoriously difficult roof framing systems a little easier. A full size drawing of the corner of the roof, referred to as the kernal, is "unfolded" and laid flat in 2 dimensions on the floor.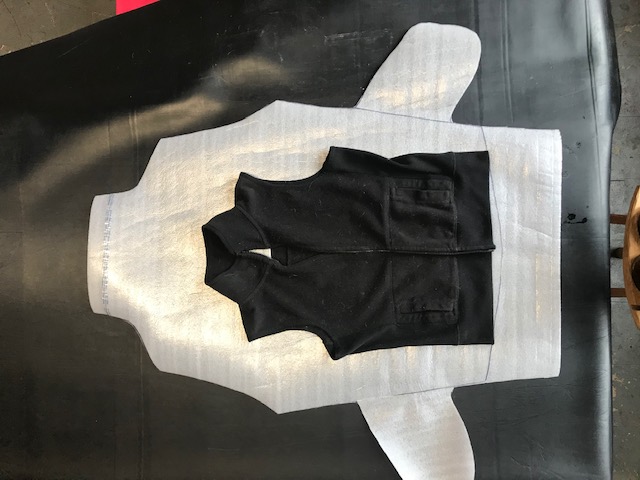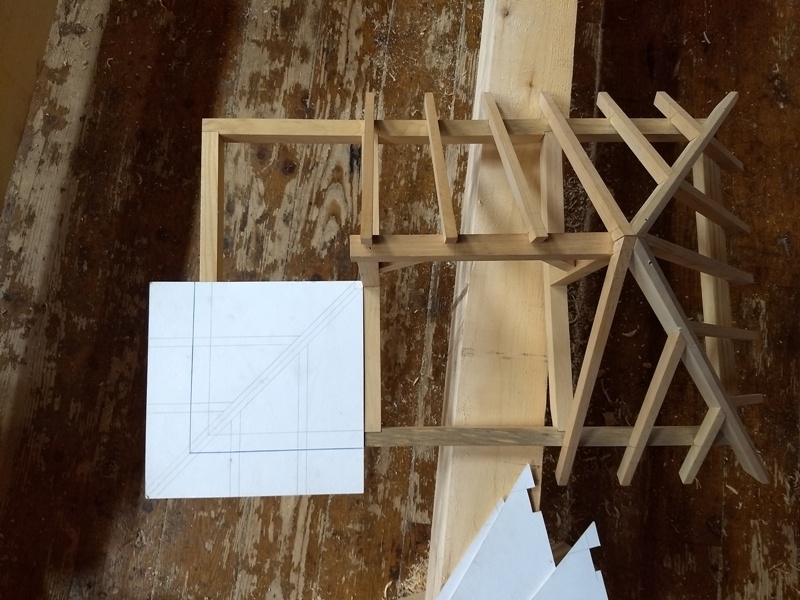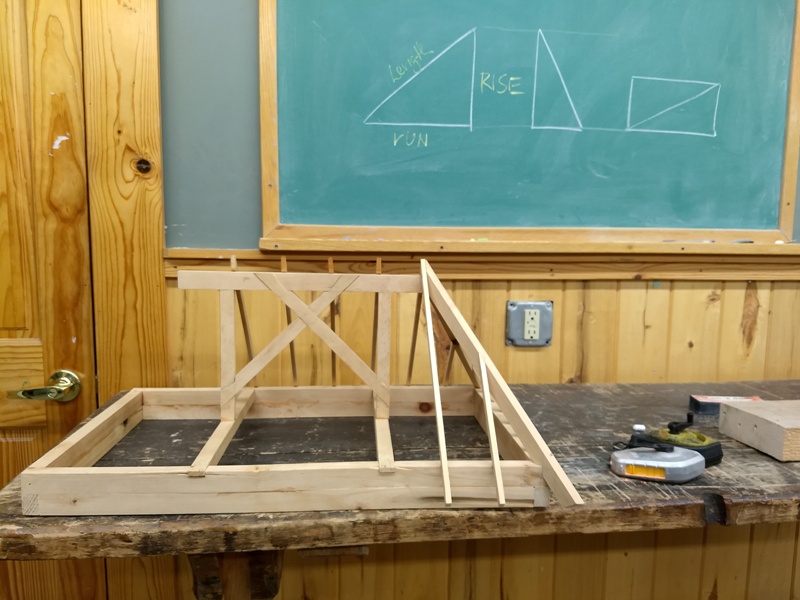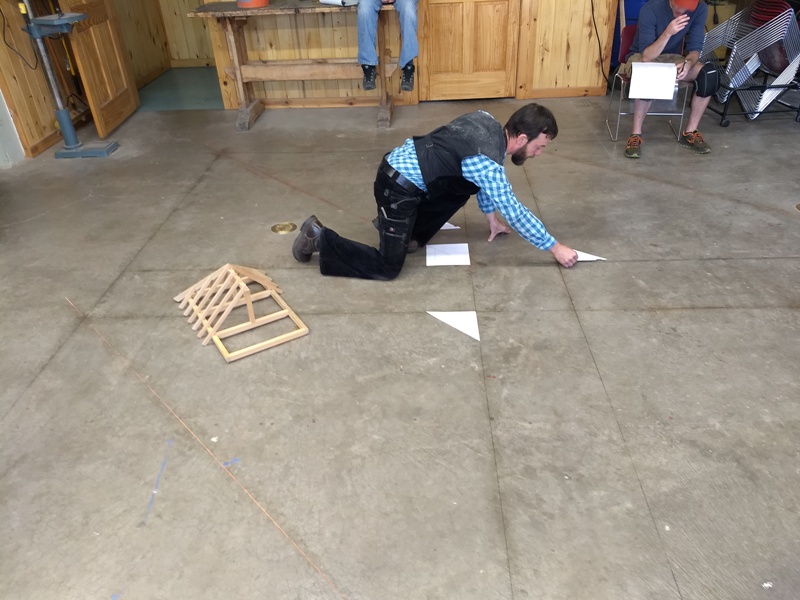 This full scale two dimensional drawing allowed us to lay timbers on the drawing and transfer the important layout lines directly on to the timber rather than measuring each component and figuring out more complicated math.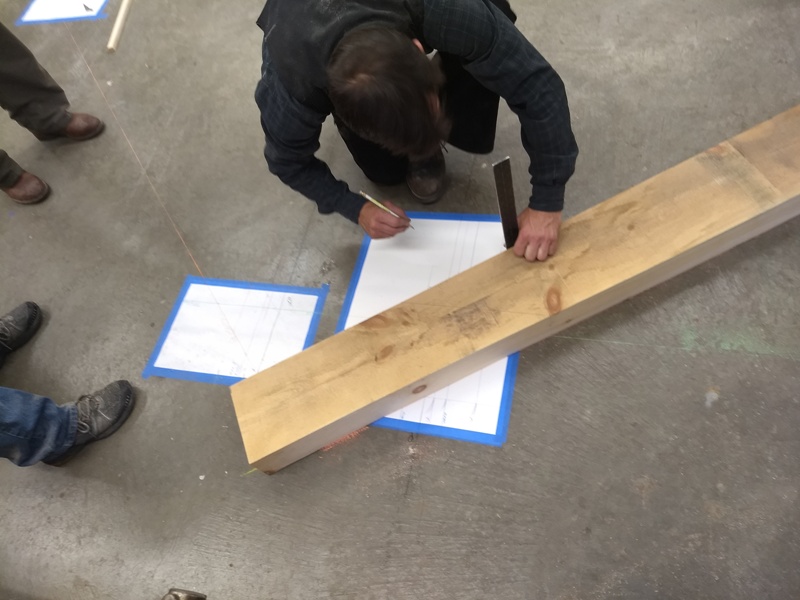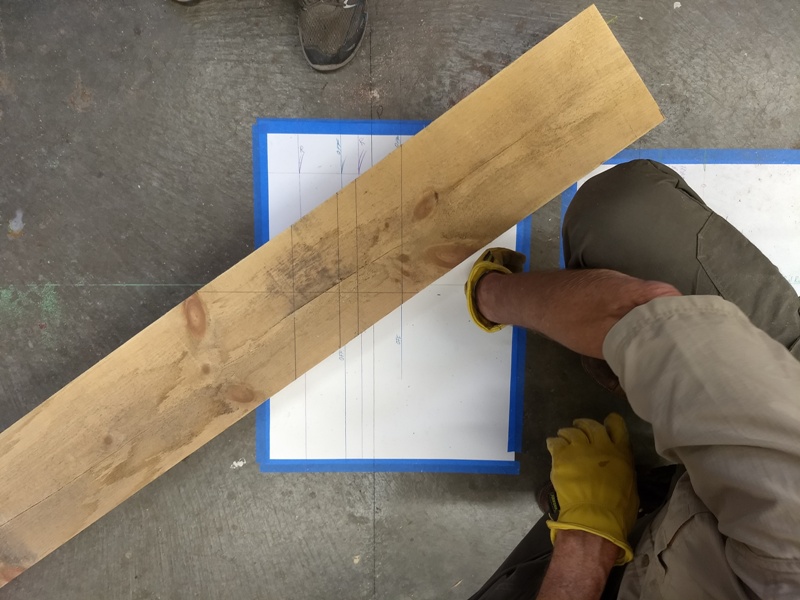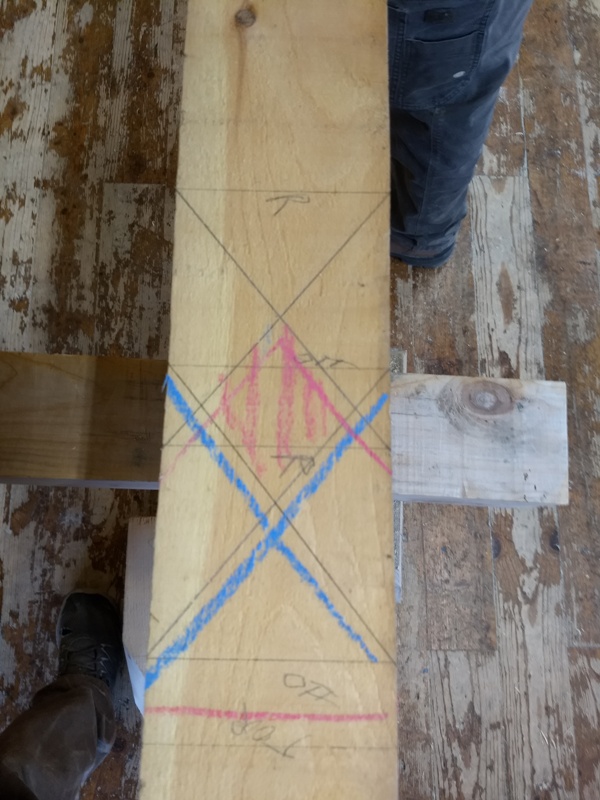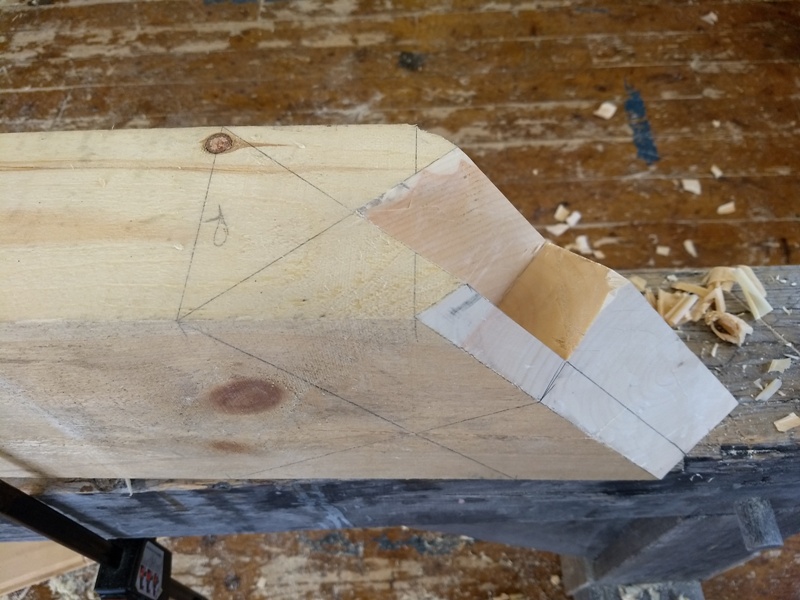 Though it was a challenge to fully understand, it is clear how much easier this would make layout on a very complicated roof system.
Here you can see how the hip rafter caps the corner of the frame perfectly.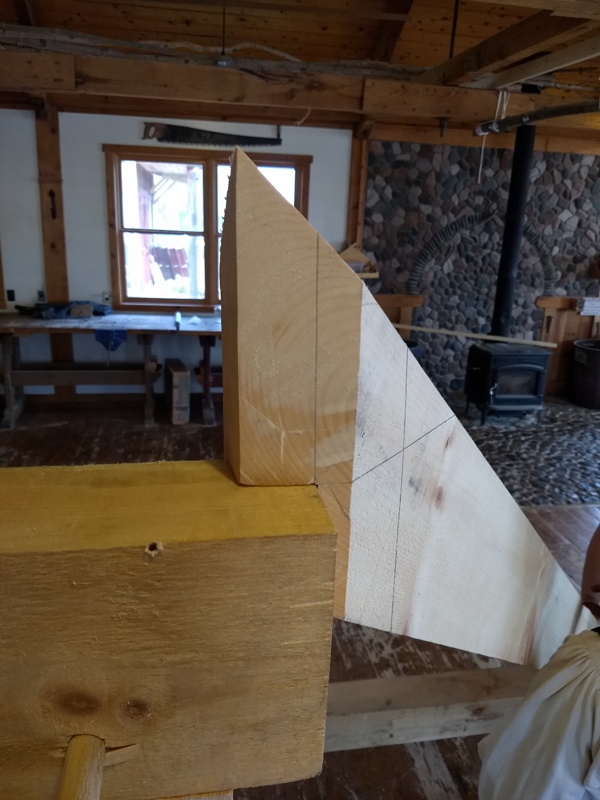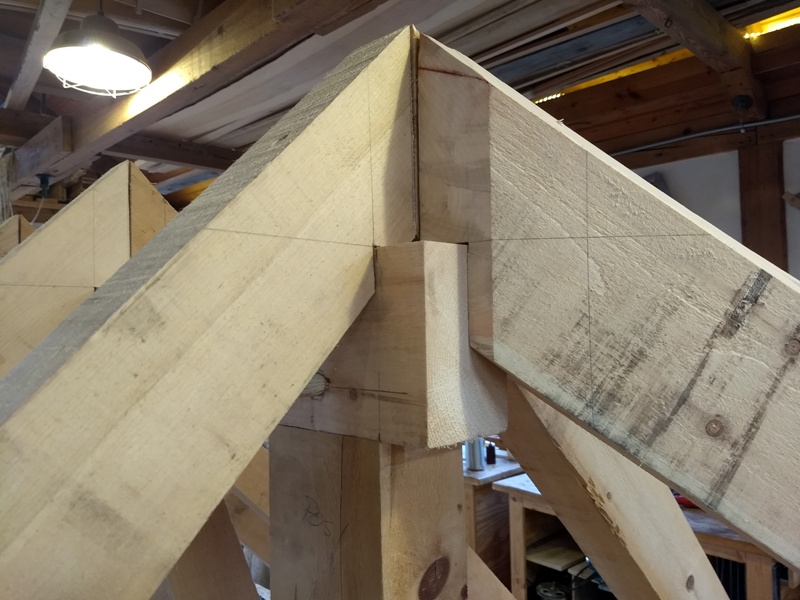 Relying on our full scale drawings made all the layout accurate and consistent. I think back to my school days and how frustrated I felt in math class. It always seemed to be missing a tangible application, a way of bringing it into the physical world. Spending this time with this project was a great reintroduction into geometry. Understanding this process makes me appreciate these beautiful buildings even more than before. The project came together nicely and this group of students left a great little German frame sitting proudly on the harbor.