Everyday Sloyd: Make Home Items by Hand
Posted on September 26, 2015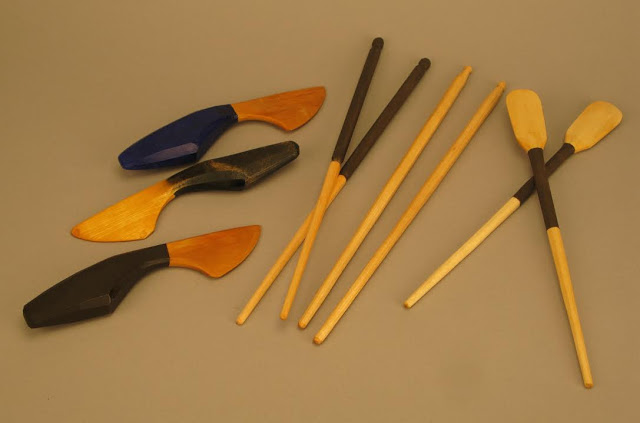 Spreaders, cooking and eating chopsticks, "BWCA chopsticks" (chopstick/stirrer/spreader).
What's Slöjd? Find out in two brand new courses: Everyday Slöjd for the Bed and Bath, and Everyday Slöjd for the Kitchen, with instructor Paul Linden. You'll learn to make handy home items by hand!
These are primarily hand tool woodworking classes with a good dose of philosophical oil rubbed deep into the grain. Paul believes that learning self-confidence and creativity are as important in this course as are the projects the students produce. "None of the objects from this course are intrinsically difficult to make - none are as technically difficult as carving a spoon. But they can help people get a start at making some of their own daily-use items and perhaps encourage them to try more," he said.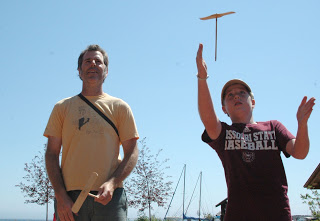 Paul with his son (and co-teacher for some courses) Avery
Paul is known at North House for his various woodworking and tool-making classes, for both kids and adults. He is patient as an instructor and brings a rich message of optimism and learning. "It is important to remember that if you love any of these activities and you are willing to practice them, your skill will increase, and soon you will be refocused on what you can do well, not on what you can't," he said.
Although Paul has taught the projects and techniques in these classes before, this is the first time he has combined them in this particular way into a class. One of the themes that permeates the "Everyday Slöjd" classes is creating visually and physically beautiful objects for daily use. Yes, a silicone spatula does something wonderful for scraping out a bowl (Paul may even admit how useful plastic can be), but a few questions to consider during this class will be: "What would I rather look at or touch? Does it make a difference to me that I have objects in my home that were made by me or by someone that I know or that I love?"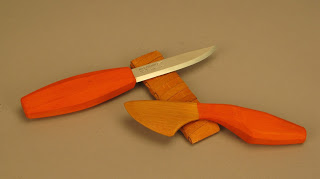 "Picnic set"- Mora blade, birch bark sheath, spreader.
There will be a combination of woods used in class - some soft woods such as basswood (which, Paul points out, is his namesake) for ease of workability, and other harder woods such as birch for durability.
Possible projects for the kitchen class include cutting boards, spreaders and spatulas, cutting board racks, plastic bag drying racks, toast tongs and chopsticks. As for the bed/bath class, options include peg boards and the necklace stand, small shelves, a "ring tree," and towel racks.
These are classes designed with beginning woodworkers in mind, but Paul notes that even intermediate and advanced woodworkers would fit right in. "I work with wood every single day," he says, "And I am constantly surprised that the very simple objects are some that I learned the most from making. It is a material that I understand well enough to have no fear of, but one that still also periodically surprises me."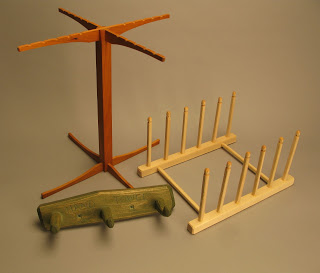 Necklace stand, peg hooks, cutting board rack
If you love wood, want to learn to work with wood, or would like to replace some of your household items with fresh, homemade versions, sign up for a class with Paul!