Drama or Dreams
Resident Artisan Elise Kyllo ponders craft in a time of social unrest, and offers a sneak peak of the upcoming Art Along the Lake Studio Tour
Posted on September 23, 2020
This is a time of numerous challenges for many and exhausting drama in the world. I feel extremely lucky to continue in the Artist Development Program without much more than a marshmallow bump. Through the haze of Covid, funding continues, my amazing studio welcomes me, North House Folk School is pure inspiration, continuing programming with creativity and joy thanks to a few technical wizards and everyone facing a new way of being with positive energy. I have to admit that my greatest challenge is the invisible, intangible questions of my own creation, asking myself what can I do in this world that is of importance and necessity. Felting wool isn't the first thing that comes to mind! When doubt and lack of inspiration begin to meddle with my work, I realize I am creating my own mental drama. Thanks to Christine, one of my three studio cohorts, I saw this quote on her chalkboard. "You have to want your dreams more than you want your drama." I remembered this quote quite differently: "Spend more energy watering the seeds of your dreams than the seeds of your drama." Makes sense, being the gardener I am.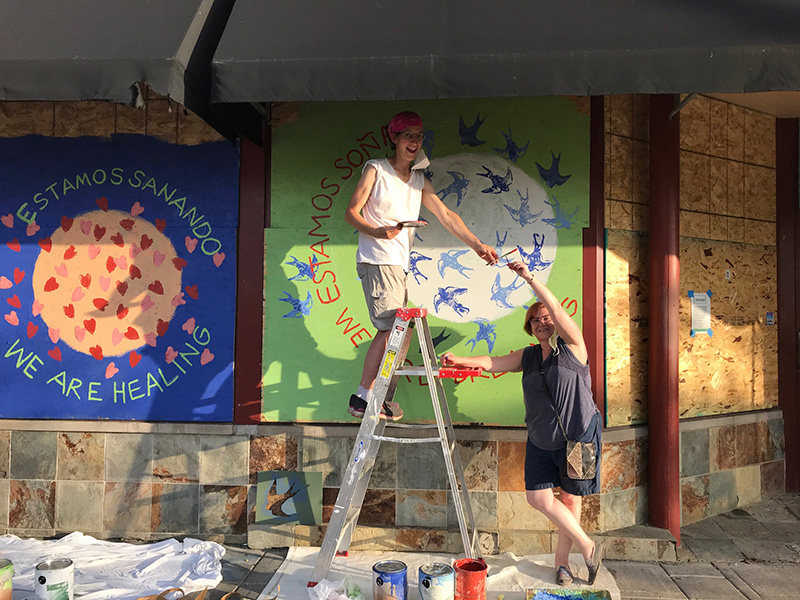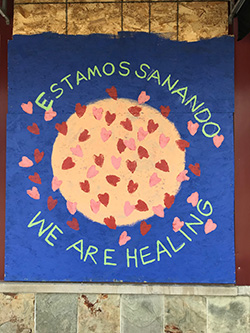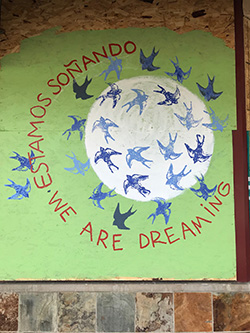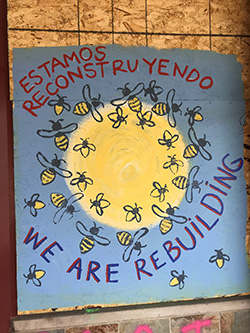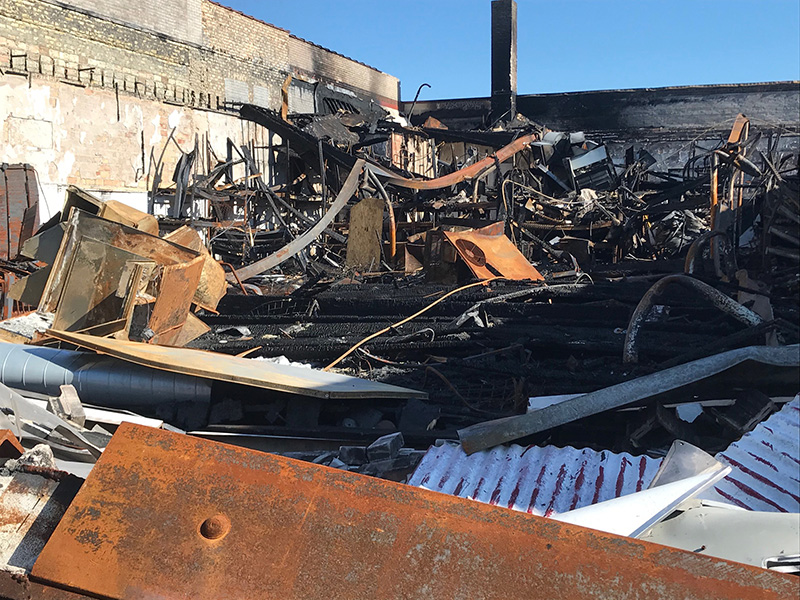 Given the circumstances of civil unrest and societal dis-ease, I couldn't think of a way that wool and felting could be useful, especially in my hometown of Minneapolis. My first response to the civil unrest in South Minneapolis was to immerse myself in the neighborhood I grew up in and love. I was filled with a desire to bring color to the burned out streets and buildings near the 3rd Precinct—my childhood home just one block north. Having painted dozens of community murals in South Minneapolis, this felt familiar, transformative and hopeful. It was a small action of healing and connection for me and a few volunteers that assisted. I'm pleased to see that the mural continues to brighten the burned out corner of Lake Street and 26th Ave where small businesses once thrived.
My second response to my personal challenge was to get to work in the studio, making what I make and as always, experimenting with what is possible. Fish pot holders have been swimming out the door and Abominable Mr T. and the DIY Bumble needle felting kit have been bumbling along. Both will be for sale at the Studio Tour (see below).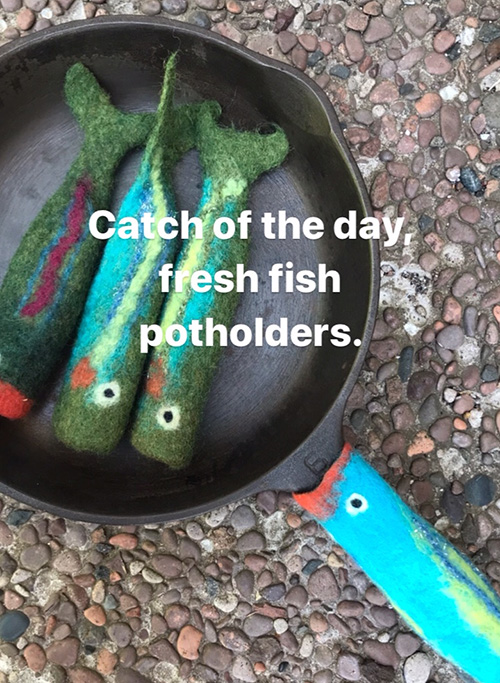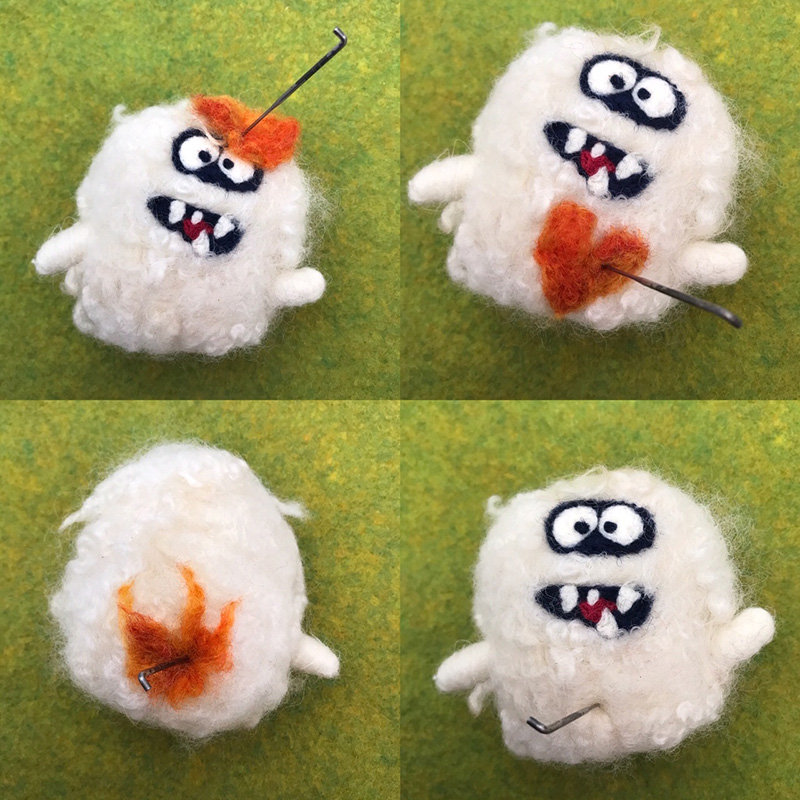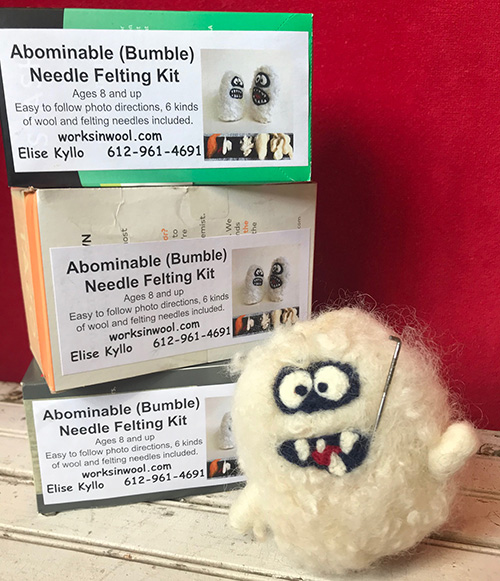 Bumble kits for sale at North House School Store (218-387-9762) or Art Along the Lake studio tour
Art Along the Lake Studio Tour
Thankfully, the 23rd annual Art Along the Lake Studio Tour begins this weekend and runs September 25th to October 4th. Dozens of artists will be showing and selling their hand crafted things. You are guaranteed to meet some really friendly and talented artists that will be selling their work and they will be very thankful for your visits. For more information about this studio tour go to https://www.visitcookcounty.com/event/art-along-lake-fall-studio-tour/
I hope you will stop by our studio above Betsy Bowen's Gallery, 301 1st Ave West, Grand Marais, where you will find my felted wool things and hand made cards from years past and Christine Novotny's lovely woven towels and scarves. You'll find an assortment of felted scarves, bags, computer sacks, potholders, creatures, cup cozies, earrings, and more. Our studios won't be accessible due to Covid, but we will have an indoor and outdoor space dedicated to sharing and selling our work. Christine and I are guaranteeing open hours from 10-5, Friday, Saturday and Sunday of both weekends. During Mon-Thurs, by appointment (612-961-4691) or your drop in luck.
My third response to challenges at hand or in my head and heart, is a combination of things: what can I offer others and what am I good at? Hopefully teaching will be more frequent in the near future….but for now what comes to mind are...
SOCKS!!!!
Winter is coming and no one should live in Minnesota without owning a pair of warm wool socks. As you may know I am not a knitter and won't be knitting hundreds of socks, but I am a dedicated recycler and a huge fan of repairing wool through the magic of needle felting and wet felting wool. I am working on repairing the socks with holes given to me over the years and will give them to a Minneapolis organization connected to the homeless or immigrants new to a Minnesota winter. I am looking for more socks. If you have socks you would like to donate, please drop them off at the double doors of Betsy Bowens church in the Sock Drop Box or mail them to me at Elise Kyllo ℅ North House Folk School, PO Box 759, Grand Marais MN 55604.
Please check out these photos for what is a good sock for repairing, versus a sock that is meant for the garbage.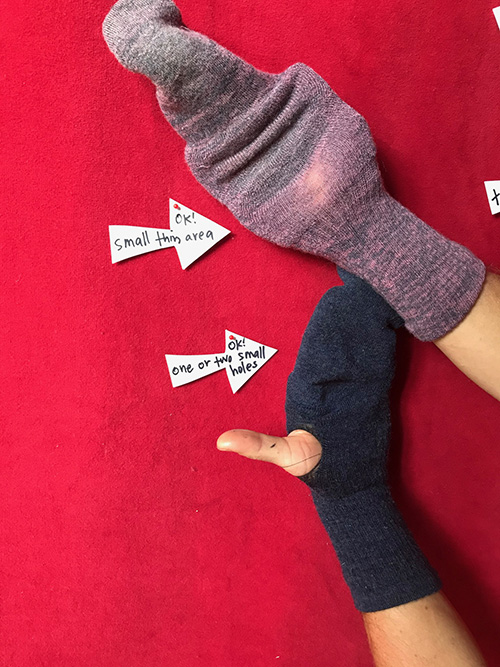 Good to donate for repair!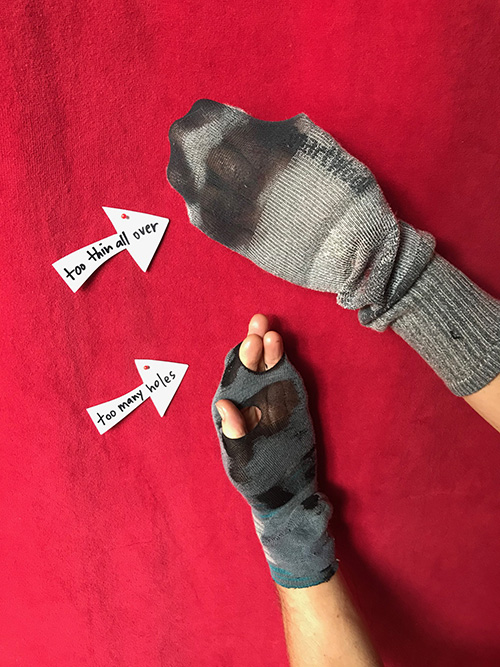 Garbage or compost
If you want to learn to mend wool socks yourself, you can check out the Facebook Live video I did here.
You are also welcome to join me for sock mending during the Studio Tour! Stop in and use the supplies I have to refurbish socks that have been gently worn but are no longer useful without a felted wool patch. You may bring your own holy socks to repair and/or donate and I will be available for any questions you may have and share tricks to making a durable and smooth patch for a socks second life. Feel free to invite others to participate as I would love to have such a mountain of socks that the old fashioned mending parties become a necessity!
Everyone deserves wool socks and warm toes in winter!