Drafting with block and unit weaves
Resident Artisan Christine Novotny discusses her explorations of block weaves in her textiles in her latest blog post.
I have spent the past few months moving through many ideas and exploring block weaves, specifically the summer and winter weave structure. The term "block weave" encompasses a wide range of weave structures such as monks belt, overshot, summer and winter, Ms and Os, and lace weaves. Handwoven Magazine's Madelyn Van der Hoogt explains block weaves as "a weave structure in which the same warp and weft threads can make two different-looking interlacements, one that we identify as pattern ("figure") and the other as background."
This is an example of a block weave in the overshot weave structure. There is a plain weave cotton "ground" that provides structure to the cloth, and pattern is created in the wool weft, that floats over several warp threads to create a pattern, or block.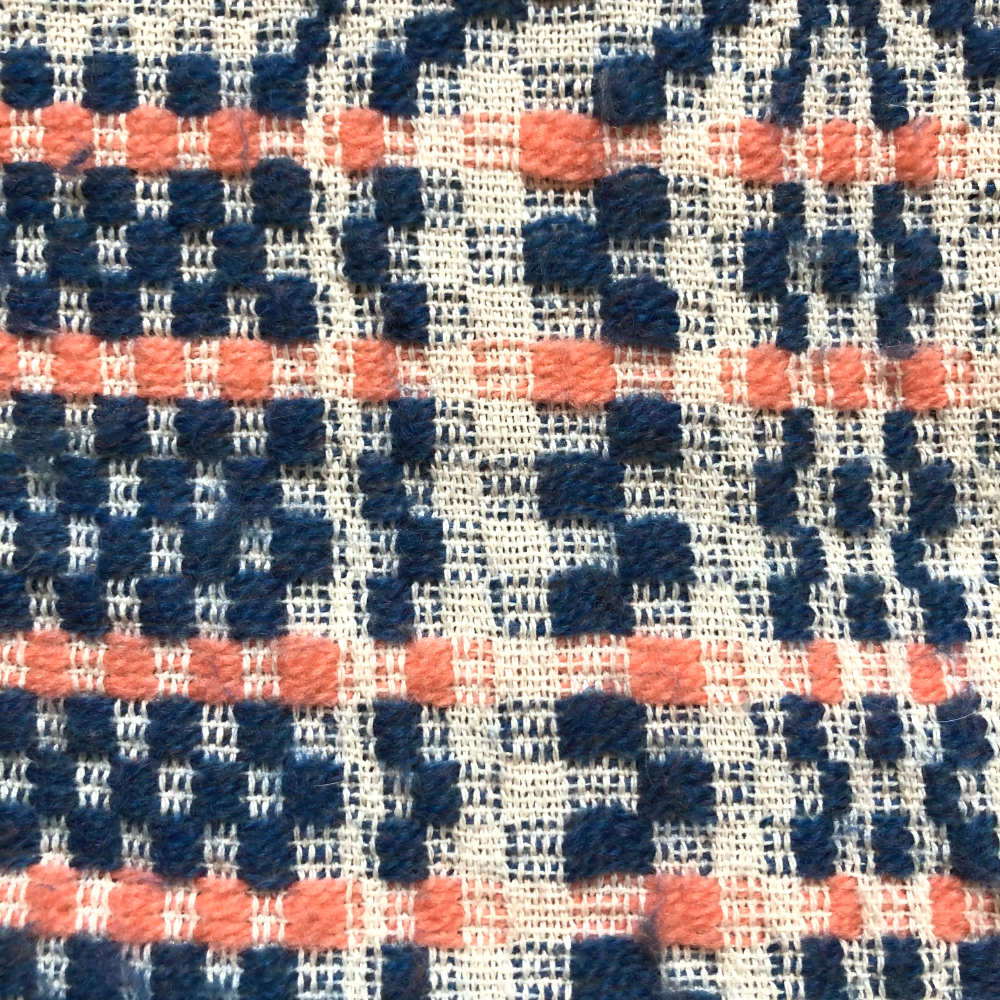 Overshot Weave structure, from the coverlet I wove last year. Notice how the blue wool floats over several warp threads to create a block of pattern.
There are limitations to these kind of block weaves. For example, if I am making a utilitarian object like a scarf or a towel, and want to make a 2" wide pattern block, I can't draft that with overshot. I'd end up with a very long and vulnerable weft thread that is just hanging on the cloth. It would snag on everything! That's where unit weaves come in.
Unit weaves are block weaves that have interlacement within the block. Interlacement is interaction between the warp and weft thread to hold a thread in place. So instead of a pattern thread floating over many warp and weft threads, it will float over several warp threads, but then under one warp thread, over several, under one. This creates a large pattern block that is very secure. Summer and winter threads is a great example of this.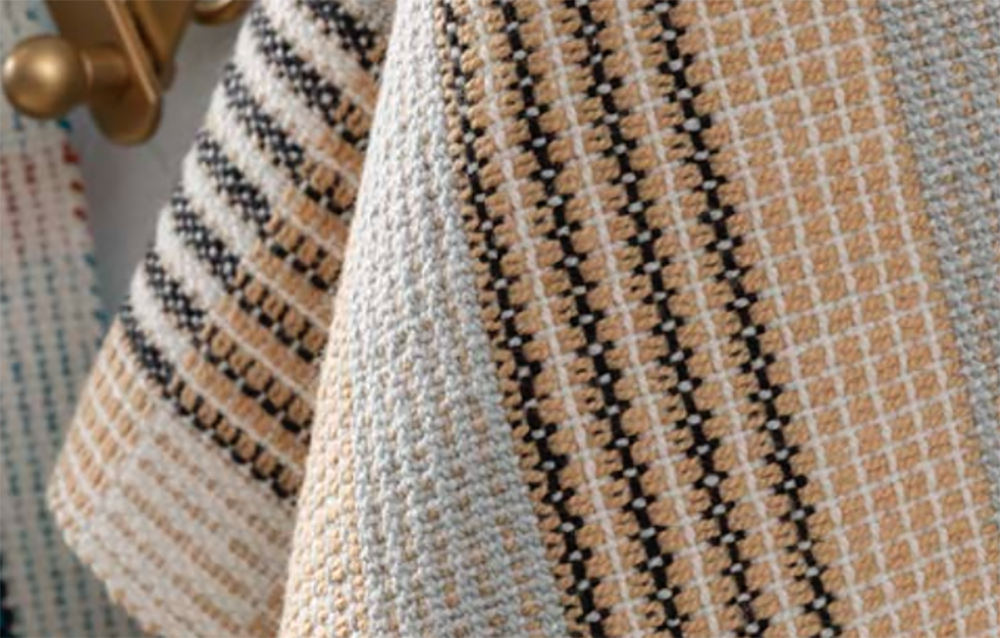 Summer and winter towel detail in dukagang style. Each pattern weft floats over 3 warp threads, then tied down by 1 warp thread. This is continued throughout the block. It creates a large swath of color without one very long float.
And then there are the interesting detail visuals that happen when you combine the two. I have been experimenting with changing the size of the units in a block to create a detail pattern. This creates several interesting reads. From far away, the woven goods still have obvious blocks, areas of color pattern and areas of plain weave. But close up, there are really lovely details that happen within those blocks, which gives people a really interesting macro and micro view. The difference of proportion between the units can also create optical color effects, changing the value and tone.
I've spent the past few months developing this idea though a series of utilitarian objects of different sizes. Here's a few of them: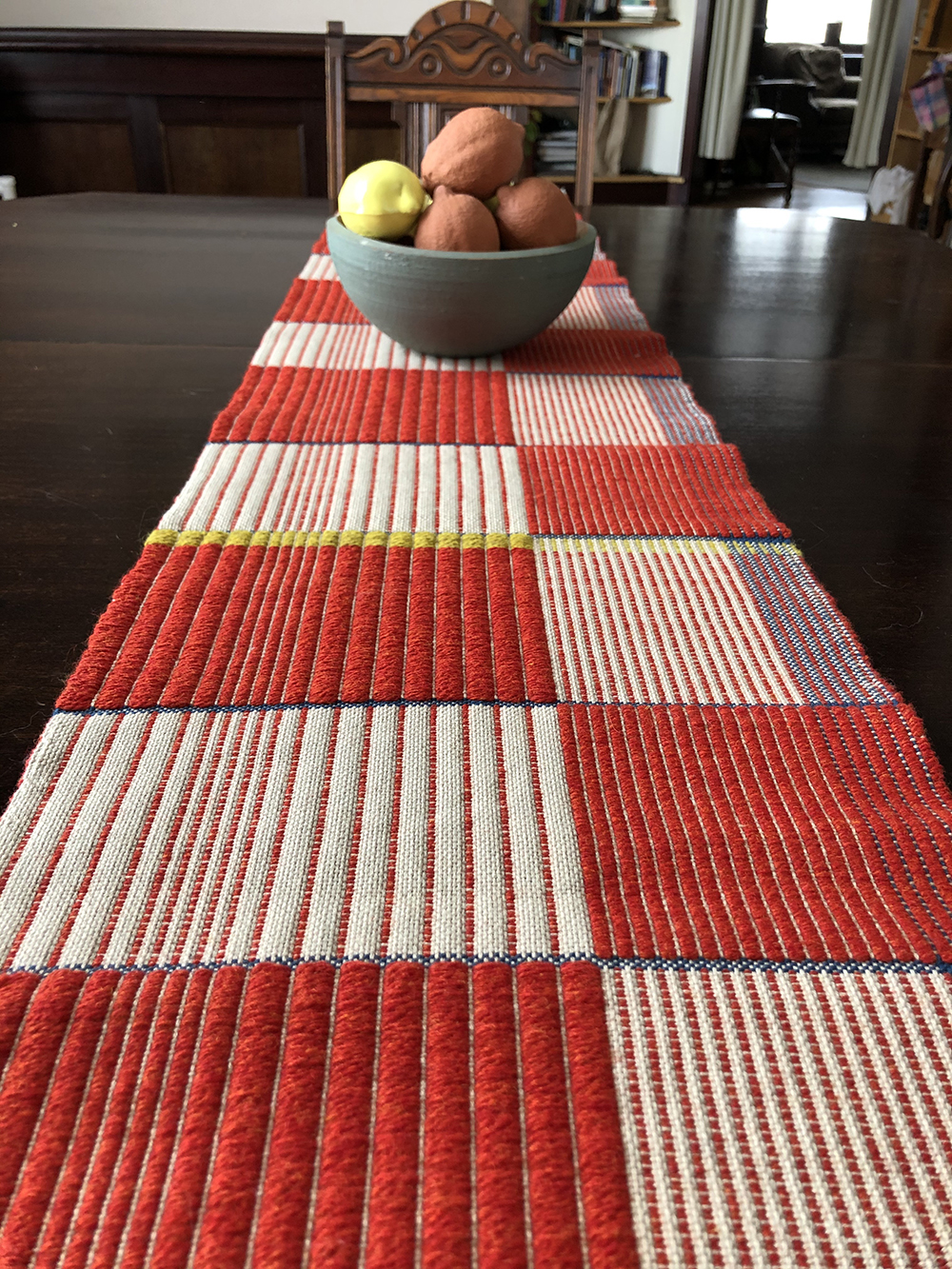 Tablerunner with wool pattern and cotton ground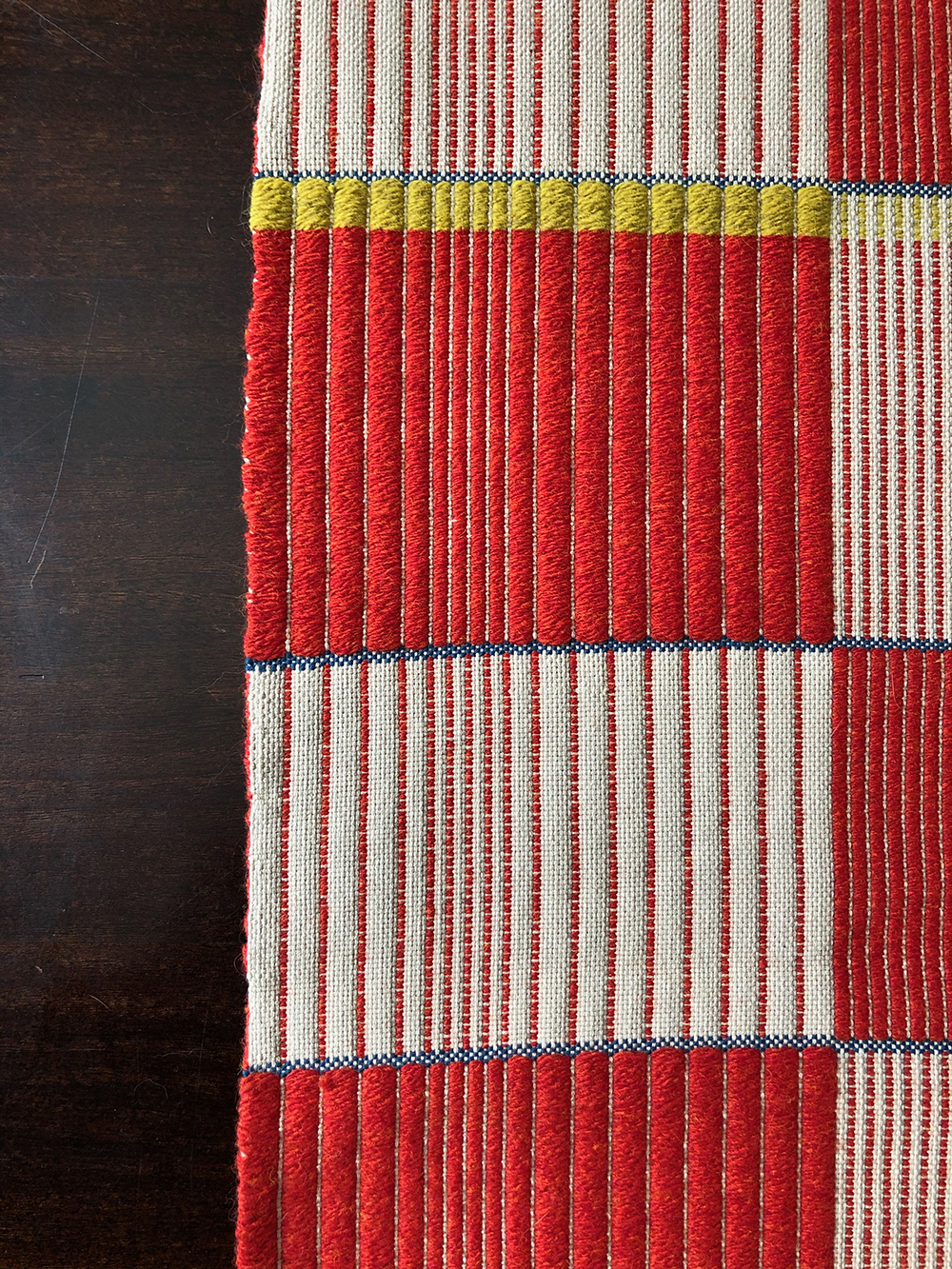 Closeup of Tablerunner, notice the size difference between units within each block and between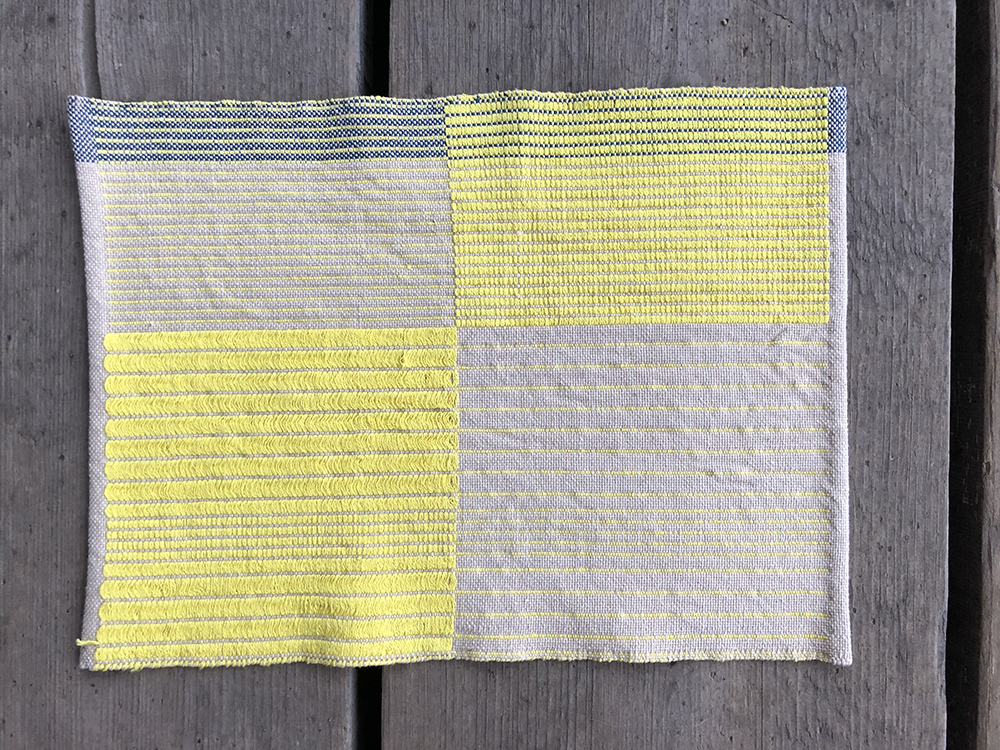 Placemats with yellow linen pattern weft and cotton ground, same warp as red wool tablerunner but with larger blocks.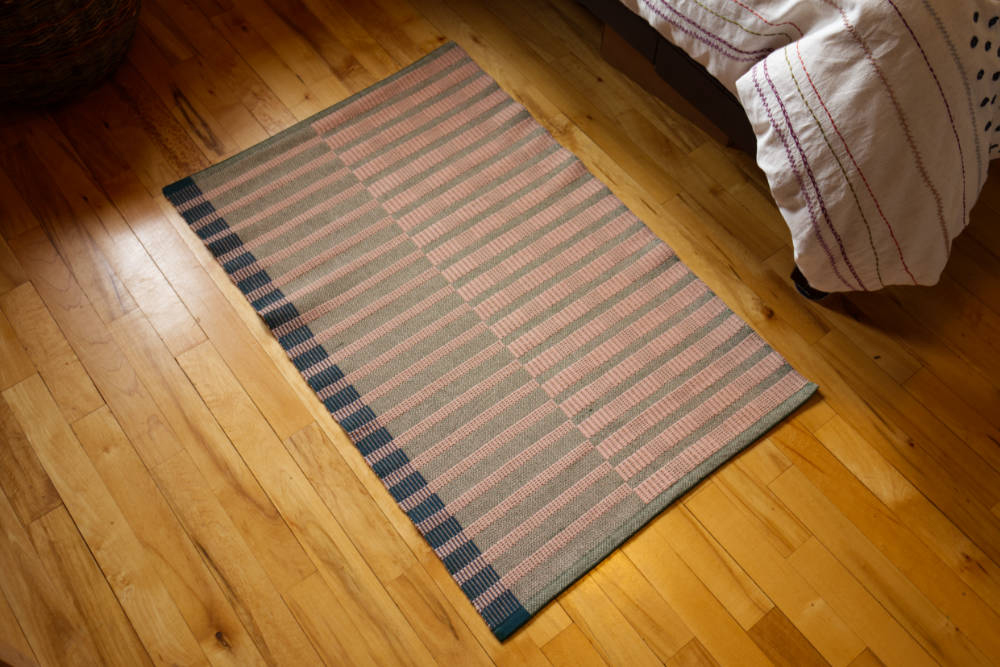 Rug with wool pattern weft and cotton ground, smaller units to avoid snagging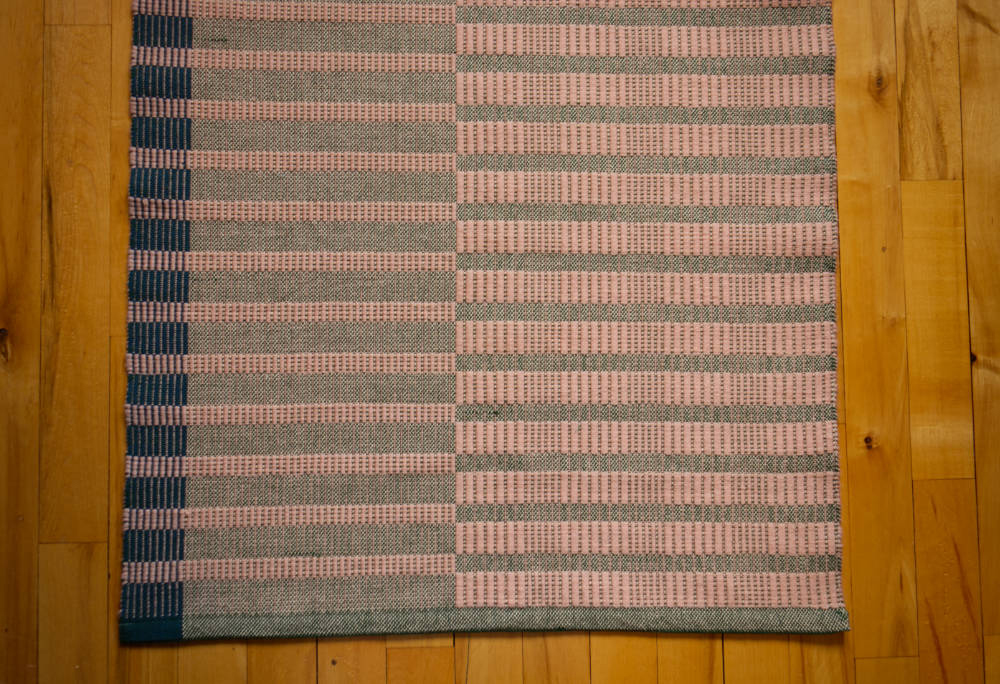 Detail of rug, notice how the longer wool floats appear lighter and the shorter floats appear darker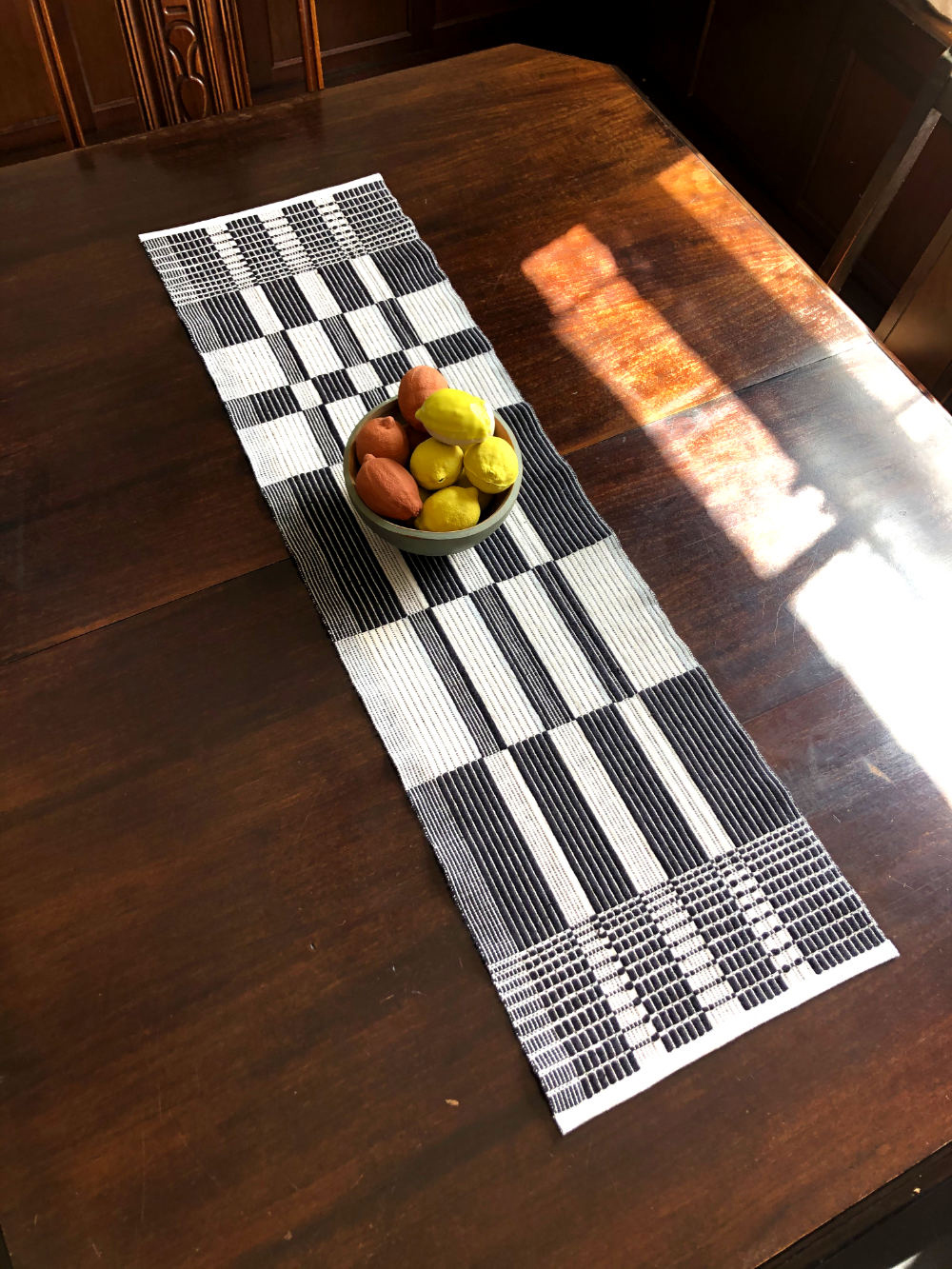 Tablerunner with linen pattern and cotton ground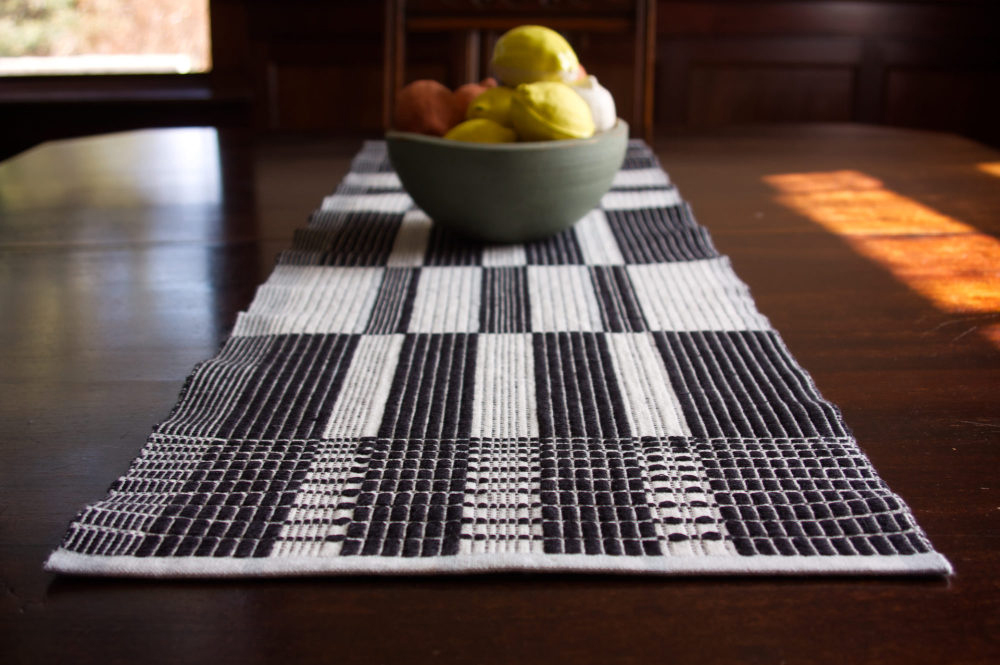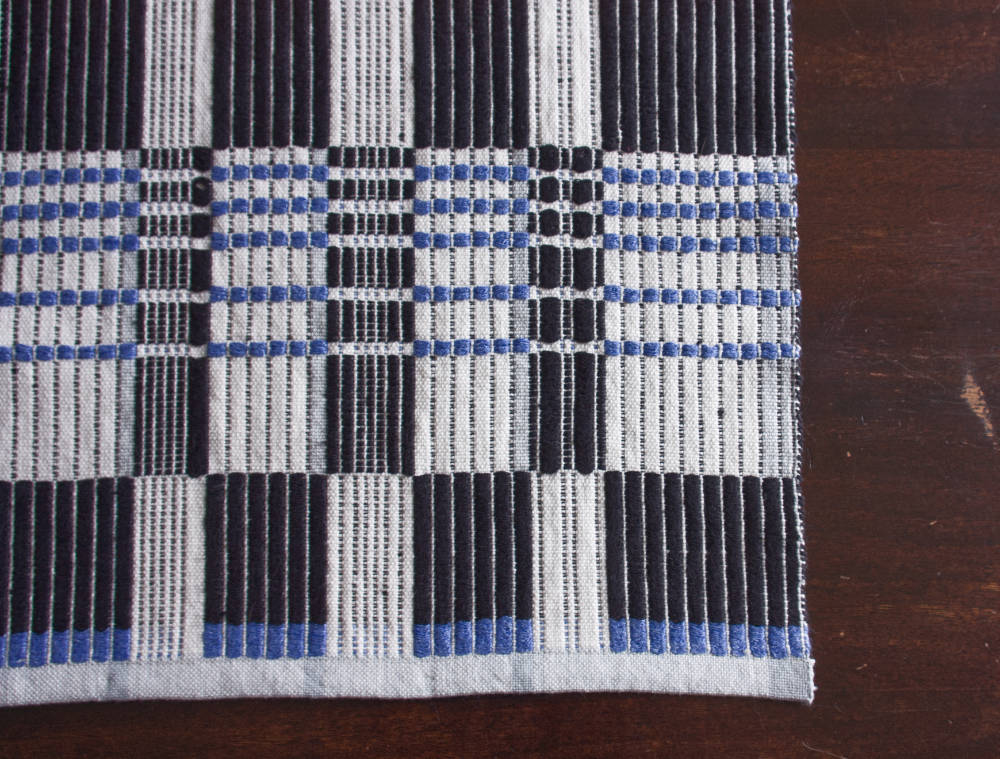 Details from two tablerunners, notice the different unit sizes in the blocks
There's always so much to learn as you push the boundaries of different weaves. Fascinating transformations happen along the way, all through the interlacement of warp and weft.