Creating Connection in an Online Marketplace
In her latest blog post, Christine Novotny searches for new ways to communicate and connect with customers in lieu of having the tactile, face to face opportunity to shop for her woven goods.
Posted on December 8, 2020
In lieu of so many lovely holiday sales this time of year, I focused my fall months on creating a small body of work for a webshop for my weaving business - CAN Goods. The webshop is a different experience when shopping for handmade goods. You get all the beautiful visuals, but less of the personal connection with the maker, the chance to hear the story about the creations, the opportunity to touch the items or try them on. We already share so much of our world through screens, and the pandemic has taken that reality to a WHOLE new level.
As craftspeople and lovers of craft, we know that so much goes into something that can seem so simple. To deepen the connection to pictures on a screen, I am going to highlight a few of the pieces in my shop, a bit about their process and inspiration, and what I was thinking about as I wove these pieces.
If you follow our North House Blog, you may have read about my love for color and the ways I consider it in all of my handwoven work to create different effects. So you'll see color at the forefront of every design consideration.
Color and Movement
Creating movement is something I try to do in all my textiles. For this wool shawl, I wanted to create some movement in a vertical warp gradient that shifts from white to shale gray to a deep sky blue. I often do not choose the colors for the weft until I sit down to weave. I play with color combinations for up to an hour, winding small bobbins of colors I want to try.
This Sunrise shawl came through that experimentation. I settled on an analogous color scheme of multiple
blues and bright complements of orangey coral stripes to help intensify the cool colors. (Take my Color Theory through Weaving class to learn more about making color decisions!) This color combination immediately reminded me of early morning walks that I have been taking to Lake Superior, watching the sun rise at the small beach behind the Whole Foods Co-op, dappling wispy clouds with vibrant orange.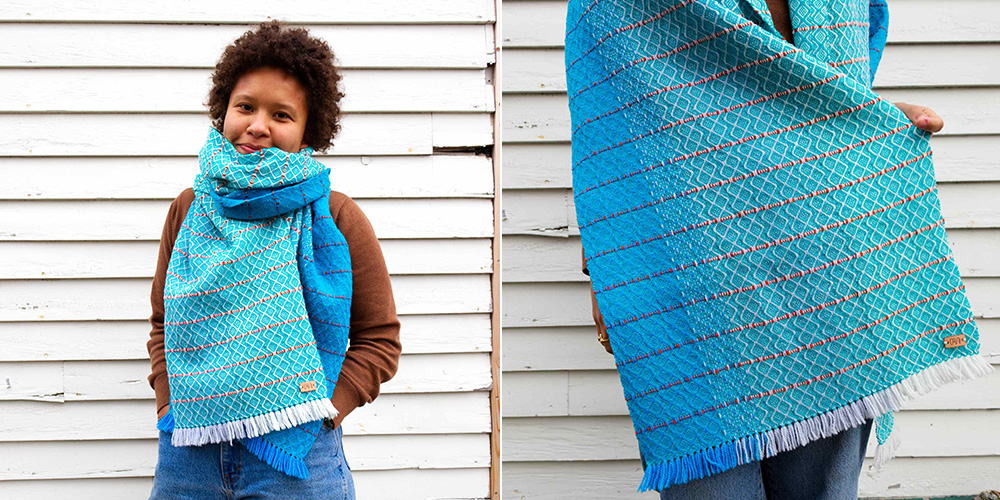 Intern Nia rocking the SUNRISE Shawl
BRIGHT Lace Towels in Pinks, Greens:
Color and Texture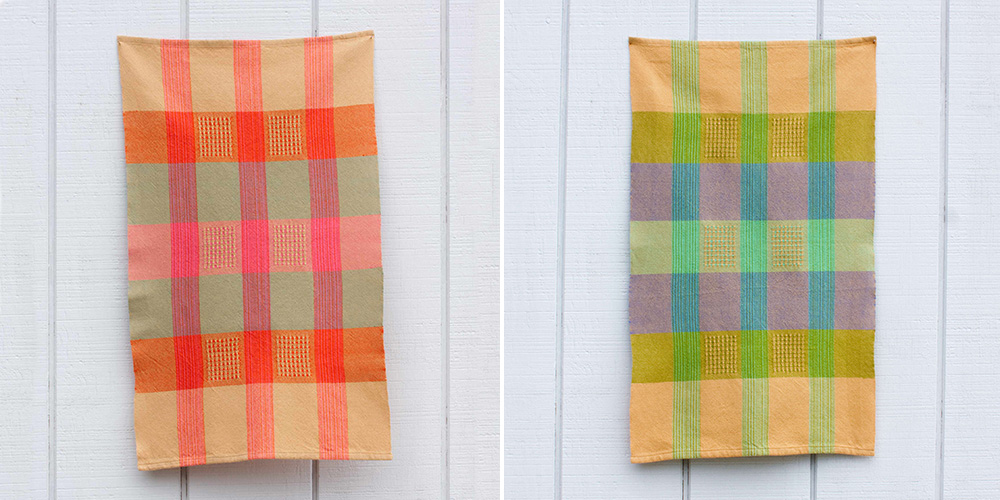 Having painted most of my life, mixing and combining colors is both satisfying and second nature. This year, I have been inspired by two tremendous weavers, Kelly Marshall and Arianna E. Funk, to hold different colors together as I wind the warp or wind bobbins of multiple colors and use them as one. In these two towels I created bands of neon by holding pink and orange and seafoam and lime green. When the weaver threads the loom, they can choose to thread the colors in a simple ABAB pattern (pink/orange/pink/orange) and this consistent sequence allows the colors to visually combine more and become one new color. Alternatively, I opt for a bit of randomness in color sequence - 2 pinks, 1 orange, 1 pink, 2 orange etc. And here's where the texture begins. When we talk about texture, we often think of tactile texture, but there are many kinds, and I see multiple in these towels. Those multicolored stripes provide an optical texture, a buzzing puzzle for the eye to work with due to the difference in colors and values. The boxes of beige provide visually and physically smooth and calm moments. And the floating boxes of swedish/huck lace create a bumpy and absorbent tactile texture. So much can happen in one piece of cloth, and I hope people can appreciate that as they have them in their home and use them to dry their clean hands.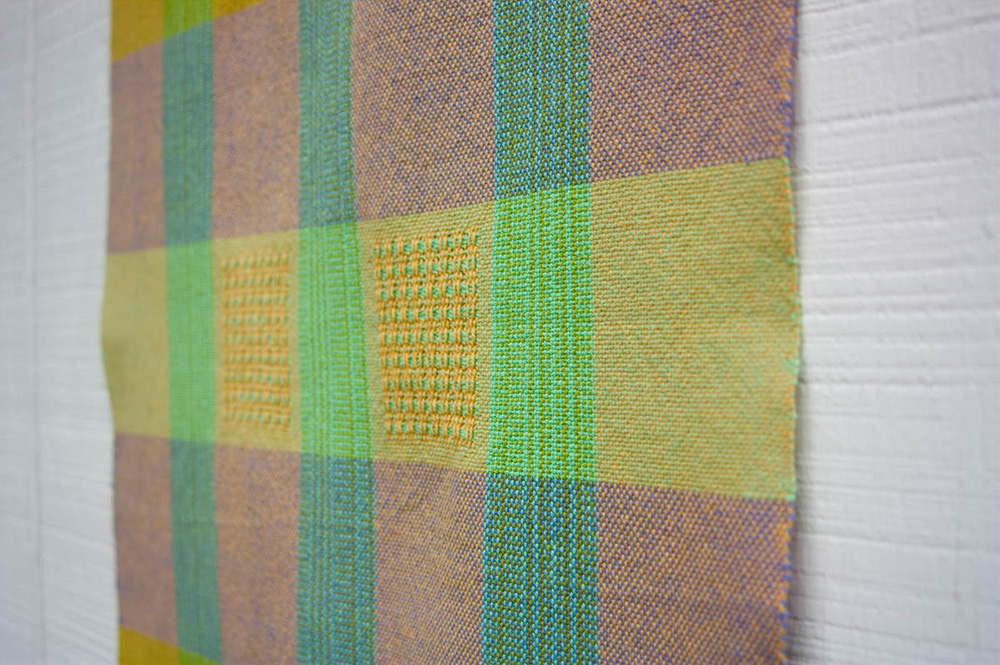 Closeup of all the textures
Color and Detail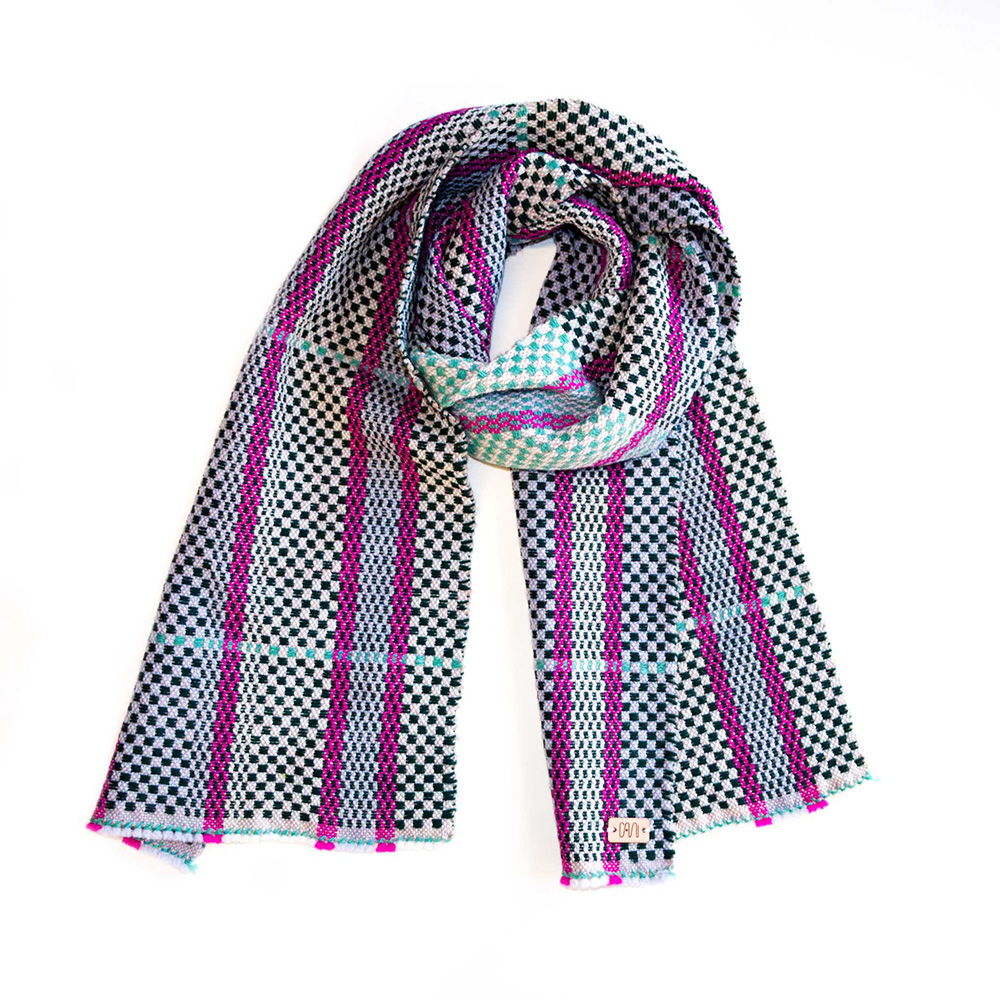 I love bright scarves. In the cold Minnesota winters, we live in puffy winter jackets, often black or grey, practical neutrals that can handle the hard wear and few washes we give. But scarves are where we get to have FUN! A bright patterned scarf spruces up any jacket and keeps a person looking fly and feeling warm. These scarves, just like the GRADIENT shawls, are 100% wool.

Scarves are forms that I love to play with because they come alive as they move around a body. For these scarves, I wove a teal pop of color that shows just around the neckline of the scarf as it wraps. That same detail color is utilized in contrasting stripes throughout the rest of the scarf, and as the stitching thread in the my hem stitch weft protector at each edge of the scarf. These small details transform a utilitarian neck warmer to a considered piece of art.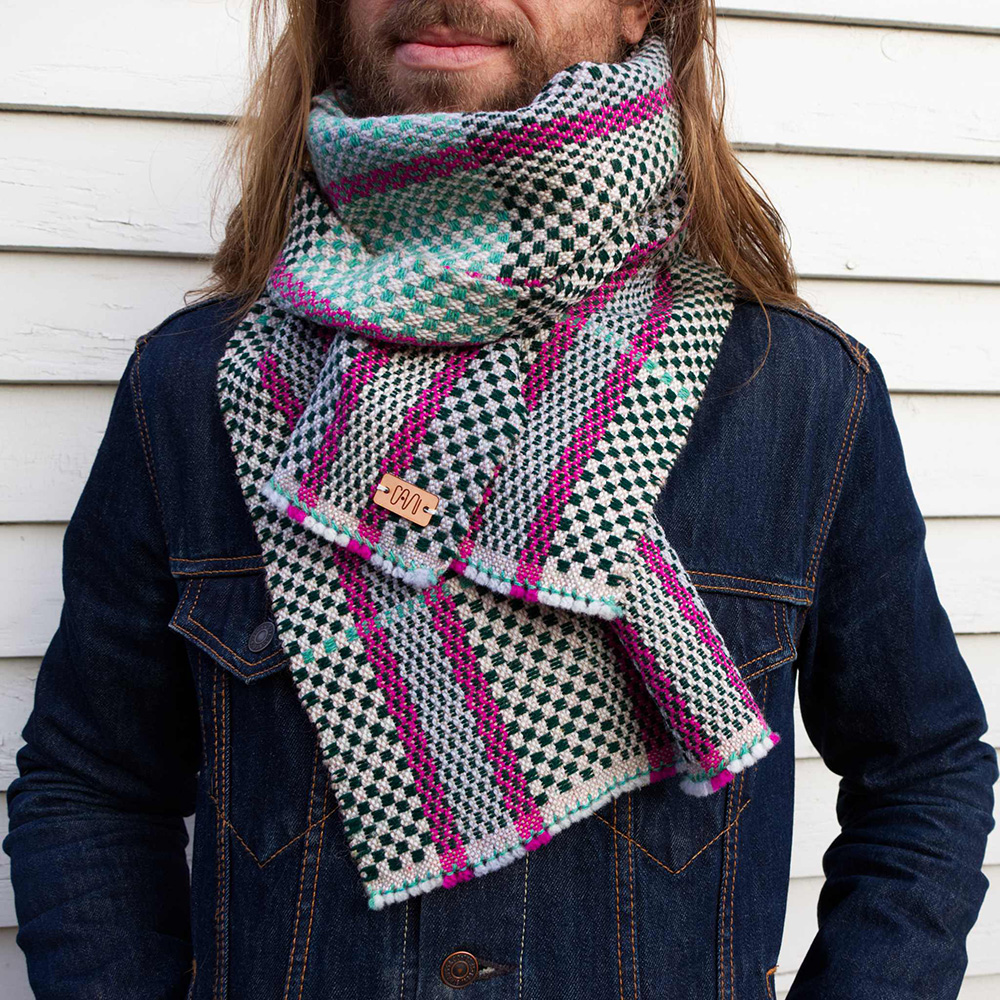 Ben in the FOREST Checks Scarf
I hope these words gave you insight into my process and a deeper appreciation of all the decisions and thoughts that go into a handmade object.
Last but certainly not least, 15% of my sales on the CAN Goods webshop during November and December will be donated to Crafting the Future! Crafting the Future (CTF) works to diversify the fields of art, craft and design by connecting BIPOC (black, indigenous and people of color) artists with opportunities that will help them thrive. I have learned about some incredible artists on CTF's network and am so excited by the work they're doing to optically increase BIPOC representation in craft, and give opportunities to emerging BIPOC craftspeople. Through my residency with North House Folk School, I am reminded how important it is to create a space where so many lives and cultures can intersect, inspire and celebrate the various traditions and innovations that craft moves through.
Thank you all for reading! As this will be my last blog post of 2020, it has been a pleasure to write for you about the weaving process and my craft. Looking forward to more in 2021!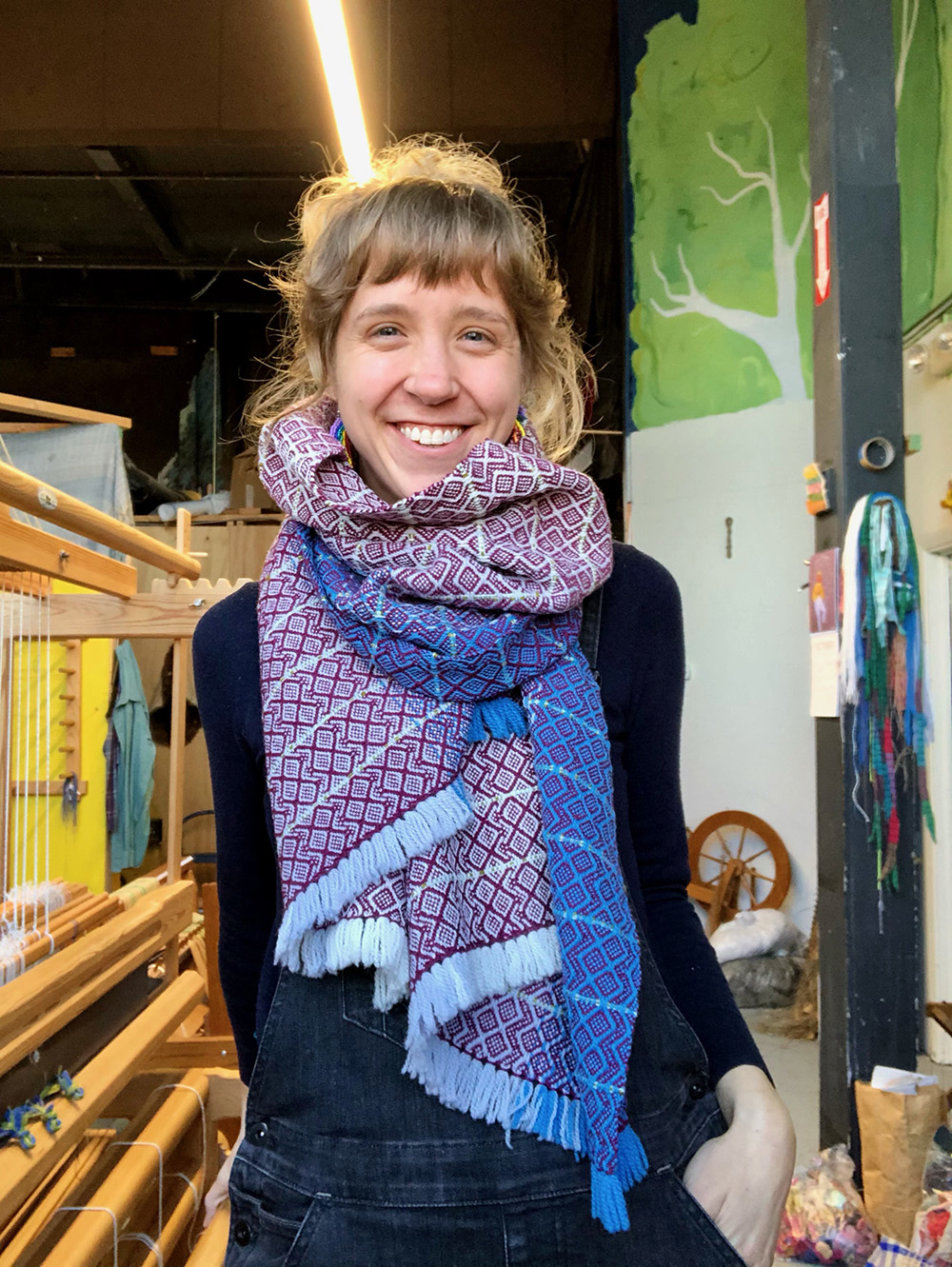 Me (Christine) in my studio, wearing my AMARANTH Gradient Shawl