Blacksmithing: Path to Apprentice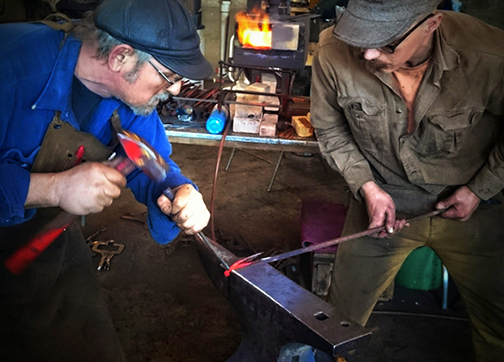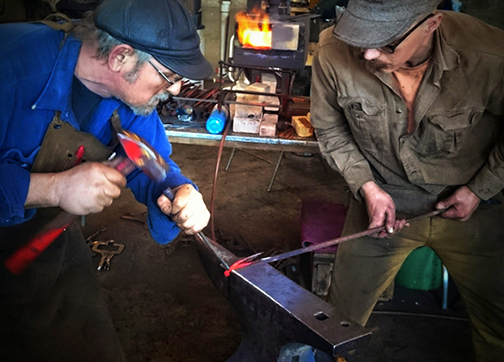 How do you forge a blacksmithing career? According to North House blacksmithing instructor Dave Hanson, there is no structured or formal path to becoming a master blacksmith in the United States. There are many blacksmith and metalsmith guilds out there with a list of points one should hit before becoming a master, but the list changes from guild to guild.
In the old days, the path to becoming a master in a trade was through an apprenticeship under a master, which could last for years, or even decades. When the apprentice was skilled enough, they would move on to become a journeyman and travel and train under more masters. After more years of training and achieving feats of strength, the journeyman would prove themselves to be a master in the eyes of other masters. Dave is humble enough to never call himself a master blacksmith, but he has taken on assistant instructor Cody Myers as an apprentice.
Cody's first introduction to blacksmithing was about five years ago in Dave's damascus blade forging class at North House. In typical North House fashion, the blacksmiths worked late into the night each day and Cody was hooked. Later, Dave invited Cody to his shop to continue "playing" in the fire, and he kept returning to work the metal more. When the time for Dave's next blacksmithing course at North House was coming up, Cody asked if he could come along. Dave replied, "Hell, you're going to help me teach it!" Since then Dave and Cody have been co-teaching in the North House blacksmith shop allowing for more one-on-one time with students and allowing students to hear multiple points of view on a topic.
Outside of teaching at North House Cody has also set up his own forge and business as Wolf Heart Blacksmith, to make and sell damascus blades, tomahawks, axes, traditional ironware, and more. Recently, to Dave's delight, Cody has started working towards a masters in bladesmithing. Which in contrast to blacksmithing has a very formal and regimented criteria to becoming a master set out by the internationally recognized American Bladesmith Society.