A Visit to Sätergläntan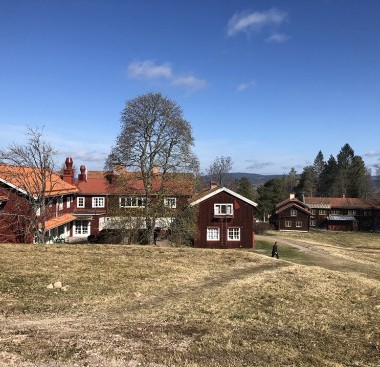 Resident Artisan Christine Novotny is traveling through Scandinavia as part of the Artisan Development Program. She writes about some time spent at Sätergläntan, a folk school in Dalarna, Sweden, in her latest blog post.
Hello everyone! I am about halfway through a five week trip through Scandinavia, where I have the great honor to travel to different cities, meet weavers and textile artists, visit folk schools, and explore textile traditions and cultural heritage. I spent the first week and a half in the beautiful city of Stockholm, where I enjoyed time with members of innovative young weaving group Studio Supersju, met Frida Lindberg, textile artist and owner of Alice Lund Atelier in Borlänge, and visited so many incredible museums in the area. Check out my Instagram @ChristineNovotny for tales of the first part of my journey.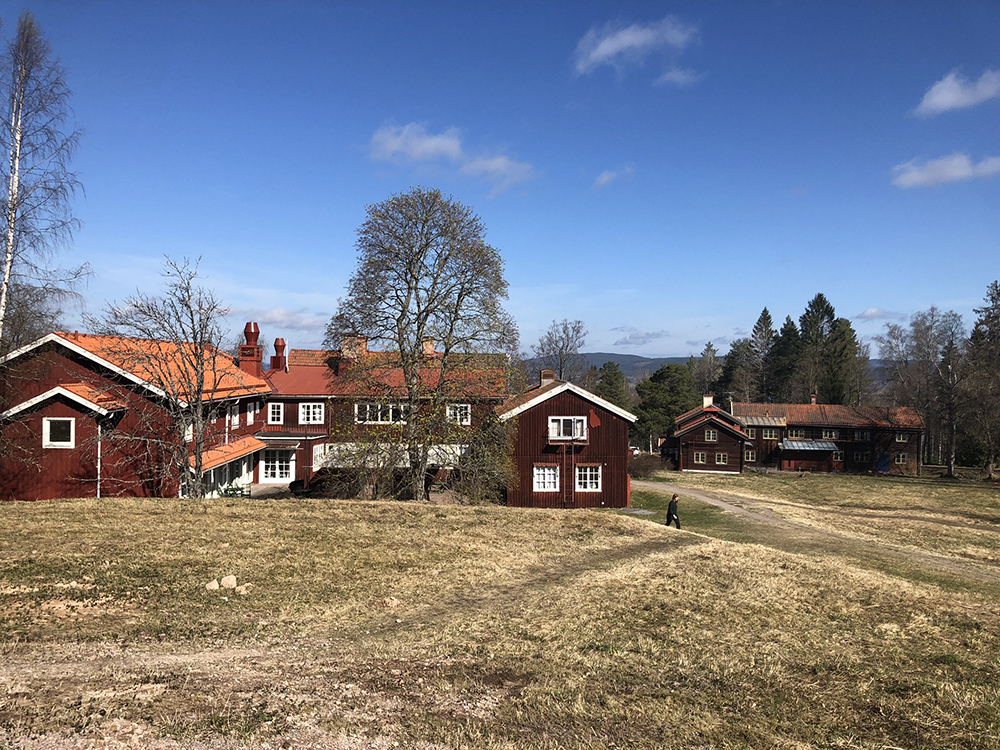 Last week I was lucky to travel to Sätergläntan, a folk school in the Dalarna region of Sweden that is a sister school to North House. I came at a bustling time - students were preparing their final project for the year. Students at the school can decide to do an inspiration or a reconstruction project, where they complete the whole project and then write a long paper on technique history of that particular kind. There was a Rya rug with all handspun and naturally dyed yarn, a beautiful set of linen and wool curtains with hand dyed yarn and a combination of different weaving techniques, a huge lock made by a blacksmithing student, and reconstructions of folk costumes from the Dalarna region. While students were finishing their final projects, I had the great pleasure to spend time with Stefan Moberg, a weaver and spinner from Stockholm who will be one of two permanent weaving teachers at the school starting in August. He was kind enough to set up a loom for me to work on before I came. Unfortunately, I was busy so busy with other adventures at the school that I was only able to weave less than a meter of the 3 meter warp that he set up! But it was very special because I got to use some handspun linen from their stash, and some indigo handspun linen that first year students had dyed.
On Thursday, Stefan and I went on a field trip to Dala-Floda, a small village about 50 km away from Insjön. We visited Walstedt's Mill, 100 year old mill in Dala-Floda that spins high quality yarns using Swedish sheep breeds. I've learned on this trip that rya is sheep breed, a type of yarn, and a weaving technique! The sheep are known for their long Guard hairs, and lustrous fibers. The yarn that comes out of Walstedt's is truly beautiful, and has a gorgeous shine while also being very strong.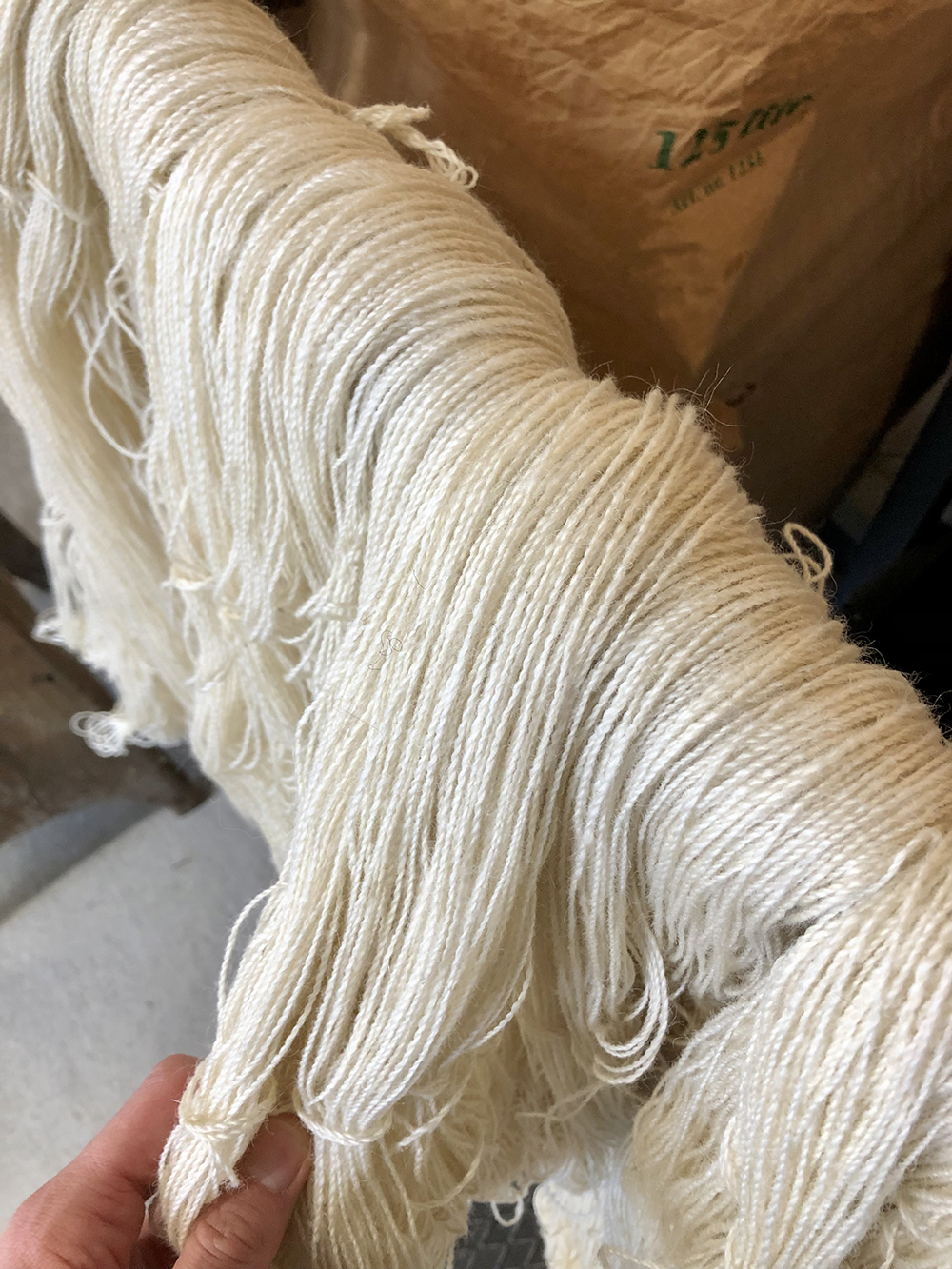 Roger and Sonia are from Tasmania, but the mill has been in Sonia's family for four generations, so they moved to Dala-Floda about 10 years ago to take over the business. Among spinning and dyeing weaving and knitting yarn for consumers, the mill produces and dyes all of the yarn for Helena Hernmarck's large picture tapestries. I was able to look through a huge binder of sample yarns for a tapestry in New York. Walstedt's keeps record of all the yarns used in case the piece has to be repaired in the future. I've learned a lot about this type of large-scale tapestry/carpet handweaving in my time here, via the rugs made at Alice Lund or Marta Mass Fjetterstrom. It's truly a collaboration between the artist and designer who creates the image and maps of the colors, the spinners and dyers who interpret designs and match colors, and the weavers who are weaving the piece and constantly making decisions about how to mix colors together.
I loved visiting with Roger and Sonia, Australians in central Sweden, good, kind people and very funny. I picked up Flossa yarn that they made for Marta Maas Fjetterstrom studio in Southern Sweden, a black and white wool single ply, as well as a high twist wool single that I'm excited to experiment with when I come home!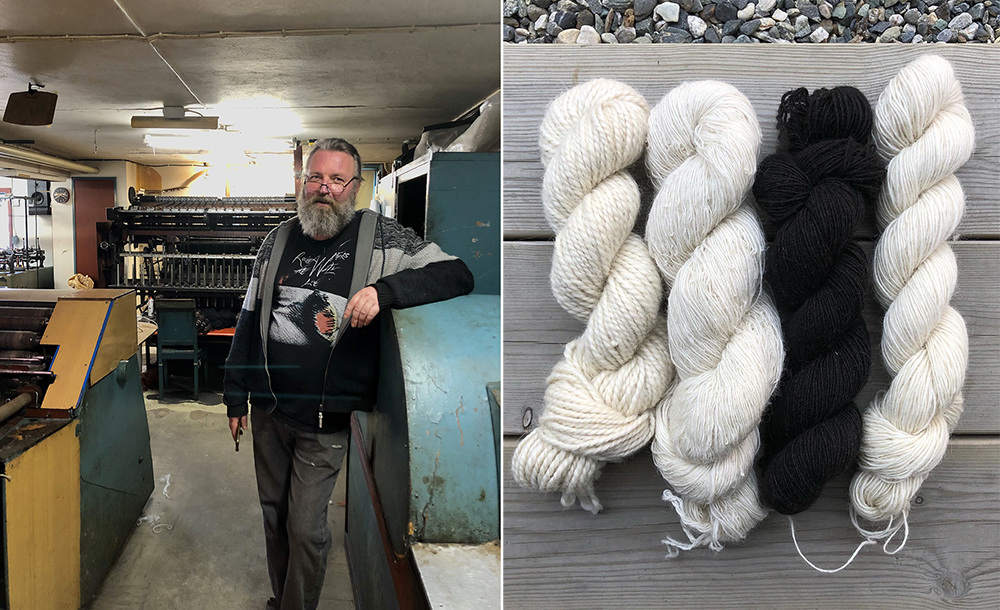 After Walstedts, Anna Karin came and picked up me and Stefan, and we went to the water-powered fulling mill which is just outside of town sitting on a little river. Fulling is the process of agitating woven wool fabric until it begins to felt together, which makes the fabric very strong and weatherproof. A huge water wheel turns when the water is diverted to the mill and spins large planks of wood that pounds down over and over on the wool fabric. This fulling Mill was used to make Vadmal, which is a woven wool fabric that is so highly felted that you can no longer see the interlacement.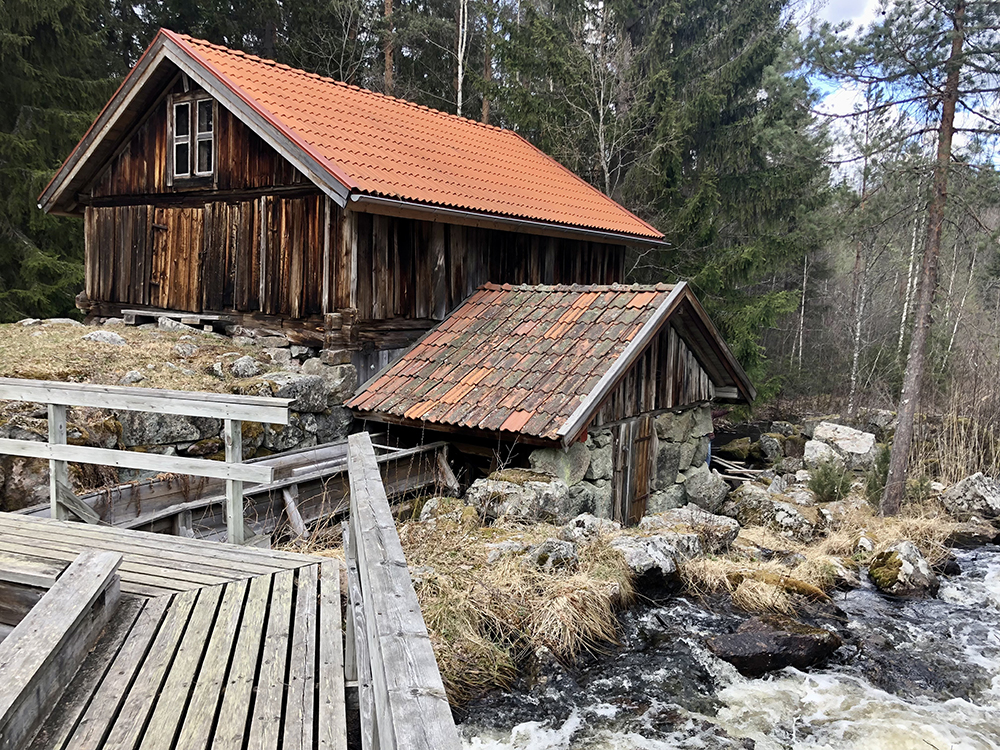 The compartments had to be filled with at least 30 meters of fabric and would have to be pounded for almost 6 hours for the fulling to be completed.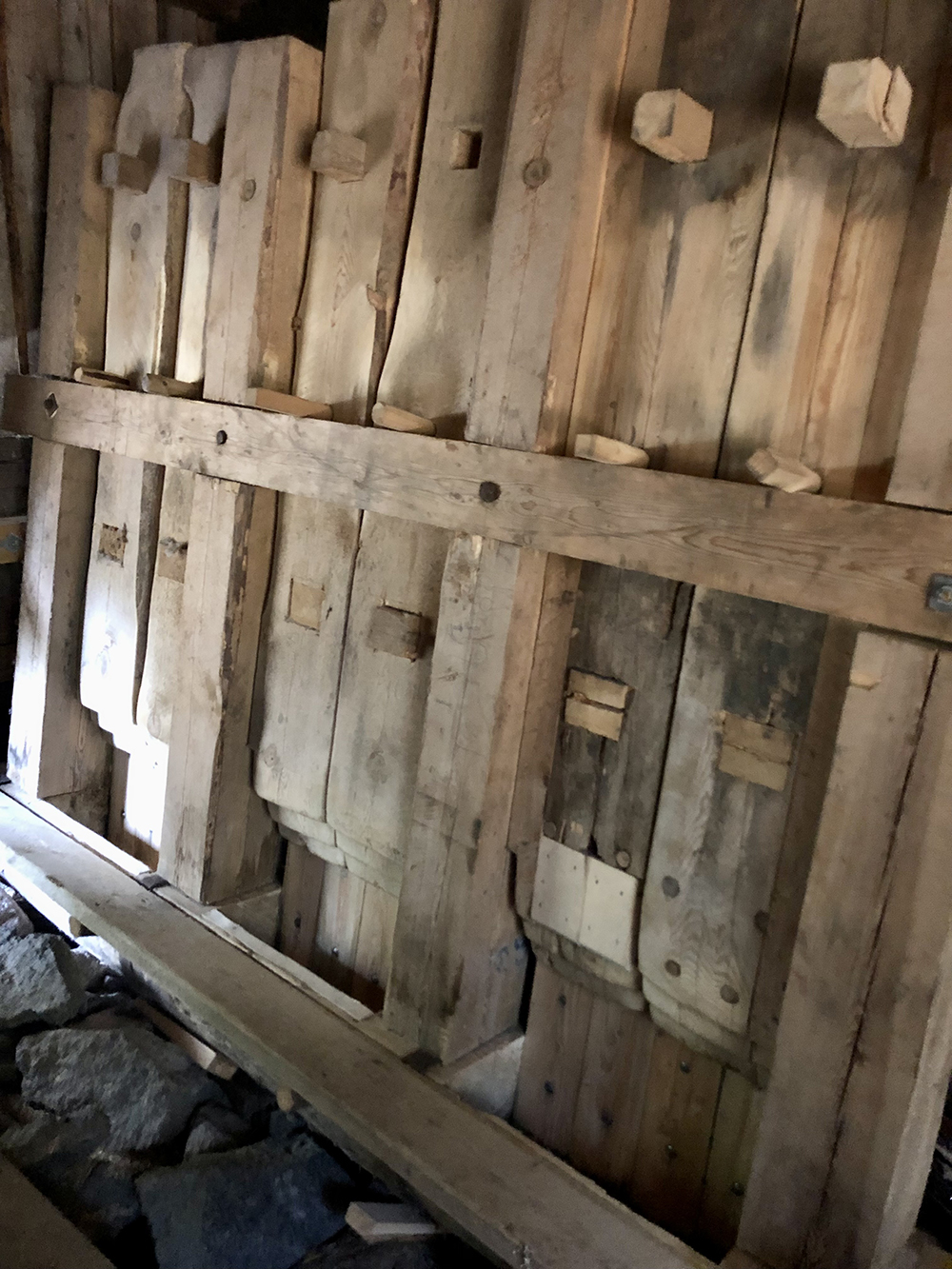 Next week the weaving students at Sätergläntan will come with several meters of woven fabric and use the mill to full their fabric. Anna Karin works for a historical Society in Dalarna, and she and a small team help keep the fulling mill active and running. This past year they replaced the water wheel. It's an incredible treasure to see one of these mills, which were likely prevalent in many regions of Sweden, be kept in its full usable glory!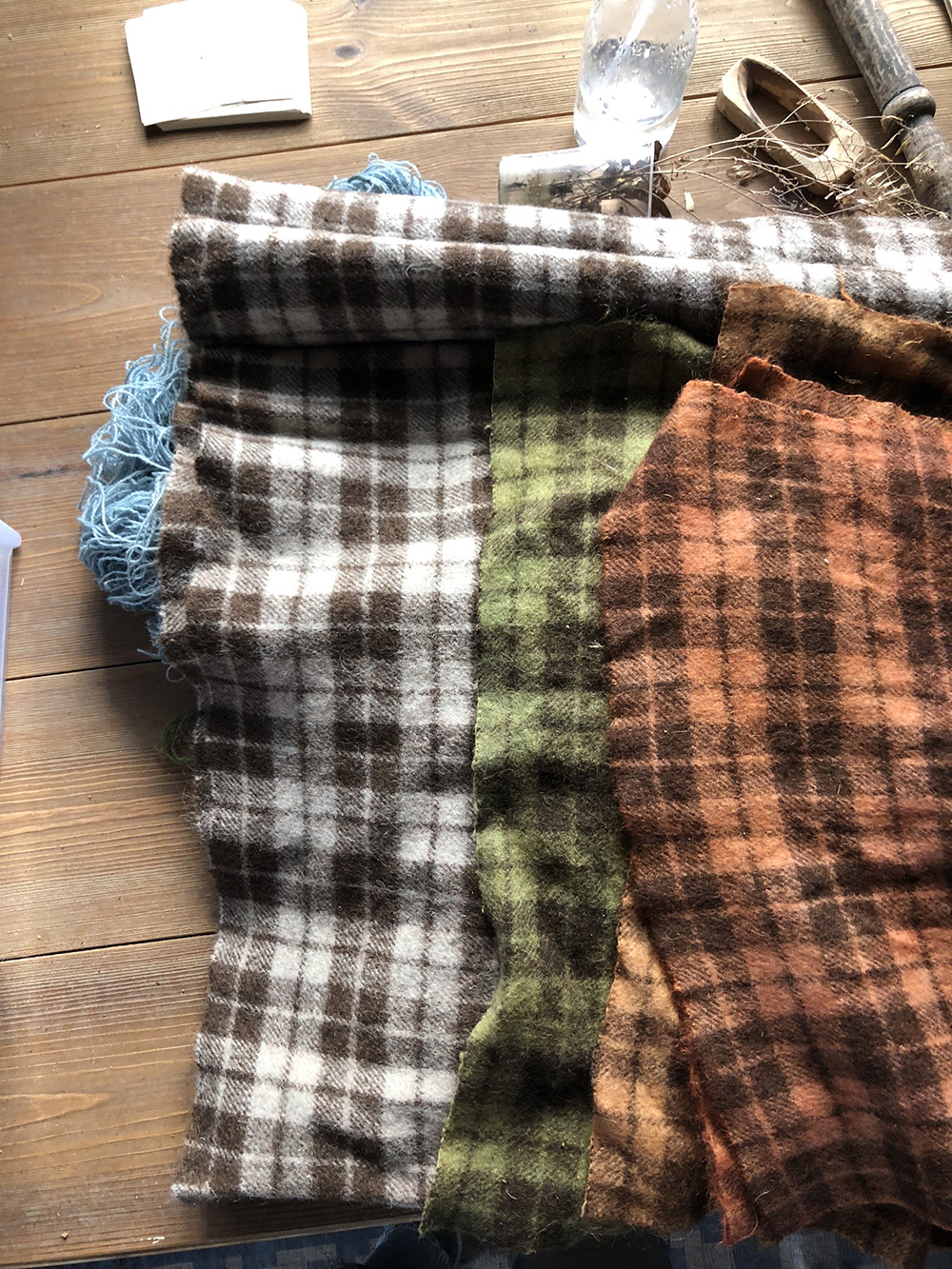 On Friday, my gracious host Stefan left for the weekend and I spent the rest of the time with students from Sätergläntan who had finally finished their huge projects, and spent some time decompressing. I loved talking to all of them, hearing about how they got to the school, why they're there, what their interests are. That has been one of the best parts about traveling so far. I meet people who are really easy to understand and get along with because we immediately have a shared love of craft and handmade objects. On Saturday, Leen, Anna, Ellen, and Leo took me to Sundborn to visit Carl and Karin Larsson's home. Carl Larsson is one of Sweden's most famous artists. He grew in popularity during the arts and crafts movement of the late 1800s and early 1900s. Karin is also a painter, but turned her attention toward raising their 8 kids while making their house a work of art. She was an incredible textile artist and the home is full of her beautiful weavings, Everything from blankets to upholstery covering the chairs, to tapestry upholstery, to tapestries are used as curtains. You're not allowed to take pictures inside the house, but this is a picture from a postcard that I purchased that displays one of my favorite pieces in the house, curtain that separates Karin and the children's room from Carl's sleeping room.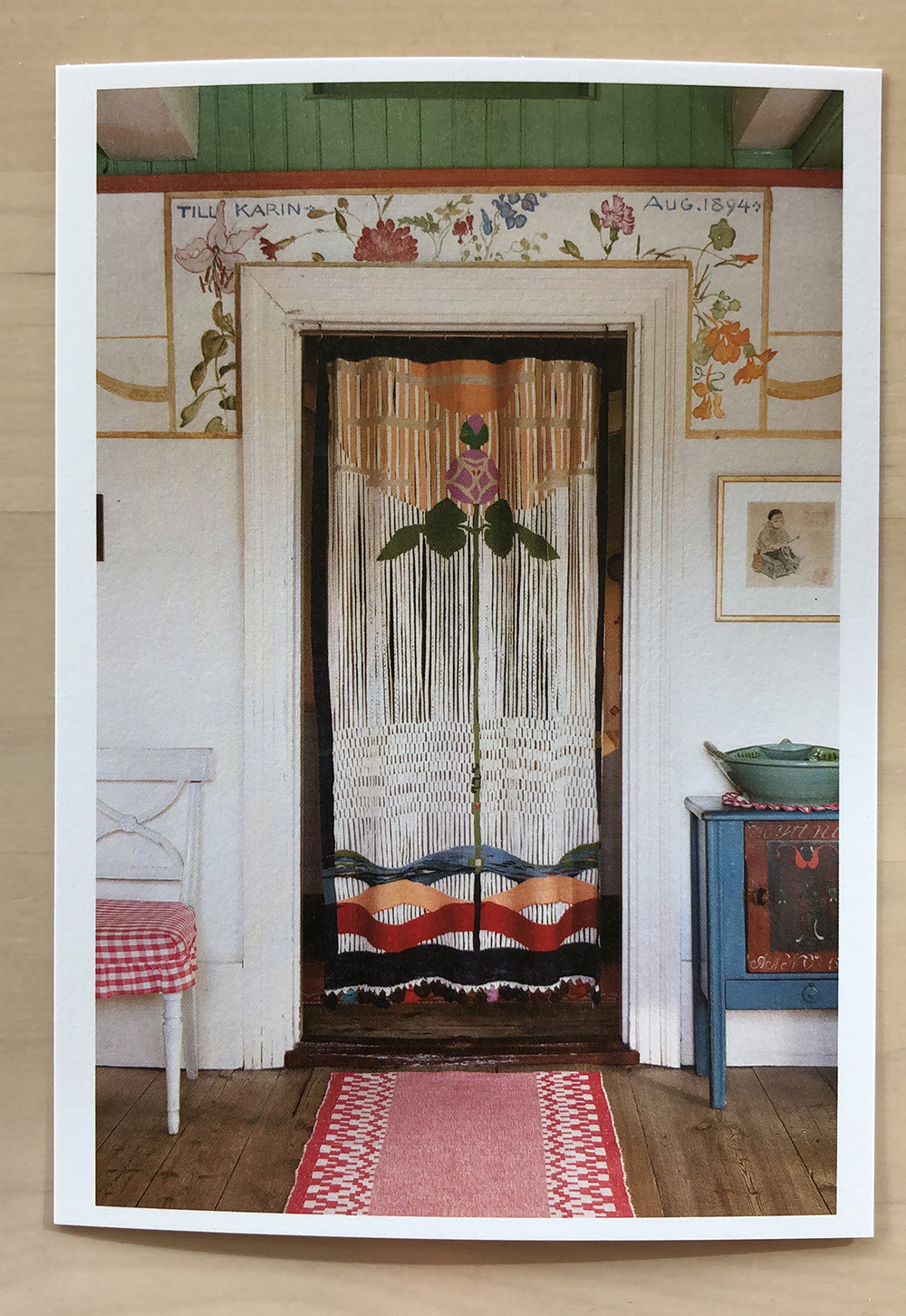 The house began as a small building, and eventually had many rooms added onto it with old paneling and new painting done by Carl. There were works of art EVERYWHERE. We heard our guide apologizing to another worker at the front desk for his tour running long. It was a group of students from Sätergläntan, and it was hard to usher them from room to room - they kept looking at everything!
We also stopped by Falu Grava, the copper mine in Falun, on the way home, to get some food and check out the mine. Historians think they started mining there around the year 1000, and for many years, Sweden had a global monopoly on copper mining. it is the reason that so many buildings in Sweden and the Dalarna region are painted in this brick red color. The color is called Falu red and it is produced using a byproduct of copper mining. Mining stopped there in 1992, but a huge pit in the earth still remains and it is a historic site for people to tour and visit.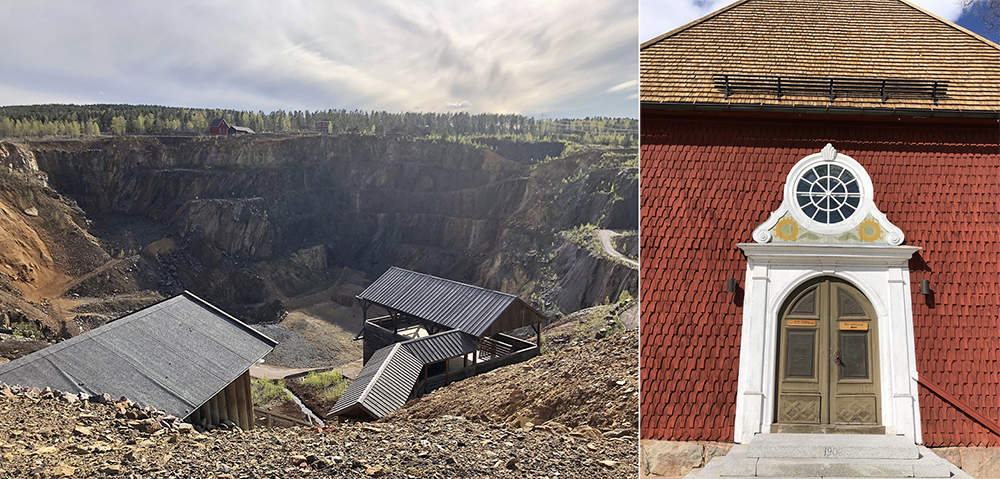 Even after only a few days together, it was hard to leave the kindred spirits that I found at Sätergläntan! It's truly a special place full of wonderful people and a gorgeous part of Sweden that really respects and focuses on hand craft. I hope to come back and visit someday soon, and look forward to folks coming to visit us at North House as well!
Now I am in Trondheim and will be heading out to see all of the beautiful tapestries by Hannah Ryggen. There is a Hannah Ryggen triennial happening right now in Trondheim, with shows all over the city showcasing Ryggen's political and anti-fascist tapestries from the early-mid 1900s along with other artists making work in the same vein. Follow along on my Instagram! @christinenovotny