A Vested Interest in Felting
In her latest blog post, Resident Artisan Elise Kyllo discusses her quest for the perfect wool vest.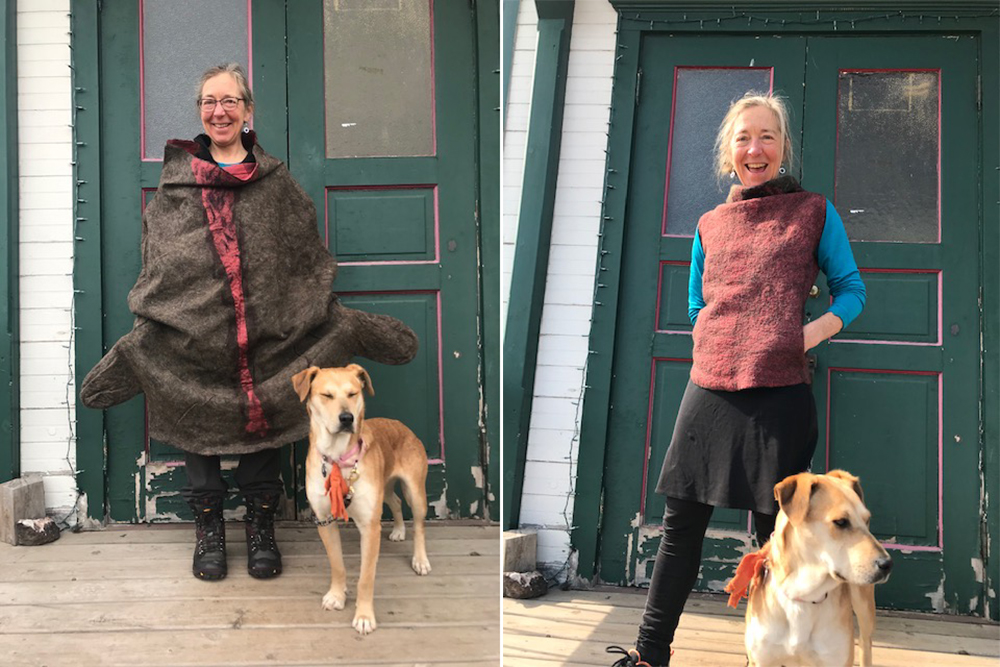 Vest before felting and vest after felting
One thing I appreciate about felting is that there are so few required tools. There is a great simplicity to felting, unlike so many other crafts that require trucks to haul tools and looms that fill rooms. Felting is really about the wool and little else. Granted, wool is a complicated medium, with 300 breeds of sheep and no two quite alike. Over the past two plus years in the Artist Development Program, I have been stalwart in my focus upon felting, wishing to spend my days working with wool and hoping to feel accomplished in becoming a master of wool. I am not even sidelined by spinning, knitting, or weaving. JUST felting! But, as you wander through my studio you may think I am anything but focused as I jump from felting clothing, felting sculptures, felting socks, hats, puppets, paintings, rugs, earrings, pillows, bags… It's endless what wool can become. Just water, wool and agitation.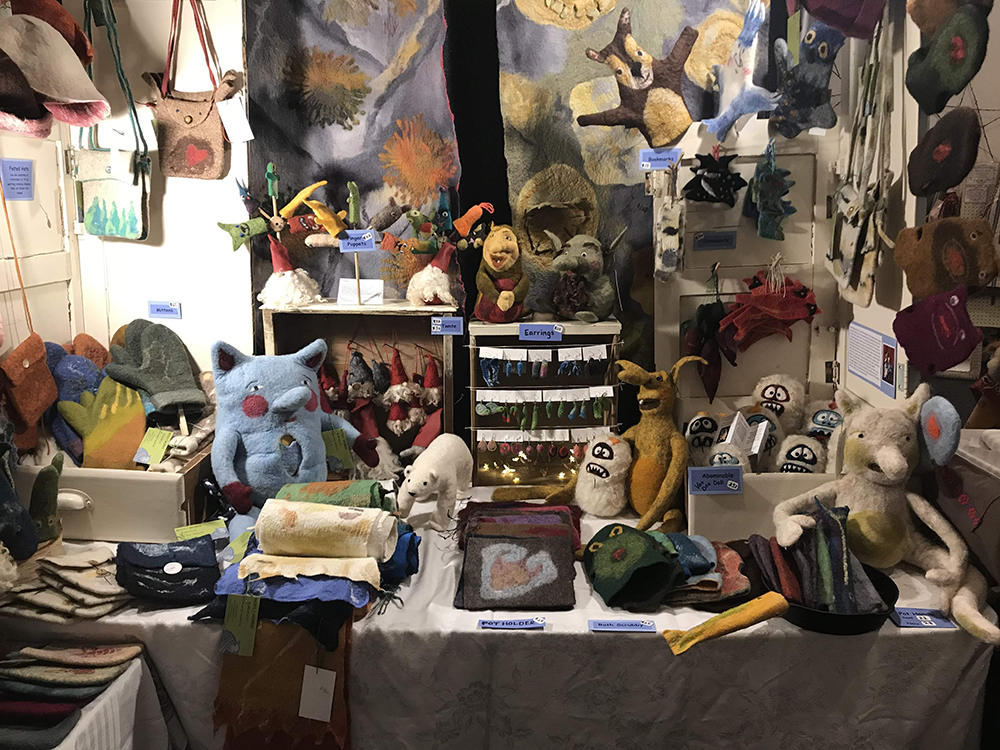 My holiday booth at American Swedish Institute, overwhelming full of wool
Within the simplicity of this medium there is a tome of knowledge to absorb, from the ancient wisdom of rug makers in Turkey to the continually evolving possibilities of using new techniques for new applications. For example, needle felting by hand didn't exist 50 years ago and mixing silks with wool to create light and draping fabrics opens new paths to garment making, not done before.
Here is where I am particularly challenged these days, making garments. If you know me, I tirelessly consider the consequences of consumerism. In the world of clothing, I wonder where things are made, what they are made of, who made them, was it fair, is it sustainable, is it compostable etc. In general my rule of thumb is to just buy less, buy used, and not worry.
I've heard that each person in the US will dispose of 70# of clothing and other textiles a year. That seems impossible! But then consider there is this thing called Fast Fashion, which is basically buying seasonal fashions, buying cheap and buying often. For so many in the world, it's "better" to not know where these things are made or what they are made from, because it is depressing. It is a privilege to be able to consider these things and to seek out better alternatives or to even make your own.
I am currently working on balancing the scales of fast fashion and slowing things WAAAAAYYYYY down, by learning how to felt my own clothing, or at least a few items.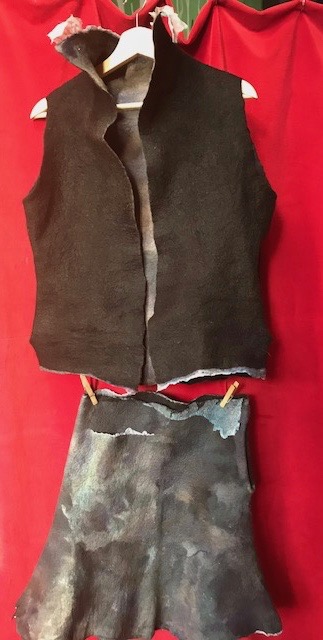 Vest and Skirt meant to hike, ski and work in!
I generally wear the same thing day after day and I basically just want a few durable items that I can work and play in and best if both. Take my vest for example, the one I wear nearly every day. It's a fleece vest, but there is no connection to wooly sheep that bound through green fields and share their fleece every spring. It is an imposter fleece, made with petrochemicals. For what it is, it's awesome, flexible, durable and it came from the second hand store.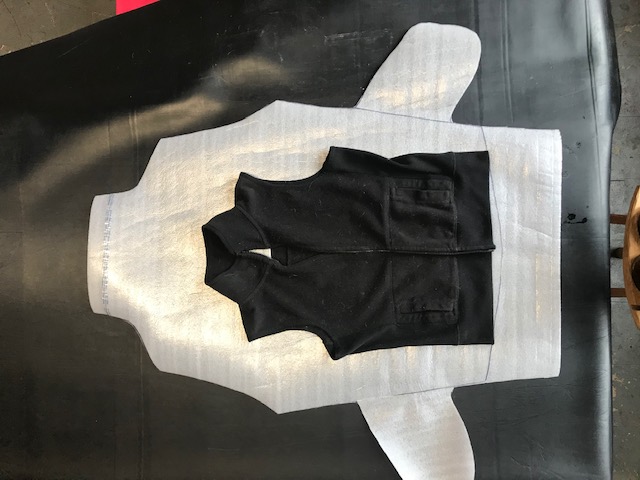 My fake fleece vest and a (not big enough) pattern for a wool felted vest
I have been dreaming about making my own wool felted vest for many years. It's not that I haven't tried, but after more than a dozen vests made, I still haven't made one that is as practical and durable as the black fake fleece.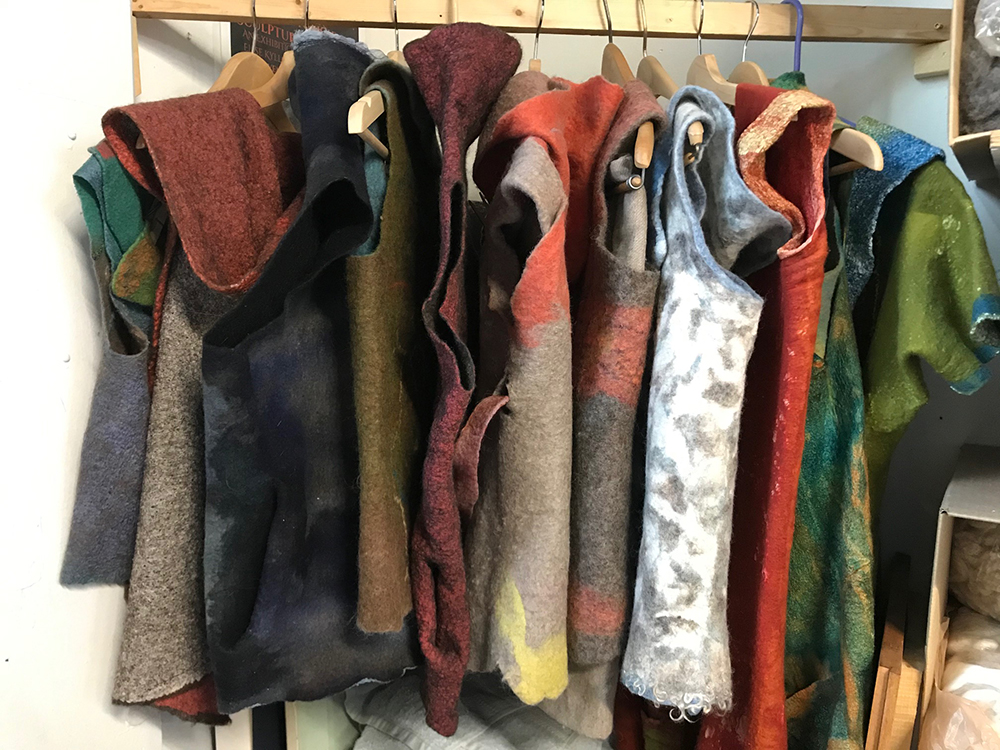 So many, but still improving and working on making my favorite.
Right now I am especially motivated to focus on this vest project because I have this amazing studio space with huge tables, hot running water, and time dedicated to felting. In less than 4 months, I will be moving out of this studio and the Artist Development Program will be coming to an end for me. I can't begin to express all of the things I have learned and the many great experiences, but the fact is, I haven't yet made a vest that I love.
It may seem trivial, but this goal is a culmination of so many felting lessons learned over the years. It is about learning from others, learning to listen to the wool and being disciplined enough to not be distracted by easier projects. It is also about me being resistant to look at wool as a controllable medium that is predictable and follows rules. Truthfully, I do not believe this, but in the case of making a vest, I have set aside my whimsical, allowing-the-wool-to-lead attitude, and I am wrangling the wool by its horns and taking control!! This means I have made countless samples of wool and I am beginning to be able to predict what the wool will do when felted. I have taken copious notes and have charts about wool breeds and how each one felts. I have forced myself to turn wool into a mathematical equation that is based on scientific experimentation and exactness. This is not my comfort zone, but my artistic meanderings have not produced a "loved" vest yet. So, I am willing to try a new way, not my way.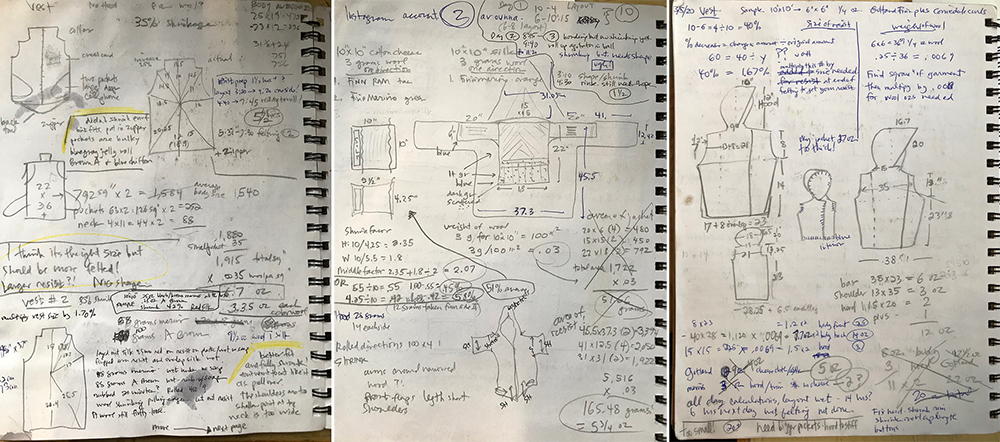 My sketchy calculations that should determine the weight of the wool and the size of the pattern.
Someday I won't need these calculations and I will return to my instinct of hand and wool, but as I am experimenting and learning, this is a predictable and dependable way to begin.

Vest in process: laying out a thin layer of 8 ounces of roving and batting wool over a layer of silk. Getting it wet, rubbing, rolling, agitating for a very long time, until it begins to shrink.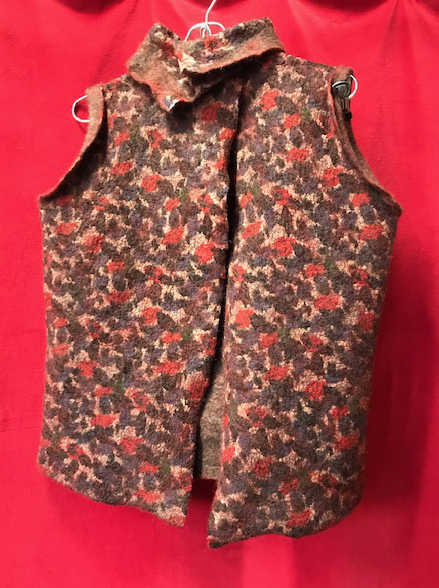 My favorite vest so far but it's not yet done. Buttons, snaps or zipper added to complete it.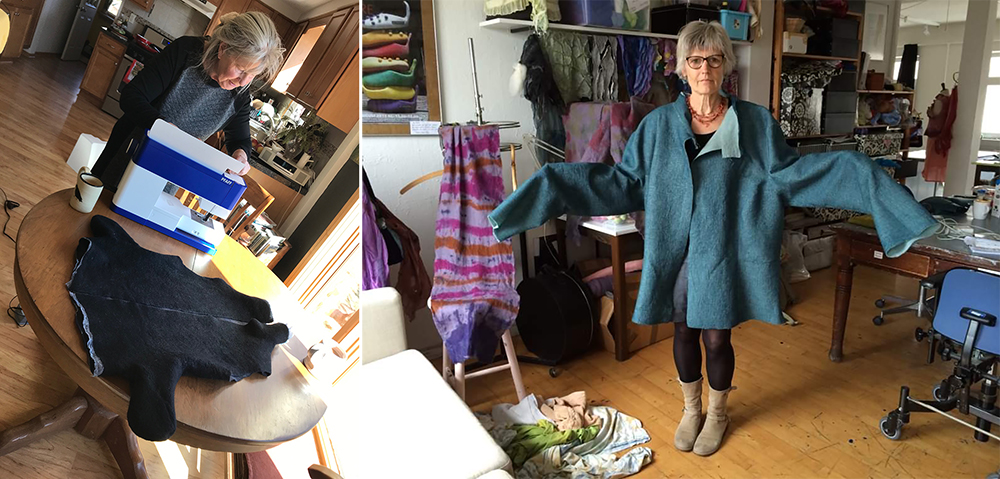 Cilla sewing in a zipper | Mette modeling a jacket she was working on
Thank you to Cilla Walford, who is a local seamstress with flair and has been a huge help. Also, a special thanks to Mette Ostman in Denmark who is a talented felter and an awesome mentor via the internet.
If you have any curiosity about this process, I am planning to have a final show of my felt works at North House Folk School in late July, early August. There will be a number of items that will show the progression of my work, from the neanderthal wool jacket that is thick enough to stop an arrow to the most recent graceful outfits that I am actually wearing and loving, as well as a wide variety of other things I have been working on.
This final show will also be a celebration of the completion of the Community Felted Mural Project, which I will be rallying others to be a part of over the next 4 months. There will be three felted tapestries, or murals, made up of symbols made by more than 100 people that express healing, dreaming and building. You may find me at North House Campus June 24-27 looking for people to help out, in the local schools, at George Floyd Square in Minneapolis and other pop up places. You can also help create the third mural and learn felting in a course at North House in July. I am fortunate to be awarded a Arrowhead Regional Arts Grant and have the support of North House Folk School making this project possible.