2020 Wooden Boat Show: Online Edition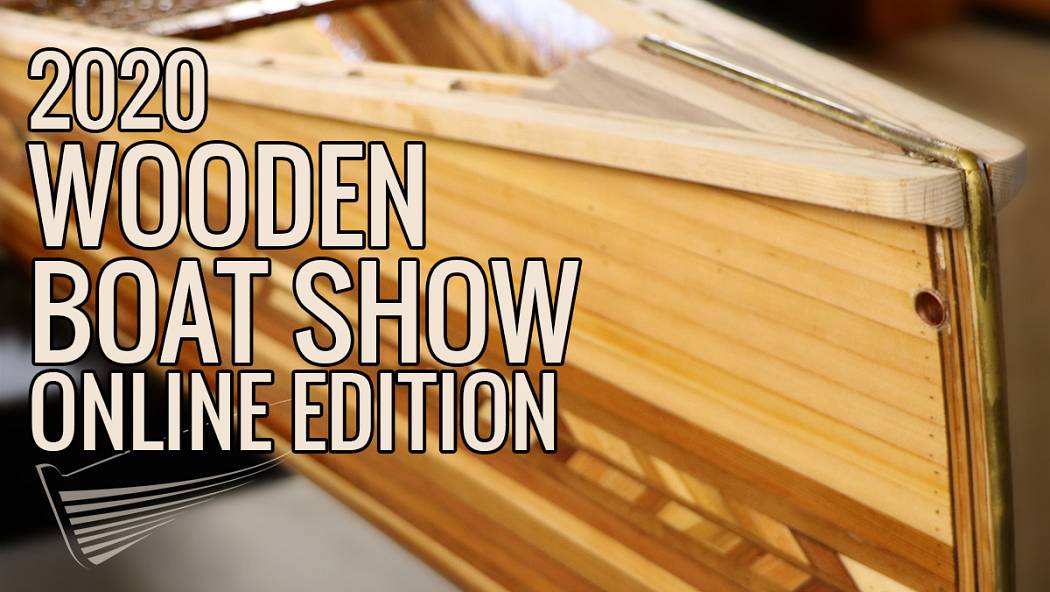 Overview
Thank you for joining us for the Wooden Boat Show 2020: Online Edition! We hope you enjoyed the programs!
Summer's arrival in the North deserves to be celebrated! This has been North House's tradition since our inception, and for 2020 we will host these celebrations online. Community, craft, sparkling waters, northern adventures, and summer's light are at the heart of our efforts. Join us online for a week of live demonstrations, evening webinars and hands-on(line) courses, as well as other goodies including video boat tours, Hjordis Slow TV, and videos of past solstice pageants.
The event kicks off at noon on Monday, June 15 on Facebook Live, and will continue all week with the full slate of speakers, demonstrators and more available. If you miss any of the live events, all content will be available on demand on Saturday, June 20.
Wooden Boat Show Online Edition is free to all thanks to the generous support of North House members. Add your support here and your gift will be matched dollar-for-dollar by a generous supporter!
Thank you for joining us for Wooden Boat Show! Recordings of all the events can be found now on our Crafting in Place page!
Event Details
Daily Webinars
Monday - Friday, 7pm
We welcome explorers, builders and storytellers to the virtual stage to regale us with tales of boats, travels and water, from the furthest reaches of the earth to our own harbor.
Join us "Live" on Zoom at 7pm CST each night by registering at the links below, or view the recorded talks at your leisure on our website through June 30.
As part of his participation in North House's Artisan Development Program, Josh Tolkan spent the better part of two months studying the small wooden boats of the Hardanger fjord in Western Norway. Durings his time there, he spent many hours working with and observing master craftsman Peter Helland-Hansen building a Hardanger seksaering, a traditional row boat of the Hardanger fjord. Josh will share an overview of his learning journey, small Norwegian wooden boats, and the construction of a seksaering.
In January, 2020, Rob "Tor" Torkildson joined an elite group of explorers, led by Bjorn Heyerdahl, grandson of Thor, on an epic adventure to round the Cape of Storms sailing a traditional wooden Viking boat. Learn about their handcrafted vessel, their original expedition and modern-day Viking odyssey.
Peripatetic traveler, Rob 'Tor' Torkildson, from Hovland is a lifelong seeker and explorer who has worked and lived around the world for the last 30 years. Torkildson has tramped through the Amazon, over the Himalaya, and across the Sahara in his quest to experience sacred landscapes in over 135 countries. He has worked as a diver, commercial fisherman, ship navigator, customs and immigration expert, writer and publisher, a fixer in Africa, and as a vintner and owner of The Wild Hare Winery in San't Alfio, Sicily. Torkildson has published three travel memoirs, a novella, and in such magazines as the Kyoto Journal, Beat Scene, Ripcord Adventure Journal, Canadian Mountain Journal, The American Alpine Journal, and has won two SOLAS Awards-Gold Medal with Travelers Tales. Torkildson has degrees in Asian History, Psychology and a certificate in Communication Arts. He is an international Fellow of the Explorers Club, speaker for The Explorers Bureau, has carried the Explorers Museum Pennant on expedition, and was a member of the Midgard Expedition lead by Bjorn Heyerdahl to round the Cape of Storms of Africa in a traditional wooden Viking boat.
Whether your ancestors are Scandinavian or Ojibwe, life along the North Shore was never easy. In the late 1930's when the local economy shifted from extractive industry to tourism, the Anishinaabe people living at Grand Marais and Grand Portage adapted to the times, and women, in particular, relied on the creation of hand-made souvenirs to sell to the growing number of visitors to our area. Based on research and elder interviews in Walking the Old Road: A People's History of Chippewa City and the Grand Marais Anishinaabe (U of MN Press, 2019), local historian and author Staci Drouillard, will share stories, photos and analysis of the groundbreaking ways Anishinaabe people paved the way for modern makers and craftspeople on the North Shore.
Staci Lola Drouillard lives and works in her hometown of Grand Marais, MN. A Grand Portage tribal descendant, she began interviewing Chippewa City elders in 1987.
John C. Van Orman will sing a selection of traditional sea shanties, lyrical sailor songs, and nautical ballads while accompanying himself on concertina, guitar and hurdy-gurdy. Such songs are the narratives of countless laborers who have worked on water, sailors of every kind and the people with whom they interacted, heroically or not-so-much-so. They form a mythology of life on, in and along the water. It is the stuff of dreams.
John C. Van Orman is a multi-instrumentalist and singer who has performed regionally in the Midwest and in the Ozarks. Van Orman's original songs have won him Minnesota Music Academy awards, and have been recorded by Boiled in Lead, Bill Hinckley and Judy Larson, Sherry Minnick, and the Flash Girls. He served on the board of directors of Minnesota's Midway Folk Festival, was Music Director at the Ozark Folk Center, and currently serves as the children's folk music interpreter at Folklore Village, in Dodgeville, WI.
With his many extreme adventures and Midwestern roots, photographer and sailor David Thoreson has a very unique and entertaining story to share. David grew up in a small town in Iowa, learned to sail on a glacial lake surrounded by corn fields and shaped these experiences to lead a life of exploration and discovery at the far reaches of the globe. Surprisingly, Thoreson got his opportunity to sail the world's oceans with a southern Minnesota farmer. David's presentation combines stunning visuals and storytelling about sailing into the ice, lives of indigenous hunters, scientists in the Arctic and ultimately meeting the issue of climate change face-to-face. Thoreson presents a great glimpse of modern-day adventuring at sea, adventures with a purpose.
The presentation includes stories of Thoreson's sailing expeditions and the quest for the infamous Northwest Passage beginning with the 1994 passage attempt aboard the 57' fiberglass sailboat Cloud Nine, owned by Minnesotan, Roger Swanson. David also completed a 28,000-mile circumnavigation of the North and South American continents on the research sailboat Ocean Watch, working with NASA, NOAA and universities in two hemispheres.
Live Craft Demonstrations: Lunch and Learn!
Monday - Friday, 12pm
We've lined up a great series of boat-related craft demonstrators this week. Watch them live and ask questions on North House's Facebook page. Recordings will be available for view after the events.
Monday June 15th Mike Schelmeske Making a Canoe Paddle
Tuesday June 16th Mercedes Tuma-Hansen Net Making
Wednesday June 17th Captain Matthew Ecklund Lessons from the Sea: Survival in Isolation
Thursday June 18th Benjamin Byron Rope Care: End Whipping
Friday June 19th Erik Simula & Derek Rausch The Traditional Birch Bark Canoe
Virtual Boat Tours
Monday-Friday, available daily after 10am on Facebook and YouTube
Take a behind-the-scenes tour of a few boat projects from around the country. From yard time "on the hard" to dock talks before getting underway, boats (and sailors) often have stories to tell.
Monday, June 15th
Blue Heron: UMD's Large Lakes Observatory operates the largest university-owned research vessel in the Great Lakes, the Blue Heron. The Blue Heron takes researchers, educators and students on all of the Great Lakes, completing research in biology, chemistry, physics and geology and giving all of us a better understanding of the Great Lakes. Built in 1985 for fishing on the Grand Banks, the vessel was purchased by the University of Minnesota in 1997, and converted into a limnological research vessel during the winter of 1997-98. She is outfitted with state-of-the-art research equipment and has berthing for 11 crew and scientists.
Tuesday, June 16th
S/V Denis Sullivan is the only re-creation of an 1850s-era Great Lakes Cargo Schooner in the world and teaches environmental education and sail training programs throughout the Great Lakes, while based out of Milwaukee, WI. The S/V Denis Sullivan was built by 1,000 volunteers who gave over 1,000,000 volunteer hours to build the first tall ship to take shape in Wisconsin in the last century and she was ultimately designated as Wisconsin's Flagship. Every time the S/V Denis Sullivan sails, she carries with her the pride of every volunteer, student, visitor, donor, and crew who have helped make our mission of freshwater education possible.
Wednesday, June 17th
Many Waters Boatworks: Josh Tolkan is a resident artisan and boatbuilder at North House. He built an original design cedar strip canoe commissioned by the Cook County Chamber of Commerce. Inspired by the Danish double-ended sailboats ("spidsgatters") the design is asymmetrical and features a pigmented epoxy strip as well as elm salvaged from the beloved trees that lined Highway 61 in Grand Marais.
Thursday, June 18th
The Hudson River Sloop Clearwater is a 106' wooden sailing vessel base, a single masted replica of the cargo sloops of the 18th century. For over 50 years, Clearwater has railed hundreds of thousands of Hudson Valley residents together to continue Pete Seeger's lifelong work to preserve and protect the Hudson River through industry defining educational programs. Clearwater's celebrated teaching format is continuing to inspire the next generation of environmental advocates through new adaptive online formats while supporting the community we pride ourselves on.
Friday, June 19th
The Chesapeake Bay Maritime Museum Shipyard in St. Michael's, Maryland recreates the tradition of a working waterfront. CBMM's shipwrights and apprentices are a tangible connection to The Chesapeake's rich story of boatbuilding through the preservation and maintenance of CBMM's Floating Fleet of Chesapeake Bay boats and its historic small boat collection, use of its working marine railway for hauling and launching large historic vessels, a preservation of visiting traditional wooden vessels, and hands-on shipyard education programs. Current projects include the construction of a new Maryland Dove, a successor to Historic St. Mary's City's representation of the vessel that accompanied the first European settlers to Maryland in 1634, and the restoration of the 1912 river tug Delaware.
Hjordis Slow TV
The beloved schooner of the North Shore has over-wintered in Knife River. Join her and her socially distant crew for (part-of) the 14-hour journey home. It's the nautical equivalent to the televised yule-log...only without even the suggestion of warmth.
Wooden Boat Show Online Coursework
New realities bring new adventures! Join us in our first online mini courses as part of the Wooden Boat Show 2020 Online Edition. We are so happy to bring the joy of hands-on learning in community to your very own house, thanks to the wonder of the internet, the good ole' postal service and our plucky instructors. Register for these first-time online offerings, and join us for a few hours on Zoom during the weekend of June 19-20.
How will it work? Prior to the start of the session, students will receive an invitation to a secure Zoom meeting. At class time, simply log-in and up will pop the friendly face of your instructor and the other students enrolled (usually 4-10 folks). Class will start with introductions, and then get underway.
What about materials? This depends on the class. In some sessions, a package of materials will be mailed to you in advance of the course. In others, there may be a few simple items you'll need to have on hand; these are listed with the course. In the case of cooking classes, a list of ingredients and equipment is provided ahead of time.
What technology do I need? We host these courses using Zoom Video Conferencing. A laptop or tablet is recommended, but a desktop with a webcam and audio or a smartphone phone can work. If you are doing handwork, be sure to set up some workspace nearby and have good lighting and a comfortable chair. You won't need to have your work visible to the instructor at all times. If using a tablet or laptop, plug your device in or have your charger handy!
In order to provide time for materials to be shipped, registration for some classes ends on June 5th.
Family Project: Build-a-Boat!
The Wooden Boat Show celebrates makers of all ages, and this year's virtual family activity is no exception. Kids and adults of all ages are encouraged to get creative and build a small boat using materials found around the home. Then see if it floats in a local puddle or your kitchen sink!
Send a photo of your finished boat to Sarah at swaddle@northhouse.org by June 21st and we'll feature an album of boat creations on our social media sites.
Download the guide to the family build-a-boat project here.
Auction
Support North House's mission and instructor community through the Wooden Boat Show online auction! Featuring Dala horses, handcrafted oars, woven towels, and more!
Bidding will be live from June 15th through the 21st. Sneak peek available now!
Summer Solstice Puppet Show & Pageant by the Good Harbor Hill Players
While we won't be joined by the Sun King and his friends in person this year, relive some of the best pageants of years past on YouTube, thanks to the Good Harbor Hill Players.
Crafting in Place Programs
Course Offerings