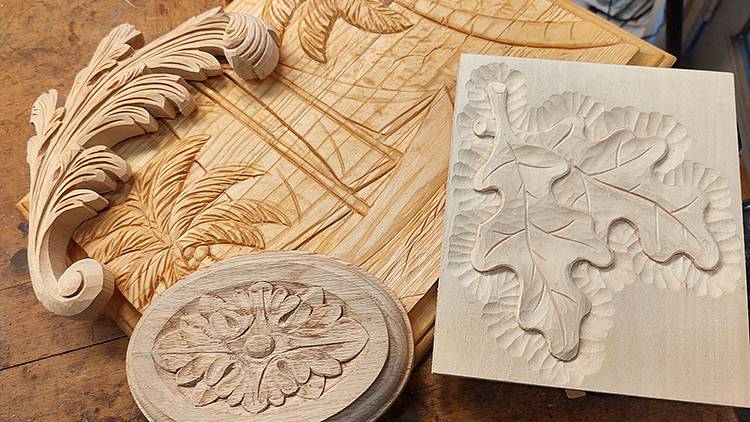 Overview
Wood Week 2022 featured inspiring carving of all kinds.
---
Can you smell the fresh cut wood? Wood Week 2022 is just around the corner and will be log jam-packed with everything the woodworker's heart desires. Choose from a dozen courses in a variety of areas: relief carving, turning, spoon carving, and more. Each year the week has a featured instructor- a master woodworker who brings a unique expertise to the group. Friday, March 18 will be the Carver's Conference, a day full of demonstrations, webinar watch party, and community gatherings. All enrolled students are encouraged to come early or stay late to partake of this extra benefit and the public is welcome to join. All programming on Carver's Conference Friday is free! See all of the schedule details below.
Featured Instructor Mary May: North House is delighted to welcome Mary May to campus! Mary is a full-time, professional wood carver in Charleston, SC. She has trained with a variety of European master carvers to learn the traditional carving techniques and styles that have been used for centuries. Mary takes in carving commissions, teaches at several woodworking schools throughout the United States and Europe, and has been a guest demonstrator at various woodworking shows, including Fine Woodworking Live. She also has an online wood-carving school where she offers hundreds of video lessons in all skill levels. Mary has been a guest on The Woodwright's Shop four times throughout the years, and has recently finished her first book, Carving the Acanthus Leaf. Mary will teach two relief carving courses during Wood Week. Grab your spot early!
Covid Updates
Because the majority of Minnesota and Cook County are classified as areas of low to medium community levels for Covid-19, masks are appreciated, but we are currently not requiring that students and instructors wear a mask when indoors. Should those levels evolve, our policies will as well. See our full up-to-date Covid policy here.
Event Details
March Webinars
Join us virtually on Zoom for an exciting lineup of webinars about wood craft from presenters near and far. We'll also offer watch parties on campus for webinars happening during Wood Week.
Open Shop
7pm | Tuesday-Thursday and Saturday-Monday, Blue Building
As a special perk of Wood Week, North House will be open for students to carve away the evenings. Bring your own project; hosted by a volunteer instructor. Note: some hand tools will be available for use, but students are encouraged to bring their own.
Artisan Development Program Open Studio
4:30-6pm | Thursday, 301 1st Ave W, Grand Marais, above the Betsy Bowen Gallery
Drop by the Artisan Development Program studios to meet our Resident Artisans, check out their work, and learn more about the program.
Webinar Watch Party
6:30pm | Thursday, Blue Building
Crafting Off the Grid: Nurturing Community at the Maine Coast Craft School
Transport yourself to the Pemaquid Peninsula in midcoast Maine and soak in this inspiring virtual presentation by Kenneth and Angela Kortemeier, co-founders of the Maine Coast Craft School. Kenneth and Angela will share about their off-the-grid lifestyle, discuss ideas around attempting to create an ethical business, and talk about what it means to them to teach handcrafts and encourage community.
---
Carver's Conference
Friday, March 18, 2022
As a special feature of this week, all classes will take a break on Friday to allow everyone to participate in demonstrations, a webinar watch party, and hear our featured speaker Mary May. Participation in the Carver's Conference Day is free for all in 2022. The public is welcome to attend.
Demonstrations
9am - noon, Red Building; 1:30 - 4:30pm, Blue Building
Gather for presentations from makers on particular skill sets. Observe, ask questions, and learn. Some demonstrations offer participants the chance to try a skill. Learn more below.
9am-Noon | Tool Sharpening
John Fleck and Paul Linden
John and Paul will be demonstrating tool sharpening, primarily focusing on carving axes and adzes. Modern axe sharpening begins with an $8 file and can lead in a multitude of directions, all the way to $1000 power sharpeners—John and Paul have tried them all and can offer advice for students' own tools. Anyone is welcome to bring any tool and work with the sharpening equipment and supplies that we have available, but the time will primarily be focused on tuning up the fleet of shop axes and adzes.
9-10am | Dovetail Cutting for Cabinets
Lauren Newby
Lauren will be demoing how to cut dovetails with traditional hand tools. Cabinets and small practice boxes will be on display. Participants are welcome to take apart these boxes to learn how the joint interacts and make some practice cuts. Tools will be provided.
10-11am | Bowl and Ladle Carving
Jon Strom
Watch Jon carve bowls and ladles from freshly split green wood. This will be a chance to see the basic use of tools in making these items and how the tool functions in cutting the wood.
11am-noon | Shaving Horse and Drawknife Combinations
Rose Holdorf
Romeo and Juliet, peanut butter and jelly, the shaving horse and the drawknife—can you imagine a better pair? Hallmarks of green woodworking at its finest, come take a look at a few different shaving horses and drawknife combinations and try your hand at shaving a few perfect wood curls. Rose will offer a brief background on different styles of shaving horses and drawknives as folks try out the tools loved by green woodworkers of all kinds.
1:30-2:30pm | Relief Carving
Mary May
Our featured instructor Mary May will share her knowledge of how to get started with traditional woodcarving. She will talk about the tools and equipment used, tool sharpening, safety techniques, and the basics of woodcarving using long-handled gouges. Mary will also do a carving demo of a shallow relief carving project.
2:30-3:30pm | Chip Carving
Wesley Hathaway
See Wesley share various ways to chip carve and ways to decorate wood through chip carving. Wesley will show examples of his work and others and share how they were executed.
3:30-4:30pm | Kolrosing
Liesl Chatman
Kolrosing, a form of decorative line carving, involves cutting an incision in the wood, filling it with pigment like cinnamon or coffee, and then burnishing it. No need for specialized tools, strength, or a studio! Liesl will demonstrate this fine, accessible craft and share examples.
Show & Share
3pm, Red Building
The Show & Share is a style of show-and-tell: bring a piece or two of your work to share with the group or a few images that can be displayed on a laptop. We will break into groups of about 10-15 people. The first group will put their work out—everyone else will wander at leisure, ask questions and visit more casually with those who are displaying their work. After 20 minutes, the groups will switch. Please bring a few items to display or a few images printed or on a jump drive; a few laptops will be available to display images.This program is open to Wood Week students and interested public alike
Webinar Watch Party
5pm, Blue Building
The Spirit of Japanese Carpentry
Join us virtually for an exploration of Japanese carpentry with Jeff Bearce. Jeff began practicing Japanese woodworking in the San Francisco Bay area twenty-two years ago at Joinery Structures. He is currently the principal at 3 Sticks Design + Build, which specializes in traditional Japanese structures and furnishings. He also works with Kezurou-kai USA to promote Japanese carpentry in the U.S.

Featured Presenter Evening Talk
Friday, 7pm, Blue Building
Mary May
Professional woodcarver Mary May will share about her 30-year-plus woodcarving journey. She will walk through how she got started, share examples of her work, and give insights into how to have a career in woodcarving.
Friday Open Shop
8:30pm, Red Building
Following our Featured Presentation, head on over to the Red Building for a Friday night Open Shop. Gather with friends old and new to carve together and enjoy a cozy evening of craft camaraderie in the wood shop. Don't forget your carving knife!
Crafting in Place Programs
Course Offerings