Winterers' Gathering & Arctic Film Fest 2020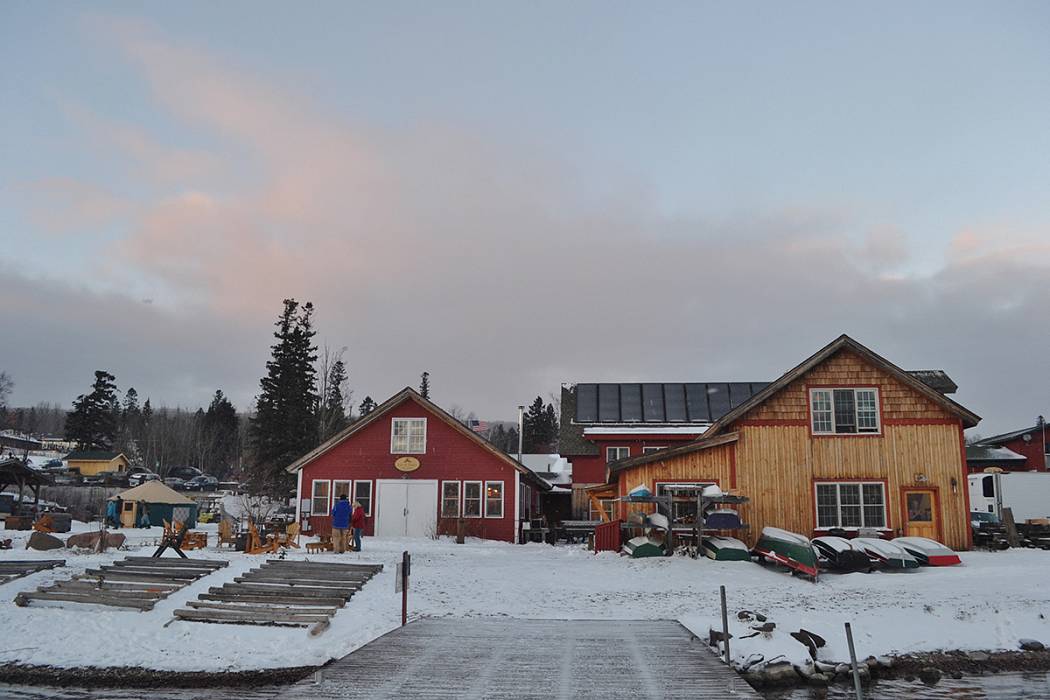 Overview
The online iteration of 2020's Winterers' Gathering was warm and cozy. Join North House in November for Winterers' Gathering 2021.
The annual Winterers' Gathering and Arctic Film Festival is a highly anticipated event here at North House, as we close out another great, albeit different year of programs with friends from near and far. This year, the event will be largely BYOH (bring your own hygge), as we invite you to stay safe, cozy up at home and enjoy a series of great films, webinars and videos online throughout the month of November. Celebrate the culture, traditions and lore of northern winters around globe.
ONLINE, throughout November:
Weekly free film screenings and lunch and learns with filmmakers: November 6,13, 20
Weekly free seminars on Thursday evenings: November 5,12,19
Weekly skill share videos every Monday: November 2, 9, 16
Variety of online coursework
ON CAMPUS:
For folks in the neighborhood, we've got some outdoor, socially distanced plans in the works for November 20-21, including an outdoor arctic shorts film festival.
Event Details
ON CAMPUS
As the season winds down, we invite you down to campus for a little outdoor, socially distanced connection. Masks required at all events.
Friday, November 20: Outdoor Arctic Shorts Film Festival
Cancelled
In light of Governor Walz's updated orders, we feel it is in the best interest of the community to cancel our planned outdoor film screenings on Friday November 20. We will certainly miss the experience and tradition of our annual outdoor films, but the health and safety of our community will always come first. We apologize for any inconvenience.
Saturday, November 21: Great Gear & Ski Sale
Cancelled
In light of the recent increase in community transmission in our area we have made the difficult decision to cancel the Great Outdoor Gear Sale this year. Though we had COVID safety plans in place for the event, there are a number of factors that are harder to control at a gear sale (distancing, touching items for sale), which coupled with the local rise in cases means we think we will keep our community safer by not hosting the event this year.
Saturday, November 21: Intern Portfolio Show
In-Person event has been cancelled, but please check out the online Intern Portfolio show starting Friday November 20.
ONLINE
Film Screenings
These films will be available for free streaming for 72 hours. Register for the event and watch a new video each week. Each Friday, we'll host a lunch and learn live webinar with the filmmaker to discuss the film and your questions.
Free registration required
The Beckhams of Utsjoki, available Noon CST November 3-Noon CST November 6
Q&A November 6, noon CST
One Day in the Life of Noah Piugattuk, available Noon CST November 10-Noon CST November 13
Q&A November 13, 12:30 CST
This Mountain Life, available Noon CST November 17-Noon CST November 20.
Q&A November 20, noon CST
FILM: The Beckhams of Utsjoki, 2010, Finnish w/ English subtitles, 73 min
The documentary film The Beckhams of Utsjoki is an intimate and honest depiction of modern-day Saami people recounted through the experiences of three generations. The documentary was filmed in Utsjoki, the northern-most municipality of Finland and the European Union. The protagonists are: reindeer herder and respected salmon-rower Niila Laiti, Saami cultural figurehead Annukka Hirvasvuopio-Laiti, skillful wielder of Saami cultural traditions and Niila's mother, Kirsti Laiti, as well as Annukka and Niila's boys, Mihkku and Áilu. The family's life is observed out in the reindeer pens, in the salmon waters, at christenings, at market and at old and new living quarters for a total of almost three years. In addition to portraying the everyday and festive occasions of Saami life, the film also conveys the viewer through the most magnificent wilderness regions of Upper Lapland. The viewer is taken from the Kevo canyon to the salmon spawning rapids, the fiery colours of the autumn 'ruska' forests, the ice floes of the spring and the aurora borealis flashing across the northern skies.
FILM: One Day in the Life of Noah Piugattuk, 2019, Inuktitut, English 111 min
For decades, Zacharias Kunuk has been one of the most exciting, dynamic, and innovative filmmakers in Canada, and indeed the world. With the award-winning Atanarjuat: The Fast Runner, Kunuk introduced a film language that combined myth, history, and folklore, an approach evident in subsequent films like The Journals of Knud Rasmussen and Maliglutit (Searchers). His latest, One Day in the Life of Noah Piugattuk, hinges on a pivotal 1961 encounter on spring sea ice between the title character (Apayata Kotierk) and other community leaders and a government emissary (Kim Bodnia), who has come to ask them to relocate their families to permanent settlements and send their children to school. Kunuk employs approaches he used in the previous films, but there are also elements of cultural comedy in the contrast between pragmatic Inuit and the odd, incomprehensible expectations of the government agent.
Those demands will ultimately carry an enormous gravitas. Behind what seems to the hunters to be the government agent's incoherent requests is a policy that will mean a fundamental rupture in the lives of Inuit. The real Noah Piugattuk was born in 1900 and lived to be 96 years old. In that time he saw the decline of traditional practices that had persisted for thousands of years and the creation of a new relationship with the Canadian colonial state. In this one day — and this fateful meeting — Kunuk condenses much about Inuit–settler relations. The emotional and historical layers in the film make it one of his finest works
FILM: This Mountain Life, 2019, English, 77min
The awe that mountainous landscapes evoke is universal. Yet in a province that is 75% mountains, most of us seldom venture into true wilderness. Living amongst us is a special breed of people. They are undefined by age, gender, profession or background, but for them, the draw of the mountains is so strong that their lives must revolve around it. Martina Halik and her 60-year-old mother Tania attempt a bitterly cold 2300-kilometer ski trek from Canada to Alaska through the treacherous Coast Mountains; a journey that has been completed only once before, and never by a female duo. Their adventure is interspersed with beautifully crafted portraits of high-altitude human endurance: the gripping story an avalanche burial; a group of nuns who inhabit a mountain retreat to be closer to God; an impassioned alpinist; a focused snow artist; a couple who has been living off grid in the mountains for nearly 50 years. Shot in cinematic detail, This Mountain Life is a riveting examination of human passion set high in the peaks of British Columbia, Canada.
Webinars
North House will host a series of evening webinars covering a range of arctic topics. Held via Zoom at 7:00pm CST on Thursdays, you can tune in from anywhere to join us live. A recording of each webinar will be available for a limited time at www.northhouse.org.
The Utility and Artistry of Sami Knives with the Sami Cultural Center, Nov 5, 7pm
Knives are essential to traditional Sami ways and are known for their exceptional beauty and everyday usefulness. Nathan Muus, Sami Cultural Center of North America board member and exhibit curator, will feature some of the knives he has encountered with a special look at knives displayed at the Sami Cultural Center. Knife handles and sheaths of antler and bone are carefully detailed in scrimshaw—practical and portable works of art. They each have a story and often tell a tale in themselves. Register in advance here.
The Sami Reindeer People of Alaska with the Sami Cultural Center, Nov 12, 7pm

In 1894 and 1898, numerous Sami reindeer herding families were hired by the U.S. government to travel from northern Norway to western Alaska to teach reindeer husbandry to Native Yupik and Inupiat Alaskans in order to establish greater food security for them. Nathan Muus and Marlene Wisuri from the Sami Cultural Center of North America will present an overview of this little known and fascinating chapter of American history using historic photos and narrative. Register in advance here.

The Puffins of North Greenland with Dr. Jennifer Burnham, Nov 19, 7pm
Dr. Jennifer Burnham is Professor of Geography at Augustana College and the Director of the Augustana Center for Polar Studies. She will discuss several intriguing findings from a nearly decade long study of Atlantic Puffins in far northwest Greenland. Where do they go in the winter? Is this the same type of puffin that we see in Iceland or in Maine? Are these birds under threat from pollution or climate change? Tune in and find out! Register in advance here.
COLD SNAP POETRY SLAM
Saturday, November 21, 7pm CST, Zoom
Cold Snap Poetry Slam is a friendly celebration of the spoken word and the glories of the frozen North! And even though we can't all join in the fun in the Blue Building, we're making the verses virtual using Zoom. Join in the fun by reading one of your own works or any selected seasonal poetry of your choosing. By sharing your favorite hibernal verse, presenters will receive wide recognition as cultural icons. If you would like to participate, please register in advance so that we can connect with you regarding zoom logistics.
AUDIENCE: Register in advance for this webinar here.
PRESENTERS: Sign up here!
Skill Share Videos
Each week we'll share a short video tutorial on an aspect of northern craft. Find them all at northhouse.org or on our YouTube channel.
November 2: Wild Game Butchering with Tom Healy
November 9: Traditional Snowshoe Styles with Nate Johnson
Online Intern Portfolio Show
Available starting Friday November 20th
Our Craft Education Interns have been with us since January 2020 and have had a unique year learning craft, educational, and non-profit administration skills. Celebrate the culmination of their internship year by checking out their online portfolio show. You'll see examples of their craft work and get to learn about their culminating slojd projects.
Course Offerings