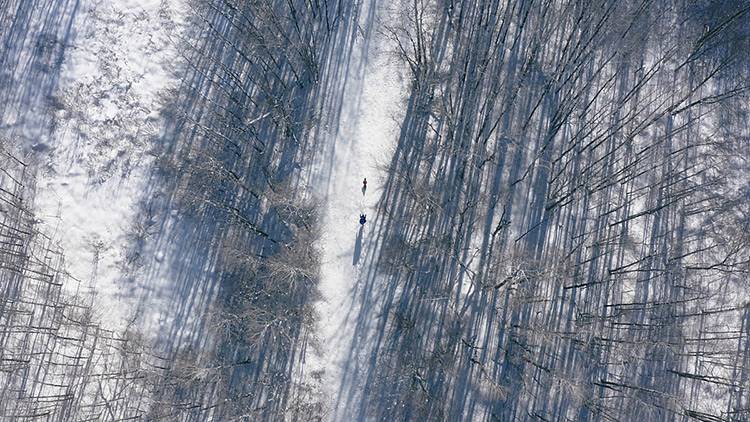 Overview
One of the features of the annual Winterers' Gathering event is the Arctic Film Festical. This one of a kind festival features films from around the globe that visually tell the story of the North. Documentaries, features and shorts showcase arctic landscapes, traditional cultures, northern adventures and changing climates. All film screenings are free and held in the Blue Building. Masks required; limited free tickets will be available one week prior to the event in order to manage crowd capacity.
Free advanced tickets are available now. Reserve your tickets here. Advance ticket sales will close online at 11:00pm, the night before the screenings. Remaining tickets and unclaimed tickets will be available via the Rush Line at each screening.
View and print the Winterers' Gathering and Arctic Film Festival Event Guide.
Event Details
SATURDAY, NOVEMBER 20
Showing #1: 9:00am (81 min)
Games of Survival: A Culture Preserved in Ice (17 min, Nicholas Natale, 2019)
A documentary film about WEIO, the World Eskimo Indian Olympics. Native Eskimos have competed in these games since 1961, which is a gathering of Eskimo people from all around the circumpolar region. It is the largest annual celebration of Alaskan Native Heritage. Through travelling to native villages and filming WEIO, this film will provide a look into the lives of native Alaskan Eskimos and share their traditions and culture with the audience.
Myrtle Simpson: A Life On Ice (34 min, Leigh Anne Sides, 2019)
Myrtle Simpson narrates the story of three of her most dramatic and significant expeditions, starting with the Edinburgh Andean Expedition to Peru in 1958, her record-breaking success on the Scottish Trans-Greenland Expedition to cross Greenland in 1965 and her team's attempt to be the first unsupported expedition to reach the North Pole in 1969.
Breaking Trail (30 min, Jesse Roesler, 2021)
During the darkest days of Covid-19, Emily Ford began a 1,200 mile journey through the unforgiving Wisconsin winter to become the first woman, as well as the first person of color—to thru-hike the historic Ice Age Trail in winter.
Showing #2: 10:30am (91 min)
A Time to Remember (4.5 min, Ben Page, 2018)
Travel across the wild winter highlands of northern Scotland as one man recollects a youth spent exploring the hidden corners of his homeland.
The Canoe (27 min, Goh Iromoto, 2017)
This film captures the human connection and bond created by Canada's well-known craft & symbol, the canoe. Through the stories of five paddlers across the province of Ontario, Canada - a majestic background both in it's landscape & history - the film underscores the strength of the human spirit and how the canoe can be a vessel for creating deep and meaningful connections.
Freshwater (23 min, Ian Planchon, 2021)
Freshwater is a documentary that dives into the cold waters of Lake Superior along Minnesota's North Shore. Despite the fact that it contains ten percent of Earth's freshwater, this massive force of nature remains largely unexplored. One group of people, however, is intimately aware of its power. From the surfers who catch its waves to the scientists who study its depths, learn why Lake Superior is a precious resource that should never be taken for granted.
Tracing Roots (36 min, Ellen Frankenstein, 2014)
Tracing Roots is a portrait of an artist and a mystery. The film follows master weaver and Haida elder Delores Churchill on a journey to understand the origins of a spruce root hat found with Kwäday Dän Ts'ìnchi, the Long Ago Person Found, a 300-year-old traveler discovered in Northern Canada in a retreating glacier. Delores's quest crosses cultures and borders, involving artists, scholars and scientists, raising questions about the meaning of connection, knowledge and ownership.
Showing #3: 12:15pm (94 min)
Chasing the Sublime (6 min, Amanda Bluglass, 2018)
Why do we put ourselves into the path of discomfort and risk? What drives us to get too cold and too tired, to battle with fear, in the name of adventure? Follow the originators of The Outdoor Swimming Society, 'swim twins' Kate Rew and Kari Furre, in this hauntingly beautiful glimpse at the physicality of UK cold water swimming, as two friends set out to chase the sublime.
Against the Current (88 min, Oskar Pall Sveinsson, 2020)
Veiga Grétarsdóttir is the first person in the world to attempt to kayak the 1,300 mile circumference of Iceland, counter-clockwise and against the current, an achievement that has been compared to climbing K2. Veiga's personal journey is no less remarkable. She was born 44 years ago as a boy in a fishing village on the far west coast of Iceland. By the age of 38 Veigar had a wife and family but decided that she could no longer live as a man and decided to undergo gender reassignment. The inner struggle for Veigar to become Veiga was a journey as difficult if not more so than the solo kayak expedition she undertakes. These two stories of conflict and struggle are intertwined as the film follows her amazing 103 day journey around Iceland, with the magical, rugged coastline of the country a backdrop to the story of Veiga's transition. (Language: Icelandic; English subtitles)
Showing #4: 2:00pm (77 min)
Wild Ice (9 min, Matthew Baxley, 2020)
In the Boundary Waters Canoe Area Wilderness, the opportunity to explore the terrain via nordic skates is rare. Share in the experience of three travelers as they venture into the BWCA on Wild Ice.
Whiteout (9 min, Gaëlle Bojko, 2021)
Whiteout follows 23-year-old bikepacker Gaëlle Bojko on a solo journey across the vast expanse of Siberia's Lake Baikal in the depths of winter. (Language: French; English subtitles)
WE UP- Indigenous Hip-Hop of the Circumpolar North (59, Anchorage Museum, 2020)
Forty years after hip-hop was born in the South Bronx, it's being re-imagined in fresh ways by young Indigenous artists of the North— from Athabascan villages in Alaska, to the capital city of Greenland, to reindeer-herding towns in northern Finland. WE UP: Indigenous Hip-Hop of the Circumpolar North is a feature-length documentary film produced by the Anchorage Museum. It profiles the rising stars of Northern Indigenous hip-hop while exploring themes in their work which connect them across vast distances, such as: the challenges of decolonization, pride in self and traditional culture, deconstructing stereotypes, celebration of endangered Native languages, and spiritual connections to Northern homelands.
Showing #5: 3:30pm (89 min)
In the Shadow of the Tugtupite (7 min, Inuk Jørgensen, 2020)
A cinematic portrait of despair and anxiety towards an unknown future for the Inuit of the world's largest island. The film questions the rationale behind past and future mining prospects in Greenland and how they are linked to the search for identity of the fledgling nation in a post-colonial world.
Nalujuk Night (13 min, Jennie Williams, 2021)
Nalujuk Night is an up close look at an exhilarating, and sometimes terrifying, Labrador Inuit tradition. Every January 6th from the dark of the Nunatsiavut night, the Nalujuit appear on the sea ice. They walk on two legs, yet their faces are animalistic, skeletal, and otherworldly. Snow crunches underfoot as they approach their destination: the Inuit community of Nain. Despite the frights, Nalujuk Night is a beloved annual event, showing that sometimes it can be fun to be scared. Rarely witnessed outside of Nunatsiavut, this annual event is an exciting chance for Inuit, young and old, to prove their courage and come together as a community to celebrate culture and tradition. Inuk filmmaker Jennie Williams brings audiences directly into the action in this bone-chilling black and white short documentary about a winter night like no other. (Languages: English, Inuktitut; English subtitles)
Circus Without Borders (69 min, Susan Gray, 2015)
Circus Without Borders is the inspiring story of two unusual circuses from farflung corners of the world — Artcirq in Arctic Canada, and Kalabante in Guinea, West Africa. An unlikely union grows out of a deep friendship between founders Guillaume Saladin and Yamoussa Bangoura, and their common dream: to bring hope to youth in remote communities. In sharing their passion and teaching young people the art and skills of the circus, they work to combat the despair of a generation struggling with the painful legacy of colonialism. Now, through a unique mix of tradition and acrobatics, these talented young artists have stepped onto the world stage to share what they've learned that despair can give way to joy, and that passion and dedication can make dreams come true. (Fula, Inuktitut, English, French; English subtitles)
SUNDAY, NOVEMBER 21
Showing #6: 9:00am (87 min)
Ice Ball (13 min, Nathaniel Schmidt, 2020)
Best known for his legendary polar explorations, Will Steger's life work grew out of a single log cabin he built after moving to the Minnesotan wilderness at age 25. Reliant on sustainable energy and natural commodities, Steger formed a community and culture based on the principle of mutuality. Central to Steger's operation is the lost art of cutting ice for refrigeration. This annual harvest formed a tradition spanning fifty years that became known as the "Ice Ball". While this old world technology inevitably became obsolete, its disappearance parallels a concerning loss of social interdependence in modern society. In a nostalgic celebration of this winter craft, the film is a portrayal of human innovation and interconnection that embodies one man's attempt to move society forward, without leaving the past behind.
Irakli's Lantern (17 min, Ben Page, 2020)
High in the Caucasus mountains of Georgia, 78 year old Irakli Khvedaguridze has spent the last 25 winters living alone as the last inhabitant of Europe's highest village. (Language: Georgian; English subtitles)
On Northern Waters: The Story of a Boat (57 min, Ásdís Thoroddsen, 2010)
Four boat builders join forces to build a clinker boat of the type that was once predominant in the west of Iceland. The history and craft of the North European clinker boat and its many local variations are investigated with the help of historians and boat builders in the Nordic countries. (Language: Icelandic, Swedish, Danish, Norwegian, Faeroese; English subtitles)
Showing #7: 10:45am (71 min)
1000 Mile Dream (13 min, Karl R. Koelling, 2020)
When your dream is as big as the Iditarod, you're bound to have a few bumps along the way. Liza Dietzen fell in love with dog sledding as a child and has dedicated the majority of her life to pursuing her dream and caring for her dogs. The bond she has built with her team is a support and responsibility that has pushed her farther than she could have ever imagined.
Northern Travelogues (58 min, Kira Jääskeläinen, 2019)
In 1917 Finnish explorer Sakari Pälsi travelled to north-eastern Siberia carrying a cinematograph and 13,000 feet of film with him. The journey birthed a unique documentary film and a travelogue. A hundred years later director Kira Jääskeläinen returns to the Bering strait in Pälsi's footsteps. By combining old and new film footage, Pälsi's notes and the stories of the local Indigenous peoples, the film tells the story of the Chukchi and Siberian Eskimos from the days gone by till today. (Languages: Finnish, Russian; English subtitles)
Showing #8: 12:15pm (86 min)
Bayandalai - Lord of the Taiga (12 min, Pablo Vidal Santos, Aner Etxebarria Moral, 2018)
From inside his yurt deep within the heart of the Taiga, Bayandalai an elder of the Dukhas tribe muses about the significance of life and death in the largest forest on Earth. He is the last of the great reindeer herders of the Taiga. (Language: Mongolian; English subtitles)
Eatnameamet – Our Silent Struggle (74, Suvi West, 2021)
Eatnameamet - Our silent struggle portrays the indigenous Sámi people fighting for their existence. The film follows the on going cultural genocide of the Sámi which the current Governmental politics allow. This film is a cry for help for the last indigenous people living in the EU. (Language: Sámi, Finnish, English, Swedish; English subtitles)
Showing #9: 1:45pm (93 min)
Lhotse (23 min, Dutch Simpson, 2019)
Hilaree Nelson and Jim Morrison completed the first ski descent of the 27,940-foot Lhotse in the Himalayas, the fourth-highest mountain in the world. This is their story.
Treeline: The Secret Life of Trees (40 min, Jordan Manley, 2018)
Follow a group of skiers, snowboarders, scientists and healers to the birch forests of Japan, the red cedars of British Columbia and the bristlecones of Nevada, as they explore an ancient story written in rings. (Languages: English, Japanese; English subtitles)
Breaking Trail (30 min, Jesse Roesler, 2021)
During the darkest days of Covid-19, Emily Ford began a 1,200 mile journey through the unforgiving Wisconsin winter to become the first woman, as well as the first person of color—to thru-hike the historic Ice Age Trail in winter.