Blacksmithing & Toolmaking
Tool-Making for Woodworkers and Others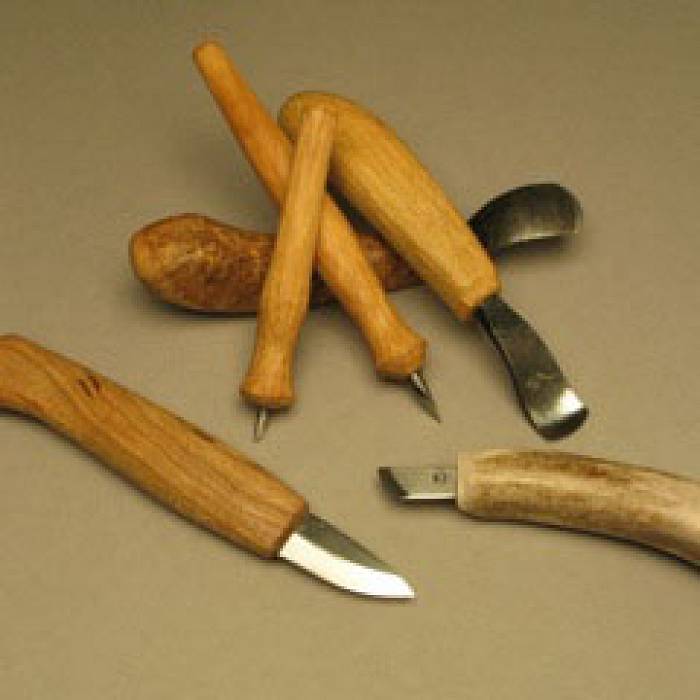 Course Overview
This course is an introduction to working with and heat-treating the common high-carbon steels used for edge tools. We will discuss the strengths and weaknesses of different steel types and put this knowledge into practice by creating several tools. We will analyze a number of different tools and compare their performance. Can you really make a nice, working knife from an old file? Blacksmiths and tool-makers know that you can, and we will do it in this class. We will each make a scratch awl and a small carving knife to start, but additional tools like marking knifes, scrapers, small chisels, and larger or curved knives are all possibilities. For those interested in a more complex project, an optional 4th day of shop time and instruction is available for $50 in tuition. Please register for the one day class listed separately if interested in additional instruction.
This is a course designed as an introduction to working with and heat-treating common high-carbon steels, the types used as edge tools for most woodworking (and other crafts). We will discuss the different properties, strengths and weaknesses of commonly used tool and alloy steels and how they respond to heat-treatment. We will learn about hardening, tempering and annealing and their effects on steel. We will study and discuss a number of different working edge tools and compare their performance. What defines the best choice of alloy for the different tools' steels?
You may wonder if you can really make a good, usable woodworking chisel or a nice knife from an old file. Blacksmiths and tool-makers know that you can, and we will do it in this class. We will begin by making a simple but elegant scratch awl and proceed with a small carving knife, learning about and practicing heat-treating as we go along. We then will move on to projects such as marking knives, scrapers, small chisels, and larger or curved (spoon carving) knives…even plane blades.
It is very satisfying to use a tool that you have made yourself, and even better when its performance exceeds what is commonly available, and/or it is customized for your own use.
Over the years that this class has been offered, the most common student comment at the completion of this class over the years has been something like "I wish that I had one more day to practice these techniques, or to make a handle for this blade, to finish one more tool, etc...". Give yourself an extra day on campus to complete an extra project, or to refine the tools you have made with the guidance of the instructor. One additional project will be demonstrated, but students can use this day in the shop is whatever way works best for them.
Required Tools
Safety glasses
Gloves
Apron
Files
Wood for handles (if needed)
Sandpaper assortment
Session Information
North House is looking forward to hosting this course on campus in the safest way possible. As recommended by our HVAC consultants, we have increased air ventilation and installed an air filtration system. We perform extra cleaning of campus and are keeping class sizes small in our largest classrooms. Students must participate in a daily health screening and temperature check, agree to wear a mask at all times on campus, and to practice social distancing of 6 feet, as well as adhere to other safety protocols in some cases. See the full details of our COVID-19 protocols here.
Dates
Cancelled
Thu, Feb 18th, 2021 – Sat, Feb 20th, 2021
This course has been cancelled to mitigate the risk of spreading COVID-19. We offer our deepest apologies. We truly believe in the power of craft to build community, and we know that community is needed more than ever in times like these. However, the need to stay healthy and protect our friends and neighbors is the most critical priority.
If you were registered for this class, you should have received an email regarding your refund options. If not, please call us at 218-387-9762 or email us at info@northhouse.org.
Click here for additional information.
We truly hope to see you in another class at North House soon!
Course Details
Skill Levels:
Beginner to Advanced
Intergenerational age:
12+
Additional materials fee paid to instructor when class starts:
Varies ($25-$40)
Required
You will need the following tools for this class:
Safety glasses
gloves
apron
files
wood for handles (if needed)
sandpaper assortment
Optional Tools
Feel free to bring your favorite tools and whatever materials you might feel appropriate for this course.
More Information
Once registered, students will receive a confirmation email with further class information. Please call us if you haven't received it within 24 hours.
Toolmaking for Wood Workers and Others - 2/18/2021