Pebble & Twig Mosaic Table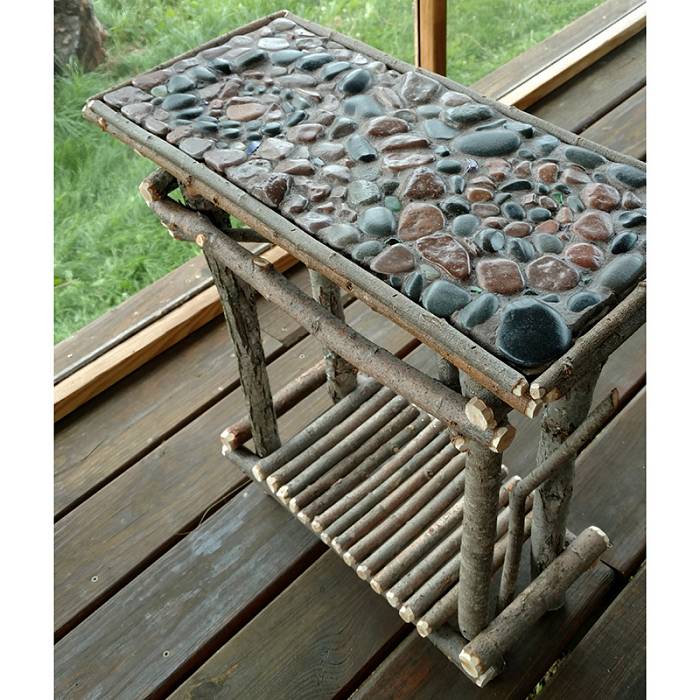 Course Overview
The love of gathering beach rocks combines with the craft of twig mosaic. Twig mosaic is an early American folk art form using full or half-round branches nailed over a frame, creating a pattern that provides volume and intricacy, delicacy and geometry. The addition of pebble mosaic satisfies all our cravings for form and texture. You will work with beach rocks and flat tiles to create a mortared mosaic framed with native brush and tree species, such as red-osier dogwood, willow, and alder. The base of the table and legs will also be constructed using a variety of rustic twig furniture joinery techniques including the woven and entwined method and the nailed stick method. These visually striking pieces will complement any handwoven rug on the floor or would be perfect as a reading table next to the sofa at the cabin. One or two other mosaic projects will be completed as well, depending on your areas of interest and the time available. Several field trips will provide the opportunity to gather beach rocks, and an inland field trip will provide an opportunity to identify useful brush and tree species, and to cut and gather materials for your specific project. Please bring along your collection of flat rocks and colorful tiles (although even white works well). Tiles can be broken or full size (maximum 4"x4").
Required Tools
Hammer
Measuring tape
Pliers
Loppers and bypass clippers
Utility knife
Sharp saw (the Silky Pocket Boy or something similar is a great choice – NOT fine tooth)
Pencil and a large eraser
Ruler
Several pairs of rubber gloves (cloth backed work fine, too)
1½" putty knife (plastic or metal)
5 gallon plastic bucket
Several 1 quart to 1 gallon plastic containers (for mixing mortar, etc., so NOT a milk jug. Examples include yogurt containers, ice cream buckets, etc.)
Sponge
Foam brush
Flat rocks, ideally no more than ½" thick
Bags for gathering more rocks!
Tiles and tile remnants (if you plan on cutting these smaller, bring a tile clipper and file)
Sea glass, large beads, polished semi-precious stones (small), such as amethyst
Wear clothes and shoes you don't mind getting grubby! Keep in mind we will have a field trip to the woods, and there will be very wet areas. Rain boots or rubber boots are helpful. Consider a broad-brimmed hat and sunscreen for when we will be at that beach gathering rocks. Or rain gear, if it is inclement weather!

Optional Tools
Nail set
Work apron
Wire cutters
3" or 4" putty knife (plastic is fine)
Sunscreen
Small table or item (such as a clay pot or other object) to mosaic
Small bag of sanded or un-sanded grout of your color preference (un-sanded it you have a lot of glass pieces to incorporate). Grout will be provided, but only in one or two neutral colors.

Dates
Fri, Aug 12th, 2022 – Sun, Aug 14th, 2022
Course Details
Tuition:
$270.00
Materials fee: $55.00
Pebble & Twig Mosaic Table