Moose-ing Around: Knit a Moose Hat in the Round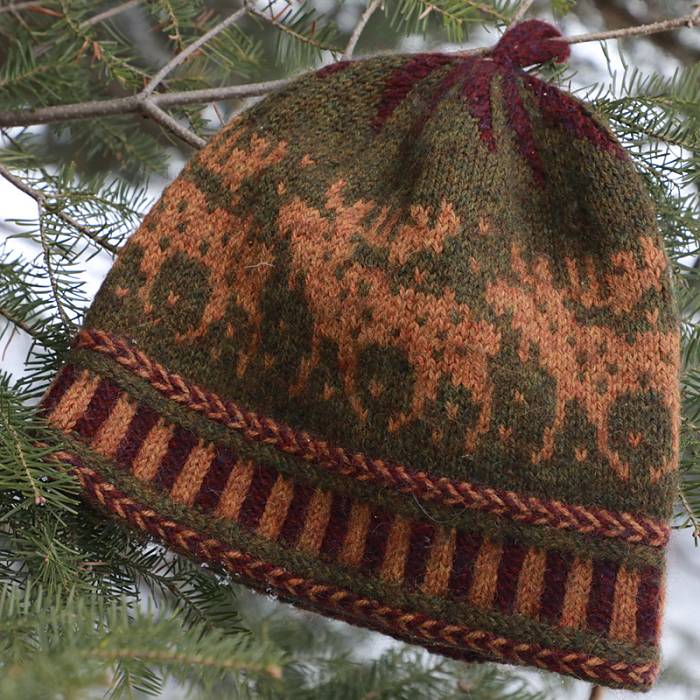 Course Overview
The wilderness surrounding North House is a great place to spot a moose. All you need is a lot of time and a little luck. Or a little time and a lot of luck. Either way, capture the iconic northern ungulate in wool as you knit your own whimsical moose hat: just as exciting and rewarding as spotting a moose in the wild, with fewer blackflies, we promise. This unique and memorable design is knit in the round using traditional Scandinavian stranded knitting techniques, corrugated rib, and Latvian braids. Students should have intermediate knitting skills including casting on and knitting proficiently. The pattern cost of $5 will be paid to the instructor at the beginning of class. Materials will cost an additional $15-$30 for students purchasing yarn and needles from instructor. Youth ages 12+ are welcome to participate with an adult. 
Required Tools
Students may choose to bring 3 colors of their own DK weight yarn (5.5 st/inch): Main Color (50g) and Two Contrast Colors (30g). Or the instructor will have a variety of colors available for purchase
Suggested yarn: Berroco Ultra Alpaca
Needles: US Size 5 and 6 - 16" circular needle and double points (or size to get gauge:5.5 stitches/inch). Bring your own or purchase from the instructor.
Dates
Cancelled
Fri, Nov 10th, 2023 – Sun, Nov 12th, 2023
This course has been cancelled. We offer our deepest apologies.
If you were registered for this class, you should have received an email regarding your refund options. If not, please call us at 218-387-9762 or email us at info@northhouse.org.
We truly hope to see you in another class at North House soon!
Course Details
Hours:
Day 1: 4-6pm; Day 2: 9am-5pm; Day 3: 9am-noon
Latest Update:

View recent changes →
Moose-ing Around: Knit a Moose Hat in the Round