Masonry Heater Building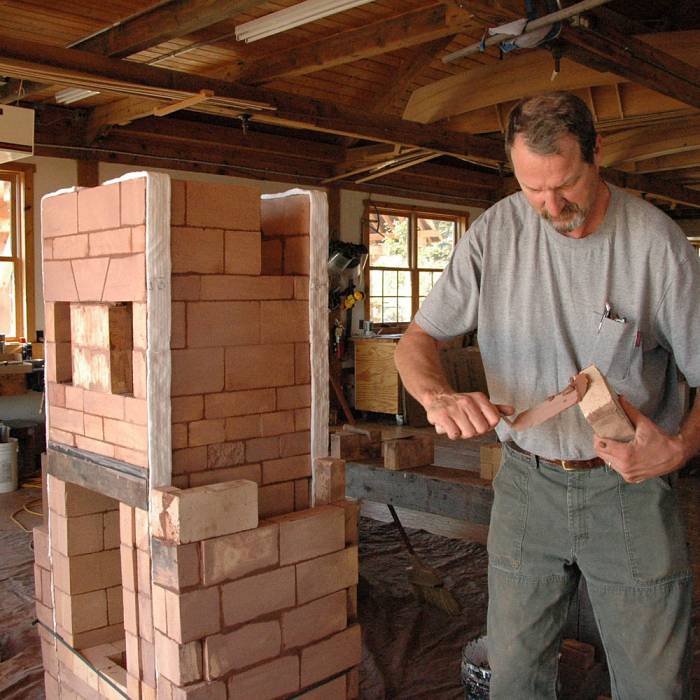 Course Overview
Masonry heaters originated in Northern Europe where winters were cold and fuel wasn't always plentiful. The natural response? Create a wood-fired presence that was at once incredibly efficient and highly attractive, capable of generating abundant heat, and ideal for cooking/baking. Masonry heaters are built with fire bricks and utilize their high mass to radiate heat for 12-24 hours, a feature that means they only need to be fired once or twice per day. Each student in this course will build their own smaller version of a classic Finnish masonry heater, allowing everyone hands-on experience with each step of the process. The techniques learned on this small stove build would be transferable to building a larger masonry heater with a different set of plans available for purchase after the class. Bricks will be laid with clay, rather than mortar, as the heater will be disassembled at the end of class. Students will experience and discuss finished heater design, sizing options, brick selection, oven integration, door and hardware installation, code considerations, and tool use. Brick, stone, tile, stucco, and clay plaster finishing options will be discussed, along with larger heaters capable of heating spaces up to 2,500 sq. ft., and masonry cookstoves. In addition to building and finishing, students will learn to fire the heaters to maximize efficiency and will experiment with the student-built masonry oven located on the North House Folk School campus. The materials fee includes a complete resource packet (allowing students to return home prepared to start their own project) and the resources utilized during class for the building process. Note, the inside core design of firebox sizing and channels is briefly discussed, but due to the highly technical nature of the work, is not covered thoroughly. This class prepares students to build a heater following a set of plans, not to design the inside core.

Required Tools
Clothing that can get dirty
Eye protection
Ear plugs
2"x 4" and/or 2"x 8" margin trowel (available at most hardware stores)
Optional Tools
Rubber mallet
Rubber "dishwashing" gloves, elbow length
Dates
Cancelled
Fri, Jan 28th, 2022 – Sun, Jan 30th, 2022
This course has been cancelled. We offer our deepest apologies.
If you were registered for this class, you should have received an email regarding your refund options. If not, please call us at 218-387-9762 or email us at info@northhouse.org.
We truly hope to see you in another class at North House soon!
Course Details
Tuition:
$315.00
Materials fee: $75.00
Masonry Heater Building