Large-Scale Dragon Head Carving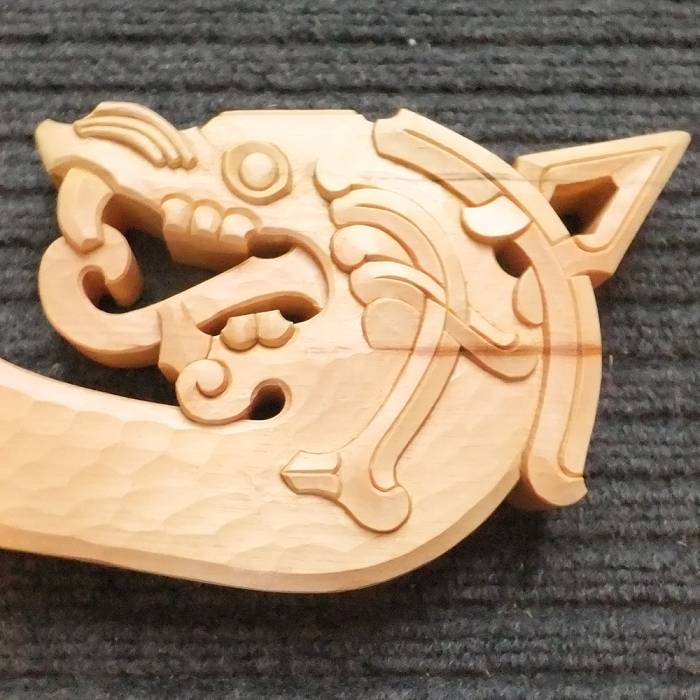 Course Overview
Dragons and their brethren have a long and checkered history with humans, sometimes adversarial, sometimes protective. The carving techniques used in this class were handed down from the Viking era (800-1200) and used on Viking long boats as well as the Oseberg ship. Carve a large-scale dragon head of your very own in this extended format course. Three different patterns will be provided to guide the design, but students will be encouraged to add personal details to their work. Students can expect to complete one side of a piece in class; more advanced carvers may finish two sides or a pair on one side. We will also discuss finishing and painting. This project will use pine or basswood and could be hung indoors or outdoors. The finished figurehead will be approximately 18" x 30" x 2".
Materials Fee
A materials fee of approximately $60-80 will be collected by the instructor during class.
Required Tools
The instructor will provide a wood blank and patterns, unless the student chooses to bring their own. The wood will be available for purchase for an estimated $60-$80 each (pairs also available), payable to the instructor. Wood available: pine or basswood. After registration, the instructor's contact info will be provided so students can call at least two weeks prior to specify their choices, or notify the instructor that they will bring their own material.
Carving chisels:

#1S beveled both sides skew (about 20 mm)
#3- 16mm
#4- 12mm
#5- 16mm
#7 -12mm
# 12 -12mm v gouge.
Woodcraft (www.woodcraft.com) is a good source for Pfeil/Swiss-made carving chisels. Telephone number 800-225-1153.
A limited number of tools sets will be available for rental ($20) from Jock; call after registration to reserve a set.
Dates
Wed, Oct 26th, 2022 – Sun, Oct 30th, 2022
Large-Scale Dragon Head Carving