Ecoprinted Nuno Felt Lampshade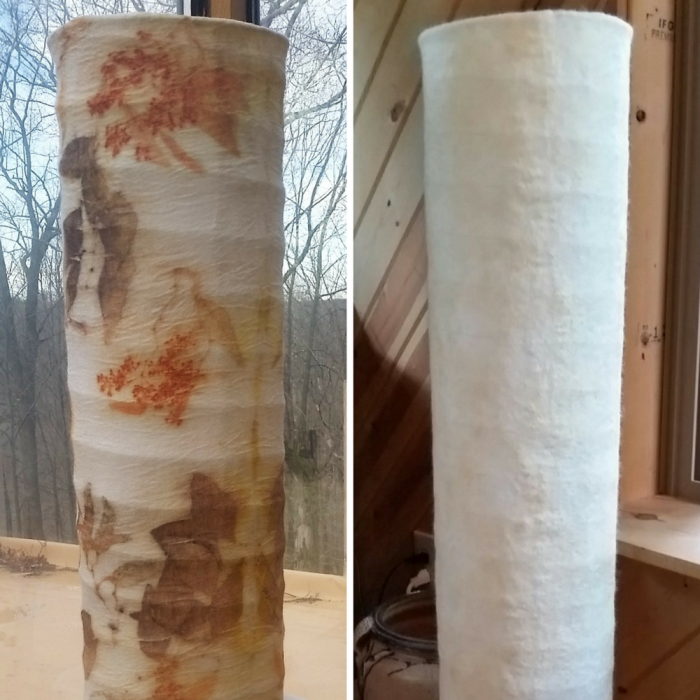 Course Overview
Felting wool to create fabric is an ancient process that predates spinning and knitting. In this class, students will create a nunofelt lampshade using wet-felting resist techniques. The first day will be spent felting the lampshade and some sample pieces. The second day will be devoted to eco-printing the lampshades and samples using natural dyes, plant materials from the florist and leaves from home. While our eco-print lampshades are simmering, there will be time to do additional felting or bundle more projects to take home and process. These nunofelt lampshades celebrate the soft, subtle natural colors of the eco-printing and when illuminated, the beautiful structure of the wool fibers shines through. Students will leave class with a floor lamp that creates a soft, warm light to enhance any room and an understanding of how they can use this technique to retrofit lampshades they have at home. Prior experience wet-felting and/or familiarity with laying out wool is beneficial. Materials fee includes floor lamp with LED bulb.
Dates
Sat, Feb 17th, 2018 – Sun, Feb 18th, 2018
Course Details
Skill Levels:
Beginner to Advanced
Intergenerational age:
16+
Tuition:
$265.00
Materials fee: $75.00
Required
You will need the following tools for this class:
Ice cream bucket
2 old bath towels
ball brauser (or plastic water bottle with holes punched in the cap)
a plastic bag to carry wet items home.
All other required tools/materials are provided by your instructor and North House and will be available once the course begins.
Optional Tools
Feel free to bring your favorite tools and whatever materials you might feel appropriate for this course.
Favorite felting tool (i.e. Palm washboard, felting stone, ribbed Tupperware lid, etc.), favorite bar soap, lightweight novelty yarns, silk, lace, and/or locks for embellishment.
More Information
Once registered, students will receive a confirmation email with further class information. Please call us if you haven't received it within 24 hours.
Ecoprinted Nuno Felt Lampshade